Abstract
Multiple sclerosis (MS) is an autoinflammatory condition of the central nervous system with impaired T helper (Th)17 and regulatory T cell (Treg) balance that is involved in disease immunopathogenesis. The vitamin A active metabolite, retinoic acid, can re-establish this imbalance through the modulation of gene expression of specific nuclear receptors including Forkhead box P3 (FoxP3). At present, few data exist on the impact of vitamin A supplementation on T cell balance. This study reports the results of a clinical trial, over a 6-month period, of 36 relapsing-remitting MS (RRMS) patients that received vitamin A (25,000 IU retinyl palmitate) or placebo (one capsule of placebo per day). Peripheral blood mononuclear cells were isolated from patients, and the expression of FoxP3 and transforming growth factor (TGF)-β gene expression was measured using real-time PCR at the beginning and end of the study. The results of this study showed that vitamin A upregulated TGF-β and FoxP3 gene expression. Therefore, vitamin A supplementation can be considered as a new approach in MS prevention and treatment.
Access options
Buy single article
Instant access to the full article PDF.
USD 39.95
Price excludes VAT (USA)
Tax calculation will be finalised during checkout.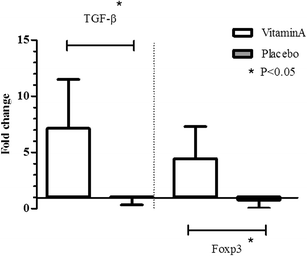 References
Alberts D, Ranger-Moore J et al (2004) Safety and efficacy of dose intensive oral vitamin A in subjects with sun-damaged skin. Clin Cancer Res 10(6):1875–1880

Boppana S, Huang H, Ito K, Dhib-Jalbut S (2011) Immunologic aspects of multiple sclerosis. Mt Sinai J Med 78(2):207–220

Brucklacher-Waldert V, Stuerner K, Kolster M, Wolthausen J, Tolosa E (2009) Phenotypical and functional characterization of T helper 17 cells in multiple sclerosis. Brain 132(Pt 12):3329–41

Buc M (2013) Role of regulatory T cells in pathogenesis and biological therapy of multiple sclerosis. Mediators Inflamm 2013:963748

Cassani B, Villablanca EJ, De Calisto J, Wang S, Mora JR (2012) Vitamin A and immune regulation: role of retinoic acid in gut-associated dendritic cell education, immune protection and tolerance. Mol Aspects Med 33(1):63–76

Chang J, Thangamani S, Kim MH, Ulrich B, Morris SM, Kim CH (2013) Retinoic acid promotes the development of Arg1-expressing dendritic cells for the regulation of T-cell differentiation. Eur J Immunol 43(4):967–78

Den Hartog G, van Altena C, Savelkoul HF, van Neerven RJ (2013) The mucosal factors retinoic acid and TGF-beta1 induce phenotypically and functionally distinct dendritic cell types. Int Arch Allergy Immunol 162(3):225–36

Di Caro V, Phillips B, Engman C, Harnaha J, Trucco M, Giannoukakis N (2013) Retinoic acid-producing, ex vivo-generated human tolerogenic dendritic cells induce the proliferation of immunosuppressive B-lymphocytes. Clin ExpImmunol 174:302–17

Elias KM, Laurence A, Davidson TS et al (2008) Retinoic acid inhibits Th17 polarization and enhances FoxP3 expression through a Stat-3/Stat-5 independent signaling pathway. Blood 111(3):1013–20

Elyaman W, Bradshaw EM, Uyttenhove C et al (2009) IL-9 induces differentiation of TH17 cells and enhances function of FoxP3+ natural regulatory T cells. Proc Natl Acad Sci USA 106:12885–90

Haas J, Korporal M, Schwarz A, Balint, Wildemann B (2011) The interleukin-7 receptor α chain contributes to altered homeostasis of regulatory T cells in multiple sclerosis. Eur J Immunol 41:845–53

Hall JA, Grainger JR, Spencer SP, Belkaid Y (2011) The role of retinoic acid in tolerance and immunity. Immunity 35:13–22

Honarvar NM, Harrirchian MH, Koohdani F et al (2013) In vitro effect of human serum and fetal calf serum on CD4+ T cells proliferation in response to myelin oligodendrocyte glycoprotein (MOG) in correlation with RBP/TTR ratio in multiple sclerotic patients. J Mol Neurosci 50(3):571–6

Huan J, Culbertson N, Spencer L et al (2005) Decreased FOXP3 levels in multiple sclerosis patients. J Neurosci Res 81:45–52

Jadidi-Niaragh F, Mirshafiey A (2011) Th17 cell, the new player of neuroinflammatory process in multiple sclerosis. Scand J Immunol 74(1):1–13

Langrish CL, Chen Y, Blumenschein WM et al (2005) IL-23 drives a pathogenic T cell population that induces autoimmune inflammation. J Exp Med 201(2):233–40

Løken-Amsrud KI, Myhr KM, Bakke SJ, Beiske AG et al (2013) Retinol levels are associated with magnetic resonance imaging outcomes in multiple sclerosis. Mult Scler 19:451–7

Lovett-Racke AE, Yang Y, Racke MK (2011) Th1 versus Th17: are T cell cytokines relevant in multiple sclerosis? Biochim Biophys Acta 1812(2):246–51

Lowther DE, Hafler DA (2012) Regulatory T cells in the central nervous system. Immunol Rev 248:156–169

Lu L, Zhou X, Wang J, Zheng SG, Horwitz DA (2010) Characterization of protective human CD4CD25 FOXP3 regulatory T cells generated with IL-2, TGF-β and retinoic acid. PLoS One 5(12):e 15150

Mohammadzadeh Honarvar N, Harirchian MH, Koohdani F et al (2013) The effect of vitamin A supplementation on retinoic acid-related orphan receptor γt (RORγt) and interleukin-17 (IL-17) gene expression in Avonex-treated multiple sclerotic patients. J Mol Neurosci 51(3):749–53

Mottaghi A, Salehi E, Sezavar H et al (2012) The in vitro effect of oxidized LDL and PHA on proliferation and gene expression of regulatory T cells in patients with atherosclerosis. Iran J Allergy Asthma Immunol 11(3):217–23

Mottaghi A, Salehi E, Sezavar H et al (2013) The influence of vitamin A supplementation on Foxp3 and TGF gene expression in atherosclerosis patients. J Nutrigenet Nutrigenomics 5(6):314–26

Mucida D, Park Y, Kim G (2007) Reciprocal Th17 and regulatory T cell differentiation mediated by retinoic acid. Science 317(5835):256–60

Mucida D, Pino-Lagos K, Kim G et al (2009) Retinoic acid can directly promote TGF-beta-mediated Foxp3 (+) Treg cell conversion of naive T cells. Immunity 30(4):471–2

Parés X, Farrés J, Kedishvili N, Duester G (2008) Medium-chain and short-chain dehydrogenases/reductases in retinoid metabolism. Cell Mol Life Sci 65(24):3936–49

Pino-Lagos K, Benson MJ, Noelle RJ (2008) Retinoic acid in the immune system. Ann N YAcadSci 1143:170–87

Sakaguchi S, Miyara M, Costantino CM, Hafler DA (2010) FOXP3+ regulatory T cells in the human immune system. Nat Rev Immunol 10:490–500

Salzer J, Hallmans G, Nyström M, Stenlund H, Wadell G, Sundström P (2013) Vitamin A and systemic inflammation as protective factors in multiple sclerosis. Mult Scler 19:1046–51

Samarut E, Rochette-Egly C (2011) Nuclear retinoic acid receptors: conductors of the retinoic acid symphony during development. Mol Cell Endocrinol 348(2):348–60

Schambach F, Schupp M, Lazar MA, Reiner SL (2007) Activation of retinoic acid receptor-a favors regulatory T cell induction at the expense of IL-17-secreting T helper cell differentiation. Eur J Immunol 37(9):2396–9

Sedjo RL, Ranger-Moore J, Foote J et al (2004) Circulating endogenous retinoic acid concentrations among participants enrolled in a randomized placebo-controlled clinical trial of retinylpalmitate. Cancer Epidemiol Biomarkers Prev 13(11 Pt 1):1687–92

Steinman L (2014) Immunology of relapse and remission in multiple sclerosis. Annu Rev Immunol 32:257–81

Takahashi H, Kanno T, Nakayamada S et al (2012) TGF-b and retinoic acid induce the microRNA miR-10a, which targets Bcl-6 and constrains the plasticity of helper T cells. Nat Immunol 13:587–95

Veldhoen M, Stockinger B (2006) TGFbeta1, a Jack of all trades: the link with pro-inflammatory IL-17-producing T cells. Trends Immunol 27(8):358–61

Venken K, Hellings N, Hensen K et al (2006) Secondary progressive in contrast to relapsing-remitting multiple sclerosis patients show a normal CD4 + CD25+ regulatory T-cell function and FOXP3 expression. J Neurosci Res 83(8):1432–46

Weaver CT, Hatton RD (2009) Interplay between the Th17 and Treg cell lineages: a (co)evolutionary perspective. Nat Rev Immunol 9:883–9

Xiao S, Jin H, Korn T (2008) Retinoic acid increases Foxp3+ regulatory T cells and inhibits development of Th17 cells by enhancing TGFbeta-driven Smad3 signaling and inhibiting IL-6 and IL-23 receptor expression. J Immunol 181(4):2277–84

Yurchenko E, Shio MT, Huang TC et al (2012) Inflammation driven reprogramming of CD4 + Foxp3+ regulatory T cells into pathogenic Th1/Th17 effectors is abrogated by mTOR inhibition in vivo. PLoS One 7(4):355–72

Ziegler SF, Buckner JH (2009) FOXP3 and the regulation of Treg/Th17differentiation. Microbes Infect 11:594–8

Ziouzenkova O, Plutzky J (2008) Retinoid metabolism and nuclear receptor responses: new insights into coordinated regulation of the PPAR– RXR complex. FEBS Lett 582(1):32–8

Zúñiga LA, Jain R, Haines C, Cua DJ (2013) Th17 cell development: from the cradle to the grave. Immunol Rev 252:78–88
About this article
Cite this article
Saboor-Yaraghi, A., Harirchian, M.H., Mohammadzadeh Honarvar, N. et al. The Effect of Vitamin A Supplementation on FoxP3 and TGF-β Gene Expression in Avonex-Treated Multiple Sclerosis Patients. J Mol Neurosci 56, 608–612 (2015). https://doi.org/10.1007/s12031-015-0549-y
Received:

Accepted:

Published:

Issue Date:

DOI: https://doi.org/10.1007/s12031-015-0549-y
Keywords
TGF-β

FoxP3

Gene expression

Vitamin A

Multiple sclerosis