Abstract
Bipolar disorder (BD) is a chronic psychiatric illness with an unknown etiology. Lithium is considered the cornerstone in the management of BD, though about 50–60 % of patients do not respond sufficiently to chronic treatment. Insulin-like growth factor 1 (IGF1) has been identified as a candidate gene for BD susceptibility, and its low expression has been suggested as a putative biomarker for lithium unresponsiveness. In this study, we examined the in vitro effects of insulin-like growth factor 1 (IGF-1) on lithium sensitivity in lymphoblastoid cell lines (LCLs) from lithium responder (R) and non-responder (NR) bipolar patients. Moreover, we evaluated levels of microRNA let-7c, a small RNA predicted to target IGF1. We found that exogenous IGF-1 added to serum-free media increased lithium sensitivity selectively in LCLs from NR BD patients. However, no significant differences were observed when comparing let-7c expression in LCLs from R vs. NR BD patients. Our data support a key role for IGF-1 in lithium resistance/response in the treatment of bipolar disorder.
This is a preview of subscription content, log in to check access.
Access options
Buy single article
Instant access to the full article PDF.
US$ 39.95
Price includes VAT for USA
Subscribe to journal
Immediate online access to all issues from 2019. Subscription will auto renew annually.
US$ 199
This is the net price. Taxes to be calculated in checkout.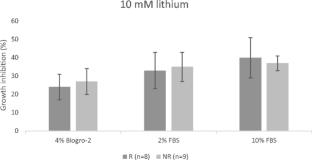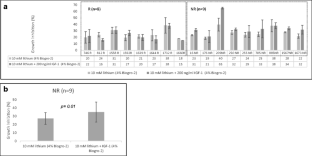 Abbreviations
BD:

Bipolar disorder

IGF-1:

Insulin-like growth factor 1

LCLs:

Lymphoblastoid cell lines

R:

Responders

NR:

Non-responders

IGF1R :

IGF-1 receptor

IR:

Insulin receptor

LRP1:

Receptor-related protein 1

IGFBP2 :

Insulin-like growth factor binding protein 2

miRNAs:

MicroRNAs

IGFBP1 :

Insulin-like growth factor binding protein 1

IGFBP3 :

Insulin-like growth factor binding protein 3

qRT-PCR:

Quantitative real-time-PCR
References
Åberg MAI, Åberg ND, Hedba H et al (2000) Peripheral infusion of IGF-I selectively induces neurogenesis in the adult rat hippocampus. Endocrinology 20:2896–2903

Ambros V (2004) The functions of animal microRNAs. Nature 431:350–355

Bezchlibnyk YB, Xu L, Wang J-F, Young LT (2007) Decreased expression of insulin-like growth factor binding protein 2 in the prefrontal cortex of subjects with bipolar disorder and its regulation by lithium treatment. Brain Res 1147:213–217. doi:10.1016/j.brainres.2007.01.147

Carro E, Trejo JL, Busiguina S, Torres-aleman I (2001) Circulating insulin-like growth factor I mediates the protective effects of physical exercise against brain insults of different etiology and anatomy. J Neurosci 21:5678–5684

Corrada D, Viti F, Merelli I et al (2011) myMIR: a genome-wide microRNA targets identification and annotation tool. Brief Bioinform 12:588–600. doi:10.1093/bib/bbr062

Grof P, Ph D, Duffy A et al (2002) Is response to prophylactic lithium a familial trait? J Clin Psychiatry 63:942–947

Honegger A, Humbel RE (1986) Insulin-like growth factors I and II in fetal and adult bovine serum. Purification, primary structures, and immunological cross-reactivities. J Biol Chem 261:569–575

Hornstein E, Shomron N (2006) Canalization of development by microRNAs. Nat Genet 38(Suppl):S20–S24. doi:10.1038/ng1803

Kim Y-K, Na K-S, Hwang J-A et al (2013) High insulin-like growth factor-1 in patients with bipolar I disorder: a trait marker? J Affect Disord 151:738–743. doi:10.1016/j.jad.2013.07.041

Liu X, Zhang T, He S et al (2014) Elevated serum levels of FGF-2, NGF and IGF-1 in patients with manic episode of bipolar disorder. Psychiatry Res 218:54–60. doi:10.1016/j.psychres.2014.03.042

Maffioletti E, Tardito D, Gennarelli M, Bocchio-Chiavetto L (2014) Micro spies from the brain to the periphery: new clues from studies on microRNAs in neuropsychiatric disorders. Front Cell Neurosci 8:75. doi:10.3389/fncel.2014.00075

Manchia M, Adli M, Akula N et al (2013) Assessment of response to lithium maintenance treatment in bipolar disorder: a Consortium on Lithium Genetics (ConLiGen) Report. PLoS One 8(6):e65636

Martin EC, Bratton MR, Zhu Y et al (2012) Insulin-like growth factor-1 signaling regulates miRNA expression in MCF-7 breast cancer cell line. PLoS One 7:e49067. doi:10.1371/journal.pone.0049067

Merikangas KR, Akiskal HS, Angst J et al (2007) Lifetime and 12-month prevalence of bipolar spectrum disorder in the National Comorbidity Survey replication. Arch Gen Psychiatry 64:543–552. doi:10.1001/archpsyc.64.5.543

Morag A, Kirchheiner J, Rehavi M, Gurwitz D (2010) Human lymphoblastoid cell line panels: novel tools for assessing shared drug pathways. Pharmacogenomics 11:327–340

Morag A, Pasmanik-Chor M, Oron-Karni V (2011) Genome-wide expression profiling of human lymphoblastoid cell lines identifies CHL1 as a putative SSRI antidepressant response biomarker. Pharmacogenomics 171–184

Orengo AM, Di Carlo E, Comes A et al (2014) Tumor cells engineered with IL-12 and IL-15 genes induce protective antibody responses in nude mice. J Immunol 171:569–575. doi:10.4049/jimmunol.171.2.569

Oved K, Morag A, Pasmanik-Chor M et al (2013) Genome-wide expression profiling of human lymphoblastoid cell lines implicates integrin beta-3 in the mode of action of antidepressants. Transl Psychiatry 3:e313. doi:10.1038/tp.2013.86

Palomino A, González-pinto A, Martinez-cengotitabengoa M et al (2013) Progress in neuro-psychopharmacology & biological psychiatry relationship between negative symptoms and plasma levels of insulin-like growth factor 1 in first-episode schizophrenia and bipolar disorder patients. Prog Neuropsychopharmacol Biol Psychiatry 44:29–33. doi:10.1016/j.pnpbp.2013.01.008

Pereira ACP, McQuillin A, Puri V et al (2011) Genetic association and sequencing of the insulin-like growth factor 1 gene in bipolar affective disorder. Am J Med Genet B Neuropsychiatr Genet 156:177–187. doi:10.1002/ajmg.b.31153

Roush S, Slack FJ (2008) The let-7 family of microRNAs. Trends Cell Biol 18:505–516. doi:10.1016/j.tcb.2008.07.007

Rukov JL, Shomron N (2011) MicroRNA pharmacogenomics: post-transcriptional regulation of drug response. Trends Mol Med 17:412–423. doi:10.1016/j.molmed.2011.04.003

Sarkissyan S, Sarkissyan M, Wu Y et al (2014) IGF-1 regulates Cyr61 induced breast cancer cell proliferation and invasion. PLoS One 9:e103534. doi:10.1371/journal.pone.0103534

Sciacca L, Le Moli R, Vigneri R (2012) Insulin analogs and cancer. Front Endocrinol (Lausanne) 3:21. doi:10.3389/fendo.2012.00021

Singh B, Armstrong DT (1997) Insulin-like growth factor-1, a component of serum that enables porcine cumulus cells to expand in response to follicle-stimulating hormone in vitro. Biol Reprod 1375:1370–1375

Squassina A, Manchia M, Borg J et al (2011) Evidence for association of an ACCN1 gene variant with response to lithium treatment in Sardinian patients with bipolar disorder. Pharmacogenomics 12:1559–1569

Squassina A, Costa M, Congiu D et al (2013) Insulin-like growth factor 1 (IGF-1) expression is up-regulated in lymphoblastoid cell lines of lithium responsive bipolar disorder patients. Pharmacol Res 73:1–7. doi:10.1016/j.phrs.2013.04.004

Werner H, Leroith D (2014) Insulin and insulin-like growth factor receptors in the brain: Physiological and pathological aspects. Eur Neuropsychopharmacol 1–7. doi: 10.1016/j.euroneuro.2014.01.020

Wulczyn FG, Smirnova L, Rybak A et al (2007) Post-transcriptional regulation of the let-7 microRNA during neural cell specification. FASEB J 21:415–426. doi:10.1096/fj.06-6130com

Yildiz A, Vieta E, Leucht S, Baldessarini RJ (2011) Efficacy of antimanic treatments: meta-analysis of randomized, controlled trials. Neuropsychopharmacology 36:375–389. doi:10.1038/npp.2010.192

Zhou R, Yuan P, Wang Y et al (2009) NIH Public Access 34:1395–1405. doi:10.1038/npp.2008.131.Evidence
Acknowledgments
The authors thank the patients involved in the study for the generous collaboration. This study was supported by the US Israel Binational Science Foundation (BSF) Grant No. 2013223 (to DG). DG is supported by the Shalom and Varda Yoran Institute for Human Genome Research at Tel Aviv University. Elena Milanesi is a post-doctoral fellow supported by the Shabbetai Donnolo Fellowships between Italy and Israel. MG and Elisabetta Maffioletti are supported by grants from the Italian Ministry of Health (Ricerca Corrente). AS is a post-doctoral fellow funded by a grant from the Sardinia Regional Government (P.O.R. Sardegna F.S.E. Operational Program of the Autonomous Region of Sardinia, European Social Fund 2007-2013–Axis IV Human Resources, Objective l.3, Line of Activity l.3.1.).
Electronic Supplementary Material
Below is the link to the electronic supplementary material.
About this article
Cite this article
Milanesi, E., Hadar, A., Maffioletti, E. et al. Insulin-like Growth Factor 1 Differentially Affects Lithium Sensitivity of Lymphoblastoid Cell Lines from Lithium Responder and Non-responder Bipolar Disorder Patients. J Mol Neurosci 56, 681–687 (2015). https://doi.org/10.1007/s12031-015-0523-8
Received:

Accepted:

Published:

Issue Date:
Keywords
Insulin-like growth factor 1 (IGF-1)

Somatomedin C

Let-7c

Lithium

Bipolar disorder

Lymphoblastoid cell lines (LCLs)