Abstract
The cytokine microenvironment modulates CD4 T cell differentiation causing the shift of naïve CD4 T cells into different cell subsets. This process is also regulated by modulators such as vasoactive intestinal peptide (VIP), a neuropeptide with known immunomodulatory properties on CD4 T cells that exert this action through specific receptors, vasoactive intestinal peptide receptor (VPAC)1 and VPAC2. Our results show that the pattern of VIP receptors expression ratio is modified during Th17 differentiation. In this report, we evaluate the capacity of VIP to modulate naïve human cells into Th17 cells in vitro by analyzing their functional phenotype. The presence of VIP maintains the nonpathogenic profile of Th17-polarized cells, increases the proliferation rate, and decreases their Th1 potential. VIP induces the upregulation of the STAT3 gene interaction with the VPAC1 receptor during the onset of Th17 differentiation. Moreover, RAR-related orphan receptor C (RORC), RAR-related orphan receptor A (RORA), and interleukin (IL)-17A genes are upregulated in the presence of VIP through interaction with VPAC1 and VPAC2 receptors. Interestingly, VIP induces the expression of the IL-23R gene through interaction with the VPAC2 receptor during the expansion phase. This is the first report that describes the differentiation of naïve human T cells to Th17-polarized cells in the presence of VIP and demonstrates how this differentiation regulates the expression of the VIP receptors.
Access options
Buy single article
Instant access to the full article PDF.
US$ 39.95
Tax calculation will be finalised during checkout.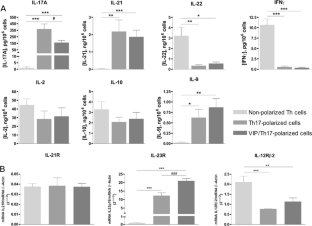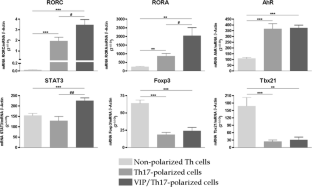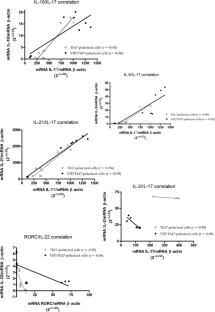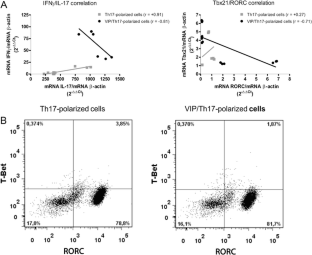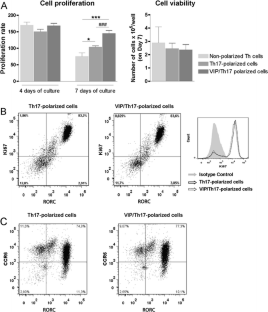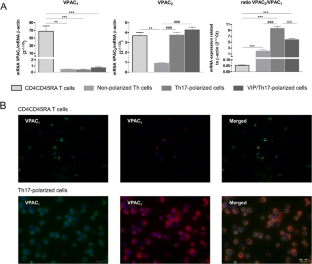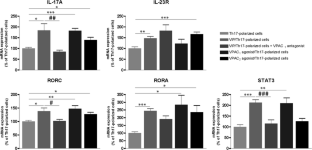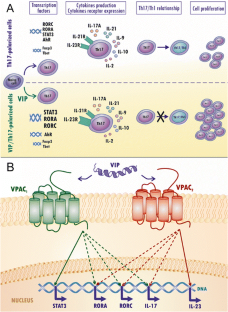 References
Abad C, Juarranz Y, Martínez C, Arranz A, Rosignoli F, García-Gómez M et al (2005) cDNA array analysis of cytokines, chemokines and receptors involved in the development of TNBS-induced colitis: homeostatic role of VIP. Inflamm Bowel Dis 11:674–684

Acosta-Rodriguez EV, Rivino L, Geginat J, Jarrossay D, Gattorno M, Lanzavecchia A et al (2007) Surface phenotype and antigenic specificity of human interleukin 17-producing T helper memory cells. Nat Immunol 8:639–646

Amadi-Obi A, Yu CR, Liu X, Mahdi RM, Clarke GL, Nussenblatt RB et al (2007) TH17 cells contribute to uveitis and seleritis and are expanded by IL-2 and inhibited by IL-27/STAT1. Nat Med 13:711–718

Arranz A, Abad A, Juarranz Y, Leceta J, Martínez C, Gomariz RP (2008) Vasoactive intestinal peptide as a healing mediator in Crohn's disease. Neuroimmunomodulation 15:46–53

Baun M, Hay-Schmidt A, Edvinsson L, Olesen J, Jansen-Olesen I (2011) Pharmacological characterization and expression of VIP and PACAP receptors in isolated cranial arteries of the rat. Eur J Pharmacol 670:186–194

Beriou G, Brandshaw EM, Lozano E, Costantino CM, Hastings WD, Orban T et al (2010) TGF beta induces IL-9 production from human Th17 cells. J Immunol 185:46–54

Bi Y, Yang R (2012) Direct and indirect regulatory mechanisms in TH17 cell differentiation and functions. Scand J Immunol 75:543–552

Calafat M, Larocca L, Roca V, Hauk V, Pregi N, Nessi A et al (2009) Vasoactive intestinal peptide inhibits TNF-alpha-induced apoptotic events in acinar cells from nonobese diabetic mice submandibular glands. Arthritis Res Ther 11:R53

Ceraudo E, Hierso R, Tan YV, Murail S, Rouyer-Fessard C, Nicole P et al (2012) Spatial proximity between the VPAC1 receptor and the amino terminus of agonist and antagonist peptides reveals distinct sites of interaction. FASEB J 26:2060–2071

Chen Z, O'Shea JJ (2008) Regulation of IL17 production in human lymphocytes. Cytokine 41:71–78

Couvineau A, Laburthe M (2012) VPAC receptors: structure, molecular pharmacology and interaction with accessory proteins. Br J Pharmacol 166:42–50

Cua DJ, Tato CM (2010) Innate IL-17-producing cells: the sentinels of the immune system. Nat Rev Immunol 10:479–489

Delgado M, Martinez C, Johnson MC, Gomariz RP, Ganea D (1996) Differential expression of vasoactive intestinal peptide receptors 1 and 2 (VIP-R1 and VIP-R2) mRNA in murine lymphocytes. J Neuroimmunol 68:27–38

Delgado M, Abad C, Martínez C, Leceta J, Gomariz RP (2001) Vasoactive intestinal peptide prevents experimental arthritis by downregulating both autoimmune and inflammatory components of the disease. Nat Med 7:563–568

Ding W, Manni M, Stohl LL, Zhou XK, Wagner JA, Granstein RD (2012) Pituitary adenylate cyclise-activating polypeptide and vasoactive intestinal polypeptide bias Langerhans cell Ag presentation toward Th17 cells. Eur J Immunol 4:901–911

Dorsam GP, Benton K, Failing J, Batra S (2011) Vasoactive intestinal peptide signalling axis in human leukemia. World J Biol Chem 2:146–160

Ganjalikhani M, Ghaedi K, Ahdalib A, Hosseini M, Rezaei A (2011) Optimization of human Th17 cell differentiation in vitro: evaluating different polarization factors. In Vitro Cell Dev Biol Anim 47:581–592

Ghoreschi K, Laurence A, Yang XP, Hirahara K, O'Shea JJ (2011) T helper 17 cell heterogeneity and pathogenicity in autoimmune disease. Trends Immunol 39:395–401

Gomariz RP, Juarranz Y, Abad C, Arranz A, Leceta J, Martínez C (2006) VIP-PACAP system in immunity: new insights for multitarget theraphy. Ann N Y Acad Sci 1070:51–74

Gomariz RP, Gutiérrez-Cañas I, Arranz A, Carrión M, Juarranz Y, Leceta J et al (2010) Peptides targeting Toll-like receptor signalling pathways for novel immune therapeutics. Curr Pharm Des 16:1063–1080

Gourlet P, De Neef P, Cnudde J, Waelbroeck M, Robberecht P (1997) In vitro properties of a high affinity selective antagonist of the VIP1 receptor. Peptides 18:1555–1560

Graeber KE, Olsen NJ (2012) Th17 cell cytokine secretion profile in host defense and autoimmunity. Inflamm Res 61:87–96

Gutiérrez-Cañas I, Juarranz Y, Santiago B, Martínez C, Gomariz RP, Pablos JL et al (2008) Immunoregulatory properties of vasoactive intestinal peptide in human T cell subsets: implications for rheumatoid artritis. Brain Behav Immun 22:312–317

Harmar AJ, Fahrenkrug J, Gozes I, Laburthe M, May V, Pisegna JR et al (2012) Pharmacology and functions of receptors for vasoactive intestinal peptide and pituitary adenylate cyclase-activating polypeptide: IUPHAR review 1. Br J Pharmacol 166:4–17

Hirahara K, Ghoreschi K, Laurence A, Yang XP, Kanno Y, O'Shea JJ (2010) Signal transduction pathways and transcriptional regulation in Th17 cell differentiation. Cytokine Growth Factor Rev 21:425–434

Hirota K, Ahlfors H, Duarte JH, Stockinger B (2012) Regulation and function of innate and adaptive interleukin-17 producing cells. EMBO Rep 13:113–120

Jimeno R, Gomariz RP, Gutiérrez-Cañas I, Martínez C, Juarranz Y, Leceta J (2010) New insights into the role of VIP on the ratio of T-cell subsets during the development of autoimmune diabetes. Immunol Cell Biol 88:734–745

Jimeno R, Leceta J, Martínez C, Gutiérrez-Cañas I, Pérez-García S, Carrión M et al (2011) Effect of VIP on the balance between cytokines and master regulators of activated helper T cells. Immunol Cell Biol 90:178–186

Juarranz Y, Gutiérrez-Cañas I, Santiago B, Carrión M, Pablos JL, Gomariz RP (2008) Differential expression of vasoactive intestinal peptide and its functional receptors in human osteoarthritic and rheumatoid synovial fibroblasts. Arthritis Rheum 58:1086–1095

Korn T, Bettelli E, Oukka M, Kuchroo VK (2009) IL-17 and Th17 cells. Annu Rev Immunol 27:485–517

Leceta J, Gomariz RP, Martinez C, Carrión M, Arranz A, Juarranz Y (2007) Vasoactive intestinal peptide regulates Th17 function in autoimmune inflammation. Neuroimmunomodulation 14:134–138

Lee YK, Turner H, Maynard CL, Oliver JR, Chen D, Elson CO et al (2008) Late developmental plasticity in the T helper 17 lineage. Immunity 30:92–107

Lee Y, Awasthi A, Yosef N, Quintana FJ, Xiao S, Peters A et al (2012) Induction and molecular signature of pathogenic TH17 cells. Nat Immunol 13:991–999

Lexberg MH, Taubner A, Albrecht I, Lepenies I, Richter A, Kamradt T et al (2010) IFNγ and IL-12 synergize to convert in vivo generated Th17 into Th1/Th17 cells. Eur J Immunol 40:3017–3027

Lodde BM, Mineshiba F, Wang J, Cotrim AP, Afione S, Tak PP et al (2006) Effect of human vasoactive intestinal peptide gene transfer in a murine model of Sjogren's syndrome. Ann Rheum Dis 65:195–200

Marwaha AK, Leung NJ, McMurchy AN, Leving MK (2012) TH17 cells in autoimmunity and immunodeficiency: protective or pathogenic? Front Immunol 3:129

McGeachy MJ, Bak-Jensen KS, Chen Y, Tato CM, Blumenschein W, McClanahan T et al (2007) TGF-beta and IL-6 drive the production of IL-17 and IL-10 by T cells and restrain T(H)-17 cell-mediated pathology. Nat Immunol 8:1390–1397

Murphy KM, Stockinger B (2010) Effector T cell plasticity: flexibility in the face of changing circumstances. Nat Immunol 11:674–680

O'Shea JJ, Paul WE (2010) Mechanisms underlying lineage commitment and plasticity of helper CD4+ T cells. Science 327:1098–1102

Santarlasci V, Maggi L, Capone M, Querci V, Beltrame L, Cavalieri D et al (2012) Rarity of human T helper 17 cells is due to retinoic acid orphan receptor-dependent mechanisms that limit their expansion. Immunity 36:201–214

Smalley SG, Barrow PA, Foster N (2009) Immunomodulation of innate immune responses by vasoactive intestinal peptide (VIP): its therapeutic potential in inflammatory disease. Clin Exp Immunol 157:225–234

Sundrud MS, Trivigno C (2013) Identity crisis of Th17 cells: many forms, many functions, many questions. Semin Immunol 25:263–272

Vacas E, Fernández-Martínez AB, Bajo AM, Sánchez-Chapado M, Schally AV, Prieto JC et al (2012) Vasoactive intestinal peptide (VIP) inhibits human renal cell carcinoma proliferation. Biochim Biophys Acta 1823:1676–1685

Veldhoen M, Hirota K, Westendorf AM, Buer J, Dumoutier L, Renauld JC et al (2008) The aryl hydrocarbon receptor links TH17-cell-mediated autoimmunity to environmental toxins. Nature 453:106–109

Vomhof-Dekrey EE, Dorsam GP (2008) Stimulatory and suppressive signal transduction regulates vasoactive intestinal peptide receptor-1 (VPAC-1) in primary mouse CD4 T cells. Brain Behav Immun 22:1024–1031

Yadav M, Rosenbaum J, Goetzl EJ (2008) Cutting edge: vasoactive intestinal peptide (VIP) induces differentiation of Th17 cells with a distinctive cytokine profile. J Immunol 180:2772–2776

Yang XO, Pappu BP, Nurieva R, Akimzhanov A, Kang HS, Chung Y et al (2008) T helper 17 lineage differentiation is programmed by orphan nuclear receptors ROR alpha and ROR gamma. Immunity 28:29–39

Zhu J, Paul WE (2008) CD4 T cells: fates, functions and faults. Blood 112:1557–1569

Zhu J, Paul WE (2010) Peripheral CD4+ T-cell differentiation regulated by networks of cytokines and transcription factors. Immunol Rev 238:247–262

Zuñiga LA, Jain R, Haines C, Cua DJ (2013) Th17 cell development from the cradle to the grave. Immunol Rev 252:78–88
Acknowledgments
This work was supported by the Fondo de Investigación Sanitaria, Instituto de Salud Carlos III (PI11/00195, PI12/00758 and RETICS RD08/0075, RD12/0009/0002) within VI PNDE I+D+I by FEDER funds from EU and S2010/BMD-2350 from Comunidad Autónoma de Madrid (CAM) and by grants from the ISCIII to RJ and MC, and the FPI grants from Ministerio de Economía y Competitividad to SPG. Thank you to the Transfusion Center of CAM and healthy donors for human cord blood samples.
Additional information
Rosa P. Gomariz and Yasmina Juarranz share senior authorship.
About this article
Cite this article
Jimeno, R., Leceta, J., Martínez, C. et al. Vasoactive Intestinal Peptide Maintains the Nonpathogenic Profile of Human Th17-Polarized Cells. J Mol Neurosci 54, 512–525 (2014). https://doi.org/10.1007/s12031-014-0318-3
Received:

Accepted:

Published:

Issue Date:
Keywords
Th differentiation

Th17

VIP

VPAC receptors