Abstract
Oxidative stress and mitochondrial dysfunction are underpinned for initiating a cascade of toxic events leading to dopaminergic neuronal death in Parkinson's disease (PD) and identified as vital target for therapeutic intervention. Curcumin, a potent antioxidant has been reported to display diverse neuroprotective properties against various neurodegenerative diseases including PD. In this present study, we investigated the protective effect of CNB-001, a pyrazole derivative of curcumin on rotenone-induced toxicity and its possible mechanisms in neuroblastoma SK-N-SH cells. Rotenone insult significantly reduced cell viability (MTT assay) and resulted in 78 % apoptosis (dual staining) by altering Bcl-2, Bax, caspase-3, and cytochrome C expression. Moreover, rotenone enhanced ROS production and disrupts mitochondrial membrane potential. These resultant phenotypes were distinctly alleviated by CNB-001. Pretreatment with CNB-001(2 μM) 2 h before rotenone exposure (100 nM) increased cell viability, decreased ROS formation, maintained normal physiological mitochondrial membrane potential, and reduced apoptosis. Furthermore, CNB-001 inhibited downstream apoptotic cascade by increasing the expression of vital antiapoptotic protein Bcl-2 and decreased the expression of Bax, caspase-3, and cytochrome C. Collectively, the results suggest that CNB-001 protects neuronal cell against toxicity through antioxidant and antiapoptotic properties through its action on mitochondria. Therefore, it may be concluded that CNB-001 can be further developed as a promising drug for treatment of PD.
Access options
Buy single article
Instant access to the full article PDF.
US$ 39.95
Tax calculation will be finalised during checkout.
Subscribe to journal
Immediate online access to all issues from 2019. Subscription will auto renew annually.
US$ 119
Tax calculation will be finalised during checkout.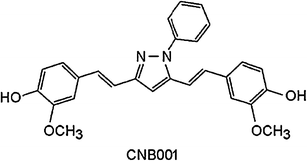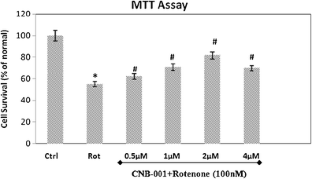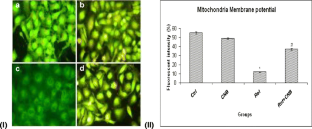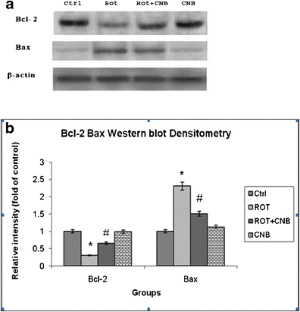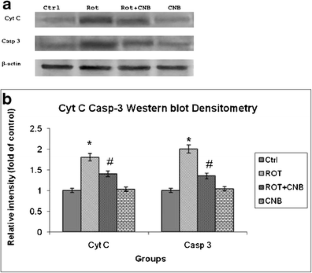 References
Antonsson B, Martinou JC (2000) The Bcl-2 protein family. Exp Cell Res 256:50–57

Batandier C, Leverve X, Fontaine E (2004) Opening of the mitochondrial permeability transition pore induces reactive oxygen species production at the level of the respiratory chain complex I. J Biol Chem 279:17197–17204

Cole GM, Teter B, Frautschy SA (2007) Neuroprotective effects of curcumin. Adv Exp Med Biol 595:197–212

D'Amelio M, Sheng M, Cecconi F (2012) Caspase-3 in the central nervous system: beyond apoptosis. Trends Neurosci 35:700–709

Fiskum G, Rosenthal RE, Vereczki V, Martin E, Hoffman GE, Chinopoulos C, Kowaltowski A (2004) Protection against ischemic brain injury by inhibition of mitochondrial oxidative stress. J Bioenerg Biomembr 36:347–352

Francoa R, Sánchez-Oleab R, Reyes-Reyesc EM, Panayiotidis MI (2009) Environmental toxicity, oxidative stress, and apoptosis: Ménage à Trois. Mutat Res 674:3–22

Gottlieb E, Vander Heiden MG, Thompson CB (2000) Bcl-x(L) prevents the initial decrease in mitochondrial membrane potential and subsequent reactive oxygen species production during tumor necrosis factor alpha-induced apoptosis. Mol Cell Biol 20:5680–5689

Green DR, Kroemer G (2004) The pathophysiology of mitochondrial cell death. Science 305:626–629

Greenamyre JT, Betarbet R, Sherer T, Panov A (2001) Response: Parkinson's disease, pesticides, and mitochondrial dysfunction. Trends Neurosci 24:247

Halliwell B, Whiteman M (2004) Measuring reactive species and oxidative damage in vivo and in cell culture: how should you do it and what do the results mean? Br J Pharmacol 142:231–255

Han Y, Xu J, Li Z, Yang Z (2013) Neuroprotective effect of Leukemia inhibitory factor on antimycin A-induced oxidative injury in differentiated PC12 cells. J Mol Neurosci 50:577–585

Kasibhatla S, Amarante-Mendes GP, Finucane D, Brunner T, Bossy-Wetzel E, Green DR (2006) Acridine Orange/Ethidium Bromide (AO/EB) staining to detect apoptosis. Cold Spring Harb Protoc 15 doi:10.1101/pdb.prot4493

Langenau DM, Jette C, Berghmans S, Polomero T, Kanki JP, Kutok JK, Look AT (2005) Suppression of apoptosis by bcl-2 overexpression in lymphoid cells of transgenic zebrafish. Blood 105:3278–3285

Li N, Ragheb KE, Lawler G, Sturgis J, Rajwa B, Melendez JA, Robinson JP (2003) Mitochondrial complex I inhibitor rotenone induces apoptosis through enhancing mitochondrial reactive oxygen species production. J Biol Chem 278:8516–8525

Li Q, Kobayashi M, Kawada T (2007) Organophosphorus pesticides induce apoptosis in human NK cells. Toxicology 239:89–95

Maher P, Akaishi T, Schubert D, Abe K (2010) A pyrazole derivative of curcumin enhances memory. Neurobiol Aging 31:706–709

Mallet RT, Sun J, Knott EM, Sharma AB, Olivencia-Yurvati AH (2005) Metabolic cardioprotection by pyruvate: recent progress. Exp Biol Med (Maywood) 230:435–443

Mosmann T (1983) Rapid colorimetric assay for cellular growth and survival: application to proliferation and cytotoxicity assays. J Immunol Methods 65:55–63

Narumoto O, Matsuo Y, Sakaguchi M et al (2012) Suppressive effects of a pyrazole derivative of curcumin on airway inflammation and remodeling. Exp Mol Pathol 93:18–25

Perier C, Bove J, Vila M, Przedborski S (2003) The rotenone model of Parkinson's disease. Trends Neurosci 26:345–346

Pirnia F, Schneider E, Betticher DC, Borner MM (2002) Mitomycin C induces apoptosis and caspase-8 and −9 processing through a caspase-3 and Fas-independent pathway. Cell Death Differ 9:905–914

Przedborski S (2007) Peroxiredoxin-2 links Cdk5 to neurodegeneration. Nat Med 13:907–909

Reus MIS, Peinado II, Jiménez MFM, Bened J (2005) Fraxetin prevents rotenone-induced apoptosis by induction of endogenous glutathione in human neuroblastoma cells. Neurosci Res 53:48–56

Scaduto RC, Grotyohann LW (1999) Measurement of mitochondrial membrane potential using fluorescent rhodamine derivatives. Biophys J 76:469–477

Schapira AH (2008) Mitochondria in the etiology and pathogenesis of Parkinson's disease. Lancet Neurol 7:97–109

Sherer TB, Betarbet R, Testa CM et al (2003) Mechanism of toxicity in rotenone models of Parkinson's disease. J Neurosci 23:10756–10764

Tan S, Schubert D, Maher P (2001) Oxytosis: a novel form of programmed cell death. Curr Topics Med Chem 1:497–506

Ullah N, Ullah I, Lee HY, Naseer MI, Seok PM, Ahmed J, Kim MO (2012) Protective function of nicotinamide against Ketamine-induced apoptotic neurodegeneration in the infant rat brain. J Mol Neurosci 47:67–75

Wang H, Joseph JA (1999) Quantifying cellular oxidative stress by dichlorofluorescein assay using microplate reader. Free Radic Biol Med 27:612–616

York JL, Maddox LC, Zimniak P, McHugh TE, Grant DF (1998) Reduction of MTT by glutathione S-transferase. Biotechniques 25(622–624):626–628

Yuanbin L, Dargusch R, Maher P, Schubert D (2008) A broadly neuroprotective derivative of curcumin. J Neurochem 105(1336):1345

Zhaohui L, Li T, Yang D, Smith WW (2013) Curcumin protects against rotenone-induced neurotoxicity in cell and drosophila models of Parkinson's disease. Adv Park Dis 2:18–27
Acknowledgment
We are very much thankful to Dr. Dave Schubert (Cellular Neurobiology lab) at Salk Institute of Biological sciences for his constant advice and generosity in providing CNB-001.
Conflict of Interest
No conflict of interest
About this article
Cite this article
Jayaraj, R.L., Tamilselvam, K., Manivasagam, T. et al. Neuroprotective Effect of CNB-001, a Novel Pyrazole Derivative of Curcumin on Biochemical and Apoptotic Markers Against Rotenone-Induced SK-N-SH Cellular Model of Parkinson's Disease. J Mol Neurosci 51, 863–870 (2013). https://doi.org/10.1007/s12031-013-0075-8
Received:

Accepted:

Published:

Issue Date:
Keywords
CNB-001

Rotenone

Oxidative stress

Mitochondria membrane potential

Apoptosis