Abstract
Schizophrenia is a multifactorial disease with changes in immunological system. Such changes are the result of cytokine-level disturbances connected with cytokine gene polymorphisms. However, research about cytokine gene polymorphisms in schizophrenia has been surprisingly limited and ambiguous. The aim of the study was to identify whether polymorphisms of interleukin (IL)-6 and IL-10 are risk factors for the development of paranoid schizophrenia in case-control study. IL-6 (−174G/C; rs 1800795) and IL-10 (−1082G/A; rs 1800896) promoter polymorphisms in patients with paranoid schizophrenia and healthy individuals were genotyped using polymerase chain reaction–restriction fragment length polymorphism method. Differences in IL-6 and IL-10 promoter haplotypes may play an important role in determining the transcription level for IL-6 and IL-10 genes in schizophrenic patients. The presence of allele C at position −174 of IL-6 promoter sequence may correlate with increasing risk of paranoid schizophrenia in the Polish population, but research on a broadened group of people is needed. The presence of allele G at position −1082 of IL-10 promoter sequence correlates with increasing risk of paranoid schizophrenia in the Polish population. The coexistence of genotype GG at position −1082 of IL-10 promoter sequence and genotype GC at position −174 of IL-6 promoter sequence correlates with increasing risk of paranoid schizophrenia in the Polish population.
This is a preview of subscription content,
to check access.
Access this article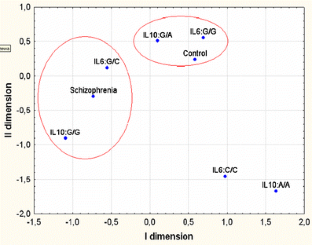 Similar content being viewed by others
References
Akira S, Isshiki H, Sugita T, Tanabe O, Kinoshita S, Nishio Y, Nakajima T, Hirano T, Kishimoto T (1990) A nuclear factor for IL-6 expression (NF-IL6) is a member of a C/EBP family. EMBO J 9:1897–1906

Allen NC, Bagade S, McQueen MB et al (2008) Systematic meta-analysis and field synopsis of the genetic association studies in schizophrenia: the SzGene database. Nat Genet 40:827–834

Baran W, Szepietowski J, Mazur G, Baran E (2008) IL-6 and IL-10 promoter gene polymorphisms in psoriasis vulgaris. Acta Derm Venereol 88:113–116

Behrens MM, Sejnowski TJ (2009) Does schizophrenia arise from oxidative dysregulation of parvalbumin-interneurons in the developing cortex? Neuropharmacology 57(3):193–200

Blum BP, Mann JJ (2002) The GABAergic system in schizophrenia. Int J Neuropsychopharmacol 5:159–179

Boiardi L, Casali B, Farnetti E, Pipitone N, Nicoli D, Cantini F, Macchioni P, Bajocchi G, Catanoso MG, Pulsatelli L, Consonni D, Salvarani C (2006) Relationship between interleukin 6 promoter polymorphism at position −174, IL-6 serum levels, and the risk of relapse/recurrence in polymyalgia rheumatica. J Rheumatol 33:703–708

Brown KD, Claudio E, Siebenlist U (2008) The roles of the classical and alternative nuclear factor-kappaB pathways: potential implications for autoimmunity and rheumatoid arthritis. Arthritis Res Ther 10:212

Brull DJ, Montgomery HE, Sanders J, Dhamrait S, Luong L, Rumley A, Lowe GD, Humphries SE (2001) Interleukin-6 gene -174g>c and -572g>c promoter polymorphisms are strong predictors of plasma interleukin-6 levels after coronary artery bypass surgery. Arterioscler Thromb Vasc Biol 21:1458–1463.

Cazzulo CL, Scarone S, Grassi B, Vismara C, Trabattoni D, Clerici M (1998). Cytokines production in chronic schizophrenia patients with or without paranoid behavior. Prog Neuropsychopharmacol Biol Psychiatry 22:947–957.

Chen X, Wang X, Hossain S et al (2007) Interleukin 3 and schizophrenia: the impact of sex and family history. Mol Psychiatry 12:273–282

Chiavetto LB, Boin F, Zanardini R, Popoli M, Michelato A, Bignotti S, Tura GB, Gennarelli M (2002) Association between promoter polymorphic haplotypes of interleukin-10 gene and schizophrenia. Biol Psychiatry 51:480–484

Craddock N, O'Donovan MC, Owen MJ (2005) The genetics of schizophrenia and bipolar disorder: dissecting psychosis. J Med Genet 42:193–204

Dunn AJ (2006) Effects of cytokines and infections on brain neurochemistry. Clin Neurosci Res 6:52–68

Elston RC, Forthofer R (1977) Testing for Hardy–Weinberg equilibrium in small samples. Biometrics 33:536–542

First MB, Spitzer RL, Gibbon M, Williams JBW (1997) Structured clinical interview for DSM-IV® Axis I disorders (SCID-I), clinician version. American Psychiatric Press, Washington

García-Miss MR, Pérez-Mutul J, López-Canul B, Solís-Rodríguez F, Puga-Machado L, Oxté-Cabrera A, Gurubel-Maldonado J, Arankowsky-Sandoval G (2009) Folate, homocysteine, interleukin-6, and tumor necrosis factor alfa levels, but not the methylenetetrahydrofolate reductase C677T polymorphism, are risk factors for schizophrenia. J Psych Res doi:10.1016/j.jpsychires.2009.10.011

Hänninen K, Katila H, Saarela M, Rontu R, Mattila KM, Fan M, Hurme M, Lehtimäki T (2008) Interleukin -1 β gene polymorphism and its interactions with neuregulin-1 gene polymorphism are associated with schizophrenia. Eur Arch Psychiatry Clin Neurosci 258:10–5

Hauser J, Dmitrzak-Węglarz M (2009) In search of schizophrenia genes. Neuropsych and Neuropsychol 4(1):1–9

Hohaus S, Giachelia M, Di Febo A, Martini M, Massini G, Vannata B, D'Alo' F, Guidi F, Greco M, Pierconti F, Larocca LM, Voso MT, Leone G (2007) Polymorphism in cytokine genes as prognostic markers in Hodgkin's lymphoma. Ann Oncol 18:1376–1381

Jun TY, Pae CU, Kim KS, Han H, Serretti A (2003) Interleukin-10 gene promoter polymorphism is not associated with schizophrenia in the Korean population. Psychiatry Clin Neurosci 57:153–159

Kampman O, Anttila S, Illi A, Mattila KM, Rontu R, Leinonen E, Lehtimäki T (2005) Interaction of tumor necrosis alpha - G308A and epidermal growth factor gene polymorphisms in early-onset schizophrenia. Eur Arch Psychiatry Clin Neurosci 255:279–83

Kay SR, Fiszbein A, Opler LA (1987) The Positive and Negative Syndrome Scale (PANSS) for schizophrenia. Schizophr Bull 13(2):261–76

Kilpinen S, Hulkkonen J, Wang XY, Hurme M (2001) The promoter polymorphism of the interleukin-6 gene regulates interleukin-6 production in neonates but not in adults. Eur Cytokine Netw 12:62–68

Kimball P, Elswick RK, Shiffman M (2001) Ethnicity and cytokine production gauge response of patients with hepatitis C to interferon-alpha therapy. J Med Virol 65:510–516

Leonard B (2005) Is there an immunologic basis for schizophrenia? Expert Rev Clin Immunol 1:103–112

Liu YL, Liu CM, Fann CS, Yang WC, Chen YH, Tseng LJ, Liu SK, Hsieh MH, Hwang TJ, Chan HY, Chen JJ, Chen WJ, Hwu HG (2010) Genetic variants of IL-6 and its receptor are not associated with schizophrenia in Taiwan. Neurosci Lett 468:330–333

Maes M, Bocchio Chiavetto L, Bignotti S, Battisa Tura G, Pioli R, Boin F, Kenis G, Bosmans E, de Jongh R, Lin A, Racagni G, Altamura CA (2000) Effects of atypical antipsychotics on the inflammatory response system in schizophrenic patients resistant to treatment with typical neuroleptics. Eur Neuropsychopharmacol 10:119–24

McClellan JM, Susser E, King MC (2007) Schizophrenia: a common disease caused by multiple rare alleles. Br J Psychiatry 190:194–199

Mehler MF, Kessler JA (1998) Cytokines in brain development and function. Adv Protein Chem 52:223–251

Meltzer HY, Li Z, Kaneda Y, Ichikawa J (2003) Serotonin receptors: their key role in drugs to treat schizophrenia. Prog Neuropsychopharmacol Biol Psychiatry 27:1159–1172

Möller N, Reidel M, Ackenheil M, Schwartz MS (1999) The role of immune function in schizophrenia. An overview. Eur Arch Psychiatry Clin Neurosci 249:62–68

Monji A, Kato T, Kanaba S (2009) Cytokines and schizophrenia: microglia hypothesis of schizophrenia. Psychiatry Clin Neurosci 63:257–265

Ozbey U, Tug E, Namli M (2009) Interleukin-10 gene promoter polymorphism in patients with schizophrenia in a region of East Turkey. World J Biol Psychiatry 10(4 Pt 2):461–468

Plata-Salaman C, Turrin N (1999) Cytokine interaction and cytokine balance in the brain: relevance to neurology and psychiatry. Mol Psych 4:302–306

Salanti G, Amountza G, Ntzani EE (2005) Hardy–Weinberg equilibrium in genetic association studies: an empirical evaluation of reporting, deviations, and power. Eur J Hum Genet 13:840–8

Schobitz B, de Koet ER, Sutanto W, Holsboer F (1993) Cellular localization of interleukin 6 mRNA and interleukin 6 receptor mRNA in rat brain. Eur J NeuroSci 5:1426–1435

Shalev I, Lerer E, Israel S, Uzefovsky F, Gritsenko I, Mankuta D, Ebstein RP, Kaitz M (2009) BDNF Val66Met polymorphism is associated with HPA axis reactivity to psychological stress characterized by genotype and gender interactions. Psychoneuroendocrinology 34:382–388

Shifman S, Johannesson M, Bronstein M et al (2008) Genome-wide association identifies a common variant in the reelin gene that increases the risk of schizophrenia only in women. PloS Genet 4:1–7

Singh B, Bera NK, Nayak ChR, Chaudhuri TK (2009) Decreased serum levels of interleukin-2 and interleukin-6 in Indian Bengalee schizophrenic patients. Cytokine 47:1–5

Terry CF, Loukacis V, Green FR (2000) Cooperative influence of genetic polymorphisms of interleukin 6 transcriptional regulation. J Biol Chem 275:18138–18144

Toda M, Abi-Dargham A (2007) Dopamine hypothesis of schizophrenia: making sense of it all. Curr Psychiatry Rep 9:329–336

Unfried G, Böcskör S, Endler G, Nagele F, Huber JC, Tempfer CB (2003) A polymorphism of interleukin-6 gene promoter and idiopathic reccurent miscarriage. Hum Reprod 18:267–270

Van Wagoner NJ, Oh JW, Repovic P, Benveniste EN (1999) Interleukin-6 (IL-6) production by astrocytes: autocrine regulation by IL-6 and the soluble IL-6 receptor. J Neurosci 19:5236–5244

Veres A, Prohászka Z, Kilpinen S, Singh M, Füst G, Hurme M (2002) The promoter polymorphism of the IL-6 gene is associated with levels of antibodies to 60-kDa heat-shock proteins. Immunogenetics 53:851–856

Watanabe Y, Nunokawa A, Kaneko N, Muratake T, Koizumi M, Someya T (2007) Lack of association between the interleukin-1 gene complex and schizophrenia in a Japanese population. Psychiatry Clin Neurosci 61:364–369

Westendorp RG, Langermans JA, Huizinga TW, Elouali AH, Verweij CL, Boomsma DI (1997) Genetic influence on cytokine production and fatal meningococcal disease. Lancet 349:170–173

Williams JA, Pontzer CH, Shacter E (2000) Regulation of macrophage interleukin-6 (IL-6) and IL-10 expression by prostaglandin E2: the role of p38 mitogen-activated protein kinase. J Interferon Cytokine Res 20:291–298

Winterer G (2006) Cortical microcircuits in schizophrenia—the dopamine hypothesis revisited. Pharmacopsychiatry 1:68–71

Yu L, Yang MS, Zhao J, Shi YY, Zhao XZ, Yang JD, Liu ZJ, Gu NF, Feng GY, He L (2004) An association between polymorphisms of the interleukin-10 gene promoter and schizophrenia in the Chinese population. Schizophr Res 71:179–183

Zdanov A (2006) Title of chapter. In: Interleukin-10, Marincola FM (ed) National Institutes of Health, Georgetown, TX: Landes Bioscience, pp 1–10

Zhang XY, Zhou DF, Cao LY, Wu GY, Shen YC (2005) Cortisol and cytokines in chronic and treatment-resistant patients with schizophrenia: association with psychopathology and response to antipsychotics. Neuropsychopharmacology 30:1532–1538
Acknowledgement
We would like to thank Dr. Krzysztof Kucia for qualifying patients for the research and for collecting blood samples.
About this article
Cite this article
Paul-Samojedny, M., Kowalczyk, M., Suchanek, R. et al. Functional Polymorphism in the Interleukin-6 and Interleukin-10 Genes in Patients with Paranoid Schizophrenia —A Case-Control Study. J Mol Neurosci 42, 112–119 (2010). https://doi.org/10.1007/s12031-010-9365-6
Received:

Accepted:

Published:

Issue Date:

DOI: https://doi.org/10.1007/s12031-010-9365-6
Keywords