Abstract
In our previous report, four limonoids, obacunone, limonin, fraxinellone, and calodendrolide, isolated from Dictamnus dasycarpus showed significant neuroprotective activity against glutamate toxicity in primary cultured rat cortical cells. This study investigated neuroprotective mechanism of these compounds using the same in vitro culture system. These four compounds showed significant neuroprotective activity at the concentration of 0.1 μM. They effectively inhibited calcium influx and overproduction of cellular nitric oxide and reactive oxygen species accompanied by glutamate-induced neurotoxicity. In addition, these compounds significantly preserved mitochondrial membrane potential and activities of antioxidative enzymes. Our results showed that obacunone, limonin, fraxinellone, and calodendrolide significantly protect primary culture cortical cells against glutamate-induced toxicity by preserving the antioxidant defense system. These compounds might offer potential drug development candidate for various neurodegenerative diseases involved with glutamate.
Access options
Buy single article
Instant access to the full article PDF.
USD 39.95
Price excludes VAT (USA)
Tax calculation will be finalised during checkout.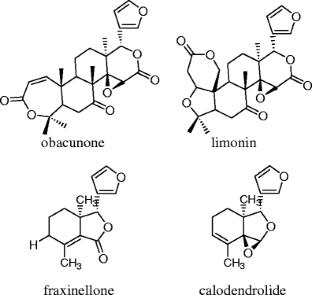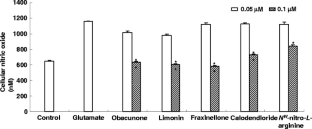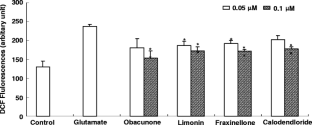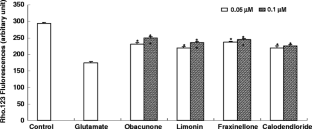 References
Abdelgaleil SA, Iwagawa T, Doe M, Nakatani M (2004) Antifungal limonoids from the fruits of Khaya senegalensis. Fitoterapia 75:566–572

Alibright TD, Jessel TM, Kandel ER, Poster MI (2000) Neural science: a century of progress and the mysteries that remain. Cell 18:209–216

Atlante A, Calissano P, Bobba A, Giannattaso S, Marra E, Passarella S (2001) Glutamate neurotoxicity, oxidative stress and mitochondria. FEBS Lett 497:1–5

Battinelli L, Mengoni F, Lichtner M, Mazzanti G, Saija A, Mastroianni CM, Vullo V (2003) Effect of limonin and nomilin on HIV-1 replication on infected human mononuclear cells. Planta Med 69:910–913

Bondy SC, Lee D (1993) Oxidative stress induced by glutamate receptor agonists. Brain Res 610:229–233

Calberg I, Mannervik B (1975) Purification and characterization of the flavoenzyme glutathione reductase from rat liver. J Biol Chem 250:5475–5480

Choi DW (1985) Glutamate neurotoxicity in cortical cell cultures is calcium dependent. Neurosci Lett 58:293–297

Choi DW (1987) Ionic dependence of glutamate neurotoxicity. J Neurosci 7:369–379

Choi DW (1998) Glutamate neurotoxicity and disease of the nervous system. Neuron 1:623–634

Dawson VL, Brahmbhatt HP, Mong JA, Dawson TM (1994) Expression of inducible nitric oxide synthase causes delayed neurotoxicity in primary mixed neuronal-glial cortical cultures. Neuropharmacology 33:1425–1430

Duchen M (2000) Mitochondria and calcium: from cell signaling to cell death. J Physiol 529:57–68

Flohe L, Gunzler WA (1984) Assays of glutathione peroxidase. Method Enzymol 105:114–121

Germano MP, D'Angelo V, Sanogo R, Catania S, Alma R, De Pasquale R, Bisignano G (2005) Hepatoprotective and antibacterial effects of extracts from Trichilia emetica Vahl. (Meliaceae). J Ethnopharmacol 96:227–232

Gibson GG, Skelf P (1988) Techniques and experiments illustrating drug metabolism. In: Gibson GG, Skelf P (eds) Introduction to drug metabolism. Chapman and Hall press, New York, pp 239–271

Goodman Y, Mattson MP (1994) Selected forms of β-amyloid precursor protein protect hippocampal neurons against amyloid β-peptide induced oxidative injury. Exp Neurol 128:1–12

Grynkiewicz G, Poenie M, Tsien RY (1985) A new generation of calcium indicators with greatly improved fluorescence properties. J Biol Chem 260:3440–3450

Kim SR, Sung SH, Kang SY, Koo KA, Kim SH, Ma CJ, Lee HS, Park MJ, Kim YC (2004) Aristolactam BII of Saururus chinensis attenuates glutamate-induced neurotoxicity in rat cortical cultures probably by inhibiting nitric oxide production. Planta Med 70:391–396

Lafon-Cazal M, Pietri S, Culcasi M, Bockaert J (1993) NMDA-dependent superoxide production and neurotoxicity. Nature 364:535–537

Lipton SA, Rosenberg PA (1994) Excitatory amino acids as a final common pathway for neurologic disorders. N Eng J Med 330:613–622

Love S (1999) Oxidative stress in brain ischemia. Brain Pathol 9:119–131

Lowry O, Rosebrough H, Farr A, Randall R (1951) Protein measurement with folin phenol reagent. J Biol Chem 193:265–275

McCord JM, Fridovich I (1969) Superoxide dismutase. J Biol Chem 244:6049–6055

Mosmann T (1983) Rapid colorimetric assay for cellular growth and survival: application to proliferation and cytotoxicity assays. J Immunol Methods 65:55–63

Ogita K, Okuda H, Kitano M, Fujinami Y, Ozaki K, Yneda Y (2002) Localization of activator protein-1 complex with DNA binding activity in mitochondria of murine barin after in vivo treatment with kainate. J Neurosci 22:2561–2570

Pellerin L, Wolfe LS (1991) Release of arachidonic acid by NMDA-receptor activation in the rat hippocampus. Neurochem Res 16:983–989

Pereira CF, Oliveira CR (2000) Oxidative glutamate toxicity involves mitochondrial dysfunction and perturbation of intracellular Ca2+ homeostasis. Neurosci Res 37:227–236

Perry SW, Norman JP, Litzburg A, Glebard HA (2004) Antioxidants are required during the early critical period, but not later for neuronal survival. J Neurosci Res 78:485–492

Raps SP, Lai JC, Hertz C, Copper AJ (1989) Glutathione is present in high concentrations in cultured astrocytes but not in cultured neurons. Brain Res 493:398–401

Rita S, Michael T (2000) Molecular mechanisms of calcium-dependent excitotoxicity. J Mol Med 78:3–13

Roy A, Saraf S (2006) Limonoids: overview of significant bioactive triterpenes distributed in plants kingdom. Biol Pharm Bull 29:191–201

Tian Q, Miller EG, Ahmad H, Tang L, Patil BS (2001) Differential inhibition of human cancer cell proliferation by citrus limonoids. Nutr Cancer 40:180–184

Tietz F (1969) Enzymatic method for quantitative determination of nanogram amounts of total and oxidized glutathione. Anal Biochem 27:502–522

Warner DS, Sheng H, Batinc-Haberle I (2004) Oxidant, antioxidants and the ischemic brain. J Exp Biol 207:3221–3231

Weikert S, Freyer D, Weh M, Lsaev N, Busch C, Schultze J, Megow D, Dirnal U (1997) Rapid Ca2+ dependent NO-production from central nervous system cells in culture measured by NO-nitrite/ozone chemoluminescence. Brain Res 748:1–11

Yoon JS, Sung SH, Kim YC (2008) Neuroprotective limonoids of root bark of Dictamnus dasycarpus. J Nat Prod 71:208–211
Acknowledgements
This research was supported by Basic Science Research Program through the National Research Foundation of Korea (NRF) funded by the Ministry of Education, Science and Technology (2009-0075964).
About this article
Cite this article
Yoon, J.S., Yang, H., Kim, S.H. et al. Limonoids from Dictamnus dasycarpus Protect Against Glutamate-induced Toxicity in Primary Cultured Rat Cortical Cells. J Mol Neurosci 42, 9–16 (2010). https://doi.org/10.1007/s12031-010-9333-1
Received:

Accepted:

Published:

Issue Date:

DOI: https://doi.org/10.1007/s12031-010-9333-1
Keywords
Limonoids

Neuroprotection

Glutamate

Antioxidants