Abstract
We previously reported that coenzyme Q10 (CoQ10) could reduce intracellular deposition in an aged transgenic mouse model. Here, we further tested the effect of CoQ10 on amyloid plaque in an amyloid precursor protein/presenilin 1 transgenic mouse model of Alzheimer's disease (AD). By using immunohistochemistry and magnetic resonance imaging to determine the burden of amyloid plaque, we found that oral administration of CoQ10 can efficiently reduce the burden of the plaques in this mouse model. These data demonstrate that in addition to reducing intracellular deposition of Aβ, CoQ10 can also reduce plaque pathology. Our study further supports the use of CoQ10 as a therapeutic candidate for AD.
Access options
Buy single article
Instant access to the full article PDF.
US$ 39.95
Tax calculation will be finalised during checkout.
Subscribe to journal
Immediate online access to all issues from 2019. Subscription will auto renew annually.
US$ 119
Tax calculation will be finalised during checkout.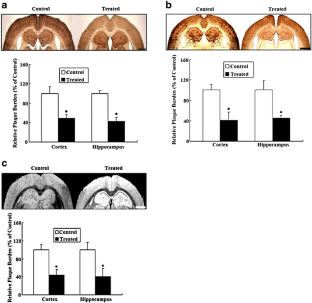 References
Beal MF (2004) Mitochondrial dysfunction and oxidative damage in Alzheimer's and Parkinson's diseases and coenzyme Q10 as a potential treatment. J Bioenerg Biomembr 36:381–386

Beal MF, Shults CW (2003) Effects of coenzyme Q10 in Huntington's disease and early Parkinson's disease. Biofactors 18:153–161

Benveniste H, Einstein G, Kim KR et al (1999) Detection of neuritic plaques in Alzheimer's disease by magnetic resonance microscopy. Proc Natl Acad Sci U S A 96:14079–14084

Beyer RE (1992) An analysis of the role of coenzyme Q in free radical generation and as an antioxidant. Biochem Cell Biol 70:390–403

Bhat V, Weiner WJ (2005) Parkinson's disease. Diagnosis and the initiation of therapy. Minerva Med 96:145–154

Carpenter MK, Crutcher KA, Kater SB (1993) An analysis of the effects of Alzheimer's plaques on living neurons. Neurobiol Aging 14:207–215

Celis JE (1994) Cell biology—a laboratory handbook. Academic, San Diego

Chen G, Chen KS, Knox J et al (2008) A learning deficit related to age and beta-amyloid plaques in a mouse model of Alzheimer's disease. Nature 408:975–979

Jack CR Jr, Wengenack TM, Reyes DA et al (2005) In vivo magnetic resonance microimaging of individual amyloid plaques in Alzheimer's transgenic mice. J Neurosci 25:10041–10048

LaFerla FM, Green KN, Oddo S (2007) Intracellular amyloid-beta in Alzheimer's disease. Nat Rev Neurosci 8:499–509

Li G, Zou L, Jack CR Jr et al (2007) Neuroprotective effect of coenzyme Q10 on ischemic hemisphere in aged mice with mutations in the amyloid precursor protein. Neurobiol Aging 28:877–882

Paulson JB, Ramsden M, Forster C et al (2008) Amyloid plaque and neurofibrillary tangle pathology in a regulatable mouse model of Alzheimer's disease. Am J Pathol 173:762–772

Shults CW, Oakes D, Kieburtz K et al (2002) Effects of coenzyme Q10 in early Parkinson disease: evidence of slowing of the functional decline. Arch Neurol 59:1541–1550

Sun L, Liu SY, Zhou XW et al (2003) Inhibition of protein phosphatase 2A- and protein phosphatase 1-induced tau hyperphosphorylation and impairment of spatial memory retention in rats. Neuroscience 118:1175–1182

Wu W (1996) Potential roles of gene expression change in adult rat spinal motoneurons following axonal injury: a comparison among c-jun, off-affinity nerve growth factor receptor (LNGFR), and nitric oxide synthase (NOS). Exp Neurol 141:190–200

Yang X, Yang Y, Li G et al (2008) Coenzyme Q10 attenuates beta-amyloid pathology in the aged transgenic mice with Alzheimer presenilin 1 mutation. J Mol Neurosci 34:165–171

Young AJ, Johnson S, Steffens DC et al (2007) Coenzyme Q10: a review of its promise as a neuroprotectant. CNS Spectr 12:62–68
Acknowledgment
This study was supported by a grant from Rejuvenis, Hong Kong Jockey Club Charities Trust.
About this article
Cite this article
Yang, X., Dai, G., Li, G. et al. Coenzyme Q10 Reduces β-Amyloid Plaque in an APP/PS1 Transgenic Mouse Model of Alzheimer's Disease. J Mol Neurosci 41, 110–113 (2010). https://doi.org/10.1007/s12031-009-9297-1
Received:

Accepted:

Published:

Issue Date:
Keywords
Alzheimer's disease

Coenzyme Q10

Aβ

Plaque

MR imaging