Abstract
Salidroside is isolated from Rhodiola rosea L., a traditional Chinese medicinal plant, and has a potent antioxidant property. The aim of this study was to investigate the effects of salidroside on hydrogen peroxide (H2O2)-induced cell apoptosis in nerve growth factor (NGF)-differentiated PC12 cells and the possible involvement of the extracellular signal-related protein kinase 1/2 (ERK1/2) signaling pathway. MTT assay, Hoechst 33342 staining, and TdT-mediated dUTP-biotin nick end labeling assay collectively showed that pretreatment with salidroside alleviated, in a dose-dependent manner, cell viability loss and apoptotic cell death induced by H2O2 stimulation in cultured NGF-differentiated PC12 cells. According to Western blot analysis, pretreatment with salidroside transiently caused the activation of ERK1/2 pathway; a selective inhibitor of the mitogen-activated protein kinase kinase (MAPKK, MEK) blocked salidroside-activated ERK pathway and thus attenuated the influences of salidroside on H2O2-induced increase in the level of cleaved caspase-3, a chief executant of apoptosis cascades. Morphological analysis further indicated that in the presence of the MEK inhibitor, the neuroprotective effect of salidroside against H2O2-evoked cell apoptosis was significantly abrogated. Taken together, the results suggest that the neuroprotective effects of salidroside might be modulated by ERK signaling pathway, especially at the level or upstream of the caspase-3 activation.
Access options
Buy single article
Instant access to the full article PDF.
US$ 39.95
Tax calculation will be finalised during checkout.
Subscribe to journal
Immediate online access to all issues from 2019. Subscription will auto renew annually.
US$ 119
Tax calculation will be finalised during checkout.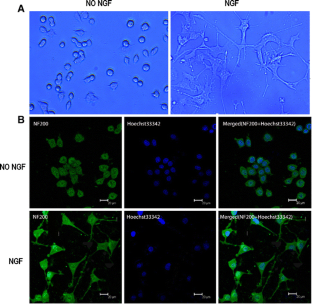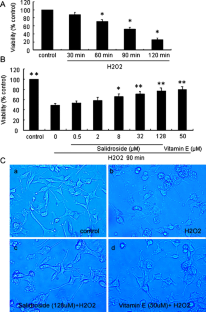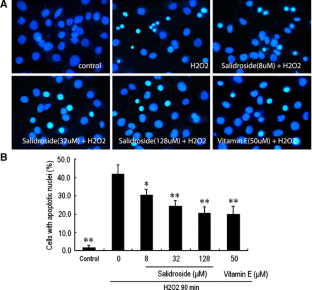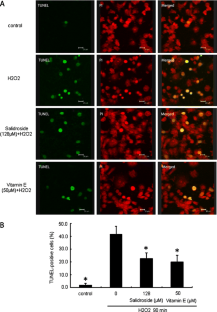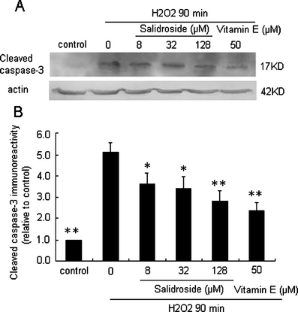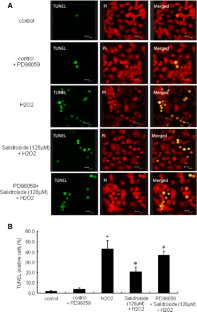 References
Behl C, Moosmann B (2002) Oxidative nerve cell death in Alzheimer's disease and stroke: antioxidants as neuroprotective compounds. Biol Chem 383(3–4):521–536

Brookes PS, Yoon Y, Robotham JL et al (2004) Calcium, ATP, and ROS: a mitochondrial love-hate triangle. Am J Physiol., Cell Physiol 287(4):C817–C833

Broughton BR, Reutens DC, Sobey CG (2009) Apoptotic mechanisms after cerebral ischemia. Stroke 40(5):e331–e339

Cai L, Wang H, Li Q et al (2008) Salidroside inhibits H2O2-induced apoptosis in PC 12 cells by preventing cytochrome c release and inactivating of caspase cascade. Acta Biochimica et Biophysica Sinica 40:796–802

Cao LL, Du GH, Wang MW (2006) The effect of salidroside on cell damage induced by glutamate and intracellular free calcium in PC12 cells. J Asian Nat Prod Res 8(1–2):159–165

Cavanaugh JE, Jaumotte JD, Lakoski JM, Zigmond MJ (2006) Neuroprotective role of ERK1/2 and ERK5 in a dopaminergic cell line under basal conditions and in response to oxidative stress. J Neurosci Res 84(6):1367–1375

Chen X, Liu J, Gu X, Ding F (2008) Salidroside attenuates glutamate-induced apoptotic cell death in primary cultured hippocampal neurons of rats. Brain Res 1238:189–198

Chow CW, Herrera Abreu MT, Suzuki T, Downey GP (2003) Oxidative stress and acute lung injury. RespirCell Mol Biol 29:427

Cuzzocrea S, Riley DP, Caputi AP et al (2001) Antioxidant therapy: a new pharmacological approach in shock, inflammation, and ischemia/reperfusion injury. Pharmacol Rev 53:135

Darbinyan V, Kteyan A, Panossian A et al (2000) Rhodiola rosea in stress induced fatigue–a double blind cross-over study of a standardized extract SHR-5 with a repeated low-dose regimen on the mental performance of healthy physicians during night duty. Phytomedicine 7(5):365–371

De Sanctis R, De Bellis R, Scesa C et al (2004) In vitro protective effect of Rhodiola rosea extract against hypochlorous acid-induced oxidative damage in human erythrocytes. Biofactors 20(3):147–159

Diaz Lanza AM, Abad Martinez MJ, Fernandez Matellano L et al (2001) Lignan and phenylpropanoid glycosides from Phillyrea latifolia and their in vitro anti-inflammatory activity. Planta Med 67(3):219–223

Dröge W (2002) Free radicals in the physiological control of cell function. Physiol Rev 82:47–95

Duarte AI, Proença T, Oliveira CR et al (2006) Insulin restores metabolic function in cultured cortical neurons subjected to oxidative stress. Diabetes 55(10):2863–2870

Gilgun-Sherki Y, Rosenbaum Z, Melamed E, Offen D (2002) Antioxidant therapy in acute central nervous system injury: current state. Pharmacol Rev 54:271

Griendling KK, FitzGerald GA (2003) Oxidative stress and cardiovascular injury: Part I: basic mechanisms and in vivo monitoring of ROS. Circulation 108(16):1912–1916

Halliwell B, Aruoma OI (1991) DNA damage by oxygen-derived species. Its mechanism and measurement in mammalian systems. FEBS Lett 281(1–2):9–19

Hillion JA, Takahashi K, Maric D et al (2005) Development of an ischemic tolerance model in a PC12 cell line. J Cereb Blood Flow Metab 25(2):154–162

Hotokezaka H, Sakai E, Kanaoka K et al (2002) U0126 and PD98059, specific inhibitors of MEK, accelerate differentiation of RAW264.7 cells into osteoclast-like cells. J Biol Chem 277(49):47366–47372

Khanna S, Roy S, Parinandi NL et al (2006) Characterization of the potent neuroprotective properties of the natural vitamin E alpha-tocotrienol. J Neurochem 98(5):1474–1486

Koh SH, Kim SH, Kwon H et al (2003) Epigallocatechin gallate protects nerve growth factor differentiated PC12 cells from oxidative-radical-stress-induced apoptosis through its effect on phosphoinositide 3-kinase/Akt and glycogen synthase kinase-3. Brain Res Mol Brain Res 118(1–2):72–81

Koh SH, Kwon H, Park KH et al (2005) Protective effect of diallyl disulfide on oxidative stress-injured neuronally differentiated PC12 cells. Brain Res Mol Brain Res 133(2):176–186

Kucinskaite A, Briedis V, Savickas A (2004) Experimental analysis of therapeutic properties of Rhodiola rosea L. and its possible application in medicine. Medicina (Kaunas) 40(7):614–619

Lee CS, Kim YJ, Ko HH, Han ES (2005) Synergistic effects of hydrogen peroxide and ethanol on cell viability loss in PC12 cells by increase in mitochondrial permeability transition. Biochem Pharmacol 70(2):317–325

Lee HC, Wei YH (2007) Oxidative stress, mitochondrial DNA mutation, and apoptosis in aging. Exp Biol Med 232(5):592–606

Liao H, Banbury LK, Leach DN (2008) Antioxidant activity of 45 Chinese herbs and the relationship with their TCM characteristics. Evidence-based Compl Alter Med 5:429–434

Mattioli L, Perfumi M (2007) Rhodiola rosea L. extract reduces stress- and CRF-induced anorexia in rats. J Psychopharmacol 21(7):742–750

Ming DS, Hillhouse BJ, Guns ES et al (2005) Bioactive compounds from Rhodiola rosea (Crassulaceae). Phytother Res 19:740–743

Misko TP, Highkin MK, Veenhuizen AW et al (1998) Characterization of the cytoprotective action of peroxynitrite decomposition catalysts. J Biol Chem 273:15646–15653

Namura S, Zhu J, Fink K et al (1998) Activation and cleavage of caspase-3 in apoptosis induced by experimental cerebral ischemia. J Neurosci 18:3659

Nicholson DW, Thornberry NA (2003) Apoptosis. Life and death decisions. Science 299(5604):214–215

O'Loghlen A, Perez-Morgado MI, Salinas M, Martin ME (2006) N-acetyl-cysteine abolishes hydrogen peroxide-induced modification of eukaryotic initiation factor 4F activity via distinct signalling pathways. Cell Signal 18(1):21–31

Pace A, Savarese A, Picardo M et al (2003) Neuroprotective effect of vitamin E supplementation in patients treated with cisplatin chemotherapy. J Clin Oncol 21(5):927–931

Perfumi M, Mattioli L (2007) Adaptogenic and central nervous system effects of single doses of 3% rosavin and 1% salidroside Rhodiola rosea L. extract in mice. Phytother Res 21(1):37–43

Reimann-Philipp U, Ovase R, Weigel PH, Grammas P (2001) Mechanisms of cell death in primary cortical neurons and PC12 cells. J Neurosci Res 64(6):654–660

Rui YF, Sun ZH, Gu JP et al (2006) MEK inhibitor PD98059 acutely inhibits synchronized spontaneous Ca2+ oscillations in cultured hippocampal networks. Acta Pharmacologica Sinica 27(7):869–876

Schwabe RF, Brenner DA (2006) Mechanisms of liver injury. I. TNF-alpha-induced liver injury: role of IKK, JNK, and ROS pathways. Am J Physiol Gastrointest Liver Physiol 290(4):G583–G589

Stocker R, Keaney JF Jr (2004) Role of oxidative modifications in atherosclerosis. Physiol Rev 84(4):1381–1478

Tang LL, Wang R, Tang XC (2005) Huperzine A protects SHSY5Y neuroblastoma cells against oxidative stress damage via nerve growth factor production. Eur J Pharmacol 519(1–2):9–15

Tang SY, Whiteman M, Peng ZF et al (2004) Characterization of antioxidant and antiglycation properties and isolation of active ingredients from traditional chinese medicines. Free Radic Biol Med 36(12):1575–1587

Traber MG, Sies H (1996) Vitamin E in humans: demand and delivery. Annu Rev Nutr 16:321–347

Troadec JD, Marien M, Mourlevat S et al (2002) Activation of the mitogen-activated protein kinase (ERK1/2) signaling pathway by cyclic AMP potentiates the neuroprotective effect of the neurotransmitter noradrenaline on dopaminergic neurons. Mol Pharmacol 62(5):1043–1052

Waldo GS, Penner-Hahn JE (1995) Mechanism of manganese catalase peroxide disproportionation: determination of manganese oxidation states during turnover. Biochemistry 34:1507–1512

Xiang YZ, Shang HC, Gao XM et al (2008) A comparison of the ancient use of ginseng in traditional Chinese medicine with modern pharmacological experiments and clinical trials. Phytother Res 22(7):851–858

Yu P, Hu C, Meehan EJ, Chen L (2007) X-ray crystal structure and antioxidant activity of salidroside, a phenylethanoid glycoside. Chem Biodiv 4(3):508–513

Yu S, Liu M, Gu X, Ding F (2008) Neuroprotective effects of salidroside in the PC12 cell model exposed to hypoglycemia and serum limitation. Cell Mol Neurobiol 28(8):1067–1078

Zhang L, Yu H, Sun Y et al (2007) Protective effects of salidroside on hydrogen peroxide-induced apoptosis in SH-SY5Y human neuroblastoma cells. Eur J Pharmacol 564(1–3):18–25

Zhang Y, Liu Y (2005) Study on effects of salidroside on lipid peroxidation on oxidative stress in rat hepatic stellate cells. Zhong Yao Cai 28(9):794–796

Zweier JL, Talukder MA (2006) The role of oxidants and free radicals in reperfusion injury. Cardiovasc Res 70(2):181–190
Acknowledgements
This study was supported by Hi-Tech Research and Development Program of China (973 Program, Grant No. 2003CB515306).
About this article
Cite this article
Yu, S., Shen, Y., Liu, J. et al. Involvement of ERK1/2 Pathway in Neuroprotection by Salidroside Against Hydrogen Peroxide-Induced Apoptotic Cell Death. J Mol Neurosci 40, 321–331 (2010). https://doi.org/10.1007/s12031-009-9292-6
Received:

Accepted:

Published:

Issue Date:
Keywords
Salidroside

Hydrogen peroxide

Apoptosis

NGF-differentiated PC12 cells

Neuroprotection

Extracellular signal-regulated kinase (ERK)