Abstract
Heparin is a classic anticoagulant that is commonly used in the treatment of acute ischemic stroke (AIS). Its use remains controversial, however, due to the risk of cerebral hemorrhagic transformation. In addition to anticoagulant effects, diverse effects on transcription factors can be caused by heparin. Among the transcription factors potentially affected is nuclear factor kappa B (NF-κB), a protein that is reportedly related to the survival of cerebral endothelial cells. We investigated the effect of heparin on NF-κB activation and cell death following oxygen-glucose deprivation (OGD), an experimental model of AIS. We subjected bEnd.3 cells from a murine cerebral microvascular endothelial cell line to OGD. We examined the effect of heparin on OGD-induced NF-κB activation and its mechanism of action, using electrophoretic mobility shift assays, reporter gene analysis, real-time RT-PCR, Western blot analysis, and confocal microscopy. We also measured the effect of heparin on OGD-induced cell death using an MTT assay. Heparin inhibited both tumor necrosis factor α- and OGD-induced NF-κB activation. Heparin was taken up by endocytosis and then entered the nucleus. Heparin did not affect the nuclear translocation of NF-κB, but instead inhibited the DNA binding of NF-κB in the nucleus. Cells were more susceptible to OGD-induced cell death after heparin treatment. Besides producing an anticoagulation effect, heparin also inhibits NF-κB activation, resulting in increased susceptibility to OGD-induced cell death. This effect may be responsible for hemorrhagic transformation in patients following heparin treatment for AIS.
Access options
Buy single article
Instant access to the full article PDF.
US$ 39.95
Tax calculation will be finalised during checkout.
Subscribe to journal
Immediate online access to all issues from 2019. Subscription will auto renew annually.
US$ 119
Tax calculation will be finalised during checkout.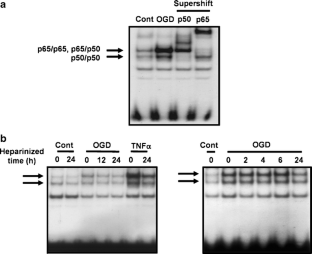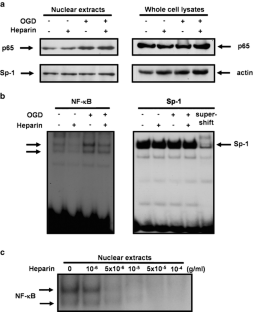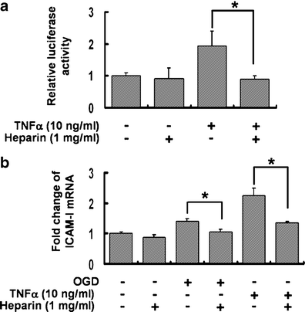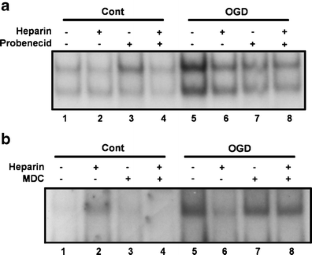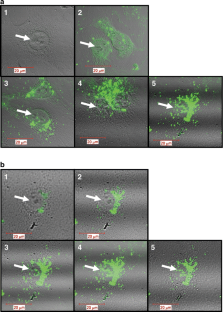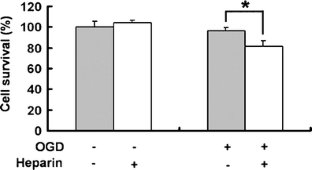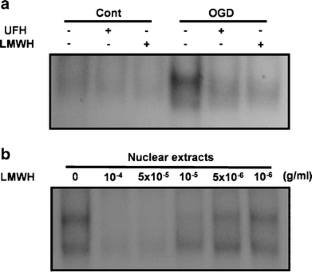 References
Arbab, A. S., Yocum, G. T., Wilson, L. B., Parwana, A., Jordan, E. K., Kalish, H., et al. (2004). Comparison of transfection agents in forming complexes with ferumoxides, cell labeling efficiency, and cellular viability. Molecular Imaging, 3(1), 24–32.

Assaraf, Y. G., Rothem, L., Hooijberg, J. H., Stark, M., Ifergan, I., Kathmann, I., et al. (2003). Loss of multidrug resistance protein 1 expression and folate efflux activity results in a highly concentrative folate transport in human leukemia cells. Journal of Biological Chemistry, 278(9), 6680–6686.

Au, Y. P., Dobrowolska, G., Morris, D. R., & Clowes, A. W. (1994). Heparin decreases activator protein-1 binding to DNA in part by posttranslational modification of Jun B. Circulation Research, 75(1), 15–22.

Barzu, T., Molho, P., Tobelem, G., Petitou, M., & Caen, J. (1985). Binding and endocytosis of heparin by human endothelial cells in culture. Biochimica et Biophysica Acta, 845(2), 196–203.

Blajchman, M. A., Young, E., & Ofosu, F. A. (1989). Effects of unfractionated heparin, dermatan sulfate and low molecular weight heparin on vessel wall permeability in rabbits. Annals of the New York Academy of Sciences, 556, 245–254.

Busch, S. J., Martin, G. A., Barnhart, R. L., Mano, M., Cardin, A. D., & Jackson, R. L. (1992). Trans-repressor activity of nuclear glycosaminoglycans on Fos and Jun/AP-1 oncoprotein-mediated transcription. Journal of Cell Biology, 116(1), 31–42.

Chomczynski, P., & Mackey, K. (1995). Short technical reports. Modification of the TRI reagent procedure for isolation of RNA from polysaccharide- and proteoglycan-rich sources. Biotechniques, 19(6), 942–945.

Commerford, P. J. (1997). Heparin after acute myocardial infarction. Cardiovascular Drugs and Therapy, 11(2), 101–109.

Donnan, G. A., & Davis, S. M. (2003). Heparin in stroke: Not for most, but the controversy lingers. Stroke, 34(1), 232–233.

Dudas, J., Ramadori, G., Knittel, T., Neubauer, K., Raddatz, D., Egedy, K., et al. (2000). Effect of heparin and liver heparan sulphate on interaction of HepG2-derived transcription factors and their cis-acting elements: Altered potential of hepatocellular carcinoma heparan sulphate. Biochemical Journal, 350(Pt 1), 245–251.

Fedarko, N. S., & Conrad, H. E. (1986). A unique heparan sulfate in the nuclei of hepatocytes: structural changes with the growth state of the cells. Journal of Cell Biology, 102(2), 587–599.

Hamann, G. F., del Zoppo, G. J., & von Kummer, R. (1999). Hemorrhagic transformation of cerebral infarction-possible mechanisms. Thrombosis and Haemostosis, 82(Suppl 1), 92–94.

Investigators TPCftT. (1998). Low molecular weight heparinoid, ORG 10172 (danaparoid), and outcome after acute ischemic stroke: a randomized controlled trial. Jama, 279(16), 1265–1272.

Ishihara, M., Fedarko, N. S., & Conrad, H. E. (1986). Transport of heparan sulfate into the nuclei of hepatocytes. Journal of Biological Chemistry, 261(29), 13575–13580.

Kawano, K. I., Fujishima, K., Ikeda, Y., Kondo, K., & Umemura, K. (2000). ME3277, a GPIIb/IIIa antagonist reduces cerebral infarction without enhancing intracranial hemorrhage in photothrombotic occlusion of rabbit middle cerebral artery. Journal of Cerebral Blood Flow and Metabolism, 20(6), 988–997.

Levine, M. N., Raskob, G., Beyth, R. J., Kearon, C., & Schulman, S. (2004). Hemorrhagic complications of anticoagulant treatment: the Seventh ACCP Conference on Antithrombotic and Thrombolytic Therapy. Chest, 126(3 Suppl), 287S–310S.

Levine, M. N., Raskob, G., Landefeld, S., & Hirsh, J. (1995). Hemorrhagic complications of anticoagulant treatment. Chest, 108(4 Suppl), 276S–290S.

Li, Q., & Verma, I. M. (2002). NF-kappaB regulation in the immune system. Nature Reviews. Immunology, 2(10), 725–734.

Lo, E. H., Dalkara, T., & Moskowitz, M. A. (2003). Mechanisms, challenges and opportunities in stroke. Nature Reviews. Neuroscience, 4(5), 399–415.

Marsh 3rd, E. E., Adams Jr, H. P., Biller, J., Wasek, P., Banwart, K., Mitchell, V., et al. (1989). Use of antithrombotic drugs in the treatment of acute ischemic stroke: A survey of neurologists in practice in the United States. Neurology, 39(12), 1631–1634.

Maurice Victor, A. H. R. (2001). Adam's and Vitor's principles of neurology. New York: McGraw-Hill.

Moonis, M., & Fisher, M. (2002). Considering the role of heparin and low-molecular-weight heparins in acute ischemic stroke. Stroke, 33(7), 1927–1933.

Nader, H. B., Porcionatto, M. A., Tersariol, I. L., Pinhal, M. A., Oliveira, F. W., Moraes, C. T., et al. (1990). Purification and substrate specificity of heparitinase I and heparitinase II from Flavobacterium heparinum. Analyses of the heparin and heparan sulfate degradation products by 13C NMR spectroscopy. Journal of Biological Chemistry, 265(28), 16807–16813.

Pardridge, W. M. (2002). Drug and gene delivery to the brain: The vascular route. Neuron, 36(4), 555–558.

Perkins, N. D. (2000). The Rel/NF-kappa B family: Friend and foe. Trends in Biochemical Sciences, 25(9), 434–440.

Ray, E., & Samanta, A. K. (1996). Dansyl cadaverine regulates ligand induced endocytosis of interleukin-8 receptor in human polymorphonuclear neutrophils. FEBS Letters, 378(3), 235–239.

Schmittgen, T. D., Zakrajsek, B. A., Mills, A. G., Gorn, V., Singer, M. J., & Reed, M. W. (2000). Quantitative reverse transcription-polymerase chain reaction to study mRNA decay: Comparison of endpoint and real-time methods. Analytical Biochemistry, 285(2), 194–204.

Silva, M. E., & Dietrich, C. P. (1975). Structure of heparin. Characterization of the products formed from heparin by the action of a heparinase and a heparitinase from Flavobacterium heparinum. Journal of Biological Chemistry, 250(17), 6841–6846.

Thourani, V. H., Brar, S. S., Kennedy, T. P., Thornton, L. R., Watts, J. A., Ronson, R. S., et al. (2000). Nonanticoagulant heparin inhibits NF-kappaB activation and attenuates myocardial reperfusion injury. American Journal of Physiology. Heart and Circulatory Physiology, 278(6), H2084–2093.

Van Antwerp, D. J., Martin, S. J., Verma, I. M., & Green, D. R. (1998). Inhibition of TNF-induced apoptosis by NF-kappa B. Trends in Cell Biology, 8(3), 107–111.

Vanden Berghe, W., Plaisance, S., Boone, E., De Bosscher, K., Schmitz, M. L., Fiers, W., et al. (1998). p38 and extracellular signal-regulated kinase mitogen-activated protein kinase pathways are required for nuclear factor-kappaB p65 transactivation mediated by tumor necrosis factor. Journal of Biological Chemistry, 273(6), 3285–3290.

Wang, C. Y., Mayo, M. W., Baldwin Jr, A. S. (1996) TNF- and cancer therapy-induced apoptosis: Potentiation by inhibition of NF-kappaB. Science, 274(5288), 784–787.

Xu, J., He, L., Ahmed, S. H., Chen, S. W., Goldberg, M. P., Beckman, J. S., et al. (2000). Oxygen-glucose deprivation induces inducible nitric oxide synthase and nitrotyrosine expression in cerebral endothelial cells. Stroke, 31(7), 1744–1751.

Xu, J., Wu, Y., He, L., Yang, Y., Moore, S. A., & Hsu, C. Y. (1997). Regulation of cytokine-induced iNOS expression by a hairpin oligonucleotide in murine cerebral endothelial cells. Biochemical and Biophysical Research Communications, 235(2), 394–397.

Yin, K. J., Chen, S. D., Lee, J. M., Xu, J., & Hsu, C. Y. (2002). ATM gene regulates oxygen-glucose deprivation-induced nuclear factor-kappaB DNA-binding activity and downstream apoptotic cascade in mouse cerebrovascular endothelial cells. Stroke, 33(10), 2471–2477.

Zhao, B. Q., Suzuki, Y., Kondo, K., Kawano, K., Ikeda, Y., & Umemura, K. (2002). A novel MCA occlusion model of photothrombotic ischemia with cyclic flow reductions: development of cerebral hemorrhage induced by heparin. Brain Research Protocols, 9(2), 85–92.
Acknowledgements
Reporter plasmids expressing luciferase were kindly provided by Dr. Guy Haegeman (Flanders Interuniversity Institute for Biotechnology and University of Gent, Belgium). This study was supported by a Faculty Research Grant of Yonsei University College of Medicine for 2004 (6-2004-1078)
About this article
Cite this article
Lee, J.H., Lee, J., Seo, G.H. et al. Heparin Inhibits NF-κB Activation and Increases Cell Death in Cerebral Endothelial Cells after Oxygen-Glucose Deprivation. J Mol Neurosci 32, 145–154 (2007). https://doi.org/10.1007/s12031-007-0026-3
Received:

Accepted:

Published:

Issue Date:
Keywords
Acute ischemic stroke

Cerebral endothelial cell

Heparin

NF-κB

Oxygen-glucose deprivation