Abstract
An elderly male presented with complaint of dull aching pain in left upper abdomen of 2 months' duration. He was well built, and on abdominal examination, a large lump was palpable in left lumbar region. His biochemical, hematological parameters and tumor markers including CA 19.9 were within prescribed normal limits. Contrast enhanced computed tomography (CT) of the abdomen revealed large, well-defined, mixed solid, and cystic lesion arising from distal body-tail of the pancreas extending up to splenic hilum. Chronic thrombosis involving retro pancreatic splenic vein with multiple perisplenic, peripancreatic, and perigastric collaterals were noted. Based on characteristic CT abdomen findings, a diagnosis of solid pseudopapillary tumor (SPT) of the pancreas with sinistral portal hypertension (SPH) was made. The patient was planned for open distal pancreatectomy with splenectomy. At surgery, splenic flexure of colon was densely adhered to the tumor, and hence en bloc resection of colon was also performed. Postoperative period was uneventful, and he was discharged from the hospital on postoperative day 6. Histopathology reported solid pseudopapillary tumor of the pancreas, 22 cm in the largest dimension. SPT of the pancreas rarely present with SPH. At 22-cm size, this may be one of the largest SPTs reported in the English literature to date.
This is a preview of subscription content,
to check access.
Access this article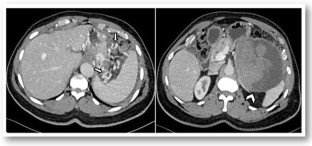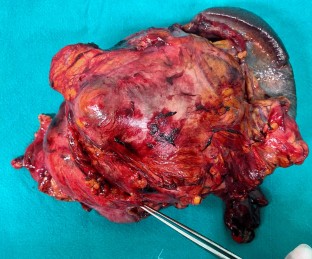 Similar content being viewed by others
References
de Castro SMM, Singhal D, Aronson DC, Busch ORC, van Gulik TM, Obertop H, Gouma DJ. Management of solid-pseudopapillary neoplasms of the pancreas: a comparison with standard pancreatic neoplasms. World J Surg. 2007;31(5):1130–5.

Marchegiani G, Andrianello S, Massignani M, Malleo G, Maggino L, Paiella S, et al. Solid pseudopapillary tumor of the pancreas: specific pathological features predict the likelihood of postoperative recurrence. J Surg Oncol. 2016;114(5):597–601.

Bosman FT, Carneiro F, Hruban RH. WHO classification of tumours of the digestive system, 4th edition, World Health Organization; 2010;3.

Aikot S, Manappallil RG, Pokkattil S, Kakkattil A. Solid pseudopapillary neoplasm of pancreas: an unusual aetiology for haematochezia. BMJ Case Rep. 2018;bcr2018225332. https://doi.org/10.1136/bcr-2018-225332

Yu P, Cheng X, Du Y, et al. Solid pseudopapillary neoplasms of the pancreas: a 19-year multicenter experience in China. J Gastrointest Surg. 2015;19(8):1433–40.

Law JK, Ahmed A, Singh VK, Akshintala VS, Olson MT, Raman SP, et al. A systematic review of solid-pseudopapillary neoplasms: are these rare lesions? Pancreas. 2014;43(3):331–7.

Bollen TL, Wessels FJ. Radiological workup of cystic neoplasms of the pancreas. Visc Med. 2018;34:182–90.

Kloppel G, Basturk O, Klimstra DS, Lam AK, Notohara K. Solid pseudopapillary neoplasm of the pancreas. In: WHO Classification of tumours, Digestive system tumours., 5th edition. 2018;340–342

Kang CM, Choi SH, Kim SC, Lee WJ, Choi DW, Kim SW. Predicting recurrence of pancreatic solid pseudopapillary tumors after surgical resection. Ann Surg. 2014;260(2):348–55.
Ethics declarations
Competing Interests
The authors declare no competing interests.
Additional information
Publisher's Note
Springer Nature remains neutral with regard to jurisdictional claims in published maps and institutional affiliations.
About this article
Cite this article
Singhal, S., Vashistha, N. & Singhal, D. Solid Pseudopapillary Tumor of Pancreas with Sinistral Portal Hypertension: A Rare Presentation. J Gastrointest Canc 54, 297–299 (2023). https://doi.org/10.1007/s12029-022-00814-2
Accepted:

Published:

Issue Date:

DOI: https://doi.org/10.1007/s12029-022-00814-2
Keywords