Access options
Buy single article
Instant access to the full article PDF.
USD 39.95
Price includes VAT (USA)
Tax calculation will be finalised during checkout.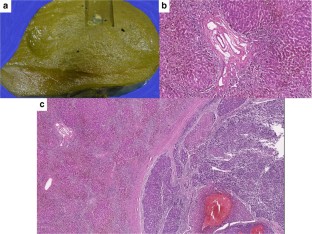 Abbreviations
AFP:

Alfa-feto protein

AGS:

Alagille syndrome

CLD:

Chronic liver disease

HCC:

Hepatocellular carcinoma

LT:

Liver transplantation

TACE:

Transcatheter arterial chemoembolization
References
1.

Kamath BM, Schwarz KB, Hadzić N. Alagille syndrome and liver transplantation. Pediatr Gastroenterol Nutr. 2010;50(1):11–5.

2.

Turnpenny PD, Ellard S. Alagille syndrome: pathogenesis, diagnosis and management. Eur J Hum Genet. 2012;20(3):251–7.

3.

Kamath BM, Spinner NB, Piccoli AD. Alagille syndrome. In: Suchy FJ, Sokol RJ, Balistreri WF, editors. Liver disease in children. 4th ed. Cambridge: Cambridge Univ. Press; 2014. p. 216–34.

4.

Pacheco MC, Monroe EJ, Horslen SP. Hepatic adenoma arising in a patient with Alagille syndrome: a case report. Pediatr Dev Pathol. 2018;21(6):585–9.

5.

Schwarzenberg SJ, Grothe RM, Sharp HL, Snover DC, Freese D. Long-term complications of arteriohepatic dysplasia. Am J Med. 1992;93(2):171–6.

6.

Rabinovitz M, Imperial JC, Schade RR, Van Thiel DH. Hepatocellular carcinoma in Alagille's syndrome: a family study. J Pediatr Gastroenterol Nutr. 1989;8(1):26–30.

7.

Kim B, Park SH, Ran Yang H, Kee Seo J, Sun Kim W, Chi JG. Hepatocellular carcinoma occurring in Alagille syndrome. Pathol Res Pract. 2005;201(1):55–60.

8.

Khanna R, Verma SK. Pediatric hepatocellular carcinoma. World J Gastroenterol. 2018;24(35):3980–99.

9.

Theise ND, Curado MP, Franceschi S, et al. Hepatocellular carcinoma. In: Bosman FT, Carneiro F, Hruban RH, Theise ND, editors. WHO classification of tumours of the digestive system. 4th ed. Lyon: IARC Press; 2010.

10.

Valamparampil JJ, Reddy MS, Shanmugam N, Vij M, Kanagavelu RG, Rela M. Living donor liver transplantation in Alagille syndrome—single center experience from South Asia. Pediatr Transplant. 2019;23:e13579.

11.

Ong E, Williams SM, Anderson JC, Kaplan PA. MR imaging of a hepatoma associated with Alagille syndrome. J Comput Assist Tomogr. 1986;10(6):1047–9.

12.

Kaufman SS. Hepatocarcinoma in a child with the Alagille syndrome. Arch Pediatr Adolesc Med. 1987;141(6):698.

13.

Békássy AN, Garwicz S, Wiebe T, Hägerstrand I, Jensen OA. Hepatocellular carcinoma associated with arteriohepatic dysplasia in a 4-year-old girl. Med Pediatr Oncol. 1992;20(1):78–83.

14.

Keeffe EB, Pinson CW, Ragsdale J, Zonana J. Hepatocellular carcinoma in arteriohepatic dysplasia. Am J Gastroenterol. 1993;88(9):1446–9.

15.

Bhadri VA, Stormon MO, Arbuckle S, Lam AH, Gaskin KJ, Shun A. Hepatocellular carcinoma in children with Alagille syndrome. J Pediatr Gastroenterol Nutr. 2005;41(5):676–8.

16.

Wetli SC, Gralla ES, Schibli S, Stranzinger E. Hepatocellular carcinoma and regenerating nodule in a 3-year-old child with Alagille syndrome. Pediatr Radiol. 2010;40(10):1696–8.

17.

Pham TA, Gallo AM, Concepcion W, Esquivel CO, Bonham CA. Effect of liver transplant on long-term disease-free survival in children with hepatoblastoma and hepatocellular cancer. JAMA Surg. 2015;150(12):1150–8.

18.

Geramizadeh B, Kashkooe A, Bahador A, et al. Pediatric hepatocellular carcinoma, a single center study from the South of Iran: case series. Hepat Mon. 2017;17(8).

19.

Vinayak R, Cruz RJ, Ranganathan S, et al. Pediatric liver transplantation for hepatocellular cancer and rare liver malignancies: US multicenter and single-center experience (1981–2015). Liver Transpl. 2017;23(12):1577–88.

20.

Weiss KE, Sze DY, Rangaswami AA, et al. Transarterial chemoembolization in children to treat unresectable hepatocellular carcinoma. Pediatr Transplant. 2018;22(4):e13187.

21.

D'Souza AM, Shah R, Gupta A, et al. Surgical management of children and adolescents with upfront completely resected hepatocellular carcinoma. Pediatr Blood Cancer. 2018;65(11):e27293.

22.

Beaunoyer M, Vanatta JM, Ogihara M, et al. Outcomes of transplantation in children with primary hepatic malignancy: outcomes of OLT in children with liver cancer. Pediatr Transplant. 2007;11(6):655–60.

23.

Kamath BM, Yin W, Miller H, Anand R, Rand EB, Alonso E, et al. Outcomes of liver transplantation for patients with alagille syndrome: the studies of pediatric liver transplantation experience. Liver Transpl. 2012;18(8):940–8.

24.

Kamath BM, Baker A, Houwen R, Todorova L, Kerkar N. Systematic review: the epidemiology, natural history, and burden of Alagille syndrome. JPGN. 2018;67(2):148–56.

25.

Schmid I, von Schweinitz D. Pediatric hepatocellular carcinoma: challenges and solutions. J Hepatocell Carcinoma. 2017;4:15–21.
Ethics declarations
Conflict of Interest
The authors declare that there is no conflict of interest.
Additional information
Publisher's Note
Springer Nature remains neutral with regard to jurisdictional claims in published maps and institutional affiliations.
Electronic Supplementary Material
About this article
Cite this article
Valamparampil, J.J., Shanmugam, N., Vij, M. et al. Hepatocellular Carcinoma in Paediatric Patients with Alagille Syndrome: Case Series and Review of Literature. J Gastrointest Canc 51, 1047–1052 (2020). https://doi.org/10.1007/s12029-020-00391-2