Abstract
Background
Stomach cancer is a curative disease in early stages. The optimal extent and approach for gastric resection are still evolving.
Patients and Methods
In this study, we examined the value, as well as, the predictors of omental disease spread, retrospectively, in a group of patients with gastric cancer who attended the Oncology Center, Mansoura University, in the period between January 2006 and April 2017.
Results
Nodal metastasis, especially heavy disease (N2 and beyond), and advanced stage are predictors of the presence of omental disease. However, neither overall nor disease-free survival is affected by omental infiltration.
Conclusion
Omental resection will continue being an integral part of gastric resection, but the level of omental cutting needs further studies.
This is a preview of subscription content, log in to check access.
Access options
Buy single article
Instant access to the full article PDF.
US$ 39.95
Tax calculation will be finalised during checkout.
Subscribe to journal
Immediate online access to all issues from 2019. Subscription will auto renew annually.
US$ 99
Tax calculation will be finalised during checkout.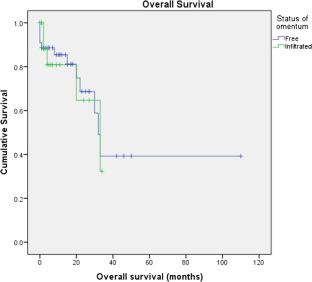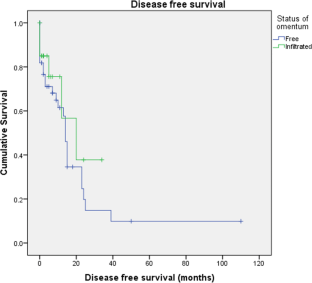 References
1.

Kim M-C, Kim K-H, Jung GJ, Rattner DW. Comparative study of complete and partial omentectomy in radical subtotal gastrectomy for early gastric cancer. Yonsei Med J. 2011;52(6):961–6.

2.

Hu B, El Hajj N, Sittler S, Lammert N, Barnes R, Meloni-Ehrig A. Gastric cancer: classification, histology and application of molecular pathology. J Gastrointest Oncol. 2012;3(3):251–61.

3.

Namikawa T, Hanazaki K. Clinicopathological features of early gastric cancer with duodenal invasion. World J Gastroenterol: WJG. 2009;15(19):2309–13.

4.

Haverkamp L, Brenkman HJ, Ruurda JP, Ten Kate FJ, van Hillegersberg R. The oncological value of omentectomy in gastrectomy for cancer. J Gastrointest Surg. 2016;20(5):885–90.

5.

Sobin LH, Gospodarowicz MK, Wittekind C (Eds.), TNM Classification of Malignant Tumours (Seventh Edition), Wiley-Liss, New York (2011), pp. 99-103

6.

Association JGC. Japanese gastric cancer treatment guidelines 2014 (ver. 4). Gastric Cancer. 2017;20(1):1–19.

7.

Ibrahim AS, Khaled HM, Mikhail NN, Baraka H, Kamel H. Cancer incidence in Egypt: results of the national population-based cancer registry program. J Cancer Epidemiol. 2014;2014:1–18.

8.

Hasegawa S, Kunisaki C, Ono H, Oshima T, Fujii S, Taguri M, et al. Omentum-preserving gastrectomy for advanced gastric cancer: a propensity-matched retrospective cohort study. Gastric Cancer. 2013;16(3):383–8.

9.

Hasegawa S, Yamamoto Y, Taguri M, Morita S, Sato T, Yamada R, et al. A randomized phase II trial of omentum-preserving gastrectomy for advanced gastric cancer. Jpn J Clin Oncol. 2012;43(2):214–6.

10.

Oh J, Cho J, Kang M, Lee J, Kwon H, Nam K, et al. Omental infarction caused by laparoscopy-assisted gastrectomy for gastric cancer: CT findings. Clin Radiol. 2011;66(10):966–73.

11.

Koppe MJ, Nagtegaal ID, de Wilt JH, Ceelen WP. Recent insights into the pathophysiology of omental metastases. J Surg Oncol. 2014;110(6):670–5.

12.

Jongerius E, Boerma D, Seldenrijk K, Meijer S, Scheepers J, Smedts F, et al. Role of omentectomy as part of radical surgery for gastric cancer. Br J Surg. 2016;103(11):1497–503.
Ethics declarations
Approval from the Institutional Research Board (IRB) of the Faculty of Medicine of Mansoura University was obtained (Identifier: R/19.03.455).
Additional information
Publisher's Note
Springer Nature remains neutral with regard to jurisdictional claims in published maps and institutional affiliations.
About this article
Cite this article
Metwally, I.H., Abdelkhalek, M., Shetiwy, M. et al. Significance of Omental Infiltration in Gastric Cancer Patients: a Retrospective Cohort Study. J Gastrointest Canc 51, 861–867 (2020). https://doi.org/10.1007/s12029-019-00310-0
Keywords
Stomach cancer

Omentum

Gastrectomy

Nodal spread

Survival