Abstract
Background
Direct antiviral agents (DAAs) have become the treatment of choice for chronic hepatitis C virus (HCV). A safety concern was raised about a possible relationship between DDAs and malignancies. We report unexpected development of extrahepatic malignancies after DAA treatment.
Methods
Four hundred thirty-one patients were treated with DAAs in our unit between January 2015 and February 2018. The most common regimen used the combination of paritaprevir/ritonavir/ombitasvir with/without dasabuvir (PrOD) (141 patients, 32.7%). The most common genotype was G1b (317 patients, 73.5%).
Results
Nine patients (2.08%) were diagnosed with malignancies after treatment: three patients developed lymphoma, one laryngeal carcinoma, one pancreatic adenocarcinoma, one cervix carcinoma, one lung carcinoma, one developed recurrent transitional cell carcinoma of the urinary bladder, and one developed recurrent metastatic breast cancer. The incidence of these malignancies in the cohort was 696 to 100,000 for lymphoma and 232 to 100,000 for each one of the other malignancies described, while the incidence in the general population is 20, 8.8, 1.7, 44.7, 142, and 89.7 to 100,000, respectively. Five of these patients were treated with PrOD, two with sofosbuvir and daclatasvir, one with simeprevir and sofosbuvir, and one with ledipasvir and sofosbuvir. The occurrence of the malignancies was 3 months to 4 years after the end of the treatment. Besides, 10 patients (2.3%) developed HCC and one developed recurrent aggressive HCC.
Conclusions
This report raises a question about a possible relationship between treatment with DAAs and development of extrahepatic malignancies. Thus, data collection from larger cohorts is critical to determine the relationship possibility.
Access options
Buy single article
Instant access to the full article PDF.
US$ 39.95
Tax calculation will be finalised during checkout.
Subscribe to journal
Immediate online access to all issues from 2019. Subscription will auto renew annually.
US$ 79
Tax calculation will be finalised during checkout.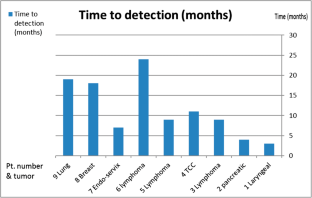 Abbreviations
HCV:

Hepatitis C virus

NHL:

Non-Hodgkin lymphoma

DAA:

Direct antiviral agent

PrOD:

Paritaprevir/ritonavir/ombitasvir with/without dasabuvir

HCC:

Hepatocellular carcinoma

SVR:

Sustained viral response

MDRD:

Modification of Diet in Renal Disease

TW:

Therapy week

US:

Ultrasonography

aFP:

Alpha-feto protein

CHOP + R:

Cyclophosphamide, hydroxydaunorubicin, oncovine, prednisone, and rituximab

CT:

Computed tomography
References
1.

Saadi T, Khoury J. Is there a relationship between treatment with direct antiviral agents for HCV infection and the development of malignancies? J Clin Gastroenterol. 2018;52:353–9.

2.

Cheng EY, Saab S, Holt CD, Busuttil RW. Paritaprevir/ritonavir/ombitasvir and dasabuvir for the treatment of chronic hepatitis C virus infection. Expert Opin Pharmacother. 2015;16:2835–48.

3.

Younossi ZM, Singer ME, Mir HM, Henry L, Hunt S. Impact of interferon free regimens on clinical and cost outcomes for chronic hepatitis C genotype 1 patients. J Hepatol. 2014;60:530–7.

4.

Yang JD, Roberts LR. Hepatocellular carcinoma: a global view. Nat Rev Gastroenterol Hepatol. 2010;7:448–58.

5.

Yoshida H, Shiratori Y, Moriyama M, Arakawa Y, Ide T, Sata M, et al. Interferon therapy reduces the risk for hepatocellular carcinoma: national surveillance program of cirrhotic and noncirrhotic patients with chronic hepatitis C in Japan. IHIT Study Group. Inhibition of hepatocarcinogenesis by interferon therapy. Ann Intern Med. 1999;131:174–81.

6.

Fiorino S, Bacchi-Reggiani L, de Biase D, Fornelli A, Masetti M, Tura A, et al. Possible association between hepatitis C virus and malignancies different from hepatocellular carcinoma: a systematic review. World J Gastroenterol. 2015;21:12896–953.

7.

Mahale P, Sturgis EM, Tweardy DJ, Ariza-Heredia EJ, Torres HA. Association between hepatitis C virus and head and neck cancers. J Natl Cancer Inst. 2016;108:djw035.

8.

Pozzato G, Mazzaro C, Dal Maso L, et al. Hepatitis C virus and non-Hodgkin's lymphomas: meta-analysis of epidemiology data and therapy options. World J Hepatol. 2016;8:107–16.

9.

Gaglio PJ. Extrahepatic and intrahepatic malignancies in patients with HCV who achieve an SVR with directly acting antiviral agents: should we be concerned that DAA therapy contributed to this phenomenon? J Clin Gastroenterol. 2017;51:657–8.

10.

Conteduca V, Sansonno D, Russi S, et al. Therapy of chronic hepatitis C virus infection in the era of direct-acting and host-targeting antiviral agents. J Inf Secur. 2014;68:1–20.

11.

Bonaventura A, Montecucco F. Sofosbuvir/velpatasvir: a promising combination. World J Hepatol. 2016;8:785–9.

12.

Asselah T, Boyer N, Saadoun D, Martinot-Peignoux M, Marcellin P. Direct-acting antivirals for the treatment of hepatitis C virus infection: optimizing current IFN-free treatment and future perspectives. Liver Int. 2016;36(Suppl 1):47–57.

13.

Conti F, Buonfiglioli F, Scuteri A, Crespi C, Bolondi L, Caraceni P, et al. Early occurrence and recurrence of hepatocellular carcinoma in HCV-related cirrhosis treated with direct-acting antivirals. J Hepatol. 2016;65:727–33.

14.

Reig M, Marino Z, Perello C, et al. Unexpected high rate of early tumor recurrence in patients with HCV-related HCC undergoing interferon-free therapy. J Hepatol. 2016;65:719–26.

15.

ANRS collaborative study group on hepatocellular carcinoma. Lack of evidence of an effect of direct-acting antivirals on the recurrence of hepatocellular carcinoma: Data from three ANRS cohorts. J Hepatol. 2016;65:734–40.

16.

European Association for the Study of the Liver. EASL Recommendations on Treatment of Hepatitis C 2015. J Hepatol. 2015;63:199–236.

17.

AASLD/IDSA HCV Guidance Panel. Hepatitis C guidance: AASLD-IDSA recommendations for testing, managing, and treating adults infected with hepatitis C virus. Hepatology. 2015;62:932–54.

18.

European Association for the Study of the Liver. EASL Recommendations on Treatment of Hepatitis C 2016. J Hepatol. 2017;66:153–94.

19.

Everson GT, Towner WJ, Davis MN, Wyles DL, Nahass RG, Thuluvath PJ, et al. Sofosbuvir with velpatasvir in treatment-naive noncirrhotic patients with genotype 1 to 6 hepatitis C virus infection: a randomized trial. Ann Intern Med. 2015;163:818–26.

20.

Pianko S, Flamm SL, Shiffman ML, Kumar S, Strasser SI, Dore GJ, et al. Sofosbuvir plus Velpatasvir combination therapy for treatment-experienced patients with genotype 1 or 3 hepatitis C virus infection: a randomized trial. Ann Intern Med. 2015;163:809–17.

21.

Ioannou GN, Green PK, Berry K. HCV eradication induced by direct-acting antiviral agents reduces the risk of hepatocellular carcinoma. J Hepatol. 2017;(17):32273–0. https://doi.org/10.1016/j.jhep.2017.08.030.

22.

Rodriguez de Santiago E, Velazquez Kennedy K, Garcia Gonzalez M, et al. HCV-positive lymphoma after sustained virological response with direct-acting antiviral agents: the game is not over after HCV eradication. J Viral Hepat. 2018;25:614–5.

23.

Smith A, Howell D, Patmore R, Jack A, Roman E. Incidence of haematological malignancy by sub-type: a report from the Haematological Malignancy Research Network. Br J Cancer. 2011;105:1684–92.

24.

Bray F, Ren JS, Masuyer E, Ferlay J. Global estimates of cancer prevalence for 27 sites in the adult population in 2008. Int J Cancer. 2013;132:1133–45.

25.

Lambert R, Sauvaget C, de Camargo Cancela M, Sankaranarayanan R. Epidemiology of cancer from the oral cavity and oropharynx. Eur J Gastroenterol Hepatol. 2011;23:633–41.

26.

Ma J, Siegel R, Jemal A. Pancreatic cancer death rates by race among US men and women, 1970-2009. J Natl Cancer Inst. 2013;105:1694–700.

27.

Hinotsu S, Akaza H, Miki T, Fujimoto H, Shinohara N, Kikuchi E, et al. Bladder cancer develops 6 years earlier in current smokers: analysis of bladder cancer registry data collected by the cancer registration committee of the Japanese Urological Association. Int J Urol. 2009;16:64–9.

28.

Alfsen GC, Thoresen SO, Kristensen GB, Skovlund E, Abeler VM. Histopathologic subtyping of cervical adenocarcinoma reveals increasing incidence rates of endometrioid tumors in all age groups: a population based study with review of all nonsquamous cervical carcinomas in Norway from 1966 to 1970, 1976 to 1980, and 1986 to 1990. Cancer. 2000;89:1291–9.

29.

Torre LA, Bray F, Siegel RL, et al. Global cancer statistics, 2012. CA Cancer J Clin. 2015;65:87–108.

30.

Schiavinato A, Zanetto A, Pantano G, Tosato F, Nabergoj M, Fogar P, et al. Polyclonal and monoclonal B lymphocytes response in HCV-infected patients treated with direct-acting antiviral agents. J Viral Hepat. 2017;24:1168–76.

31.

Pellicelli A, Giannelli V, Zoli V, Pellicelli V, Zignego AL. Antiviral therapy in hepatitis C-infected patients prevents relapse of diffuse large B cell lymphoma. Clin Exp Hepatol. 2018 Sep;4(3):197–200.
Ethics declarations
The study was approved by the institutional review board (IRB).
Conflict of Interest
The authors declare that they have no conflict of interest.
Additional information
Publisher's Note
Springer Nature remains neutral with regard to jurisdictional claims in published maps and institutional affiliations.
About this article
Cite this article
Khoury, J., Nassar, G., Kramsky, R. et al. Extrahepatic Malignancies After Treatment with Direct Antiviral Agents for Chronic HCV Infection. J Gastrointest Canc 51, 584–590 (2020). https://doi.org/10.1007/s12029-019-00293-y
Keywords
Direct antiviral agents

HCV

Extrahepatic

Hepatocellular carcinoma

Lymphoma