Access options
Buy single article
Instant access to the full article PDF.
USD 39.95
Price excludes VAT (USA)
Tax calculation will be finalised during checkout.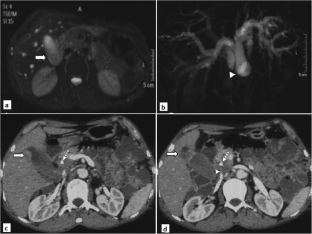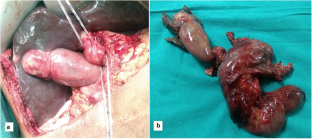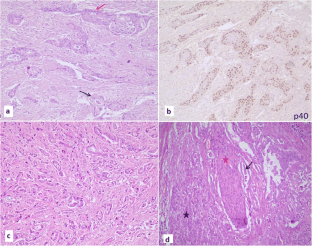 References
Takayashiki T, Miyazaki M, Kato A, et al. Double cancer of gall-bladder and bile duct associated with anomalous junction of the pancreaticobiliary ductal system. Hepato-Gastroenterology. 2002 Jan-Feb;49(43):109–12.

Kurosaki I, Watanabe H, Tsukada K, Hatakeyama K. Synchronous primary tumors of the extrahepatic bile duct and gallbladder. J Surg Oncol. 1997 Aug;65(4):258–62.

Rajekar H. Synchronous gall bladder and bile duct cancer: a short series of seven cases and a brief review of literature. J Clin Exp Hepatol. 2017 Jun;7(2):115–20.

Shukla PJ, Barreto SG, Shrikhande SV, Ramadwar MR, Deodhar KK, Mehta S, et al. Simultaneous gall-bladder and bile duct cancers: revisiting the pathological possibilities. HPB (Oxford). 2008;10(1):48–53.

Gertsch P, Thomas P, Baer H, Lerut J, Zimmermann A, Blumgart LH. Multiple tumors of the biliary tract. Am J Surg. 1990;159:386–8.

Hayashi N, Yamaguchi Y, Ogawa M. Concomitant adenosquamous carcinoma of the common bile duct and early adenocarcinoma of the gall-bladder. J Gastroenterol Hepatol. 1993 Nov-Dec;8(6):607–12.

Mishra PK, Saluja SS, Prithiviraj N, Varshney V, Goel N, Patil N. Predictors of curative resection and long term survival of gallbladder cancer - a retrospective analysis. Am J Surg. 2017 Aug;214(2):278–86.
Acknowledgments
I would like to thank Dr. Bharti Varshney (Senior Resident, Department of Pathology, AIIMS, Jodhpur) for editing the manuscript.
Ethics declarations
Conflict of Interest
The authors declare that they have no conflict of interest.
About this article
Cite this article
Varshney, V.K., Rao, M., Soni, S.C. et al. Synchronous Adeno-squamous Carcinoma of Gallbladder and Adenocarcinoma of Common Bile Duct: Twin Trouble. J Gastrointest Canc 50, 1014–1017 (2019). https://doi.org/10.1007/s12029-018-0177-1
Published:

Issue Date:

DOI: https://doi.org/10.1007/s12029-018-0177-1
Keywords