This is a preview of subscription content, log in to check access.
Access options
Buy single article
Instant access to the full article PDF.
US$ 39.95
Price includes VAT for USA
Subscribe to journal
Immediate online access to all issues from 2019. Subscription will auto renew annually.
US$ 99
This is the net price. Taxes to be calculated in checkout.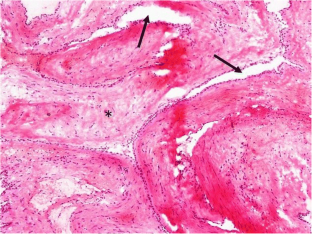 References
1.

Singhal A, Kanagala R, Wright HI, Kohli V. Multiple bile duct hamartomas mimicking diffuse hepatic metastasis: GI image. J Gastrointest Surg. 2010;14(10):1629–31. https://doi.org/10.1007/s11605-010-1224-9.

2.

Elsoueidi R, Mularz SJ, Richa EM. Bile duct hamartoma mimicking metastatic cholangiocarcinoma. J Gastrointest Cancer. 2017;48(1):87–8. https://doi.org/10.1007/s12029-016-9802-z.

3.

Redston MS, Wanless IR. The hepatic von Meyenburg complex: prevalence and association with hepatic and renal cysts among 2843 autopsies [corrected]. Mod Pathol. 1996;9(3):233–7.

4.

Beard RE, Yee EU, Mortele KJ, Khwaja K. Multicystic biliary hamartoma: a report of a rare entity and a review of the literature. Int J Surg Case Rep. 2014;5(12):919–23. https://doi.org/10.1016/j.ijscr.2014.10.014.

5.

Ioannidis O, Iordanidis F, Paraskevas G, Ntoumpara M, Tsigkriki L, Chatzopoulos S, et al. Incidentally discovered white subcupsular liver nodules during laparoscopic surgery: biliary hamartoma and peribiliary gland hamartoma. Klin Onkol. 2012;25(6):468–70.

6.

Song JS, Noh SJ, Cho BH, Moon WS. Multicystic biliary hamartoma of the liver. Korean J Pathol. 2013;47(3):275–8. https://doi.org/10.4132/KoreanJPathol.2013.47.3.275.

7.

Teng S-L, Shin J-S, Huang J-C. An unusual polynodular liver disease: multiple biliary hamartoma. Adv Dig Med. 2015;2(1):37–40. https://doi.org/10.1016/j.aidm.2014.03.008.

8.

Mortele B, Mortele K, Seynaeve P, Vandevelde D, Kunnen M, Ros PR. Hepatic bile duct hamartomas (von Meyenburg complexes): MR and MR cholangiography findings. J Comput Assist Tomogr. 2002;26(3):438–43.

9.

Zheng RQ, Zhang B, Kudo M, Onda H, Inoue T. Imaging findings of biliary hamartomas. World J Gastroenterol. 2005;11(40):6354–9.

10.

Nakanuma Y, Sasaki M, Terada T, Harada K. Intrahepatic peribiliary glands of humans. II. Pathological spectrum. J Gastroenterol Hepatol. 1994;9(1):80–6.

11.

Semelka RC, Hussain SM, Marcos HB, Woosley JT. Biliary hamartomas: solitary and multiple lesions shown on current MR techniques including gadolinium enhancement. J Magn Reson Imaging. 1999;10(2):196–201.

12.

Eguchi S, Tajima Y, Yanaga K, Okudaira S, Furui J, Hayashi T, et al. Hilar bile duct cancer associated with preoperatively undetectable von Meyenburg complex--report of a case. Hepatogastroenterology. 2004;51(59):1301–3.

13.

Fritz S, Hackert T, Blaker H, Hartwig W, Schneider L, Buchler MW, et al. Multiple von Meyenburg complexes mimicking diffuse liver metastases from esophageal squamous cell carcinoma. World J Gastroenterol. 2006;12(26):4250–2.

14.

Nagano Y, Matsuo K, Gorai K, Sugimori K, Kunisaki C, Ike H, et al. Bile duct hamartomas (von Mayenburg complexes) mimicking liver metastases from bile duct cancer: MRC findings. World J Gastroenterol. 2006;12(8):1321–3.

15.

Mimatsu K, Oida T, Kawasaki A, Aramaki O, Kuboi Y, Katsura Y, et al. Preoperatively undetected solitary bile duct hamartoma (von Meyenburg complex) associated with esophageal carcinoma. Int J Clin Oncol. 2008;13(4):365–8. https://doi.org/10.1007/s10147-007-0747-x.

16.

Lorenzon L, Ziparo V. Von Meyenburg complexes mimicking liver metastases. Hepatology. 2011;54(2):734–5. https://doi.org/10.1002/hep.24220.

17.

Bieze M, Verheij J, Phoa SS, van Gulik TM (2013) Von Meyenburg complexes mimicking metastatic disease at laparotomy for focal nodular hyperplasia. BMJ Case Rep 2013. doi:https://doi.org/10.1136/bcr-2013-010250

18.

Watanabe M, Shiozawa K, Ikehara T, Sato A, Matsui D, Ogino Y, et al. A case of solitary bile duct hamartoma with advanced gastric carcinoma: findings in contrast-enhanced ultrasonography. J Med Ultrason (2001). 2014;41(2):203–7. https://doi.org/10.1007/s10396-013-0480-1.

19.

Rammohan A, Cherukuri SD, Sathyanesan J, Palaniappan R, Govindan M. Incidental gall bladder cancers: are they truly incidental? World J Gastrointest Oncol. 2014;6(12):441–3. https://doi.org/10.4251/wjgo.v6.i12.441.
Ethics declarations
Conflict of Interest
The authors declare that they have no conflicts of interest.
Informed Consent
Informed consent was obtained from the patient regarding the usage of her information for the purpose of publication.
Additional information
Publisher's Note
Springer Nature remains neutral with regard to jurisdictional claims in published maps and institutional affiliations.
About this article
Cite this article
Krishnamurthy, G., Singh, H., Ganti, S.D. et al. Bile Duct Hamartoma Mimicking Liver Metastasis in Suspected Porcelain Gallbladder: a Case Report. J Gastrointest Canc 50, 1022–1025 (2019). https://doi.org/10.1007/s12029-018-00198-2