This is a preview of subscription content, log in to check access.
Access options
Buy single article
Instant access to the full article PDF.
US$ 39.95
Price includes VAT for USA
Subscribe to journal
Immediate online access to all issues from 2019. Subscription will auto renew annually.
US$ 99
This is the net price. Taxes to be calculated in checkout.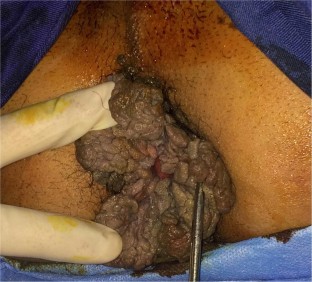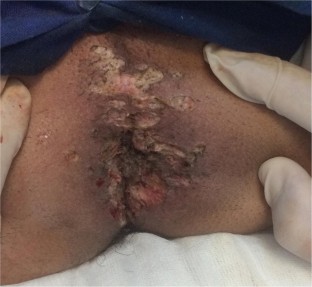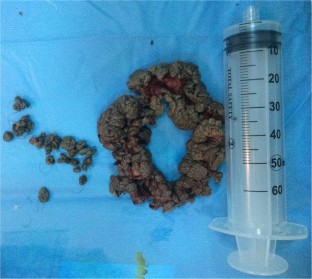 References
1.

Gillard P, Vanhooteghem O, Richert B, De La Brassinne M. Tumeur de Buschke-Löwenstein. Ann Dermatol Venereol. 2005;132(1):98–9.

2.

Elmejjad A, Dakir M, Tahiri M, et al. Le condylome acuminé géant - tumeur de Buschke Lowenstein (à propos de 3 cas). Prog Urol. 2003;13(3):513–7.

3.

Buschke A, lowenstein L. Uber karzinom ähnliche condylomata acuminata des penis. Klin Wochenschr. 1925;4:1726–8.

4.

Chu QD, Vezeridis MP, Libbey NP, Wanebo HJ. Giant condyloma acuminatum (Buschke-Lowenstein tumor) of the anorectal and perianal regions analysis of 42 cases. Dis Colon Rectum. 1994;37:950–7.

5.

Trombetta LJ, Place RJ. Giant condyloma acuminatum of the anorectum: trends in epidemiology and management: report of a case and review of the literature. Dis Colon Rectum. 2001;44(12):1878–86.

6.

Safi F, Bekdache O, Al-Salam S, Alashari M, Mazen T. Giant condyloma acuminatum of Buschke–Lowenstein tumour: disease development between 2000 and 2010. Surg Pract. 2014;18:27–36.

7.

De Toma G, Cavallaro G, Bitonti A, Polistena A, Giuseppina Onesti M, Scuderi N. Surgical management of perianal giant condyloma acuminatum (Buschke-Löwenstein tumor) report of three cases. Eur Surg Res. 2006;38:418–22.

8.

Ejeckman GC, Idikio HA, Nayak V, Gardiner JP. Malignant transformation in an anal condyloma acuminatum. Can J Surg. 1983;26:170–3.

9.

Hull MT, Eble JN, Priest JB, Mulcahy JJ. Ultrastructure of Buschke-Loewenstein tumor. J Urol. 1981;126:485–9.

10.

Hemper E, Wittau E, Lemke J, Kornmann M. Management of a giant perineal condylomata acuminata. In: GMS Interdiscip Plast Reconstr Surg DGPW, vol. 21; 2016. p. 5. Doc07.

11.

Ahsaini M, Tazi Y, Tazi MF, et al. Varrucous carcinoma arising in an extended giant condyloma acuminatum (buschke-lovenstein tumor): a case report and review of the literature. JMED Case Rep. 2013;7:1–5.

12.

Creasman C, Haas PA, Fox TA, Balazs M. Malignant transformation of anorectal giant condyloma acuminatum (BuschkeLowenstein tumor). Dis Colon Rectum. 1989;32:481–7.
Ethics declarations
Conflict of Interest
The authors declare that they have no conflict of interest.
All procedures performed in studies involving human participants were in accordance with the ethical standards of the institutional and/or national research committee and with the 1964 Helsinki declaration and its later amendments or comparable ethical standards.
Informed Consent
Informed consent was obtained from all individual participants included in the study.
About this article
Cite this article
El Bessi, M., Dougaz, W., Jones, M. et al. A Giant Anorectal Condyloma Is Not Synonym of Malignancy. J Gastrointest Canc 50, 1026–1028 (2019). https://doi.org/10.1007/s12029-018-00189-3