This is a preview of subscription content, log in to check access.
Access options
Buy single article
Instant access to the full article PDF.
US$ 39.95
Price includes VAT for USA
Subscribe to journal
Immediate online access to all issues from 2019. Subscription will auto renew annually.
US$ 99
This is the net price. Taxes to be calculated in checkout.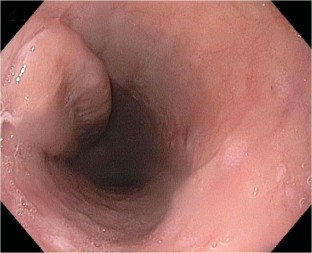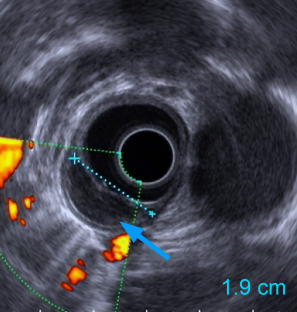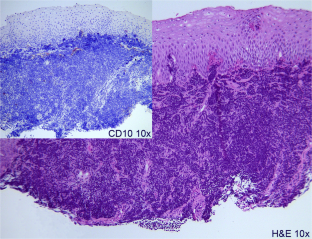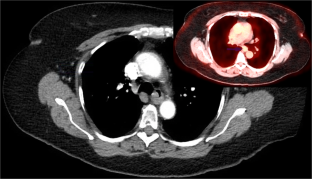 References
1.

Harris NL, Jaffe ES, Diebold J, Flandrin G, Muller-Hermelink HK, Vardiman J, et al. The World Health Organization classification of neoplastic diseases of the hematopoietic and lymphoid tissues. Report of the clinical advisory committee meeting, Airlie house, Virginia, November, 1997. Ann Oncol. 1999;10(12):1419–32.

2.

Okerbloom JA, Armitage JO, Zetterman R, Linder J. Esophageal involvement by non-Hodgkin's lymphoma. Am J Med. 1984;77(2):359–61.

3.

Ma Q, Zhang C, Fang S, Zhong P, Zhu X, Lin L, et al. Primary esophageal mucosa-associated lymphoid tissue lymphoma: a case report and review of literature. Medicine (Baltimore). 2017;96(13):e6478.

4.

Tarui T, Ishikawa N, Kadoya S, Watanabe G. Co-occurrence of papillary thyroid cancer and MALT lymphoma of the thyroid with severe airway obstruction: a case report and review of the literature. Int J Surg Case Rep. 2014;5(9):594–7.

5.

Weissferdt A, Moran CA. Primary MALT-type lymphoma of the thymus: a clinicopathological and immunohistochemical study of six cases. Lung. 2011;189(6):461–6.

6.

Gezen C, Kement M, Oncel M, Tuncay E, Sahlepci T, Alkan S. Mucosa associated lymphoid tissue lymphoma of the colon: a case report. Cases J. 2009;2:9316.

7.

Terada T. CD5-positive marginal zone B-cell lymphoma of the mucosa-associated lymphoid tissue (MALT) of the lung. Diagn Pathol. 2012;7:16.

8.

Delli FS, Zaraboukas T, Mandekou-Lefaki I. Primary MALT type skin lymphoma-is 'Wait and See' a possible strategy? Clin Med Oncol. 2008;2:153–8.

9.

Toso A, Aluffi P, Capello D, Conconi A, Gaidano G, Pia F. Clinical and molecular features of mucosa-associated lymphoid tissue (MALT) lymphomas of salivary glands. Head Neck. 2009;31(9):1181–7.

10.

Sagaert X, Van Cutsem E, De Hertogh G, Geboes K, Tousseyn T. Gastric MALT lymphoma: a model of chronic inflammation-induced tumor development. Nat Rev Gastroenterol Hepatol. 2010;7(6):336–46.

11.

Hu C, Yi C, Dai X. Clinical study of 31 patients with primary gastric mucosa-associated lymphoid tissue lymphoma. J Gastroenterol Hepatol. 2006;21(4):722–6.

12.

Kishi K, Maeda H, Nakamura Y, Shirai S, Sato M. Radiotherapy for mucosa-associated lymphoid tissue (MALT) lymphoma of the esophagus: a case report with a diagnostic and therapeutic discussion. Int J Clin Oncol. 2012;17(2):174–80.
Ethics declarations
Conflict of Interest
The authors declare that they have no conflict of interest.
Informed Consent
Informed consent was obtained for publication of the case details.
Additional information
James H. Tabibian and Amir Kalani are Co-first authors
About this article
Cite this article
Tabibian, J.H., Kalani, A., Moran, A.M. et al. Extranodal Marginal Zone B Cell (MALT) Lymphoma of the Esophagus. J Gastrointest Canc 50, 1034–1036 (2019). https://doi.org/10.1007/s12029-018-00187-5