This is a preview of subscription content, log in to check access.
Access options
Buy single article
Instant access to the full article PDF.
US$ 39.95
Price includes VAT for USA
Subscribe to journal
Immediate online access to all issues from 2019. Subscription will auto renew annually.
US$ 99
This is the net price. Taxes to be calculated in checkout.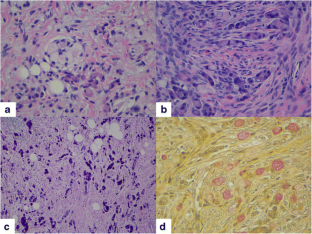 References
1.

Tang LH, Shia J, Soslow RA. Pathologic classification and clinical behavior of the spectrum of goblet cell carcinoid tumors of the appendix. Am J Surg Pathol. 2008;32:1429–43.

2.

McGory ML, Maggard MA, Kang H, O'Connell JB, Ko CY. Malignancies of the appendix: beyond case series reports. Dis Colon Rectum. 2005;48:2264–71.

3.

McCusker ME, Coté TR, Clegg LX, Sobin LH. Primary malignant neoplasms of the appendix: a population-based study from the surveillance, epidemiology and end-results program, 1973-1998. Cancer. 2002;94:3307–12.

4.

Carr NJ, Emory TS, Sobin LH. Epithelial neoplasms of the appendix and colorectum: an analysis of cell proliferation, apoptosis, and expression of p53, CD44, bcl-2. Arch Pathol Lab Med. 2002;126:837–41.

5.

Alsaad KO, Serra S, Chetty R. Combined goblet cell carcinoid and mucinous cystadenoma of the vermiform appendix. World J Gastroenterol. 2009;15:3431–3.

6.

Pham TH, Wolff B, Abraham SC, Drelichman E. Surgical and chemotherapy treatment outcomes of goblet cell carcinoid: a tertiary cancer center experience. Ann Surg Oncol. 2006;13:370–6.

7.

Varisco B, McAlvin B, Dias J, Franga D. Adenocarcinoid of the appendix: is right hemicolectomy necessary? A meta-analysis of retrospective chart reviews. Am Surg. 2004;70:593–9.

8.

McGregor DH, Cherian R, Weston AP, Lawson L, McAnaw MP. Adenocarcinoid of ileum and appendix, incidentally discovered during exploratory laparotomy for gastric MALT lymphoma, with subsequent diffuse prostatic metastases: report of a case with light, immunohistochemical, and electron microscopic studies. Dig Dis Sci. 1999;44:87–95.

9.

Chua TC, Pelz JO, Kerscher A, Morris DL, Esquivel J. Critical analysis of 33 patients with peritoneal carcinomatosis secondary to colorectal and appendiceal signet ring cell carcinoma. Ann Surg Oncol. 2009 Oct;16(10):2765–70. doi:10.1245/s10434-009-0536-z.

10.

Anderson NH, Somerville JE, Johnston CF, Hayes DM, Buchanan KD, Sloan JM. Appendiceal goblet cell carcinoids: a clinicopathological and immunohistochemical study. Histopathology. 1991;18:61–5.
Ethics declarations
This study did not require funding.
Conflict of Interest
The authors declare that they have no conflict of interest.
About this article
Cite this article
Ibrahim, U., Valecha, G., Garcia, G. et al. Adenocarcinoma Ex-goblet Cell Carcinoid of the Appendix: a Case Report and Overview of the Disease. J Gastrointest Canc 49, 497–500 (2018). https://doi.org/10.1007/s12029-017-9926-9
Keywords
Goblet Cell Carcinoid (GCC)

Signet Ring Cell Type

Fluorouracil-based Regimens

Extensive Peritoneal Disease

Adequate Nodal Sampling