Abstract
Background
K-RAS and recently N-RAS gene mutation testing are mandatory requirements prior to anti-epidermal growth factor receptor (EGFR) monoclonal antibody treatment of metastatic CRC. Mutation prevalence and distribution in Indonesian colorectal cancer (CRC) are not known.
Methods
Combined methods of PCR high-resolution melt (HRM), restriction fragment length polymorphism (RFLP), and direct DNA sequencing were used to genotype exons 2, 3, and 4 of both K-RAS and N-RAS genes for routine clinical testing of CRC patients. Descriptive analytical review of 595 consecutive CRC patients (years 2013 to 2016) was performed to find associations between gene mutations and clinicopathologic features.
Results
This retrospective study revealed overall K-RAS gene mutation in exon 2 (codon 12 and 13) rates being 34.9%. Women (42.5%), stages I and II (43.4%), and well and moderate differentiations (37.7%) had higher frequency of K-RAS exon 2 mutations than men (29%, p = 0.006), stages (III and IV 31.9%, p = 0.05), and poor differentiation (11.8%, p = 0.002), respectively. At later period (2015–2016), 121 of 595 patients were genotyped for the remaining exons 3 and 4 of K-RAS as well as exons 2, 3, and 4 of N-RAS mutations resulting in overall RAS mutation prevalence of 41%. Mucinous histology had highest frequency of N-RAS mutation.
Conclusions
Combination of PCR HRM with either RFLP or direct DNA sequencing was useful to detect K-RAS exon 2 and extended RAS mutations, respectively. Frequency of all RAS mutations in stage IV Indonesian (41%) was similar among Asians (41–49%), which tend to be lower than western (55%) CRC.
This is a preview of subscription content, log in to check access.
Access options
Buy single article
Instant access to the full article PDF.
US$ 39.95
Price includes VAT for USA
Subscribe to journal
Immediate online access to all issues from 2019. Subscription will auto renew annually.
US$ 99
This is the net price. Taxes to be calculated in checkout.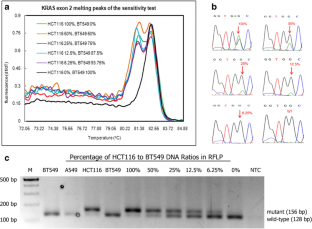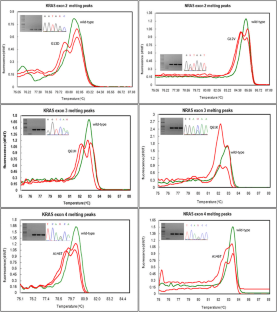 References
1.

Kokki I, Papana A, Campbell H, Theodoratou E. Estimating the incidence of colorectal cancer in South East Asia. Croat Med J. 2013;54:532–40.

2.

Pourhoseingholi MA. Increased burden of colorectal cancer in Asia. World J Gastrointest Oncol. 2012;4(4):68–70.

3.

Presario. Molecular profile of colorectal cancer in Indonesia: is there another pathway? Gastroenterol Hepatol Bed Bench. 2012;5:71–8.

4.

Sudoyo AW, Hernowo B, Krisnuhoni E, Reksodiputro AH, Hardjodisastro D. Colorectal cancer among young native Indonesians: a clinicopathological and molecular assessment on microsatellite instability. Medical Journal of Indonesia. 2010;19:245–51.

5.

Atreya CE, Corcoran RB, Kopetz S. Expanded RAS: refining the patient population. J Clin Oncol. 2015;33:682–5.

6.

Taniguchi H, Yamazaki K, Yoshino T, Muro K, Yatabe Y, Watanabe T, et al. Japanese Society of Medical Oncology clinical guidelines: RAS (KRAS/NRAS) mutation testing in colorectal cancer patients. Cancer Sci. 2015;106:324–7.

7.

Negru S, Papadopoulou E, Apessos A, Stanculeanu DL, Ciuleanu E, Volovat C, et al. KRAS, NRAS and BRAF mutations in Greek and Romanian patients with colorectal cancer: a cohort study. BMJ Open British Medical Journal Publishing Group. 2013;4 e004652–2

8.

Ogura T, Kakuta M, Yatsuoka T, Nishimura Y, Sakamoto H, Yamaguchi K, et al. Clinicopathological characteristics and prognostic impact of colorectal cancers with NRAS mutations. Oncol Rep. 2014;32(1):50–6.

9.

Borràs E, Jurado I, Hernan I, Gamundi MJ, Dias M, Martí I, et al. Clinical pharmacogenomic testing of KRAS, BRAF and EGFR mutations by high resolution melting analysis and ultra-deep pyrosequencing. BMC Cancer BioMed Central Ltd. 2011;11:406.

10.

Krypuy M, Newnham GM, Thomas DM, Conron M, Dobrovic A. High resolution melting analysis for the rapid and sensitive detection of mutations in clinical samples: KRAS codon 12 and 13 mutations in non-small cell lung cancer. BMC Cancer. BioMed Central. 2006;6:295.

11.

Nollau P, Moser C, Weinland G, Wagener C. Detection of K-ras mutations in stools of patients with colorectal cancer by mutant-enriched PCR. Int J Cancer. Wiley Subscription Services, Inc., A Wiley Company1996;66:332–6.

12.

Irahara N, Baba Y, Nosho K, Shima K, Yan L, Dias-Santagata D, et al. NRAS mutations are rare in colorectal cancer. Diagn Mol Pathol. 2010;19:157–63.

13.

Liu Y-P, Wu H-Y, Yang X, Xu H-Q, Chen D, Huang Q, et al. Diagnostic accuracy of high resolution melting analysis for detection of KRAS mutations: a systematic review and meta-analysis. Sci Rep. Nature Publishing Group2014;4:7521.

14.

Ferreira CG, Aran V, Zalcberg-Renault I, Victorino AP, Salem JH, Bonamino MH, et al. KRAS mutations: variable incidences in a Brazilian cohort of 8,234 metastatic colorectal cancer patients. BMC Gastroenterol. 2014;14:1–8.

15.

Watanabe T, Yoshino T, Uetake H, Yamazaki K, Ishiguro M, Kurokawa T, et al. KRAS mutational status in Japanese patients with colorectal cancer: results from a Nationwide, multicenter, cross-sectional study. Oxford University Press. Jpn J Clin Oncol. 2013;43(7):706–12.

16.

Zhang J, Zheng J, Yang Y, Lu J, Gao J, Lu T, et al. Molecular spectrum of KRAS, NRAS, BRAF and PIK3CA mutations in Chinese colorectal cancer patients: analysis of 1,110 cases. Sci Rep Nature Publishing Group. 2015;5:1–8.

17.

Liu X, Jakubowski M, Hunt JL. KRAS gene mutation in colorectal cancer is correlated with increased proliferation and spontaneous apoptosis. Am J Clin Pathol. 2011;135:245–52.

18.

Phua LC, Ng HW, Yeo AHL, Chen E, Lo MSM, Cheah PY, et al. Prevalence of KRAS, BRAF, PI3K and EGFR mutations among Asian patients with metastatic colorectal cancer. Oncol Lett. 2015;10:2519–26.

19.

Akiyoshi K, Yamada Y, Honma Y, Iwasa S, Kato K, Hamaguchi T, et al. KRAS mutations in patients with colorectal cancer as detected by high-resolution melting analysis and direct sequencing. Anticancer Res. 2013;33:2129–34.

20.

Hanna MC, Go C, Roden C, Jones RT, Pochanard P, Javed AY, et al. Colorectal cancers from distinct ancestral populations show variations in BRAF mutation frequency. PLoS One. 2012;8:e74950–0.

21.

Missiaglia E, Jacobs B, D'Ario G, Di Narzo AF, Soneson C, Budinska E, et al. Distal and proximal colon cancers differ in terms of molecular, pathological, and clinical features. Ann Oncol. 2014;25:1995–2001.

22.

Cheung DY, Kim TH, Kim CW, Kim JI, Cho SH, Park S-H, et al. The anatomical distribution of colorectal cancer in Korea: evaluation of the incidence of proximal and distal lesions and synchronous adenomas. Intern Med. 2008;47:1649–54.

23.

Chaiyapan W, Duangpakdee P, Boonpipattanapong T, Kanngern S, Sangkhathat S. Somatic mutations of K-ras and BRAF in Thai colorectal cancer and their prognostic value. Asian Pac J Cancer Prev. 2013;14:329–32.

24.

Peeters M, Kafatos G, Taylor A, Gastanaga VM, Oliner KS, Hechmati G, et al. Prevalence of RAS mutations and individual variation patterns among patients with metastatic colorectal cancer: a pooled analysis of randomised controlled trials. Eur J Cancer Elsevier. 2015;51:1704–13.

25.

Tang WY, Elnatan J, Lee YS, Goh HS, Smith DR. c-Ki-ras mutations in colorectal adenocarcinomas from a country with a rapidly changing colorectal cancer incidence. Br J Cancer. Nature Publishing Group1999;81:237–41.

26.

Kinoshita H, Yanagisawa A, Watanabe T, Nagawa H, Oya M, Kato Y, et al. Increase in the frequency of K-ras codon 12 point mutation in colorectal carcinoma in elderly males in Japan: the 1990s compared with the 1960s. Cancer Sci. 2005;96:218–20.

27.

Webster J, Kauffman TL, Feigelson HS, Pawloski PA, Onitilo AA, Potosky AL, et al. KRAS testing and epidermal growth factor receptor inhibitor treatment for colorectal cancer in community settings. Cancer Epidemiol Biomarkers Prev American Association for Cancer Research. 2013;22:91–101.

28.

Lee W-S, Lee JN, Baek J-H, Park YH. RAS status in Korean patients with stage III and IV colorectal cancer. Clin Transl Oncol Springer Milan. 2015;17:751–6.

29.

Loupakis F, Yang D, Yau L, Feng S, Cremolini C, Zhang W, et al. Primary tumor location as a prognostic factor in metastatic colorectal cancer. Oxford University Press. J Natl Cancer Inst. 2015;107(3):dju427.

30.

Chen K-H, Shao Y-Y, Chen H-M, Lin Y-L, Lin Z-Z, Lai M-S, et al. Primary tumor site is a useful predictor of cetuximab efficacy in the third-line or salvage treatment of KRAS wild-type (exon 2 non-mutant) metastatic colorectal cancer: a nationwide cohort study. BMC Cancer BioMed Central. 2016;16:327.
Acknowledgements
This research effort was funded by an internal grant for PT Kalbe Farma Tbk. We thanked Fitria Yunida, Dewi Nawangwulan, and Siska Yogiwanti for excellent technical assistance.
Ethics declarations
This study was determined to be exempt by the Institutional Review Board and performed in accordance to 1964 Helsinki Declaration and its later amendments. This retrospective study was approved by Institutional Review Board (IRB) of Stem-cell and Cancer Institute (SCI).
Conflict of interest
ML, GP, FS, and AU are employees of PT Kalbe Farma; GW and WG are senior pathologists receiving honoraria from PT Bifarma Adiluhung, Kalbe Farma; and all other authors have declared no conflicts of interests.
About this article
Cite this article
Levi, M., Prayogi, G., Sastranagara, F. et al. Clinicopathological Associations of K-RAS and N-RAS Mutations in Indonesian Colorectal Cancer Cohort. J Gastrointest Canc 49, 124–131 (2018). https://doi.org/10.1007/s12029-016-9901-x
Keywords
K-RAS
N-RAS

Colorectal cancer mutation

Indonesia

High-resolution melting

Asian