Access options
Buy single article
Instant access to the full article PDF.
USD 39.95
Price excludes VAT (USA)
Tax calculation will be finalised during checkout.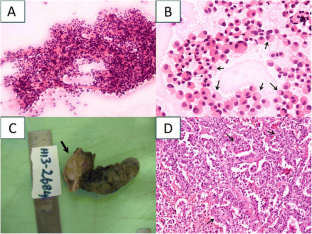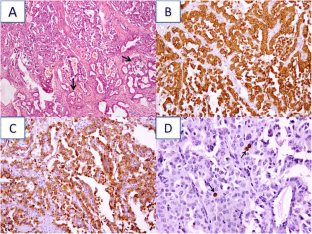 Abbreviations
5-HIAA:

5-Hydroxyindoleacetic acid

CBD:

Common bile duct

CgA:

Chromogranin A

CT:

Computed tomography

ERCP:

Endoscopic retrograde cholangiopancreatography

EUS:

Endoscopic ultrasonography

FNAC:

Fine-needle aspiration cytology

MRI:

Magnetic resonance imaging

NCAM:

Neural cell adhesion molecule

NET:

Neuroendocrine tumour

NSE:

Neuron-specific enolase
References
Maggard MA, O'Connell JB, Ko CY. Updated population-based review of carcinoid tumors. Ann Surg. 2004;240(1):117–22.

Chamberlain RS, Blumgart LH. Carcinoid tumors of the extrahepatic bile duct. A rare cause of malignant biliary obstruction. Cancer. 1999;86(10):1959–65.

Govil H, Reddy V, Kluskens L, Treaba D, Massarani-Wafai R, Selvaggi S, et al. Brush cytology of the biliary tract: retrospective study of 278 cases with histopathologic correlation. Diagn Cytopathol. 2002;26(5):273–7. doi:10.1002/dc.10098.

Thompson GB, van Heerden JA, Martin Jr JK, Schutt AJ, Ilstrup DM, Carney JA. Carcinoid tumors of the gastrointestinal tract: presentation, management, and prognosis. Surgery. 1985;98(6):1054–63.

Davies AJ. Carcinoid Tumours (Argentaffinomata): Hunterian Lecture delivered at the Royal College of Surgeons of England on 3rd March 1959. Ann R Coll Surg Engl. 1959;25(5):277–97.

Pilz E. On carcinoid of the bile duct. Zentralblatt Fur Chirurgie. 1961;86:1588–90.

Bhandarwar AH, Shaikh TA, Borisa AD, Palep JH, Patil AS, Manke AA. Primary neuroendocrine tumor of the left hepatic duct: a case report with review of the literature. Case Rep Surg. 2012;2012:786432. doi:10.1155/2012/786432.

Capella C, Solcia E, Sobin L, Arnold R. Endocrine tumors of the gallbladder and extrahepatic bile ducts. WHO Classification of Tumors. In: Hamilton R, Aaltonen LA, editors. Pathology and genetics of tumors of the digestive system. Lyon: IARC Press; 2000. p. 214–66.

Klimstra DS, Modlin IR, Coppola D, Lloyd RV, Suster S. The pathologic classification of neuroendocrine tumors: a review of nomenclature, grading, and staging systems. Pancreas. 2010;39(6):707–12. doi:10.1097/MPA.0b013e3181ec124e.

Noronha YS, Raza AS. Well-differentiated neuroendocrine (carcinoid) tumors of the extrahepatic biliary ducts. Arch Pathol Lab Med. 2010;134(7):1075–9. doi:10.1043/2008-0764-RS.1.

Albores-Saavedra J, Batich K, Hossain S, Henson DE, Schwartz AM. Carcinoid tumors and small-cell carcinomas of the gallbladder and extrahepatic bile ducts: a comparative study based on 221 cases from the surveillance, epidemiology, and end results program. Ann Diagn Pathol. 2009;13(6):378–83. doi:10.1016/j.anndiagpath.2009.08.002.

Jethava A, Muralidharan V, Mesologites T, Stoica-Mustafa E, Dasanu CA. An unusual presentation of a carcinoid tumor of the common bile duct. JOP: J Pancreas. 2013;14(1):85–7. doi:10.6092/1590-8577/1232.

Maitra A, Krueger JE, Tascilar M, Offerhaus GJ, Angeles-Angeles A, Klimstra DS, et al. Carcinoid tumors of the extrahepatic bile ducts: a study of seven cases. Am J Surg Pathol. 2000;24(11):1501–10.

Stavridi F, Chong H, Chan S, Goldsmith C, Reddy M, Glees J, et al. Neuroendocrine tumour of the cystic duct: a case report and literature review. J Gastrointest Cancer. 2007;38(1):32–3.

Ioannidis O, Cheva A, Paraskevas G, Chatzopoulos S, Kotronis A, Papadimitriou N, et al. Neuroendocrine tumor of the cystic duct. Acta Gastro-Enterologica Belgica. 2012;75(3):357–60.

Bajetta E, Ferrari L, Martinetti A, Celio L, Procopio G, Artale S, et al. Chromogranin A, neuron specific enolase, carcinoembryonic antigen, and hydroxyindole acetic acid evaluation in patients with neuroendocrine tumors. Cancer. 1999;86(5):858–65.

Prestifilippo A, Blanco G, Vitale MP, Giuffrida D (2012) Chromogranin A and neuroendocrine tumors. InTech. http://www.intechopen.com/books/neuroendocrine-tumor/chromogranin-a-andneuroendocrine-tumors.

Haug AR, Cindea-Drimus R, Auernhammer CJ, Reincke M, Wangler B, Uebleis C, et al. The role of 68Ga-DOTATATE PET/CT in suspected neuroendocrine tumors. J Nucl Med Off Publ Soc Nucl Med. 2012;53(11):1686–92. doi:10.2967/jnumed.111.101675.

El Rassi ZS, Mohsine RM, Berger F, Thierry P, Partensky CC. Endocrine tumors of the extrahepatic bile ducts. Pathological and clinical aspects, surgical management and outcome. Hepato-Gastroenterology. 2004;51(59):1295–300.

Hong N, Kim HJ, Byun JH, Kim SY, Kim KW, Kim JH, et al. Neuroendocrine neoplasms of the extrahepatic bile duct: radiologic and clinical characteristics. Abdom Imaging. 2015;40(1):181–91. doi:10.1007/s00261-014-0191-0.

Alexandraki KI, Kaltsas G. Gastroenteropancreatic neuroendocrine tumors: new insights in the diagnosis and therapy. Endocrine. 2012;41(1):40–52. doi:10.1007/s12020-011-9562-2.
Conflict of Interest
The authors have no potential conflicts of interest.
About this article
Cite this article
Safwan, M., Vij, M., Govil, S. et al. Well-Differentiated Neuroendocrine Tumour of the Extrahepatic Bile Duct: a Case Report with Review of Literature. J Gastrointest Canc 47, 93–99 (2016). https://doi.org/10.1007/s12029-015-9726-z
Published:

Issue Date:

DOI: https://doi.org/10.1007/s12029-015-9726-z
Keywords