Abstract
Background
Studies utilizing body mass index (BMI) have failed to show a consistent relationship between obesity and survival following treatment for colorectal cancer (CRC). Computerized tomography (CT) offers a reliable alternative approach to quantify body adiposity. We hypothesized that visceral obesity may negatively impact survival in CRC patients.
Aims and Methods
A retrospective review of CRC patients who received adjuvant chemotherapy at a single center during the period 2006–2009 identified from a prospectively maintained database. Visceral adiposity was determined by measuring visceral fat area (VFA) on preoperative staging CT. All patients were followed up to study completion or death.
Results
Sixty-two CRC patients with a mean age of 63.2 years received adjuvant chemotherapy and had imaging available for analysis. Thirty-five patients (56.5 %) had node positive disease. Thirty-one patients (50 %) were classified viscerally obese based on staging CT. 85.4 % of the patients completed adjuvant chemotherapy and visceral obesity was not associated with increased toxicity or failure to complete treatment. After a median follow-up of 65.2 months, patients with visceral obesity had a significantly lower overall survival (OS) (54.8 % vs 87.1 %, p = 0.004) and disease-free survival (DFS) (48.4 vs 77.4 %, p = 0.007) compared with patients without visceral obesity. There was no relationship between BMI and survival. Multivariate analysis using Cox proportional hazards model showed that visceral obesity was independently associated with reduced OS (Hazard ratio = 7.0; 95 % CI 2.0–24.6; p = 0.002).
Conclusion
This study shows that visceral obesity increases the likelihood of a poor prognosis in CRC patients receiving adjuvant chemotherapy thus underlying the value of lifestyle interventions to minimize visceral obesity in this patient cohort.
This is a preview of subscription content, log in to check access.
Access options
Buy single article
Instant access to the full article PDF.
US$ 39.95
Price includes VAT for USA
Subscribe to journal
Immediate online access to all issues from 2019. Subscription will auto renew annually.
US$ 99
This is the net price. Taxes to be calculated in checkout.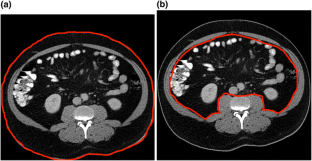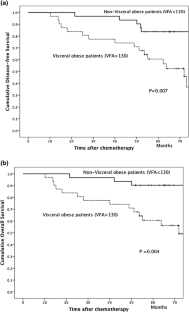 References
1.

Available from: http://www.who.int/mediacentre/factsheets/fs311/en/index.html. Accessed 7 Feb 2014.

2.

Flegal KM, Carroll MD, Ogden CL, Curtin LR. Prevalence and trends in obesity among US adults, 1999–2008. JAMA. 2010;303(3):235–41.

3.

Renehan AG, Tyson M, Egger M, Heller RF, Zwahlen M. Body-mass index and incidence of cancer: a systematic review and meta-analysis of prospective observational studies. Lancet. 2008;371(9612):569–78.

4.

Barb D, Williams CJ, Neuwirth AK, Mantzoros CS. Adiponectin in relation to malignancies: a review of existing basic research and clinical evidence. Am J Clin Nutr. 2007;86(3):s858–66.

5.

Guo YS, Narayan S, Yallampalli C, Singh P. Characterization of insulinlike growth factor I receptors in human colon cancer. Gastroenterology. 1992;102(4 Pt 1):1101–8.

6.

Birmingham JM, Busik JV, Hansen-Smith FM, Fenton JI. Novel mechanism for obesity-induced colon cancer progression. Carcinogenesis. 2009;30(4):690–7.

7.

Dignam JJ, Polite BN, Yothers G, Raich P, Colangelo L, O'Connell MJ, et al. Body mass index and outcomes in patients who receive adjuvant chemotherapy for colon cancer. J Natl Cancer Inst. 2006;98(22):1647–54.

8.

Meyerhardt JA, Niedzwiecki D, Hollis D, Saltz LB, Mayer RJ, Nelson H, et al. Impact of body mass index and weight change after treatment on cancer recurrence and survival in patients with stage III colon cancer: findings from cancer and leukemia group B 89803. J Clin Oncol. 2008;26(25):4109–15.

9.

Miyazawa-Hoshimoto S, Takahashi K, Bujo H, Hashimoto N, Saito Y. Elevated serum vascular endothelial growth factor is associated with visceral fat accumulation in human obese subjects. Diabetologia. 2003;46(11):1483–8.

10.

Cowey SL, Quast M, Belalcazar LM, Wei J, Deng X, Given R, et al. Abdominal obesity, insulin resistance, and colon carcinogenesis are increased in mutant mice lacking gastrin gene expression. Cancer. 2005;103(12):2643–53.

11.

Borkan GA, Gerzof SG, Robbins AH, Hults DE, Silbert CK, Silbert JE. Assessment of abdominal fat content by computed tomography. Am J Clin Nutr. 1982;36(1):172–7.

12.

Yoshizumi T, Nakamura T, Yamane M, Islam AH, Menju M, Yamasaki K, et al. Abdominal fat: standardized technique for measurement at CT. Radiology. 1999;211(1):283–6.

13.

Moon HG, Ju YT, Jeong CY, Jung EJ, Lee YJ, Hong SC, et al. Visceral obesity may affect oncologic outcome in patients with colorectal cancer. Ann Surg Oncol. 2008;15(7):1918–22.

14.

Rickles AS, Iannuzzi JC, Mironov O, Deeb AP, Sharma A, Fleming FJ, et al. Visceral obesity and colorectal cancer: are we missing the boat with BMI? J Gastrointest Surg. 2013;17(1):133–43. discussion p.143.

15.

Beddy P, Howard J, McMahon C, Knox M, de Blacam C, Ravi N, et al. Association of visceral adiposity with oesophageal and junctional adenocarcinomas. Br J Surg. 2010;97(7):1028–34.

16.

Clark W, Siegel EM, Chen YA, Zhao X, Parsons CM, Hernandez JM, et al. Quantitative measures of visceral adiposity and body mass index in predicting rectal cancer outcomes after neoadjuvant chemoradiation. J Am Coll Surg. 2013;216(6):1070–81.

17.

Howard JM, Beddy P, Ennis D, Keogan M, Pidgeon GP, Reynolds JV. Associations between leptin and adiponectin receptor upregulation, visceral obesity and tumour stage in oesophageal and junctional adenocarcinoma. Br J Surg. 2010;97(7):1020–7.

18.

Schoen RE, Tangen CM, Kuller LH, Burke GL, Cushman M, Tracy RP, et al. Increased blood glucose and insulin, body size, and incident colorectal cancer. J Natl Cancer Inst. 1999;91(13):1147–54.

19.

Haydon AM, Macinnis RJ, English DR, Giles GG. Effect of physical activity and body size on survival after diagnosis with colorectal cancer. Gut. 2006;55(1):62–7.

20.

Hunter GR, Snyder SW, Kekes-Szabo T, Nicholson C, Berland L. Intra-abdominal adipose tissue values associated with risk of possessing elevated blood lipids and blood pressure. Obes Res. 1994;2(6):563–8.

21.

Després JP, Lamarche B. Effects of diet and physical activity on adiposity and body fat distribution: implications for the prevention of cardiovascular disease. Nutr Res Rev. 1993;6(1):137–59.

22.

Guiu B, Petit JM, Bonnetain F, Ladoire S, Guiu S, Cercueil JP, et al. Visceral fat area is an independent predictive biomarker of outcome after first-line bevacizumab-based treatment in metastatic colorectal cancer. Gut. 2010;59(3):341–7.

23.

Ohki T, Tateishi R, Shiina S, Goto E, Sato T, Nakagawa H, et al. Visceral fat accumulation is an independent risk factor for hepatocellular carcinoma recurrence after curative treatment in patients with suspected NASH. Gut. 2009;58(6):839–44.

24.

Kang J, Baek SE, Kim T, Hur H, Min BS, Lim JS, et al. Impact of fat obesity on laparoscopic total mesorectal excision: more reliable indicator than body mass index. Int J Colorectal Dis. 2012;27(4):497–505.

25.

Kaess BM, Pedley A, Massaro JM, Murabito J, Hoffmann U, Fox CS. The ratio of visceral to subcutaneous fat, a metric of body fat distribution, is a unique correlate of cardiometabolic risk. Diabetologia. 2012;55(10):2622–30.

26.

Ballian N, Lubner MG, Munoz A, Harms BA, Heise CP, Foley EF, et al. Visceral obesity is associated with outcomes of total mesorectal excision for rectal adenocarcinoma. J Surg Oncol. 2012;105(4):365–70.

27.

Nemoto M, Yeernuer T, Masutani Y, Nomura Y, Hanaoka S, Miki S, et al. Development of automatic visceral fat volume calculation software for CT volume data. J Obes. 2014;2014:495084.

28.

Klopfenstein BJ, Kim MS, Krisky CM, Szumowski J, Rooney WD, Purnell JQ. Comparison of 3 T MRI and CT for the measurement of visceral and subcutaneous adipose tissue in humans. Br J Radiol. 2012;85(1018):e826–30.

29.

Yip C, Goh V, Davies A, Gossage J, Mitchell-Hay R, Hynes O, et al. Assessment of sarcopenia and changes in body composition after neoadjuvant chemotherapy and associations with clinical outcomes in oesophageal cancer. Eur Radiol. 2014;24(5):998–1005.
Acknowledgment
Dr Lee is a UCD Newman Research Fellow funded by an unrestricted research grant from Helsinn Birex Pharmaceuticals Ltd.
Authorship Statement
Guarantor of the article: Glen Doherty.
Chun Seng Lee and David Murphy performed research, collected data, analyzed data, and contributed to writing of the manuscript. Colm McMahon, David Fennelly, Kieran Sheahan, Elizabeth Barnes, and Blathnaid Nolan contributed to the study design, data collection, and verification. Garret Cullen and Hugh Mulcahy contributed to data analysis and statistics and review of the manuscript. Elizabeth Ryan and Glen Doherty contributed to research design, supervision of data collection, and analysis and writing of manuscript.
All authors approved the final version of the manuscript.
Conflict of Interest
The authors declare that they have no conflict of interest.
About this article
Cite this article
Lee, C.S., Murphy, D.J., McMahon, C. et al. Visceral Adiposity is a Risk Factor for Poor Prognosis in Colorectal Cancer Patients Receiving Adjuvant Chemotherapy. J Gastrointest Canc 46, 243–250 (2015). https://doi.org/10.1007/s12029-015-9709-0
Keywords
Visceral obesity

Obesity

Colorectal cancer

Chemotherapy

Survival