Abstract
Background
Reported associations of capsaicin with gastric cancer development have been conflicting. Here, we examine 10 published articles that explore these associations using 2,452 cases and 3,996 controls.
Methods
We used multiple search strategies in MEDLINE through PubMed to seek for suitable articles that had case-control design with gastric cancer as outcome.
Results
The outcomes of our study shows protection (odds ratio [OR] 0.55, P = 0.003) and susceptibility (OR 1.94, P = 0.0004), both significant with low and medium-high intake of capsaicin, respectively, although under relatively heterogeneous conditions (P heterogeneity = <0.0001). Outlier analysis resulted in loss of overall heterogeneity (P = 0.14) without affecting the pooled ORs. Among the subgroups, low intake elicited protection in both Korean (OR 0.37) and Mexican (OR 0.63) populations while high intake rendered these subgroups susceptible (OR 2.96 and OR 1.57, respectively). These subgroup values were highly significant (P = 0.0001–0.01) obtained in heterogeneous conditions (P heterogeneity < 0.0001–0.04). The homogeneous (P heterogeneity = 0.27–0.37) H. pylori (OR 0.60 and 1.69) effects were highly significant (P < 0.001) in the low and medium-high intake analyses, respectively. Given outcomes from the tests of interaction, high capsaicin intake is significantly different from the protection that low consumption offers.
Conclusions
This meta-analysis implies moderation in capsaicin consumption in order to derive its protective benefits.
Access options
Buy single article
Instant access to the full article PDF.
USD 39.95
Price excludes VAT (USA)
Tax calculation will be finalised during checkout.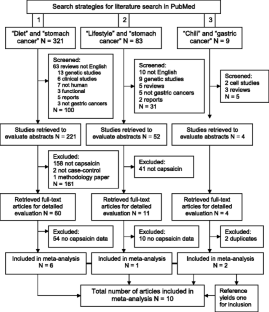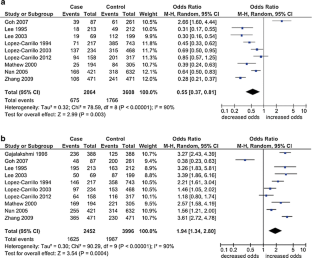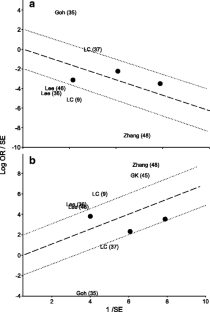 References
Parkin DM. Epidemiology of cancer: global patterns and trends. Toxicol Lett. 1998;102–103:227–34.

Howson CP, Hiyama T, Wynder EL. The decline in gastric cancer: epidemiology of an unplanned triumph. Epidemiol Rev. 1986;8:1–27.

Hyun Ja Kim WKC, Mi Kyung KIM, Sang Sun LEE, Bo Youl CHOI. Dietary factors and gastric cancer in Korea: a case-control study. Int J Cancer. 2002;97:531–5.

Palli D. Epidemiology of gastric cancer: an evaluation of available evidence. J Gastroenterol. 2000;35 Suppl 12:84–9.

Holzer P, Pabst MA, Lippe IT, Peskar BM, Peskar BA, Livingston EH, et al. Afferent nerve-mediated protection against deep mucosal damage in the rat stomach. Gastroenterology. 1990;98(4):838–48.

Matsumoto J, Takeuchi K, Okabe S. Characterization of gastric mucosal blood flow response induced by intragastric capsaicin in rats. Jpn J Pharmacol. 1991;57(2):205–13.

Kang JY, Teng CH, Wee A, Chen FC. Effect of capsaicin and chilli on ethanol induced gastric mucosal injury in the rat. Gut. 1995;36(5):664–9.

Takeuchi K, Ueshima K, Matsumoto J, Okabe S. Role of capsaicin-sensitive sensory nerves in acid-induced bicarbonate secretion in rat stomach. Dig Dis Sci. 1992;37(5):737–43.

Lopez-Carrillo L, Hernandez Avila M, Dubrow R. Chili pepper consumption and gastric cancer in Mexico: a case-control study. Am J Epidemiol. 1994;139(3):263–71.

Mathew A, Gangadharan P, Varghese C, Nair MK. Diet and stomach cancer: a case-control study in South India. Eur J Cancer Prev. 2000;9(2):89–97.

Surh YJ, Lee SS. Capsaicin, a double-edged sword: toxicity, metabolism, and chemopreventive potential. Life Sci. 1995;56(22):1845–55.

Buiatti E, Palli D, Decarli A, Amadori D, Avellini C, Bianchi S, et al. A case-control study of gastric cancer and diet in Italy. Int J Cancer. 1989;44(4):611–6.

Huang JQ, Sridhar S, Chen Y, Hunt RH. Meta-analysis of the relationship between Helicobacter pylori seropositivity and gastric cancer. Gastroenterology. 1998;114(6):1169–79.

IARC. Monograph on the evaluation of carcinogenic risk to humans, vol. 61. Lyon: IARC; 1994.

Kim JD, Kim JM, Pyo JO, Kim SY, Kim BS, Yu R, et al. Capsaicin can alter the expression of tumor forming-related genes which might be followed by induction of apoptosis of a Korean stomach cancer cell line, SNU-1. Cancer Lett. 1997;120(2):235–41.

Kato S, Aihara E, Nakamura A, Xin H, Matsui H, Kohama K, et al. Expression of vanilloid receptors in rat gastric epithelial cells: role in cellular protection. Biochem Pharmacol. 2003;66(6):1115–21.

Teel RW. Effects of capsaicin on rat liver S9-mediated metabolism and DNA binding of aflatoxin. Nutr Cancer. 1991;15(1):27–32.

Teel RW. Effects of different inducers of cytochrome P450 on the mutagenesis of the tobacco-specific nitrosamine 4-(methylnitrosamino)-1-(3-pyridyl)-1-butanone (NNK) in Salmonella typhimurium TA1535. Anticancer Res. 1992;12(4):1287–90.

Lee YS, Kwon EJ, Jin DQ, Park SH, Kang YS, Huh K, et al. Redox status-dependent regulation of cyclooxygenases mediates the capsaicin-induced apoptosis in human neuroblastoma cells. J Environ Pathol Toxicol Oncol. 2002;21(2):113–20.

Hail Jr N, Lotan R. Examining the role of mitochondrial respiration in vanilloid-induced apoptosis. J Natl Cancer Inst. 2002;94(17):1281–92.

Macho A, Blazquez MV, Navas P, Munoz E. Induction of apoptosis by vanilloid compounds does not require de novo gene transcription and activator protein 1 activity. Cell Growth Differ. 1998;9(3):277–86.

Morre DJ, Chueh PJ, Morre DM. Capsaicin inhibits preferentially the NADH oxidase and growth of transformed cells in culture. Proc Natl Acad Sci U S A. 1995;92(6):1831–5.

Morre DJ, Sun E, Geilen C, Wu LY, de Cabo R, Krasagakis K, et al. Capsaicin inhibits plasma membrane NADH oxidase and growth of human and mouse melanoma lines. Eur J Cancer. 1996;32A(11):1995–2003.

Jeong E-J, Bang B-H, Kim K-P. The characteristics of kimchi by the degree of hotness of powdered red pepper. Korean J Food Nutr. 2005;18(1):88–93.

Crane PS, Rhee SU, Seel DJ. Experience with 1,079 cases of cancer of the stomach seen in Korea from 1962 to 1968. Am J Surg. 1970;120(6):747–51.

Kim HJ, Chang WK, Kim MK, Lee SS, Choi BY. Dietary factors and gastric cancer in Korea: a case-control study. Int J Cancer. 2002;97(4):531–5.

Myers BM, Smith JL, Graham DY. Effect of red pepper and black pepper on the stomach. Am J Gastroenterol. 1987;82(3):211–4.

Graham DY, Smith JL, Opekun AR. Spicy food and the stomach. Evaluation by videoendoscopy. JAMA. 1988;260(23):3473–5.

Holzer P, Lippe IT. Stimulation of afferent nerve endings by intragastric capsaicin protects against ethanol-induced damage of gastric mucosa. Neuroscience. 1988;27(3):981–7.

Holzer P, Sametz W. Gastric mucosal protection against ulcerogenic factors in the rat mediated by capsaicin-sensitive afferent neurons. Gastroenterology. 1986;91(4):975–81.

Yeoh KG, Kang JY, Yap I, Guan R, Tan CC, Wee A, et al. Chili protects against aspirin-induced gastroduodenal mucosal injury in humans. Dig Dis Sci. 1995;40(3):580–3.

Stang A. Critical evaluation of the Newcastle-Ottawa scale for the assessment of the quality of nonrandomized studies in meta-analyses. Eur J Epidemiology. 2010;25(9):603–5

Mantel N, Haenszel W. Statistical aspects of the analysis of data from retrospective studies of disease. J Natl Cancer Inst. 1959;22(4):719–48.

DerSimonian R, Laird N. Meta-analysis in clinical trials. Control Clin Trials. 1986;7(3):177–88.

Goh KL, Cheah PL, Md N, Quek KF, Parasakthi N. Ethnicity and H. pylori as risk factors for gastric cancer in Malaysia: a prospective case control study. Am J Gastroenterol. 2007;102(1):40–5.

Lee SA, Kang D, Shim KN, Choe JW, Hong WS, Choi H. Effect of diet and Helicobacter pylori infection to the risk of early gastric cancer. J Epidemiol. 2003;13(3):162–8.

Lopez-Carrillo L, Camargo MC, Schneider BG, Sicinschi LA, Hernandez-Ramirez RU, Correa P, Cebrian ME (2012) Capsaicin consumption, Helicobacter pylori CagA status and IL1B-31C > T genotypes: A host and environment interaction in gastric cancer. Food Chem Toxicol

Lopez-Carrillo L, Lopez-Cervantes M, Robles-Diaz G, Ramirez-Espitia A, Mohar-Betancourt A, Meneses-Garcia A, et al. Capsaicin consumption, Helicobacter pylori positivity and gastric cancer in Mexico. Int J Cancer. 2003;106(2):277–82.

Lau J, Ioannidis JP, Schmid CH. Quantitative synthesis in systematic reviews. Ann Intern Med. 1997;127(9):820–6.

Berman NG, Parker RA. Meta-analysis: neither quick nor easy. BMC Med Res Methodol. 2002;2:10.

Galbraith RF. A note on graphical presentation of estimated odds ratios from several clinical trials. Stat Med. 1988;7(8):889–94.

Pabalan N, Bapat B, Sung L, Jarjanazi H, Francisco-Pabalan O, Ozcelik H. Cyclin D1 Pro241Pro (CCND1-G870A) polymorphism is associated with increased cancer risk in human populations: a meta-analysis. Cancer Epidemiol Biomarkers Prev. 2008;17(10):2773–81.

Egger M, Davey Smith G, Schneider M, Minder C. Bias in meta-analysis detected by a simple, graphical test. BMJ Clin Res Ed. 1997;315(7109):629–34.

Begg CB, Mazumdar M. Operating characteristics of a rank correlation test for publication bias. Biometrics. 1994;50(4):1088–101.

Gajalakshmi CK, Shanta V. Lifestyle and risk of stomach cancer: a hospital-based case-control study. Int J Epidemiol. 1996;25(6):1146–53.

Lee JK, Park BJ, Yoo KY, Ahn YO. Dietary factors and stomach cancer: a case-control study in Korea. Int J Epidemiol. 1995;24(1):33–41.

Nan HM, Park JW, Song YJ, Yun HY, Park JS, Hyun T, et al. Kimchi and soybean pastes are risk factors of gastric cancer. World J Gastroenterol. 2005;11(21):3175–81.

Zhang YW, Eom SY, Kim YD, Song YJ, Yun HY, Park JS, et al. Effects of dietary factors and the NAT2 acetylator status on gastric cancer in Koreans. Int J Cancer. 2009;125(1):139–45.

Monsereenusorn Y, Kongsamut S, Pezalla PD. Capsaicin—a literature survey. Crit Rev Toxicol. 1982;10(4):321–39.

Lee BM, Park KK. Beneficial and adverse effects of chemopreventive agents. Mutat Res. 2003;523–524:265–78.

Ito K, Nakazato T, Yamato K, Miyakawa Y, Yamada T, Hozumi N, et al. Induction of apoptosis in leukemic cells by homovanillic acid derivative, capsaicin, through oxidative stress: implication of phosphorylation of p53 at Ser-15 residue by reactive oxygen species. Cancer Res. 2004;64(3):1071–8.

Imatake K, Matsui T, Moriyama M. The effect and mechanism of action of capsaicin on gastric acid output. J Gastroenterol. 2009;44(5):396–404.

Ericson A, Nur EM, Petersson F, Kechagias S. The effects of capsaicin on gastrin secretion in isolated human antral glands: before and after ingestion of red chilli. Dig Dis Sci. 2009;54(3):491–8.

Forman D, Webb P, Parsonnet J. H pylori and gastric cancer. Lancet. 1994;343(8891):243–4.
Acknowledgments
This project has been funded by the Saint Louis University multigrant awarded to Dr. Noel Pabalan. The Canadian Breast Cancer Foundation (CBCF) and Canadian Institute of Health Research (CIHR) grants support Dr. Hilmi Ozcelik. We thank Ofelia Francisco. This paper is dedicated to the memory of Dr. Hilmi Ozcelik, a longtime friend, colleague, and mentor.
Conflict of Interest
The authors declare that they have no conflict of interest.
Additional information
Hilmi Ozcelik Deceased, (May, 2013)
About this article
Cite this article
Pabalan, N., Jarjanazi, H. & Ozcelik, H. The Impact of Capsaicin Intake on Risk of Developing Gastric Cancers: A Meta-Analysis. J Gastrointest Canc 45, 334–341 (2014). https://doi.org/10.1007/s12029-014-9610-2
Published:

Issue Date:

DOI: https://doi.org/10.1007/s12029-014-9610-2
Keywords
Gastric cancer

Capsaicin intake

Case-control

H. pylori