Access options
Buy single article
Instant access to the full article PDF.
USD 39.95
Price excludes VAT (USA)
Tax calculation will be finalised during checkout.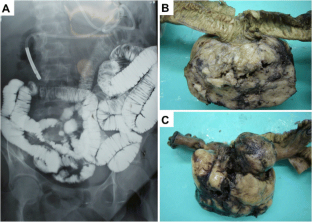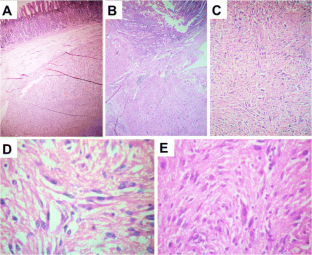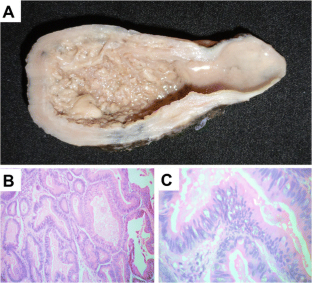 References
Liszka Ł, Zielińska-Pajak E, Pajak J, Gołka D, Huszno J. Coexistence of gastrointestinal stromal tumors with other neoplasms. J Gastroenterol. 2007;42(8):641–9.

Kalender ME, Sevinc A, Kucukdurmaz Z, Balik A, Sari I, Camci C. Gastric and prostate adenocarcinoma in a patient with metastatic gastrointestinal stromal tumor. Onkologie. 2007;30(11):568–70.

Gonçalves R, Linhares E, Albagli R, Valadão M, Vilhena B, Romano S, et al. Occurrence of other tumors in patients with GIST. Surg Oncol. 2010;19(4):e140–3.

Sailors JL, French SW. The unique simultaneous occurrence of granular cell tumor, gastrointestinal stromal tumor, and gastric adenocarcinoma. Arch Pathol Lab Med. 2005;129(5):e121–3.

Grande C, Haller DG. Gastrointestinal stromal tumors and neuroendocrine tumors. Semin Oncol Nurs. 2009;25(1):48–60.

Goldin RD, Roa JC. Gallbladder cancer: a morphological and molecular update. Histopathology. 2009;55(2):218–29.

Roa JC, Roa I, de Aretxabala X, Melo A, Faría G, Tapia O. K-ras gene mutation in gallbladder carcinoma. Rev Med Chil. 2004;132(8):955–60.

Yoshida T, Sugai T, Habano W, Nakamura S, Uesugi N, Funato O, et al. Microsatellite instability in gallbladder carcinoma: two independent genetic pathways of gallbladder carcinogenesis. J Gastroenterol. 2000;35(10):768–74.

Tadokoro H, Shigihara T, Ikeda T, Takase M, Suyama M. Two distinct pathways of p16 gene inactivation in gallbladder cancer. World J Gastroenterol. 2007;13(47):6396–403.

Mazur MT, Clark HB. Gastric stromal tumors. Reappraisal of histogenesis. Am J Surg Pathol. 1983;7(6):507–19.

Shen ZL, Wang S, Ye YJ, Wang YL, Sun KK, Yang XD, et al. Carcinosarcoma of pancreas with liver metastasis combined with gastrointestinal stromal tumour of the stomach: is there a good prognosis with the complete resection? Eur J Cancer Care (Engl). 2010;19(1):118–23.

Yan Y, Li Z, Liu Y, Zhang L, Li J, Ji J. Coexistence of gastrointestinal stromal tumors and gastric adenocarcinomas. Tumour Biol. 2013;34(2):919–27.

Wistuba II, Gazdar AF. Gallbladder cancer: lessons from a rare tumour. Nat Rev Cancer. 2004;4(9):695–706.

Strandberg TE, Pyörälä K, Cook TJ, Wilhelmsen L, Faergeman O, Thorgeirsson G, et al. Mortality and incidence of cancer during 10-year follow-up of the Scandinavian Simvastatin Survival Study (4S). Lancet. 2004;364(9436):771–7.

Wozniak A, Rutkowski P, Piskorz A, Ciwoniuk M, Osuch C, Bylina E, et al. Prognostic value of KIT/PDGFRA mutations in gastrointestinal stromal tumours (GIST): Polish Clinical GIST Registry experience. Ann Oncol. 2012;23(2):353–60.

Au WY, Ho KM, Shek TW. Papillary renal cell carcinoma and gastrointestinal stromal tumor: a unique association. Ann Oncol. 2004;15(5):843–4.

Kosmidis C, Efthimiadis C, Levva S, Anthimidis G, Baka S, Grigoriou M, et al. Synchronous colorectal adenocarcinoma and gastrointestinal stromal tumor in Meckel's diverticulum; an unusual association. World J Surg Oncol. 2009;7:33.

Chan CH, Cools-Lartigue J, Marcus VA, Feldman LS, Ferri LE. The impact of incidental gastrointestinal stromal tumours on patients undergoing resection of upper gastrointestinal neoplasms. Can J Surg. 2012;55(6):366–70.

Lee FY, Jan YJ, Wang J, Yu CC, Wu CC. Synchronous gastric gastrointestinal stromal tumor and signet-ring cell adenocarcinoma: a case report. Int J Surg Pathol. 2007;15(4):397–400.

Zhang H, Zhang SL, Xu HM. Coexistence of a c-kit negative gastrointestinal stromal tumor and a gastric mucinous adenocarcinoma. Chin Med J (Engl). 2010;123(24):3728–30.

Gopal SV, Langcake ME, Johnston E, Salisbury EL. Synchronous association of small bowel stromal tumour with colonic adenocarcinoma. ANZ J Surg. 2008;78(9):827–8.

Efstathios P, Athanasios P, Papaconstantinou I, Alexandros P, Frangisca S, Sotirios G, et al. Coexistence of gastrointestinal stromal tumor (GIST) and colorectal adenocarcinoma: a case report. World J Surg Oncol. 2007;5:96.

Kountourakis P, Arnogiannaki N, Stavrinides I, Apostolikas N, Rigatos G. Concomitant gastric adenocarcinoma and stromal tumor in a woman with polymyalgia rheumatica. World J Gastroenterol. 2008;14(43):6750–2.

Melis M, Choi EA, Anders R, Christiansen P, Fichera A. Synchronous colorectal adenocarcinoma and gastrointestinal stromal tumor (GIST). Int J Colorectal Dis. 2007;22(2):109–14.

Nemes C, Rogojan L, Surdea-Blaga T, Seicean A, Dumitrascu DL, Ciuce C. Gastrointestinal stromal tumor (GIST) associated with synchronous colon adenocarcinoma—a case report. J Gastrointestin Liver Dis. 2012;21(1):101–3.

Lao XM, Ye ZY, Guo RP, Guo ZX, Wang GH, Li JQ, et al. A gastrointestinal stromal tumor of the jejunum associated with intrahepatic cholangiocarcinoma and pulmonary hamartoma: a case report. Acta Oncol. 2009;48(6):934–7.
Conflict of Interest
The authors declare that they have no conflict of interest.
About this article
Cite this article
Diaz-Perez, J.A., Mastrodimos, M. & Reddy, A. Gastrointestinal Stromal Tumor with Synchronous Gallbladder Adenocarcinoma. J Gastrointest Canc 45, 387–391 (2014). https://doi.org/10.1007/s12029-013-9513-7
Published:

Issue Date:

DOI: https://doi.org/10.1007/s12029-013-9513-7
Keywords