Abstract
Introduction
Mucinous cystadenocarcinoma of the appendix with invasion of the anterior abdominal wall and cutaneous fistula development is a rare condition. To the best of the authors' knowledge, five such cases have been reported in the medical literature.
Methods and Results
The patient was a 68-year-old man who presented with a mass growing through the incisional scar and a skin fistula with mucinous discharge 1 year after appendectomy via McBurney's incision. Carcinoembroyonic antigen and carbohydrate antigen 19-9 concentration was elevated. Abdominal computed tomography scan revealed a mass in the cecum with involvement of the abdominal wall. Right hemicolectomy with en bloc abdominal wall implant and skin fistula resection with clear margins was performed.
Discussion
The patient received intraperitoneal intra- and postoperative chemotherapy. Gross examination of the specimen showed a mass emerging from the remnant stump of the appendix. The patient showed no relapse 1 year after surgery. Clinical, paraclinical features, and treatment options are discussed with review of the literature.
Access options
Buy single article
Instant access to the full article PDF.
USD 39.95
Price excludes VAT (USA)
Tax calculation will be finalised during checkout.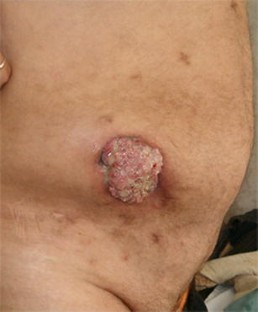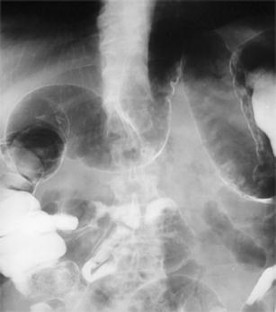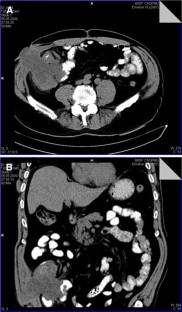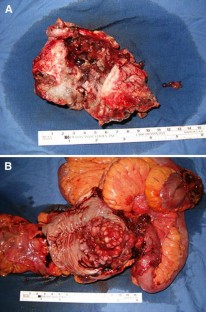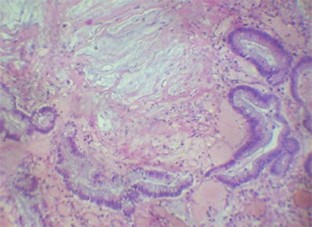 References
Lim HK, Lee WJ, Kim SH, Kim B, Cho JM, Byun JY. Primary mucinous cystadenocarcinoma of the appendix: CT findings. AJR Am J Roentgenol. 1999;173:1071–4.

Solkar MH, Khan MZ, Parker MC. Pseudomyxoma peritonei confined to the retroperitoneum occurring 35 years after appendicectomy. Int J Colorectal Dis. 2004;19:399–400.

Taii A, Sakagami J, Shinoda M, Taniguchi H, Tosa M, Baba T, et al. Pseudomyxoma peritonei occurring after an uneventful 23 years interval from appendectomy. Intern Med. 2007;46:1109–12.

Johnson MA, Jyotibasu D, Ravichandran P, Jeswanth S, Kannan DG, Surendran R. Retention mucocele of distal viable remnant tip of appendix: an unusually rare late surgical complication following incomplete appendectomy. World J Gastroenterol. 2006;12:489–92.

Arly KS, Stephenson DV Jr, Davis WC. Giant retroperitoneal mucocele simulating pseudomyxoma peritonei and mucinous adenocarcinoma. Am J Surg. 1968;116:439–43.

Nishitani K, Nishitani H, Shimoda Y. Cutaneous invasion of mucinous adenocarcinoma of the appendix. J Dermatol. 1987;14:167–9.

Koizumi J, Noguchi H. Pseudomyxoma retroperitonei with spontaneous skin fistula. Abdom Imaging. 1999;24:193–5.

Nakao A, Sato S, Nakashima A, Nabeyama A, Tanaka N. Appendiceal mucocele of mucinous cystadenocarcinoma with a cutaneous fistula. J Int Med Res. 2002;30:452–6.

Cakmak A, Karakayali F, Bayar S, Unal E, Akyol C, Kocaoğlu H. Pseudomyxoma retroperitonei presenting with a skin fistula. Turk J Gastroenterol. 2009;20:79–80.

Higa E, Rosai J, Pizzimbono CA, Wise L. Mucosal hyperplasia, mucinous cystadenoma, and mucinous cystadenocarcinoma of the appendix. A re-evaluation of appendiceal "mucocele". Cancer. 1973;32:1525–41.

Keynes WM. Implantation from the bowel lumen in cancer of the large intestine. Ann Surg. 1961;153:357–64.

Hughes ES, McDermott FT, Polglase AL, Johnson WR. Tumor recurrence in the abdominal wall scar tissue after large-bowel cancer surgery. Dis Colon Rectum. 1983;26:571–2.

Reilly WT, Nelson H, Schroeder G, Wieand HS, Bolton J, O'Connell MJ. Wound recurrence following conventional treatment of colorectal cancer: a rare but perhaps underestimated problem. Dis Colon Rectum. 1996;39:200–7.

Koea JB, Lanouette N, Paty PB, Guillem JG, Cohen AM. Abdominal wall recurrence after colorectal resection for cancer. Dis Colon Rectum. 2000;43:628–32.

Miyakura Y, Iwai H, Togashi K, Horie H, Nagai H, Kishaba Y, et al. Mucinous cystadenocarcinoma of the appendix invading the ascending colon with fistula formation: report of a case. Surg Today. 2007;37:806–10.

Ito H, Utsunomiya K, Murayama M, Fuzino K, Hase K, Watanabe C, et al. A case of the vermiform appendix with ileac and rectal fistula. J Jpn Surg Assoc. 1997;58:855–9 (in Japanese with English abstract).

Fann JI, Vierra M, Fisher D, Oberhelman HA Jr, Cobb L. Pseudomyxoma peritonei. Surg Gynecol Obstet. 1993;177:441–7.

Landen S, Bertrand C, Maddern GJ, Herman D, Pourbaix A, de Neve A, et al. Appendiceal mucoceles and pseudomyxoma peritonei. Surg Gynecol Obstet. 1992;175:401–4.

Hinson FL, Ambrose NS. Pseudomyxoma peritonei. Br J Surg. 1998;85:1332–9.

Gough DB, Donohue JH, Schutt AJ, Gonchoroff N, Goellner JR, Wilson TO, et al. Pseudomyxoma peritonei. Long-term patients survival with an aggressive regional approach. Ann Surg. 1994;219:112–9.

Zissin R, Gayer G, Kots E, Apter S, Peri M, Shapiro-Feinberg M. Imaging of mucocele of the appendix with emphasis on the CT findings: a report of 10 cases. Clin Radiol. 1999;54:826–32.

Ponsky JL. An endoscopic view of mucocele of the appendix. Gastrointest Endosc. 1976;23:42–3.

Costa M, Oertel YC. Cytology of pseudomyxoma peritonei: report of two cases arising from appendiceal cystadenomas. Diagn Cytopathol. 1990;6:201–3.

Lo NS, Sarr MG. Mucinous cystadenocarcinoma of the appendix. The controversy persists: a review. Hepatogastroenterology. 2003;50:432–7.

Ledesma EJ, Tseng M, Mittelman A. Surgical treatment of isolated abdominal wall metastasis in colorectal cancer. Cancer. 1982;50:1884–7.

El Sayed S. Pseudomyxoma peritonei treated by radiotherapy. Clin Oncol (R Coll Radiol). 1990;2:120–2.

Miner TJ, Shia J, Jaques DP, Klimstra DS, Brennan MF, Coit DG. Long-term survival following treatment of pseudomyxoma peritonei: an analysis of surgical therapy. Ann Surg. 2005;241:300–8.

van Ruth S, Acherman YI, van de Vijver MJ, Hart AA, Verwaal VJ, Zoetmulder FA. Pseudomyxoma peritonei: a review of 62 cases. Eur J Surg Oncol. 2003;29:682–8.
Conflict of Interest
The authors declare that they have no conflict of interest.
About this article
Cite this article
Mishin, I., Ghidirim, G. & Vozian, M. Appendiceal Mucinous Cystadenocarcinoma with Implantation Metastasis to the Incision Scar and Cutaneous Fistula. J Gastrointest Canc 43, 349–353 (2012). https://doi.org/10.1007/s12029-010-9181-9
Published:

Issue Date:

DOI: https://doi.org/10.1007/s12029-010-9181-9
Keywords
appendiceal cystadenocarcinoma

implantation metastasis

fistula

pseudomyxoma peritonei