This is a preview of subscription content, log in to check access.
Access options
Buy single article
Instant access to the full article PDF.
US$ 39.95
Price includes VAT for USA
Subscribe to journal
Immediate online access to all issues from 2019. Subscription will auto renew annually.
US$ 199
This is the net price. Taxes to be calculated in checkout.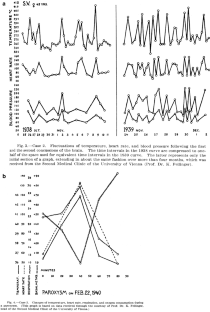 References
1.

Ross A, Baker AB. Bulbar poliomyelitis. Manit Med Rev. 1947;27:529–31.

2.

Russell WR. Poliomyelitis. London: Edward Arnold Publishers Ltd.; 1952.

3.

Aring CD, Engel GL. Hypothalamic attacks with thalamic lesion: II. Anatomic considerations. Arch Neur Psych. 1945;54(1):44–50.

4.

Engel GL, Aring CD. Hypothalamic attacks with thalamic lesion: physiologic and psychologic considerations. Arch NeurPsych. 1945;54(1):34–43.

5.

Penfield W, Jasper H. Somatic motor seizures, in epilepsy and the functional anatomy of the human brain. In: Penfield W, Jasper H, editors. London: McClelland and Stewart, Ltd.; 1954.

6.

Penfield W, Jasper H. Subcortical seizures (extra-centrencephalic) A. Mesencephalic seizures, in Epilepsy and the Functional Anatomy of the Human Brain. In: Penfield W, Jasper H, editors. London: McClelland and Stewart, Ltd.; 1954.

7.

Weber C. L'hypertension artérielle paroxystique au cours d'une méningite méningococcique subaiguë, autopsie. Arch. d. mal. du cœur 1927;20(Sept):598.

8.

Blackman JA, Patrick PD, Buck ML, Rust RS Jr. Paroxysmal autonomic instability with dystonia after brain injury. Arch Neurol. 2004;61(3):321–8.

9.

Klug N, Hoffmann O, Zierski J, et al. Decerebrate rigidity and vegetative signs in the acute midbrain syndrome with special regard to motor activity and intracranial pressure. Acta Neurochir (Wien). 1984;72(3–4):219–33.

10.

Raab W. Hypertension and tachycardia due to concussion of the brain. Am Heart J. 1949;37(2):237–48.

11.

Lemke DM. Riding out the storm: sympathetic storming after traumatic brain injury. J Neurosci Nurs. 2004;36(1):4–9.

12.

Perkes I, Baguley IJ, Nott MT, Menon DK. A review of paroxysmal sympathetic hyperactivity after acquired brain injury. Ann Neurol. 2010;68(2):126–35.

13.

Rabinstein AA. Paroxysmal sympathetic hyperactivity in the neurological intensive care unit. Neurol Res. 2007;29(7):680–2.

14.

Wertheimer P, Descotes J. Treatment of autonomic disorders during traumatic coma. J Med Lyon. 1958;39(926–927):672–6.

15.

Cox LB. A hypothalamic syndrome and periventricular epilepsy as a late sequel of brain injury. Surgery. 1946;19:669–83.

16.

Boeve BF, Wijdicks EF, Benarroch EE, Schmidt KD. Paroxysmal sympathetic storms ("diencephalic seizures") after severe diffuse axonal head injury. Mayo Clin Proc. 1998;73(2):148–52.

17.

Darnell RB, Arbit E. Reversible diencephalic dysfunction: episodic hyperhidrosis due to a trapped third ventricle. Neurology. 1993;43(3 Pt 1):579–82.

18.

Do D, Sheen VL, Bromfield E. Treatment of paroxysmal sympathetic storm with labetalol. J Neurol Neurosurg Psychiatry. 2000;69(6):832–3.
Funding
No extramural funding supported this effort.
Ethics declarations
Conflict of interest
None.
Ethical approval/Informed consent
Not applicable.
Additional information
Publisher's Note
Springer Nature remains neutral with regard to jurisdictional claims in published maps and institutional affiliations.
About this article
Cite this article
Wijdicks, E.F.M. Brain Storming in Brain Trauma. Neurocrit Care (2020). https://doi.org/10.1007/s12028-020-00917-3