Abstract
The objective of this study was to determine the prevalence of intracranial hypertension (IHT) and the associated mortality rate in patients who suffered from primary intracerebral hemorrhage (ICH). A secondary objective was to assess predisposing factors to IHT development. We conducted a systematic literature search of major electronic databases (MEDLINE, EMBASE, and Cochrane Library), for studies that assessed intracranial pressure (ICP) monitoring in patients with acute ICH. Study level and outcome measures were extracted. The meta-analysis was performed using a random-effects model. A total of six studies comprising 381 patients were pooled to estimate the overall prevalence of any episode of IHT (ICP > 20 mmHg) after ICH. The pooled prevalence rate for any episode of IHT after ICH was 67% (95% CI 51–84%). Four studies comprising 239 patients were pooled in order to estimate the overall mortality rate associated with IHT. Pooled mortality rate was 50% (95% CI 24–76%). For both outcomes, heterogeneity was statistically significant, and risk of bias was nonsignificant. Reported variables correlated significantly with increased ICP were lower Glasgow Coma Scale score at admission, midline shift, hemorrhage volume, and hydrocephalus. The prevalence and mortality rates associated with IHT after ICH are high and may be underestimated. Predicting factors for the development of IHT reflect the magnitude of the primary injury. However, the results of present meta-analysis should be interpreted with caution due to methodological limitations such as selection bias of patients who had ICP monitoring, and lack of standardized IHT definition.
Access options
Buy single article
Instant access to the full article PDF.
USD 39.95
Price includes VAT (USA)
Tax calculation will be finalised during checkout.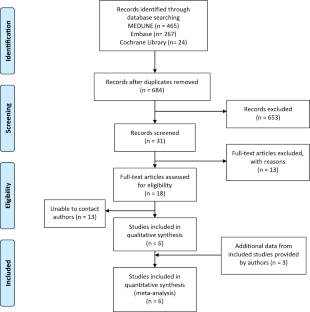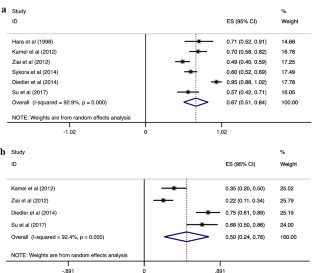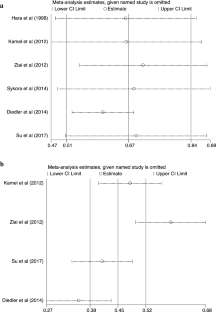 Abbreviations
ICH:

Intracerebral hemorrhage

ICP:

Intracranial pressure

GOS:

Glasgow Outcome Scale

IHT:

Intracranial hypertension

EVD:

External ventricular drain

IVH:

Intraventricular hemorrhage

CSF:

Cerebrospinal fluid
References
1.

Hemphill JC 3rd, Greenberg SM, Anderson CS, Becker K, Bendok BR, Cushman M, Fung GL, Goldstein JN, Macdonald RL, Mitchell PH, Scott PA, Selim MH, Woo D. American Heart Association Stroke Council; Council on Cardiovascular and Stroke Nursing; Council on Clinical Cardiology. Guidelines for the management of spontaneous intracerebral hemorrhage: a guideline for healthcare professionals from the American heart association/American stroke association. Stroke. 2015;46:2032–60.

2.

de Oliveira Manoel AL, Goffi A, Zampieri FG, Turkel-Parrella D, Duggal A, Marotta TR, Macdonald RL, Abrahamson S. The critical care management of spontaneous intracranial hemorrhage: a contemporary review. Crit Care. 2016;20:272. https://doi.org/10.1186/s13054-016-1432-0.

3.

Thabet AM, Kottapally M, Hemphill JC 3rd. Management of intracerebral hemorrhage. Handb Clin Neurol. 2017;140:177–94.

4.

Rincon F, Mayer SA. Novel therapies for intracerebral hemorrhage. Curr Opin Crit Care. 2004;10:94–100.

5.

Godoy DA, Piñero GR, Koller P, Masotti L, Di Napoli M. Steps to consider in the approach and management of critically ill patient with spontaneous intracerebral hemorrhage. World J Crit Care Med. 2015;4(3):213–29.

6.

Keep RF, Hua Y, Xi G. Intracerebral haemorrhage: mechanisms of injury and therapeutic targets. Lancet Neurol. 2012;11:720–31.

7.

Becker KJ, Baxter AB, Cohen WA, Bybee HM, Tirschwell DL, Newell DW, Winn HR, Longstreth WT Jr. Withdrawal of support in intracerebral hemorrhage may lead to self-fulfilling prophecies. Neurology. 2001;56:766–72.

8.

Hemphill JC 3rd, Newman J, Zhao S, Johnston SC. Hospital usage of early do-not-resuscitate orders and outcome after intracerebral hemorrhage. Stroke. 2004;35:1130–4.

9.

Zahuranec DB, Morgenstern LB, Sánchez BN, Resnicow K, White DB, Hemphill JC III. Do-not-resuscitate orders and predictive models after intracerebral hemorrhage. Neurology. 2010;75(7):626–33.

10.

Zahuranec DB, Brown DL, Lisabeth LD, Gonzales NR, Longwell PJ, Smith MA, Garcia NM, Morgenstern LB. Early care limitations independently predict mortality after intracerebral hemorrhage. Neurology. 2007;68(20):1651–7.

11.

Zurasky JA, Aiyagari V, Zazulia AR, Shackelford A, Diringer MN. Early mortality following spontaneous intracerebral hemorrhage. Neurology. 2005;64(4):725–7.

12.

Naidech AM, Bernstein RA, Bassin SL, Garg RK, Liebling S, Bendok BR, Batjer HH, Bleck TP. How patients die after intracerebral hemorrhage. Neurocrit Care. 2009;11(1):45–9.

13.

Zheng H, Chen C, Zhang J, Hu Z. Mechanism and therapy of brain edema after intracerebral hemorrhage. Cerebrovasc Dis. 2016;42:155–69.

14.

Godoy DA, Videtta W, Di Napoli M. Practical approach to posttraumatic intracranial hypertension according to pathophysiologic reasoning. Neurol Clin. 2017;35(4):613–40.

15.

Steiner T, Al-Shahi Salman R, Beer R, Christensen H, Cordonnier C, Csiba L, Forsting M, Harnof S, Klijn CJ, Krieger D, Mendelow AD, Molina C, Montaner J, Overgaard K, Petersson J, Roine RO, Schmutzhard E, Schwerdtfeger K, Stapf C, Tatlisumak T, Thomas BM, Toni D, Unterberg A, Wagner M. European Stroke Organisation (ESO) guidelines for the management of spontaneous intracerebral hemorrhage. Int J Stroke. 2014;9:840–55.

16.

Bero L, Rennie D. The cochrane collaboration. Preparing, maintaining, and disseminating systematic reviews of the effects of health care. JAMA. 1995;274:1935–8.

17.

Moher D, Liberati A, Tetzlaff J, Altman DG. Preferred reporting items for systematic reviews and meta-analyses: the PRISMA statement. PLoS Med. 2009;6:e1000097.

18.

Wells G, Shea B, O'Connell B et al. The Newcastle–Ottawa scale (NOS) for assessing the quality of non-randomised studies in meta-analyses. Ottawa: University of Ottawa; 2009.

19.

DerSimonian R, Kacker R. Random-effects model for meta-analysis of clinical trials: an update. Contemp Clin Trials. 2007;28:105–14.

20.

Egger M, Davey Smith G, Schneider M, Minder C. Bias in meta-analysis detected by a simple, graphical test. BMJ. 1997;315:629–34.

21.

Hara M, Kadowaki C, Shiogai T, Takeuchi K. Correlation between intracranial pressure (ICP) and changes in CT images of cerebral hemorrhage. Neurol Res. 1998;20:225–30.

22.

Kamel H, Hemphill J. Characteristics and sequelae of intracranial hypertension after intracerebral hemorrhage. Neurocrit Care. 2012;17:172–6.

23.

Ziai W, Melnychuk E, Thompson C, Awad I, Lane K, Hanley D. Occurrence and impact of intracranial pressure elevation during treatment of severe intraventricular hemorrhage. Crit Care Med. 2012;40:1601–8.

24.

Sykora M, Steinmacher S, Steiner T, Poli S, Diedler J. Association of intracranial pressure with outcome in comatose patients with intracerebral hemorrhage. J Neurol Sci. 2014;342:141–5.

25.

Diedler J, Santos E, Poli S, Sykora M. Optimal cerebral perfusion pressure in patients with intracerebral hemorrhage: an observational case series. Crit Care. 2014;18:R51.

26.

Su W, Gao C, Wang P, Huang J, Qian Y, Guo L, Zhang J, Jiang R. Correlation of circulating T lymphocytes and intracranial hypertension in intracerebral hemorrhage. World Neurosurg. 2017;107:389–95.

27.

Janny P, Colnet G, Georget AM, Chazal J. Intracranial pressure with intracerebral hemorrhages. Surg Neurol. 1978;10:371–5.

28.

Hamani C, Zanetti MV, Campos Gomez Pinto F, Ferreira Andrade A, Ciquini O Jr, Marino R Jr. Intraventricular pressure monitoring in patients with thalamic and ganglionic hemorrhages. Arq Neuropsiquiatr. 2003;61(2-B):376–80.

29.

Ropper A, King R. Intracranial pressure monitoring in comatose patients with cerebral hemorrhage. Arch Neurol. 1984;41:725–8.

30.

Fernandes HM, Siddique S, Banister K, Chambers I, Wooldridge T, Gregson B, Mendelow AD. Continuous monitoring of ICP and CPP following ICH and its relationship to clinical, radiological and surgical parameters. Acta Neurochir Suppl. 2000;76:463–6.

31.

Papo I, Janny P, Caruselli G, Colnet G, Luongo A. Intracranial pressure time course in primary intracerebral hemorrhage. Neurosurgery. 1979;4:504–11.

32.

Janny P, Papo I, Chazal J, Colnet G, Barreto LC. Intracranial hypertension and prognosis of spontaneous intracerebral haematomas. A correlative study of 60 patients. Acta Neurochir (Wien). 1982;61:181–6.

33.

Duff TA, Ayeni S, Levin AB, Javid M. Nonsurgical management of spontaneous intracerebral hematoma. Neurosurgery. 1981;9:387–93.

34.

Tewari MK, Tripathi M, Sharma RR, Mishra GP, Lad SD. Surgical management of moderate sized spontaneous cerebellar hematomas: role of intracranial pressure monitoring. Turk Neurosurg. 2015;25:712–20.

35.

Zeng J, Zheng P, Tong W, Fang W. Decreased risk of secondary brain herniation with intracranial pressure monitoring in patients with haemorrhagic stroke. BMC Anesthesiol. 2014;14:19.

36.

Tian Y, Wang Z, Jia Y, Li S, Wang B, Wang S, Sun L, Zhang J, Chen J, Jiang R. Intracranial pressure variability predicts short-term outcome after intracerebral hemorrhage: a retrospective study. J Neurol Sci. 2013;330:38–44.

37.

Ko SB, Choi HA, Parikh G, Helbok R, Schmidt JM, Lee K, Badjatia N, Claassen J, Connolly ES, Mayer SA. Multimodality monitoring for cerebral perfusion pressure optimization in comatose patients with intracerebral hemorrhage. Stroke. 2011;42:3087–92.

38.

Berlin T, Murray-Krezan C, Yonas H. Comparison of parenchymal and ventricular intracranial pressure readings utilizing a novel multi-parameter intracranial access system. SpringerPlus. 2015;4:10.

39.

Godoy D, Videtta W, Di Napoli M. Practical approach to posttraumatic intracranial hypertension according to pathophysiologic reasoning. Neurol Clin. 2017;35:613–40.

40.

Chesnut RM, Temkin N, Carney N, Dikmen S, Rondina C, Videtta W, et al. A trial of intracranial-pressure monitoring in traumatic brain injury. N Engl J Med. 2012;367:2471–81.
Ethics declarations
Conflict of interest
Daniel A. Godoy, Rafael A. Núñez-Patiño, Andres Zorrilla-Vaca and J. Claude Hemphill declares that they have no conflict of interest and Dr. Ziai reports personal fees from Headsense, Inc., outside the submitted work.
About this article
Cite this article
Godoy, D.A., Núñez-Patiño, R.A., Zorrilla-Vaca, A. et al. Intracranial Hypertension After Spontaneous Intracerebral Hemorrhage: A Systematic Review and Meta-analysis of Prevalence and Mortality Rate. Neurocrit Care 31, 176–187 (2019). https://doi.org/10.1007/s12028-018-0658-x
Keywords
Intracerebral hemorrhage

Intracranial hypertension

Intracranial pressure

Meta-analysis

Prevalence

Mortality