Abstract
Background
Patients suffering from non-convulsive seizures experience delays in diagnosis and treatment due to limitations in acquiring and interpreting electroencephalography (EEG) data. The Ceribell EEG System offers rapid EEG acquisition and conversion of EEG signals to sound (sonification) using a proprietary algorithm. This study was designed to test the performance of this EEG system in an intensive care unit (ICU) setting and measure its impact on clinician treatment decision.
Methods
Encephalopathic ICU patients at Stanford University Hospital were enrolled if clinical suspicion for seizures warranted EEG monitoring. Treating physicians rated suspicion for seizure and decided if the patient needed antiepileptic drug (AED) treatment at the time of bedside evaluation. After listening to 30 s of EEG from each hemisphere in each patient, they reevaluated their suspicion for seizure and decision for additional treatment. The EEG waveforms recorded with Ceribell EEG were subsequently analyzed by three blinded epileptologists to assess the presence or absence of seizures within and outside the sonification window. Study outcomes were EEG set up time, ease of use of the device, change in clinician seizure suspicion, and change in decision to treat with AED before and after sonification.
Results
Thirty-five cases of EEG sonification were performed. Mean EEG setup time was 6 ± 3 min, and time to obtain sonified EEG was significantly faster than conventional EEG (p < 0.001). One patient had non-convulsive seizure during sonification and another had rhythmic activity that was followed by seizure shortly after sonification. Change in treatment decision after sonification occurred in approximately 40% of patients and resulted in a significant net reduction in unnecessary additional treatments (p = 0.01). Ceribell EEG System was consistently rated easy to use.
Conclusion
The Ceribell EEG System enabled rapid acquisition of EEG in patients at risk for non-convulsive seizures and aided clinicians in their evaluation of encephalopathic ICU patients. The ease of use and speed of EEG acquisition and interpretation by EEG-untrained individuals has the potential to improve emergent clinical decision making by quickly detecting non-convulsive seizures in the ICU.
This is a preview of subscription content, log in to check access.
Access options
Buy single article
Instant access to the full article PDF.
US$ 39.95
Price includes VAT for USA
Subscribe to journal
Immediate online access to all issues from 2019. Subscription will auto renew annually.
US$ 199
This is the net price. Taxes to be calculated in checkout.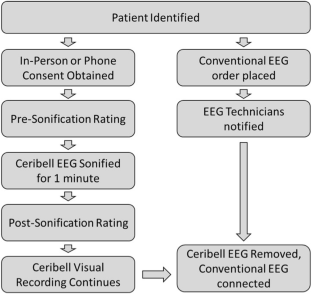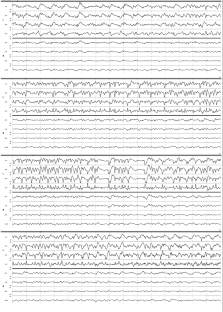 References
1.

Kaplan PW. Prognosis in nonconvulsive status epilepticus. Epileptic Disord. 2000;2(4):185–93.

2.

DeLorenzo RJ, Waterhouse EJ, Towne AR, Boggs JG, Ko D, DeLorenzo GA, Brown A, Garnett L. Persistent nonconvulsive status epilepticus after the control of convulsive status epilepticus. Epilepsia. 1998;39(8):833–40.

3.

Towne AR, Waterhouse EJ, Boggs JG, Garnett LK, Brown AJ, Smith JR Jr, DeLorenzo RJ. Prevalence of nonconvulsive status epilepticus in comatose patients. Neurology. 2000;54(2):340–5.

4.

Claassen J, Mayer SA, Kowalski RG, Emerson RG, Hirsch LJ. Detection of electrographic seizures with continuous EEG monitoring in critically ill patients. Neurology. 2004;62(10):1743–8.

5.

Meierkord H, Holtkamp M. Non-convulsive status epilepticus in adults: clinical forms and treatment. Lancet Neurol. 2007;6(4):329–39.

6.

Vespa P, Prins M, Ronne-Engstrom E, Caron M, Shalmon E, Hovda DA, Martin NA, Becker DP. Increase in extracellular glutamate caused by reduced cerebral perfusion pressure and seizures after human traumatic brain injury: a microdialysis study. J Neurosurg. 1998;89(6):971–82.

7.

Vespa P, Tubi M, Claassen J, Buitrago-Blanco M, McArthur D, Velazquez AG, Tu B, Prins M, Nuwer M. Metabolic crisis occurs with seizures and periodic discharges after brain trauma. Ann Neurol. 2016;79(4):579–90.

8.

Vespa PM, O'Phelan K, Shah M, Mirabelli J, Starkman S, Kidwell C, Saver J, Nuwer MR, Frazee JG, McArthur DA, et al. Acute seizures after intracerebral hemorrhage: a factor in progressive midline shift and outcome. Neurology. 2003;60(9):1441–6.

9.

Quigg M, Shneker B, Domer P. Current practice in administration and clinical criteria of emergent EEG. J Clin Neurophysiol. 2001;18(2):162–5.

10.

Gururangan K, Razavi B, Parvizi J. Utility of electroencephalography: experience from a U.S. tertiary care medical center. Clin Neurophysiol. 2016;127(10):3335–40.

11.

Sanchez Fernandez I, Sansevere AJ, Guerriero RM, Buraniqi E, Pearl PL, Tasker RC, Loddenkemper T. Time to electroencephalography is independently associated with outcome in critically ill neonates and children. Epilepsia. 2017;58(3):420–8.

12.

Young GB, Doig GS. Continuous EEG monitoring in comatose intensive care patients: epileptiform activity in etiologically distinct groups. Neurocrit Care. 2005;2(1):5–10.

13.

Parvizi J, Gururangan K, Razavi B, Chafe C: Detectig silent seizures by their sound. Epilepsia 2018, In Press.

14.

Bridgers SL, Ebersole JS. Ambulatory cassette EEG in clinical practice. Neurology. 1985;35(12):1767–8.

15.

Bridgers SL, Ebersole JS. The clinical utility of ambulatory cassette EEG. Neurology. 1985;35(2):166–73.

16.

Olivan J, Kemp B, Roessen M. Easy listening to sleep recordings: tools and examples. Sleep Med. 2004;5(6):601–3.

17.

Khamis H, Mohamed A, Simpson S, McEwan A. Detection of temporal lobe seizures and identification of lateralisation from audified EEG. Clin Neurophysiol. 2012;123(9):1714–20.

18.

Campo Ad: Toward A Data Sonification Design Space Map. 2007.

19.

Hermann T, Meinicke P, Bekel H, Muller H, Weiss S, Helge R: Sonifications for EEG data analysis. Proc ICAD 2002.

20.

Loui P, Koplin-Green M, Frick M, Massone M. Rapidly learned identification of epileptic seizures from sonified EEG. Front Hum Neurosci. 2014;8:820.

21.

Gururangan K, Razavi B, Parvizi J: Diagnostic Utility of Eight-Channel EEG for Detecting Seizures and Seizure-Like Activity. Clinical Neurophysiology Practice 2018, In Press.
Funding
This study was supported by a fund from Ceribell, Inc. (Mountain View, CA, USA) to Stanford University.
Ethics declarations
Conflict of interest
Josef Parvizi is co-founder of Ceribell. Goodman is on the Ceribell scientific advisory board. Both were involved in the design of the study, commenting on data analysis and interpretation, and revisions of later versions of the manuscript. Other authors have no financial relationship with Ceribell.
Ethical Approval
The trial was approved by our local Institutional Review Board, unique protocol number 38555.
Human and Animal Rights
All procedures performed in studies involving human participants were in accordance with the ethical standards of the institutional and/or national research committee and with the 1964 Helsinki declaration and its later amendments or comparable ethical standards.
Informed Consent
Informed consent was obtained from all individual participants included in the study.
Electronic supplementary material
Below is the link to the electronic supplementary material.
Clip of visual handheld EEG and sonification of a patient in non-convulsive status epilepticus (NCSE) (MP4 25219 kb)
Clip of visual handheld EEG and sonification of a patient in non-convulsive status epilepticus (NCSE) (MP4 25219 kb)
About this article
Cite this article
Hobbs, K., Krishnamohan, P., Legault, C. et al. Rapid Bedside Evaluation of Seizures in the ICU by Listening to the Sound of Brainwaves: A Prospective Observational Clinical Trial of Ceribell's Brain Stethoscope Function. Neurocrit Care 29, 302–312 (2018). https://doi.org/10.1007/s12028-018-0543-7
Keywords
Electroencephalography

Sonification

Status epilepticus

Clinical trial