Abstract
Background
Cerebral edema, which is associated with increased intracranial fluid, is often a complication of many acute neurological conditions. There is currently no accepted method for real-time monitoring of intracranial fluid volume at the bedside. We evaluated a novel noninvasive technique called "Volumetric Integral Phase-shift Spectroscopy (VIPS)" for detecting intracranial fluid shifts during hemodialysis.
Methods
Subjects receiving scheduled hemodialysis for end-stage renal disease and without a history of major neurological conditions were enrolled. VIPS monitoring was performed during hemodialysis. Serum osmolarity, electrolytes, and cognitive function with mini-mental state examination (MMSE) were assessed.
Results
Twenty-one monitoring sessions from 14 subjects (4 women), mean group age 50 (SD 12.6), were analyzed. The serum osmolarity decreased by a mean of 6.4 mOsm/L (SD 6.6) from pre- to post-dialysis and correlated with an increase in the VIPS edema index (E-Dex) of 9.7% (SD 12.9) (Pearson's correlation r = 0.46, p = 0.037). Of the individual determinants of serum osmolarity, changes in serum sodium level correlated best with the VIPS edema index (Pearson's correlation, r = 0.46, p = 0.034). MMSE scores did not change from pre- to post-dialysis.
Conclusions
We detected an increase in the VIPS edema index during hemodialysis that correlated with decreased serum osmolarity, mainly reflected by changes in serum sodium suggesting shifts in intracranial fluids.
Access options
Buy single article
Instant access to the full article PDF.
USD 39.95
Price excludes VAT (USA)
Tax calculation will be finalised during checkout.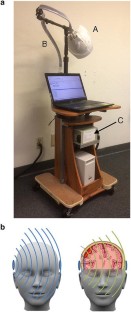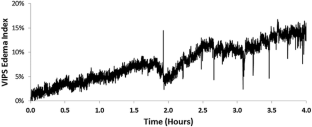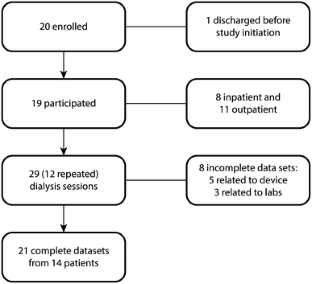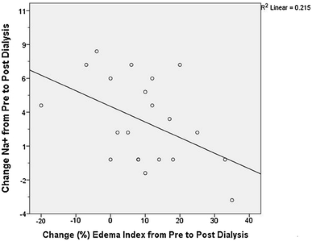 References
Diringer MN, Bleck TP, Claude Hemphill J 3rd, Menon D, Shutter L, Vespa P, et al. Critical care management of patients following aneurysmal subarachnoid hemorrhage: recommendations from the Neurocritical Care Society's Multidisciplinary Consensus Conference. Neurocrit Care. 2011;15(2):211–40.

Wijdicks EF, Sheth KN, Carter BS, Greer DM, Kasner SE, Kimberly WT, et al. Recommendations for the management of cerebral and cerebellar infarction with swelling: a statement for healthcare professionals from the American Heart Association/American Stroke Association. Stroke. 2014;45(4):1222–38.

Johnson NJ, Luks AM. High-Altitude Medicine. Med Clin N Am. 2016;100(2):357–69.

Raslan A, Bhardwaj A. Medical management of cerebral edema. Neurosurg Focus. 2007;22(5):E12.

Stokum JA, Gerzanich V, Simard JM. Molecular pathophysiology of cerebral edema. J Cereb Blood Flow Metab. 2016;36(3):513–38.

Hofmeijer J, Kappelle LJ, Algra A, Amelink GJ, van Gijn J, van der Worp HB, et al. Surgical decompression for space-occupying cerebral infarction (the Hemicraniectomy After Middle Cerebral Artery infarction with Life-threatening Edema Trial [HAMLET]): a multicentre, open, randomised trial. Lancet Neurol. 2009;8(4):326–33.

Frontera J, Ziai W, O'Phelan K, Leroux PD, Kirkpatrick PJ, Diringer MN, et al. Regional brain monitoring in the neurocritical care unit. Neurocrit Care. 2015;22(3):348–59.

Gonzalez CA, Rubinsky B. The detection of brain oedema with frequency-dependent phase shift electromagnetic induction. Physiol Meas. 2006;27(6):539–52.

Rojas R, Rubinsky B, Gonzalez CA. The effect of brain hematoma location on volumetric inductive phase shift spectroscopy of the brain with circular and magnetron sensor coils: a numerical simulation study. Physiol Meas. 2008;29(6):S255–66.

Gonzalez CA, Valencia JA, Mora A, Gonzalez F, Velasco B, Porras MA, et al. Volumetric electromagnetic phase-shift spectroscopy of brain edema and hematoma. PLoS ONE. 2013;8(5):e63223.

Gonzalez CA, Villanueva C, Vera C, Flores O, Reyes RD, Rubinsky B. The detection of brain ischaemia in rats by inductive phase shift spectroscopy. Physiol Meas. 2009;30(8):809–19.

Zepeda-Orozco D, Quigley R. Dialysis disequilibrium syndrome. Pediatr Nephrol. 2012;27(12):2205–11.

Arieff AI. Dialysis disequilibrium syndrome: current concepts on pathogenesis and prevention. Kidney Int. 1994;45(3):629–35.

Bagshaw SM, Peets AD, Hameed M, Boiteau PJ, Laupland KB, Doig CJ. Dialysis Disequilibrium Syndrome: brain death following hemodialysis for metabolic acidosis and acute renal failure–a case report. BMC Nephrol. 2004;5:9.

Chen CL, Lai PH, Chou KJ, Lee PT, Chung HM, Fang HC. A preliminary report of brain edema in patients with uremia at first hemodialysis: evaluation by diffusion-weighted MR imaging. AJNR Am J Neuroradiol. 2007;28(1):68–71.

Dorwart WV, Chalmers L. Comparison of methods for calculating serum osmolality form chemical concentrations, and the prognostic value of such calculations. Clin Chem. 1975;21(2):190–4.

Leasure A, Kimberly WT, Sansing LH, Kahle KT, Kronenberg G, Kunte H, et al. Treatment of edema associated with intracerebral hemorrhage. Curr Treat Options Neurology. 2016;18(2):9.

Suarez JI. Hypertonic saline for cerebral edema and elevated intracranial pressure. Clevel Clin J Med. 2004;71(Suppl 1):S9–13.

Georgiadis AL, Suarez JI. Hypertonic saline for cerebral edema. Curr Neurol Neurosci Rep. 2003;3(6):524–30.

Qureshi AI, Suarez JI. Use of hypertonic saline solutions in treatment of cerebral edema and intracranial hypertension. Crit Care Med. 2000;28(9):3301–13.

Qureshi AI, Suarez JI, Castro A, Bhardwaj A. Use of hypertonic saline/acetate infusion in treatment of cerebral edema in patients with head trauma: experience at a single center. J Trauma. 1999;47(4):659–65.

Qureshi AI, Suarez JI, Bhardwaj A. Malignant cerebral edema in patients with hypertensive intracerebral hemorrhage associated with hypertonic saline infusion: a rebound phenomenon? J Neurosurg Anesthesiol. 1998;10(3):188–92.

Qureshi AI, Suarez JI, Bhardwaj A, Mirski M, Schnitzer MS, Hanley DF, et al. Use of hypertonic (3%) saline/acetate infusion in the treatment of cerebral edema: effect on intracranial pressure and lateral displacement of the brain. Crit Care Med. 1998;26(3):440–6.

Port FK, Johnson WJ, Klass DW. Prevention of dialysis disequilibrium syndrome by use of high sodium concentration in the dialysate. Kidney Int. 1973;3(5):327–33.

Silver SM, DeSimone JA Jr, Smith DA, Sterns RH. Dialysis disequilibrium syndrome (DDS) in the rat: role of the "reverse urea effect". Kidney Int. 1992;42(1):161–6.

Pappius HM, Oh JH, Dossetor JB. The effects of rapid hemodialysis on brain tissues and cerebrospinal fluid of dogs. Can J Physiol Pharmacol. 1967;45(1):129–47.

Arieff AI, Massry SG, Barrientos A, Kleeman CR. Brain water and electrolyte metabolism in uremia: effects of slow and rapid hemodialysis. Kidney Int. 1973;4(3):177–87.

Patel N, Dalal P, Panesar M. Dialysis disequilibrium syndrome: a narrative review. Semin Dial. 2008;21(5):493–8.

Oliver MJ, Edwards LJ, Churchill DN. Impact of sodium and ultrafiltration profiling on hemodialysis-related symptoms. J Am Soc Nephrol JASN. 2001;12(1):151–6.

Mc Causland FR, Waikar SS. Association of predialysis calculated plasma osmolarity with intradialytic blood pressure decline. Am J Kidney Dis. 2015;66(3):499–506.

Berger L, Hakim AM. The association of hyperglycemia with cerebral edema in stroke. Stroke. 1986;17(5):865–71.

Glaser N, Barnett P, McCaslin I, Nelson D, Trainor J, Louie J, et al. Risk factors for cerebral edema in children with diabetic ketoacidosis. The Pediatric Emergency Medicine Collaborative Research Committee of the American Academy of Pediatrics. New Engl J Med. 2001;344(4):264–9.

Bentsen N, Larsen B, Lassen NA. Chronically impaired autoregulation of cerebral blood flow in long-term diabetics. Stroke. 1975;6(5):497–502.

Kong X, Wen JQ, Qi RF, Luo S, Zhong JH, Chen HJ, et al. Diffuse interstitial brain edema in patients with end-stage renal disease undergoing hemodialysis: a tract-based spatial statistics study. Medicine. 2014;93(28):e313.

Hsieh TJ, Chang JM, Chuang HY, Ko CH, Hsieh ML, Liu GC, et al. End-stage renal disease: in vivo diffusion-tensor imaging of silent white matter damage. Radiology. 2009;252(2):518–25.

Chou MC, Hsieh TJ, Lin YL, Hsieh YT, Li WZ, Chang JM, et al. Widespread white matter alterations in patients with end-stage renal disease: a voxelwise diffusion tensor imaging study. AJNR Am J Neuroradiol. 2013;34(10):1945–51.

Kim HS, Park JW, Bai DS, Jeong JY, Hong JH, Son SM, et al. Diffusion tensor imaging findings in neurologically asymptomatic patients with end stage renal disease. Neuro Rehabil. 2011;29(1):111–6.

Kim TK, Seo SI, Kim JH, Lee NJ, Seol HY. Diffusion-weighted magnetic resonance imaging in the syndrome of acute bilateral basal ganglia lesions in diabetic uremia. Mov Disord. 2006;21(8):1267–70.

Yoon CH, Seok JI, Lee DK, An GS. Bilateral basal ganglia and unilateral cortical involvement in a diabetic uremic patient. Clin Neurol Neurosurg. 2009;111(5):477–9.

Elias MF, Seliger SL, Torres RV. Improved cognitive performance after a single dialysis session: where do we go from here? Nephrol Dial Transplant. 2015;30(9):1414–7.

Griva K, Newman SP, Harrison MJ, Hankins M, Davenport A, Hansraj S, et al. Acute neuropsychological changes in hemodialysis and peritoneal dialysis patients. Health Psychol. 2003;22(6):570–8.

Neumann D, Robinski M, Mau W, Girndt M. Cognitive testing in patients with CKD: the problem of missing cases. Clin J Am Soc Nephrol CJASN. 2017;12(3):391–8.

Kim MN, Durduran T, Frangos S, Edlow BL, Buckley EM, Moss HE, et al. Noninvasive measurement of cerebral blood flow and blood oxygenation using near-infrared and diffuse correlation spectroscopies in critically brain-injured adults. Neurocrit Care. 2010;12(2):173–80.

Rasulo FA, Bertuetti R, Robba C, Lusenti F, Cantoni A, Bernini M, et al. The accuracy of transcranial Doppler in excluding intracranial hypertension following acute brain injury: a multicenter prospective pilot study. Crit Care. 2017;21(1):44.

Wakerley BR, Kusuma Y, Yeo LL, Liang S, Kumar K, Sharma AK, et al. Usefulness of transcranial Doppler-derived cerebral hemodynamic parameters in the noninvasive assessment of intracranial pressure. J Neuroimaging. 2015;25(1):111–6.

Lang EW, Mehdorn HM, Dorsch NW, Czosnyka M. Continuous monitoring of cerebrovascular autoregulation: a validation study. J Neurol Neurosurg Psychiatry. 2002;72(5):583–6.

Stocchetti N, Zoerle T, Carbonara M. Intracranial pressure management in patients with traumatic brain injury: an update. Curr Opin Crit Care. 2017;23(2):110–4.

Sykora M, Czosnyka M, Liu X, Donnelly J, Nasr N, Diedler J, et al. Autonomic impairment in severe traumatic brain injury: a multimodal neuromonitoring study. Crit Care Med. 2016;44(6):1173–81.

Stevens RD, Shoykhet M, Cadena R. Emergency neurological life support: intracranial hypertension and herniation. Neurocrit Care. 2015;23(Suppl 2):S76–82.
Acknowledgements
Dr. Venkatasubba Rao received funding from Cerebrotech Medical Systems for this investigator initiated study.
Electronic supplementary material
Below is the link to the electronic supplementary material.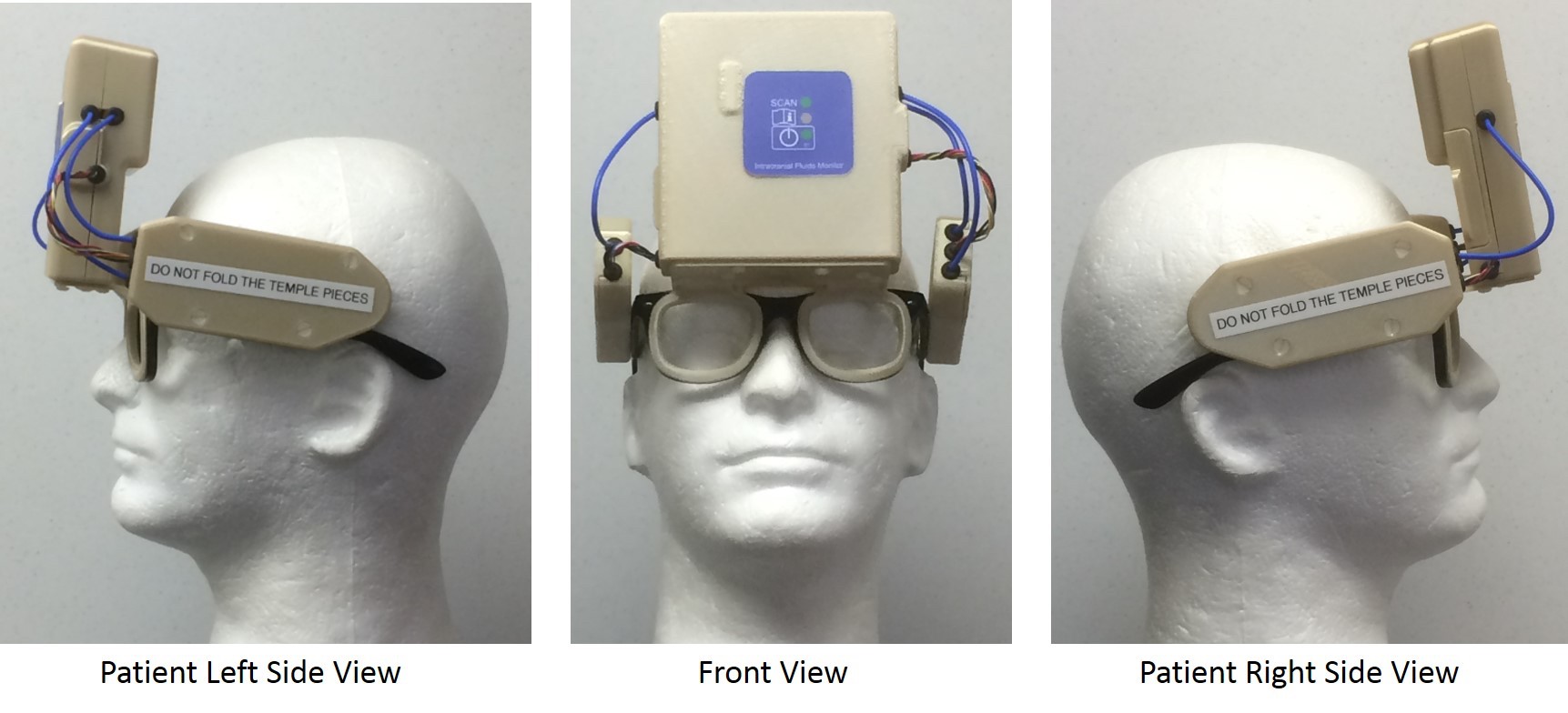 Cerebrotech Monitoring System: CMS 4000. Version lacking the external connecting cables (JPEG 484 kb)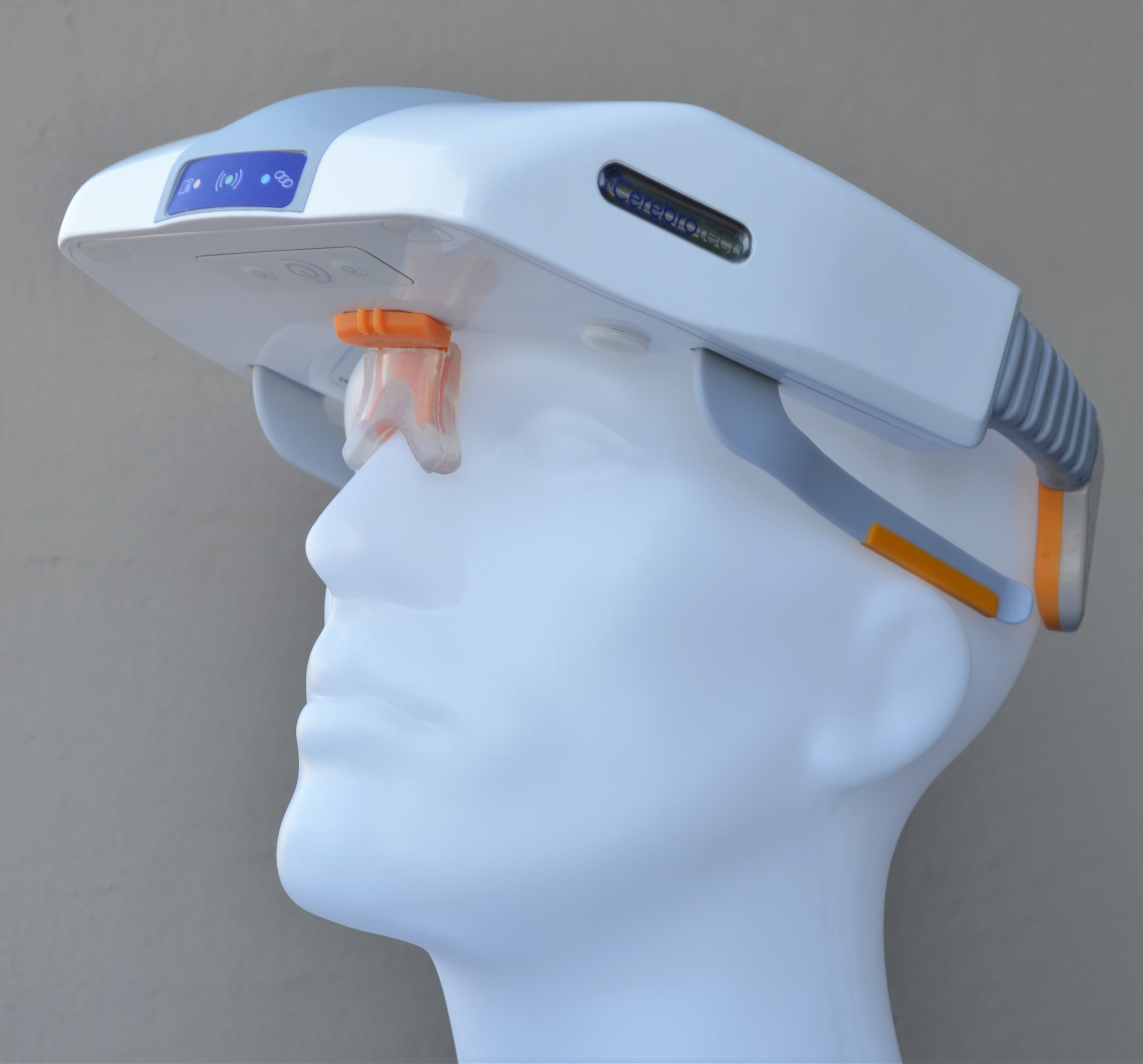 Cerenbrotech Monitoring System: CMS 5000. Improvised system with advanced head frame (JPEG 2453 kb)
About this article
Cite this article
Venkatasubba Rao, C.P., Bershad, E.M., Calvillo, E. et al. Real-time Noninvasive Monitoring of Intracranial Fluid Shifts During Dialysis Using Volumetric Integral Phase-Shift Spectroscopy (VIPS): A Proof-of-Concept Study. Neurocrit Care 28, 117–126 (2018). https://doi.org/10.1007/s12028-017-0409-4
Published:

Issue Date:

DOI: https://doi.org/10.1007/s12028-017-0409-4
Keywords
Noninvasive monitoring

Cerebral edema

Dialysis dysequillibrium

ESRD

VIPS

Intracranial fluid shifts