Abstract
Traumatic spine injuries (TSIs) carry significantly high risks of morbidity, mortality, and exorbitant health care costs from associated medical needs following injury. For these reasons, TSI was chosen as an ENLS protocol. This article offers a comprehensive review on the management of spinal column injuries using the best available evidence. Alhough the review focuses primarily on cervical spinal column injuries, thoracolumbar injuries are briefly discussed as well. The initial emergency department clinical evaluation of possible spinal fractures and cord injuries, along with the definitive early management of confirmed injuries, is also covered.
Access options
Buy single article
Instant access to the full article PDF.
USD 39.95
Price excludes VAT (USA)
Tax calculation will be finalised during checkout.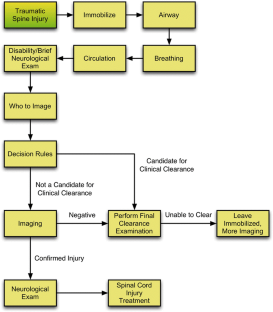 References
Singh A, Tetreault L, Kalsi-Ryan S, Nouri A, Fehlings MG. Global prevalence and incidence of traumatic spinal cord injury. Clin Epidemiol. 2014;6:309–31.

Lindsey R, Gugala Z, Pneumaticos S. Injury to the vertebrae and spinal cord. 6th ed. New York: McGraw-Hill; 2011.

Saboe LA, Reid DC, Davis LA, Warren SA, Grace MG. Spine trauma and associated injuries. J Trauma. 1991;31:43–8.

Jabbour P, Fehlings M, Vaccaro AR, Harrop JS. Traumatic spine injuries in the geriatric population. Neurosurg Focus. 2008;25:E16.

DeVivo MJ, Krause JS, Lammertse DP. Recent trends in mortality and causes of death among persons with spinal cord injury. Arch Phys Med Rehabil. 1999;80:1411–9.

DeVivo MJ, Ivie CS 3rd. Life expectancy of ventilator-dependent persons with spinal cord injuries. Chest. 1995;108:226–32.

McKinley WO, Jackson AB, Cardenas DD, DeVivo MJ. Long-term medical complications after traumatic spinal cord injury: a regional model systems analysis. Arch Phys Med Rehabil. 1999;80:1402–10.

Annual Report for Spinal Cord Injury Model Systems. 2010. https://www.nscisc.uab.edu/public_content/annual_stat_report.aspx. Accessed 2 Feb, 2012.

Gefen A. How much time does it take to get a pressure ulcer? Integrated evidence from human, animal, and in vitro studies. Ostomy Wound Manage. 2008;54(26–8):30–5.

Tescher AN, Rindflesch AB, Youdas JW, et al. Range-of-motion restriction and craniofacial tissue-interface pressure from four cervical collars. J Trauma. 2007;63:1120–6.

Gunn BD, Eizenberg N, Silberstein M, et al. How should an unconscious person with a suspected neck injury be positioned? Prehosp Disaster Med. 1995;10:239–44.

Blake WE, Stillman BC, Eizenberg N, Briggs C, McMeeken JM. The position of the spine in the recovery position–an experimental comparison between the lateral recovery position and the modified HAINES position. Resuscitation. 2002;53:289–97.

Hoffman JR, Mower WR, Wolfson AB, Todd KH, Zucker MI. Validity of a set of clinical criteria to rule out injury to the cervical spine in patients with blunt trauma. National Emergency X-Radiography Utilization Study Group. N Engl J Med. 2000;343:94–9.

Stiell IG, Clement CM, McKnight RD, et al. The Canadian C-spine rule versus the NEXUS low-risk criteria in patients with trauma. N Engl J Med. 2003;349:2510–8.

Bandiera G, Stiell IG, Wells GA, et al. The Canadian C-spine rule performs better than unstructured physician judgment. Ann Emerg Med. 2003;42:395–402.

Ullrich A, Hendey GW, Geiderman J, Shaw SG, Hoffman J, Mower WR. Distracting painful injuries associated with cervical spinal injuries in blunt trauma. Acad Emerg Med. 2001;8:25–9.

Como JJ, Diaz JJ, Dunham CM, et al. Practice management guidelines for identification of cervical spine injuries following trauma: update from the eastern association for the surgery of trauma practice management guidelines committee. J Trauma. 2009;67:651–9.

Suspected Spinal Trauma. 2009. http://www.acr.org/SecondaryMainMenuCategories/quality_safety/app_criteria/pdf/ExpertPanelonMusculoskeletalImaging/SuspectedCervicalSpineTraumaDoc22.aspx. Accessed May 2012.

Frankel HL, Rozycki GS, Ochsner MG, Harviel JD, Champion HR. Indications for obtaining surveillance thoracic and lumbar spine radiographs. J Trauma. 1994;37:673–6.

Holmes JF, Miller PQ, Panacek EA, Lin S, Horne NS, Mower WR. Epidemiology of thoracolumbar spine injury in blunt trauma. Acad Emerg Med. 2001;8:866–72.

Early Acute Management in Adults with Spinal Cord Injury Clinical Practice Guidelines. 2008. www.pva.org. Accessed May 2012.

Velmahos GC, Toutouzas K, Chan L, et al. Intubation after cervical spinal cord injury: to be done selectively or routinely? Am Surg. 2003;69:891–4.

Durga P, Sahu BP, Mantha S, Ramachandran G. Development and validation of predictors of respiratory insufficiency and mortality scores: simple bedside additive scores for prediction of ventilation and in-hospital mortality in acute cervical spine injury. Anesth Analg. 2010;110:134–40.

Crosby ET. Airway management in adults after cervical spine trauma. Anesthesiology. 2006;104:1293–318.

Yoo KY, Jeong CW, Kim SJ, et al. Altered cardiovascular responses to tracheal intubation in patients with complete spinal cord injury: relation to time course and affected level. Br J Anaesth. 2010;105:753–9.

Pasternak JJ, Lanier WL. Neuroanesthesiology update 2010. J Neurosurg Anesthesiol. 2011;23:67–99.

Yoo KY, Jeong SW, Kim SJ, Ha IH, Lee J. Cardiovascular responses to endotracheal intubation in patients with acute and chronic spinal cord injuries. Anesth Analg. 2003;97:1162–7.

Raw DA, Beattie JK, Hunter JM. Anaesthesia for spinal surgery in adults. Br J Anaesth. 2003;91:886–904.

Gronert GA, Theye RA. Pathophysiology of hyperkalemia induced by succinylcholine. Anesthesiology. 1975;43:89–99.

Stein DM, Menaker J, McQuillan K, Handley C, Aarabi B, Scalea TM. Risk factors for organ dysfunction and failure in patients with acute traumatic cervical spinal cord injury. Neurocrit Care. 2010;13:29–39.

Bilello JF, Davis JW, Cunningham MA, Groom TF, Lemaster D, Sue LP. Cervical spinal cord injury and the need for cardiovascular intervention. Arch Surg. 2003;138:1127–9.

Maiorov DN, Fehlings MG, Krassioukov AV. Relationship between severity of spinal cord injury and abnormalities in neurogenic cardiovascular control in conscious rats. J Neurotrauma. 1998;15:365–74.

Gondim FA, Lopes AC Jr, Oliveira GR, et al. Cardiovascular control after spinal cord injury. Curr Vasc Pharmacol. 2004;2:71–9.

Krassioukov A, Claydon VE. The clinical problems in cardiovascular control following spinal cord injury: an overview. Prog Brain Res. 2006;152:223–9.

Nacimiento W, Noth J. What, if anything, is spinal shock? Arch Neurol. 1999;56:1033–5.

Stevens RD, Bhardwaj A, Kirsch JR, Mirski MA. Critical care and perioperative management in traumatic spinal cord injury. J Neurosurg Anesthesiol. 2003;15:215–29.

Hurlbert RJ, Hadley MN, Walters BC, Aarabo B, Dhall SS, Gelb DE, Rozzelle CJ, Ryken TC, Theodore N. Pharmacological therapy for acute spinal cord injury. Neurosurgery. 2013;72(3):93–105.

Levi L, Wolf A, Belzberg H. Hemodynamic parameters in patients with acute cervical cord trauma: description, intervention, and prediction of outcome. Neurosurgery. 1993;33:1007–16.

Vale FL, Burns J, Jackson AB, Hadley MN. Combined medical and surgical treatment after acute spinal cord injury: results of a prospective pilot study to assess the merits of aggressive medical resuscitation and blood pressure management. J Neurosurg. 1997;87:239–46.

Licina P, Nowitzke AM. Approach and considerations regarding the patient with spinal injury. Injury. 2005;36(Suppl 2):B2–12.

Aresco C, Stein D. Cervical spine injuries in the geriatric patient. Clin Geriatr. 2010;18:30–5.

Aarabi B, Alexander M, Mirvis SE, et al. Predictors of outcome in acute traumatic central cord syndrome due to spinal stenosis. J Neurosurg Spine. 2011;14:122–30.

Albert TJ, Levine MJ, Balderston RA, Cotler JM. Gastrointestinal complications in spinal cord injury. Spine (Phila Pa 1976). 1991;16:S522–5.

Kiwerski J. Bleeding from the alimentary canal during the management of spinal cord injury patients. Paraplegia. 1986;24:92–6.

Walters K, Silver JR. Gastrointestinal bleeding in patients with acute spinal injuries. Int Rehabil Med. 1986;8:44–7.

Braughler JM, Hall ED. Lactate and pyruvate metabolism in injured cat spinal cord before and after a single large intravenous dose of methylprednisolone. J Neurosurg. 1983;59:256–61.

Hall ED. The neuroprotective pharmacology of methylprednisolone. J Neurosurg. 1992;76:13–22.

Bracken MB, Shepard MJ, Collins WF, et al. A randomized, controlled trial of methylprednisolone or naloxone in the treatment of acute spinal-cord injury. Results of the Second National Acute Spinal Cord Injury Study. N Engl J Med. 1990;322:1405–11.

Bracken MB, Shepard MJ, Collins WF Jr, et al. Methylprednisolone or naloxone treatment after acute spinal cord injury: 1-year follow-up data. Results of the second National Acute Spinal Cord Injury Study. J Neurosurg. 1992;76:23–31.

Hugenholtz H, Cass DE, Dvorak MF, et al. High-dose methylprednisolone for acute closed spinal cord injury–only a treatment option. Can J Neurol Sci. 2002;29:227–35.

Hugenholtz H. Methylprednisolone for acute spinal cord injury: not a standard of care. CMAJ. 2003;168:1145–6.

Nesathurai S. Steroids and spinal cord injury: revisiting the NASCIS 2 and NASCIS 3 trials. J Trauma. 1998;45:1088–93.

Short DJ, El Masry WS, Jones PW. High dose methylprednisolone in the management of acute spinal cord injury - a systematic review from a clinical perspective. Spinal Cord. 2000;38:273–86.

Coleman WP, Benzel D, Cahill DW, et al. A critical appraisal of the reporting of the National Acute Spinal Cord Injury Studies (II and III) of methylprednisolone in acute spinal cord injury. J Spinal Disord. 2000;13:185–99.

Ducker TB, Zeidman SM. Spinal cord injury. Role of steroid therapy. Spine (Phila Pa 1976). 1994;19:2281–7.

Hurlbert RJ. Methylprednisolone for acute spinal cord injury: an inappropriate standard of care. J Neurosurg. 2000;93:1–7.

Matsumoto T, Tamaki T, Kawakami M, Yoshida M, Ando M, Yamada H. Early complications of high-dose methylprednisolone sodium succinate treatment in the follow-up of acute cervical spinal cord injury. Spine (Phila Pa 1976). 2001;26:426–30.

Galandiuk S, Raque G, Appel S, Polk HC Jr. The two-edged sword of large-dose steroids for spinal cord trauma. Ann Surg. 1993;218:419–25.

Gerndt SJ, Rodriguez JL, Pawlik JW, et al. Consequences of high-dose steroid therapy for acute spinal cord injury. J Trauma. 1997;42:279–84.

Ryken T, Hurlbert RJ, Hadley MN, Aarabi B, Dhall SS, Gelb DE, Rozzelle CJ, Theodore N, Walters BC. The acute cardiopulmonary management of patients with cervical spinal cord injuries. Neurosurgery. 2013;72(3):84–92.

De Backer D, Biston P, Devriendt J, Madl C, Chochrad D, Aldecoa C, Brasseur A, Defrance P, Gottignies P, Vincent JL, SOAP II Investigators. Comparison of dopamine and norepinephrine in the treatment of shock. N Engl J Med. 2010;362(9):779–89.

Bailey DK. The normal cervical spine in infants and children. Radiology. 1952;59:712–9.

Fesmire FM, Luten RC. The pediatric cervical spine: developmental anatomy and clinical aspects. J Emerg Med. 1989;7:133–42.

Sullivan CR, Bruwer AJ, Harris LE. Hypermobility of the cervical spine in children; a pitfall in the diagnosis of cervical dislocation. Am J Surg. 1958;95:636–40.

Bohlman HH. Acute fractures and dislocations of the cervical spine. An analysis of three hundred hospitalized patients and review of the literature. J Bone Joint Surg Am. 1979;61:1119–42.

Hadley MN, Sonntag VK, Rekate HL, Murphy A. The infant whiplash-shake injury syndrome: a clinical and pathological study. Neurosurgery. 1989;24:536–40.

Pang D, Pollack IF. Spinal cord injury without radiographic abnormality in children–the SCIWORA syndrome. J Trauma. 1989;29:654–64.
About this article
Cite this article
Stein, D.M., Pineda, J.A., Roddy, V. et al. Emergency Neurological Life Support: Traumatic Spine Injury. Neurocrit Care 23 (Suppl 2), 155–164 (2015). https://doi.org/10.1007/s12028-015-0169-y
Published:

Issue Date:

DOI: https://doi.org/10.1007/s12028-015-0169-y
Keywords
Neurotrauma

Spine fracture

Traumatic myelopathy