Abstract
Background
We previously reported the presence of a cranial "bruit" in patients with cerebral vasospasm by signal processing cranial accelerometry signals time locked to the cardiac cycle. This shift to higher frequencies is likely related to the turbulence of blood flow produced by vascular narrowing. We sought to build a more quantitative model to predict cerebral vasospasm then test the accuracy of this technique to detect cerebral vasospasm in a prospective blinded study.
Methods
Skull accelerometry was performed using an array of 6 highly sensitive accelerometers placed in contact with the scalp. Paired transcranial Doppler (TCD) recordings and accelerometry epochs were obtained in consecutive patients with subarachnoid hemorrhage undergoing TCD recordings for surveillance of cerebral vasospasm. The energy of rectified acceleration measurements within systolic and diastolic bands of the cardiac cycle were measured and correlated with TCD-defined spasm. This model was then tested prospectively in a blinded consecutive sample of subarachnoid hemorrhage patients to determine accuracy of the technique.
Results
We developed a model predicting cerebral vasospasm from analysis of 14 unblinded subjects with varying degrees of cerebral vasospasm as detected by TCD. We then recorded from 58 subjects obtaining 125-paired recordings of accelerometry and TCD to test this model in a blinded analysis. Accelerometry detection of any spasm versus non-spasm correlated with TCD-defined vasospasm (P < 0.001). The model was 81 % sensitive for detecting any cerebral vasospasm in patients, while the negative predictive value was 61 %.
Conclusion
Highly sensitive skull accelerometry can detect cerebral vasospasm with clinically meaningful accuracy. This tool holds promise in the ICU environment to detect as well as reject cerebral vasospasm as the cause of neurological deficits in subarachnoid hemorrhage.
This is a preview of subscription content,
to check access.
Access this article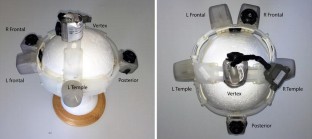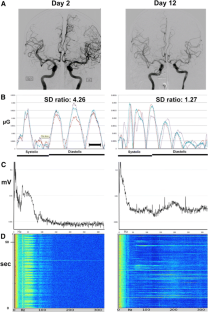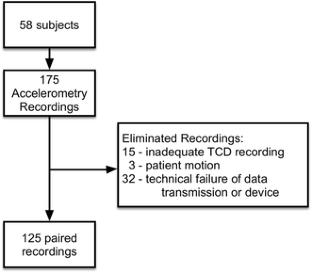 References
Diringer MN, Bleck TP, Claude Hemphill J 3rd, Menon D, Shutter L, Vespa P, et al. Critical care management of patients following aneurysmal subarachnoid hemorrhage: recommendations from the neurocritical care society's multidisciplinary consensus conference. Neurocrit Care. 2011;15:211–40.

Lysakowski C, Walder B, Costanza MC, Tramer MR. Transcranial doppler versus angiography in patients with vasospasm due to a ruptured cerebral aneurysm: a systematic review. Stroke; J Cereb Circ. 2001;32:2292–8.

Greenberg ED, Gold R, Reichman M, John M, Ivanidze J, Edwards AM, et al. Diagnostic accuracy of ct angiography and ct perfusion for cerebral vasospasm: a meta-analysis. AJNR Am J Neuroradiol. 2010;31:1853–60.

Beck J, Raabe A, Lanfermann H, Berkefeld J, De Rochemont Rdu M, Zanella F, et al. Effects of balloon angioplasty on perfusion- and diffusion-weighted magnetic resonance imaging results and outcome in patients with cerebral vasospasm. J Neurosurg. 2006;105:220–7.

Smith WS, Ko NU. Novel detection of a cranial "bruit" during vasospasm measured with cranial accelerometry. Neurocrit Care. 2012;17:S322.

Auerbach PS, Baine JG, Schott ML, Greenhaw A, Acharya MG, Smith WS. Detection of concussion using cranial accelerometry. Clin J Sport Med. 2015;25(2):126–32.
Electronic supplementary material
Below is the link to the electronic supplementary material.
This sound recording was produced by taking lateral sensor acceleration signals from a patient in varying degrees of vasospasm, pitch shifting these signals by 1.2 kHz (Audacity software, http://audacity.sourceforge.net) and then converting them to a.mp3 file. (MP3 1241 kb)
About this article
Cite this article
Smith, W.S., Browne, J.L. & Ko, N.U. Cranial Accelerometry Can Detect Cerebral Vasospasm Caused by Subarachnoid Hemorrhage. Neurocrit Care 23, 364–369 (2015). https://doi.org/10.1007/s12028-015-0118-9
Published:

Issue Date:

DOI: https://doi.org/10.1007/s12028-015-0118-9
Keywords