Abstract
Background
Mechanical ventilation is frequently performed in patients with ischemic stroke (IS), intracerebral hemorrhage (ICH), and subarachnoid hemorrhage (SAH). In this study, we used statewide administrative claims data to examine the rates of use, associated conditions, and in-hospital mortality rates for mechanically ventilated stroke patients.
Methods
We used statewide administrative claims data from three states and ICD-9-CM codes to identify patients admitted with stroke and those who received mechanical ventilation and tracheostomy. Descriptive statistics and exact 95 % confidence intervals were used to report rates of mechanical ventilation, tracheostomy, and in-hospital mortality. Logistic regression analysis was performed to identify conditions associated with mechanical ventilation based on previously described risk factors.
Results
798,255 hospital admissions for stroke were identified. 12.5 % of these patients underwent mechanical ventilation. This rate varied by stroke type: 7.9 % for IS, 29.9 % for ICH, and 38.5 % for SAH. Increased age was associated with a decreased risk of receiving mechanical ventilation (RR per decade, 0.91). Of stroke patients who underwent mechanical ventilation, 16.3 % received a tracheostomy. Mechanical ventilation was more likely to occur in association with status epilepticus (RR, 5.1), pneumonia (RR, 4.9), sepsis (RR, 3.6), and hydrocephalus (RR, 3.3). In-hospital mortality rate for mechanically ventilated stroke patients was 52.7 % (46.8 % for IS, 61.0 % for ICH, and 54.6 % for SAH).
Conclusions
In this large population-based sample, over half of mechanically ventilated stroke patients died in the hospital despite the fact that younger patients were more likely to receive mechanical ventilation. Future studies are indicated to elucidate mechanical ventilation strategies to optimize long-term outcomes after severe stroke.
Access options
Buy single article
Instant access to the full article PDF.
USD 39.95
Price excludes VAT (USA)
Tax calculation will be finalised during checkout.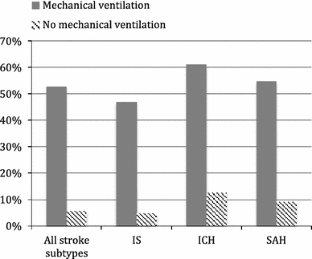 References
Mayer SA, Copeland D, Bernardini GL, et al. Cost and outcome of mechanical ventilation for life-threatening stroke. Stroke. 2000;31(10):2346–53.

El-Ad B, Bornstein NM, Fuchs P, Korczyn AD. Mechanical ventilation in stroke patients—is it worthwhile? Neurology. 1996;47(3):657–9.

Roch A, Michelet P, Jullien AC, et al. Long-term outcome in intensive care unit survivors after mechanical ventilation for intracerebral hemorrhage. Crit Care Med. 2003;31(11):2651–6.

Grotta J, Pasteur W, Khwaja G, et al. Elective intubation for neurologic deterioration after stroke. Neurology. 1995;45(4):640–4.

Santoli F, De Jonghe B, Hayon J, et al. Mechanical ventilation in patients with acute ischemic stroke: survival and outcome at one year. Intensive Care Med. 2001;27(7):1141–6.

Agency for Healthcare Research and Quality. HCUP methods series: methodological issues when studying readmissions and revisits using hospital administrative data. http://www.hcup-us.ahrq.gov/reports/methods/2011_01.pdf. Accessed 4 July 2014.

Tirschwell David L, Longstreth WT Jr. Validating administrative data in stroke research. Stroke. 2002;33:2465–70.

De Coster C, Li B, Quan H. Comparison and validity of procedures coded With ICD-9-CM and ICD-10-CA/CCI. Med Care. 2008;46(6):627–34.

Zhang J, Yu KF. What's the relative risk? A method of correcting the odds ratio in cohort studies of common outcomes. JAMA. 1998;280(19):1690–1.

Wijdicks EF, Scott JP. Causes and outcome of mechanical ventilation in patients with hemispheric ischemic stroke. Mayo Clin Proc. 1997;72(3):210–3.

Gujjar AR, Deibert E, Manno EM, et al. Mechanical ventilation for ischemic stroke and intracerebral hemorrhage: indications, timing, and outcome. Neurology. 1998;51(2):447–51.

Zhu H, Hill MD. Stroke: the Elixhauser Index for comorbidity adjustment of in-hospital case fatality. Neurology. 2008;71(4):283–7. doi:10.1212/01.wnl.0000318278.41347.94.

Berrouschot J, Rössler A, Köster J, et al. Mechanical ventilation in patients with hemispheric ischemic stroke. Crit Care Med. 2000;28(8):2956–61.

Burtin P, Bollaert PE, Feldmann L, et al. Prognosis of stroke patients undergoing mechanical ventilation. Intensive Care Med. 1994;20(1):32–6.

Jorgensen HS, Nakayama H, Raaschou HO, Skyhoj T. Intracerebral hemorrhage versus infarction: stroke severity, risk factors, and prognosis. Ann Neurol. 1995;38:45–50.
About this article
Cite this article
Lahiri, S., Mayer, S.A., Fink, M.E. et al. Mechanical Ventilation for Acute Stroke: A Multi-state Population-Based Study. Neurocrit Care 23, 28–32 (2015). https://doi.org/10.1007/s12028-014-0082-9
Published:

Issue Date:

DOI: https://doi.org/10.1007/s12028-014-0082-9
Keywords
Mechanical ventilation

Stroke

Outcome

Ischemic

Intracerebral hemorrhage

Subarachnoid hemorrhage