Abstract
Bacterial meningitis and viral encephalitis, particularly herpes simplex encephalitis (HSE), are severe neurological infections that, if not treated promptly and effectively, lead to poor neurological outcome or death. Because treatment is more effective if given early, the topic of meningitis and encephalitis was chosen as an Emergency Neurological Life Support protocol. This protocol provides a practical approach to recognition of and urgent treatment for bacterial meningitis and HSE, including imaging and spinal fluid analysis, and discusses the choice of empirical treatments until the cause of infection is determined. Though uncommon in its full form, the typical clinical triad of headache, fever, and neck stiffness should alert the clinical practitioner to the syndromes. Early attention to the airway and maintaining normotension is crucial in treatment of these patients, as is rapid treatment with anti-infectives and, in some cases, corticosteroids.
This is a preview of subscription content,
to check access.
Access this article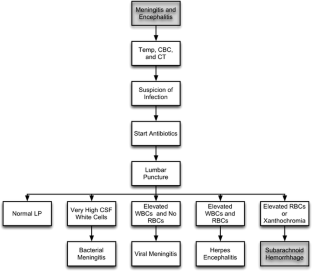 References
Schuchat A, Robinson K, Wenger JD, et al. Bacterial meningitis in the United States in 1995. Active Surveillance Team. N Engl J Med. 1997;337:970–6.

van de Beek D, de Gans J, Spanjaard L, Weisfelt M, Reitsma JB, Vermeulen M. Clinical features and prognostic factors in adults with bacterial meningitis. N Engl J Med. 2004;351:1849–59.

van de Beek D, de Gans J, Tunkel AR, Wijdicks EF. Community-acquired bacterial meningitis in adults. N Engl J Med. 2006;354:44–53.

Attia J, Hatala R, Cook DJ, Wong JG. The rational clinical examination. Does this adult patient have acute meningitis? JAMA. 1999;282:175–81.

Thomas KE, Hasbun R, Jekel J, Quagliarello VJ. The diagnostic accuracy of Kernig's sign, Brudzinski's sign, and nuchal rigidity in adults with suspected meningitis. Clin Infect Dis. 2002;35:46–52.

Dellinger RP, Levy MM, Carlet JM, et al. Surviving Sepsis Campaign: international guidelines for management of severe sepsis and septic shock: 2008. Crit Care Med. 2008;36:296–327.

Tunkel AR, Hartman BJ, Kaplan SL, et al. Practice guidelines for the management of bacterial meningitis. Clin Infect Dis. 2004;39:1267–84.

Tunkel AR. Bacterial meningitis. Philadelphia: Lippincott Williams & Wilkins; 2001.

Hasbun R, Abrahams J, Jekel J, Quagliarello VJ. Computed tomography of the head before lumbar puncture in adults with suspected meningitis. N Engl J Med. 2001;345:1727–33.

de Gans J, van de Beek D. European dexamethasone in adulthood bacterial meningitis study I. Dexamethasone in adults with bacterial meningitis. N Engl J Med. 2002;347:1549–56.

Gaieski DF, Mikkelsen ME, Band RA, et al. Impact of time to antibiotics on survival in patients with severe sepsis or septic shock in whom early goal-directed therapy was initiated in the emergency department. Crit Care Med. 2010;38:1045–53.

Talan DA, Guterman JJ, Overturf GD, Singer C, Hoffman JR, Lambert B. Analysis of emergency department management of suspected bacterial meningitis. Ann Emerg Med. 1989;18:856–62.

Jeha LE, Sila CA, Lederman RJ, Prayson RA, Isada CM, Gordon SM. West Nile virus infection: a new acute paralytic illness. Neurology. 2003;61:55–9.
About this article
Cite this article
Gaieski, D.F., Nathan, B.R., Weingart, S.D. et al. Emergency Neurologic Life Support: Meningitis and Encephalitis. Neurocrit Care 17 (Suppl 1), 66–72 (2012). https://doi.org/10.1007/s12028-012-9751-8
Published:

Issue Date:

DOI: https://doi.org/10.1007/s12028-012-9751-8
Keywords