Abstract
Background
The objective of our study is to assess the reliability of the distensibility of the inferior vena cava (dIVC), as measured by ultrasound, as an indicator of fluid responsiveness in patients with subarachnoid hemorrhage.
Methods
We enrolled 29 adult patients requiring advanced hemodynamic monitoring, sedation, and mechanical ventilation. Inferior vena cava diameter was measured during a single mechanical breath. The dIVC was calculated as (the diameter of the inferior vena cava on inspiration—the diameter on expiration)/the diameter on expiration. All the hemodynamic parameters were collected at baseline and after a fluid challenge (7 ml/kg) with 6% hydroxyethyl starch. A 15% increase of cardiac index was the standard criterion used to differentiate patients with and without a response to fluid therapy.
Results
Apart from stroke volume variation (SVV) and dIVC, which were significantly higher in fluid responders (17 patients), the other baseline characteristics did not differ significantly between groups (responders versus non-responders). Significant changes in hemodynamic parameters after volume load were observed only in fluid responders. The area under the ROC curve was 0.779 (95% confidence interval 0.587–0.911) for SVV and 0.902 (95% confidence interval 0.733–0.979, P = NS) for dIVC. Central venous pressure was a less reliable indicator of fluid responsiveness than dIVC. A dIVC value of >16% yielded the most favorable balance of test characteristics, with 70.59% sensitivity and 100% specificity. There was a trend toward a lower incidence of delayed ischemic lesions in fluid responders (11.7 vs. 25%, P = NS).
Conclusion
dIVC proved to be a reliable predictor of fluid responsiveness in ICU patients with subarachnoid hemorrhage.
Access options
Buy single article
Instant access to the full article PDF.
USD 39.95
Price excludes VAT (USA)
Tax calculation will be finalised during checkout.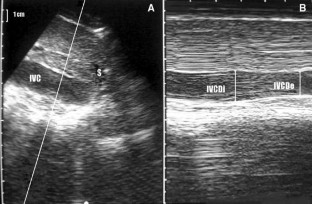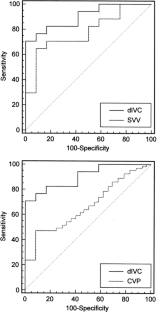 References
Michard F, Teboul JL. Predicting fluid responsiveness in ICU patients: a critical analysis of evidence. Chest. 2002;121:2000–8.

Perel A. Automated assessment of fluid responsiveness in mechanically ventilated patients. Anesth Analg. 2008;106:1031–3.

Magder S. Shock physiology. In: Pinsky MR, Dhainault JF, editors. Physiological foundation of critical care medicine. Philadelphia: Williams and Wilkins; 1992. p. 140–60.

Guyton AC. Cardiac output and circulatory shock. In: Guyton AC, editor. Human physiology and mechanisms of disease. 5th ed. Philadelphia: Saunders; 1991. p. 187–200.

Mutoh T, Kazumata K, Ajiki M, Ushikoshi S, Terasaka S. Goal directed fluid management by bedside transpulmonary hemodynamic monitoring after subarachnoid hemorrhage. Stroke. 2007;38:3218–24.

Lee VH, Connolly HM, Fulgham JR, Manno EM, Brown RD Jr, Wijdicks EFM. Tako-tsubo cardiomyopathy in aneurysmal subarachnoid hemorrhage: an underappreciated ventricular dysfunction. J Neurosurg. 2006;105:264–70.

Lennihan L, Mayer SA, Fink ME, Beckford A, Paik MC, Zhang H, et al. Effect of hypervolemic therapy on cerebral blood flow after subarachnoid hemorrhage: a randomized controlled trial. Stroke. 2000;31:383–91.

Mori K, Arai H, Nakajima K, Tajima A, Maeda M. Hemoreological and hemodynamic analysis of hypervolemic hemodilution therapy for cerebral vasospasm after aneurysmal subarachnoid hemorrhage. Stroke. 1995;26:1620–6.

Harrigan MR. Cerebral salt wasting syndrome. Crit Care Clin. 2001;17(1):125–38.

Sen J, Belli A, Albon H, Morgan L, Petzold A, Kitchen N. Triple H therapy in the management of aneurysmal subarachnoid hemorrhage. Lancet Neurol. 2003;2:614–21.

Della Rocca G, Costa MG, Feltracco P, Biancofiore G, Belgiomini B, Taddei S, et al. Continuous right ventricular end diastolic volume and right ventricular ejection fraction during liver transplantation: a multicenter study. Liver Transplant. 2008;14:327–32.

Della Rocca G, Costa MG, Coccia G, Pompei L, Pietropaoli P. Preload and haemodynamic assessment during liver transplantation. A comparison between pulmonary artery catheter and transpulmonary indicator dilution technique. Eur J Anaesth. 2002;19:868–75.

Coudray A, Romand JA, Treggiari M, Bendjelid K. Fluid responsiveness in spontaneously breathing patients: a review of indexes used in intensive care. Crit Care Med. 2005;33:2757–62.

Hofer CK, Furrer L, Matter-Esner S, Maloigne M, Klaghofer R, Genoni M. Volumetric preload measurement by thermodilution: a comparison with transesophageal echocardiography. Br J Anesth. 2005;94:749–55.

Della Rocca G, Costa MG. Preload index and fluid responsiveness: different aspects of the new concept of functional hemodynamic monitoring. Minerva Anesth. 2008;74:349–51.

Marik P, Cavallazzi R, Vasu T, Hirani A. Dynamic changes in arterial waveform derived variables and fluid responsiveness in mechanically ventilated patients: a systematic review of the literature. Crit Care Med. 2009;37(9):2642–7.

Cheriex E, Leunissen K, Janssen J, Mooy J, van Hoff J. Echography of the inferior vena cava is a simple and reliable tool for estimation of "dry weight" in haemodialysis patients. Nephrol Dial Transplant. 1989;4:563–8.

Ando Y, Yanagiba S, Asano Y. The inferior vena cava diameter as a marker of dry weight in chronic hemodialyzed patients. Artif Organs. 1995;19(12):1237–42.

Kusaba T, Yamaguchi K, Oda H. Echography of the inferior vena cava for estimating fluid removal from patients undergoing hemodialysis. Jpn J Nephrol. 1994;36(8):914–20.

Lyon M, Blavias M, Brannam L. Sonographic measurement of the inferior vena cava as a marker of blood loss. Am J Emerg Med. 2005;23:45–50.

Sefidbakht S, Assadsangabi R, Abbasi HR, Nabavizadeh A. Sonographic measurement of inferior vena cava as a predictor of shock in trauma patients. Emerg Radiol. 2007;14:181–5.

Barbier C, Lubières Y, Schmit C, Hayon J, Ricôme JL, Jardin F, et al. Respiratory changes in inferior vena cava diameter are helpful in predicting fluid responsiveness in ventilated septic patients. Intensive Care Med. 2004;30:1740–6.

Feissel M, Michard F, Faller JP, Teboul JL. The respiratory variation in inferior vena cava as a guide to fluid therapy. Intensive Care Med. 2004;30(9):1834–7.

Muench E, Horn P, Bauhuf C, Roth H, Philips M, Hermann P, et al. Effects of hypervolemia and hypertension on regional cerebral blood flow, intracranial pressure, and brain tissue oxygenation after subarachnoid hemorrhage. Crit Care Med. 2007;35(8):1844–51.

Kircher B, Himelman R, Shiller N. Noninvasive estimation of right atrial pressure from the inspiratory collapse of the IVC. Am J Cardiol. 1990;66:493–6.

Vignon F. Evaluation of fluid responsiveness in ventilated septic patients: back to venous return. Intensive Care Med. 2004;30:1699–701.

Takata M, Wise RA, Robotham JL. Effect of abdominal pressure on venous return: abdominal vascular zone conditions. J Appl Physiol. 1990;69:1961–72.

Nakao S, Come P, Mckay RG, Ransil BJ. Effect of positional changes on inferior vena caval size and dynamics and correlation with right-sided cardiac pressure. Am J Cardiol. 1987;59:125–32.

Vivier E, Metton O, Piriou V, Lhuillier F, Cotter-Emard JM, Branche P, et al. Effects of increased intra-abdominal pressure on central circulation. Br J Anaesth. 2006;96:701–7.
About this article
Cite this article
Moretti, R., Pizzi, B. Inferior Vena Cava Distensibility as a Predictor of Fluid Responsiveness in Patients with Subarachnoid Hemorrhage. Neurocrit Care 13, 3–9 (2010). https://doi.org/10.1007/s12028-010-9356-z
Published:

Issue Date:

DOI: https://doi.org/10.1007/s12028-010-9356-z
Keywords
Inferior vena cava ultrasonography

Fluid responsiveness

Preload indicators