Abstract
Background
Acanthamoeba sp. are known to cause fatal granulomatous Acanthamoeba encephalitis (GAE) in immunocompromised patients.
Methods
The case of a 17 year old immunocompetent patient with acute purulent meningoencephalitis is reported.
Results
After substantial improvement of cerebrospinal fluid under conventional antimicrobial treatment the patient was suffering several relapses. The causative agent was identified as Acanthamoeba lenticulata T5 which entered the CNS through a bone dehiscence of ethmoidal cells. Due to severe vasospasm the patient developed multiple strokes, which led to marked neurologic sequels.
Conclusions
This case report demonstrates successful treatment of usually lethal GAE in an immunocompetent patient with high dose meropenem, linezolid, moxifloxacin and fluconazole followed by a partially adapted antimicrobial combination therapy.
Access options
Buy single article
Instant access to the full article PDF.
USD 39.95
Price excludes VAT (USA)
Tax calculation will be finalised during checkout.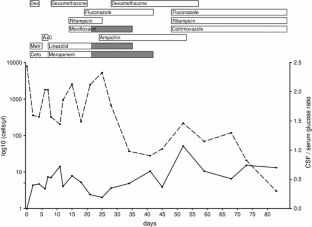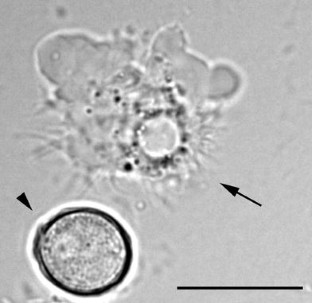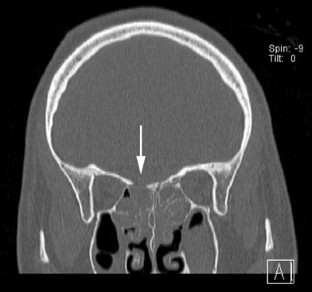 References
Petry F, Torzewski M, Bohl J, et al. Early diagnosis of Acanthamoeba infection during routine cytological examination of cerebrospinal fluid. J Clin Microbiol. 2006;44(5):1903–4.

Martinez AJ, Janitschke K. Acanthamoeba, an opportunistic microorganism: a review. Infection. 1985;13(6):251–6.

Singhal T, Bajpai A, Kalra V, et al. Successful treatment of Acanthamoeba meningitis with combination oral antimicrobials. Pediatr Infect Dis J. 2001;20(6):623–7.

Mergeryan H. The prevalence of Acanthamoeba in the human environment. Rev Infect Dis. 1991;13(Suppl 5):S390–1.

Schuster FL, Visvesvara GS. Opportunistic amoebae: challenges in prophylaxis and treatment. Drug Resist Updat. 2004;7(1):41–51.

Paltiel M, Powell E, Lynch J, Baranowski B, Martins C. Disseminated cutaneous acanthamebiasis: a case report and review of the literature. Cutis. 2004;73(4):241–8.

Culbertson CG, Holmes DH, Overton WM. Hartmanella castellani (acanthamoeba sp): preliminary report on experimental chemotherapy. Am J Clin Pathol. 1965;43:361–4.

Das SR, Asiri S, el-Soofi A, Baer HP. Protective and curative effects of rifampicin in Acanthamoeba meningitis of the mouse. J Infect Dis. 1991;163(4):916–7.

Galarza M, Cuccia V, Sosa FP, Monges JA. Pediatric granulomatous cerebral amebiasis: a delayed diagnosis. Pediatr Neurol. 2002;26(2):153–6.
Additional information
Peter Lackner and Ronny Beer have contributed equally.
About this article
Cite this article
Lackner, P., Beer, R., Broessner, G. et al. Acute Granulomatous Acanthamoeba Encephalitis in an Immunocompetent Patient. Neurocrit Care 12, 91–94 (2010). https://doi.org/10.1007/s12028-009-9291-z
Published:

Issue Date:

DOI: https://doi.org/10.1007/s12028-009-9291-z
Keywords
GAE

Granulomatous Acanthamoeba encephalitis

Meningoencephalitis