Abstract
Background
We analyzed the impact of shivering on brain tissue oxygenation (PbtO2) during induced normothermia in patients with severe brain injury.
Methods
We studied patients with severe brain injury who developed shivering during induced normothermia. Induced normothermia was applied to treat refractory fever (body temperature [BT] ≥38.3°C, refractory to conventional treatment) using a surface cooling device with computerized adjustment of patient BT target to 37 ± 0.5°C. PbtO2, intracranial pressure, mean arterial pressure, cerebral perfusion pressure, and BT were monitored continuously. Circulating water temperature of the device system was measured to assess the intensity of cooling.
Results
Fifteen patients (10 with severe traumatic brain injury, 5 with aneurysmal subarachnoid hemorrhage) were treated with induced normothermia for an average of 5 ± 2 days. Shivering caused a significant decrease in PbtO2 levels both in SAH and TBI patients. Compared to baseline, shivering was associated with an overall reduction of PbtO2 from 34.1 ± 7.3 to 24.4 ± 5.5 mmHg (P < 0.001). A significant correlation was found between the magnitude of shivering-associated decrease of PbtO2 (ΔPbtO2) and circulating water temperature (R = 0.82, P < 0.001).
Conclusion
In patients with severe brain injury treated with induced normothermia, shivering was associated with a significant decrease of PbtO2, which correlated with the intensity of cooling. Monitoring of therapeutic cooling with computerized thermoregulatory systems may help prevent shivering and optimize the management of induced normothermia. The clinical significance of shivering-induced decrease in brain tissue oxygenation remains to be determined.
Access options
Buy single article
Instant access to the full article PDF.
USD 39.95
Price includes VAT (USA)
Tax calculation will be finalised during checkout.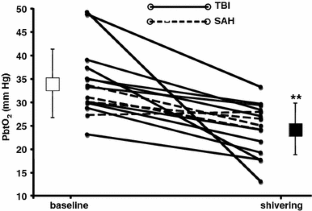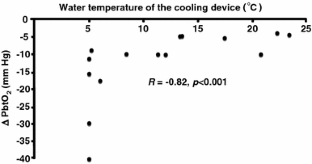 References
1.

Dietrich WD, Bramlett HM. Hyperthermia and central nervous system injury. Prog Brain Res. 2007;162:201–17.

2.

Diringer MN, Reaven NL, Funk SE, Uman GC. Elevated body temperature independently contributes to increased length of stay in neurologic intensive care unit patients. Crit Care Med. 2004;32:1489–95.

3.

Busto R, Dietrich WD, Globus MY, Valdes I, Scheinberg P, Ginsberg MD. Small differences in intraischemic brain temperature critically determine the extent of ischemic neuronal injury. J Cereb Blood Flow Metab. 1987;7:729–38.

4.

Ginsberg MD, Busto R. Combating hyperthermia in acute stroke: a significant clinical concern. Stroke. 1998;29:529–34.

5.

Oddo M, Frangos S, Milby A, et al. Induced normothermia attenuates cerebral metabolic distress in patients with aneurysmal subarachnoid hemorrhage and refractory fever. Stroke. 2009;40:1913–6.

6.

Marion DW. Controlled normothermia in neurologic intensive care. Crit Care Med. 2004;32:S43–5.

7.

Doufas AG, Sessler DI. Physiology and clinical relevance of induced hypothermia. Neurocrit Care. 2004;1:489–98.

8.

Sessler DI. Complications and treatment of mild hypothermia. Anesthesiology. 2001;95:531–43.

9.

Hata JS, Shelsky CR, Hindman BJ, Smith TC, Simmons JS, Todd MM. A prospective, observational clinical trial of fever reduction to reduce systemic oxygen consumption in the setting of acute brain injury. Neurocrit Care. 2008;9:37–44.

10.

Thoresen M, Satas S, Loberg EM, et al. Twenty-four hours of mild hypothermia in unsedated newborn pigs starting after a severe global hypoxic-ischemic insult is not neuroprotective. Pediatr Res. 2001;50:405–11.

11.

Thoresen M, Simmonds M, Satas S, Tooley J, Silver IA. Effective selective head cooling during posthypoxic hypothermia in newborn piglets. Pediatr Res. 2001;49:594–9.

12.

Bhatia A, Gupta AK. Neuromonitoring in the intensive care unit. II. Cerebral oxygenation monitoring and microdialysis. Intensive Care Med. 2007;33:1322–8.

13.

Nortje J, Gupta AK. The role of tissue oxygen monitoring in patients with acute brain injury. Br J Anaesth. 2006;97:95–106.

14.

Dings J, Meixensberger J, Amschler J, Hamelbeck B, Roosen K. Brain tissue pO2 in relation to cerebral perfusion pressure, TCD findings and TCD-CO2-reactivity after severe head injury. Acta Neurochir (Wien). 1996;138:425–34.

15.

Doppenberg EM, Zauner A, Bullock R, Ward JD, Fatouros PP, Young HF. Correlations between brain tissue oxygen tension, carbon dioxide tension, pH, and cerebral blood flow—a better way of monitoring the severely injured brain? Surg Neurol. 1998;49:650–4.

16.

Mazzeo AT, Bullock R. Monitoring brain tissue oxymetry: will it change management of critically ill neurologic patients? J Neurol Sci. 2007;261:1–9.

17.

Kett-White R, Hutchinson PJ, Al-Rawi PG, Gupta AK, Pickard JD, Kirkpatrick PJ. Adverse cerebral events detected after subarachnoid hemorrhage using brain oxygen and microdialysis probes. Neurosurgery. 2002;50:1213–21. discussion 21–2.

18.

Valadka AB, Gopinath SP, Contant CF, Uzura M, Robertson CS. Relationship of brain tissue PO2 to outcome after severe head injury. Crit Care Med. 1998;26:1576–81.

19.

van den Brink WA, van Santbrink H, Steyerberg EW, et al. Brain oxygen tension in severe head injury. Neurosurgery. 2000;46:868–76. discussion 76–8.

20.

Mayer SA, Kowalski RG, Presciutti M, et al. Clinical trial of a novel surface cooling system for fever control in neurocritical care patients. Crit Care Med. 2004;32:2508–15.

21.

Geocadin RG, Carhuapoma JR. Medivance Arctic sun temperature management system. Neurocrit Care. 2005;3:63–7.

22.

Haugk M, Sterz F, Grassberger M, et al. Feasibility and efficacy of a new non-invasive surface cooling device in post-resuscitation intensive care medicine. Resuscitation. 2007;75:76–81.

23.

Kimberger O, Ali SZ, Markstaller M, et al. Meperidine and skin surface warming additively reduce the shivering threshold: a volunteer study. Crit Care. 2007;11:R29.

24.

Eberhart LH, Doderlein F, Eisenhardt G, et al. Independent risk factors for postoperative shivering. Anesth Analg. 2005;101:1849–57.

25.

Sagir O, Gulhas N, Toprak H, Yucel A, Begec Z, Ersoy O. Control of shivering during regional anaesthesia: prophylactic ketamine and granisetron. Acta Anaesthesiol Scand. 2007;51:44–9.

26.

Kurz A, Ikeda T, Sessler DI, et al. Meperidine decreases the shivering threshold twice as much as the vasoconstriction threshold. Anesthesiology. 1997;86:1046–54.

27.

Doufas AG, Lin CM, Suleman MI, et al. Dexmedetomidine and meperidine additively reduce the shivering threshold in humans. Stroke. 2003;34:1218–23.

28.

Oddo M, Levine JM, Frangos S, et al. Effect of mannitol and hypertonic saline on cerebral oxygenation in patients with severe traumatic brain injury and refractory intracranial hypertension. J Neurol Neurosurg Psychiatry. 2009;80:916–20.

29.

Oddo M, Milby A, Chen I, et al. Hemoglobin concentration and cerebral metabolism in patients with aneurysmal subarachnoid hemorrhage. Stroke. 2009;40:1275–81.

30.

Holtzclaw BJ. Shivering in acutely ill vulnerable populations. AACN Clin Issues. 2004;15:267–79.

31.

Imrie MM, Hall GM. Body temperature and anaesthesia. Br J Anaesth. 1990;64:346–54.

32.

Bilotta F, Pietropaoli P, La Rosa I, Spinelli F, Rosa G. Effects of shivering prevention on haemodynamic and metabolic demands in hypothermic postoperative neurosurgical patients. Anaesthesia. 2001;56:514–9.

33.

Badjatia N, Kowalski RG, Schmidt JM, et al. Predictors and clinical implications of shivering during therapeutic normothermia. Neurocrit Care. 2007;6:186–91.

34.

Crossley AW, Mahajan RP. The intensity of postoperative shivering is unrelated to axillary temperature. Anaesthesia. 1994;49:205–7.

35.

Tsai YC, Chu KS. A comparison of tramadol, amitriptyline, and meperidine for postepidural anesthetic shivering in parturients. Anesth Analg. 2001;93:1288–92.
Acknowledgments
We wish to thank Professor Patrick D. Lyden, MD, Chairman, Department of Neurology, Cedars-Sinai Medical Center, Los Angeles, CA, for the careful and helpful review of the manuscript and Prof. Scott E. Kasner, MD, Director, Comprehensive Stroke Center, Department of Neurology, University of Pennsylvania Medical Center, Philadelphia, PA, for statistical assistance. This work was supported by Research Grants from the SICPA Foundation, Switzerland (MO), the Integra Foundation (PDLR), and the Mary Elisabeth Groff Surgical and Medical Research Trust (PDLR).
Additional information
This work was performed in the Neurointensive Care Unit, Hospital of the University of Pennsylvania, Philadelphia, PA.
About this article
Cite this article
Oddo, M., Frangos, S., Maloney-Wilensky, E. et al. Effect of Shivering on Brain Tissue Oxygenation During Induced Normothermia in Patients With Severe Brain Injury. Neurocrit Care 12, 10–16 (2010). https://doi.org/10.1007/s12028-009-9280-2
Keywords
Induced normothermia

Fever control

Temperature management

Surface cooling

Shivering

Brain tissue oxygenation

Brain injury

SAH

TBI

Neurointensive care

Neurocritical care