Abstract
Background and Purpose
Computed tomography (CT) and CT angiography (CTA) are frequently the initial imaging modalities used in the evaluation of patients with suspected aneurysmal subarachnoid hemorrhage (SAH). It remains unclear whether CTA can provide adequate information to determine best treatment modality (endovascular versus surgical) for ruptured intracranial aneurysms.
Methods
Pertinent clinical and radiological information of consecutive patients with aneurysmal SAH who underwent CTA on a 64-slice multidetector CT (MDCT) scanner were independently reviewed by five endovascular specialists. Subsequently, the interobserver reliability was calculated.
Results
A total of 21 consecutive patients with aneurysmal SAH detected on CTA were reviewed. Of the total of 105 reviews, in 65% a treatment allocation decision was made. Responses were, 26% either treatment; 18% endovascular only; 18% surgical only; and 3% neither treatment. In the remaining 35% it was considered that CTA images were inadequate to make a decision for treatment allocation and more information was requested. Interobserver reliability was poor between endovascular specialists (k = 0.2). The reliability was higher among endovascular/vascular neurosurgeons (k = 0.34) and physicians with >5 years of faculty experience (k = 0.55).
Conclusion
When 64-slice MDCT angiography is used in the evaluation of aneurysmal SAH, the information obtained is adequate to determine treatment modality allocation in two-thirds of the cases. The agreement on best treatment modality varied across primary specialty, practice experience, and site of fellowship completion.
Access options
Buy single article
Instant access to the full article PDF.
USD 39.95
Price excludes VAT (USA)
Tax calculation will be finalised during checkout.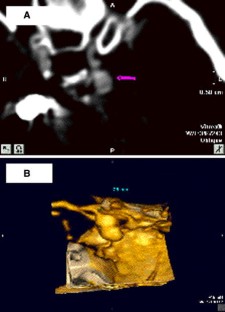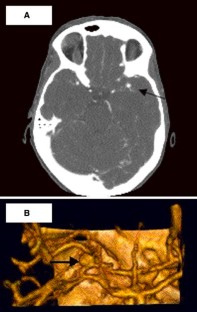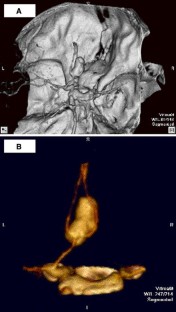 References
Willinsky RA, Taylor SM, TerBrugge K, Farb RI, Tomlinson G, Montanera W. Neurologic complications of cerebral angiography: prospective analysis of 2,899 procedures and review of the literature. Radiology 2003;227:522–8.

Heiserman JE, Dean BL, Hodak JA, et al. Neurologic complications of cerebral angiography. AJNR Am J Neuroradiol. 1994;15:1401–7, discussion 8–11.

Cloft HJ, Joseph GJ, Dion JE. Risk of cerebral angiography in patients with subarachnoid hemorrhage, cerebral aneurysm, and arteriovenous malformation: a meta-analysis. Stroke 1999;30:317–20.

Goddard AJ, Tan G, Becker J. Computed tomography angiography for the detection and characterization of intra-cranial aneurysms: current status. Clin Radiol. 2005;60:1221–36.

Westerlaan HE, Gravendeel J, Fiore D, et al. Multislice CT angiography in the selection of patients with ruptured intracranial aneurysms suitable for clipping or coiling. Neuroradiology 2007;49:997–1007.

Papke K, Kuhl CK, Fruth M, et al. Intracranial aneurysms: role of multidetector CT angiography in diagnosis and endovascular therapy planning. Radiology 2007;244:532–40.

Lubicz B, Levivier M, Francois O, et al. Sixty-four-row multisection CT angiography for detection and evaluation of ruptured intracranial aneurysms: interobserver and intertechnique reproducibility. AJNR Am J Neuroradiol. 2007;28:1949–55.

Karamessini MT, Kagadis GC, Petsas T, et al. CT angiography with three-dimensional techniques for the early diagnosis of intracranial aneurysms. Comparison with intra-arterial DSA and the surgical findings. Eur J Radiol. 2004;49:212–23.

Gonzalez-Darder JM, Pesudo-Martinez JV, Feliu-Tatay RA. Microsurgical management of cerebral aneurysms based in CT angiography with three-dimensional reconstruction (3D-CTA) and without preoperative cerebral angiography. Acta Neurochir (Wien). 2001;143:673–9.

Dehdashti AR, Rufenacht DA, Delavelle J, Reverdin A, de Tribolet N. Therapeutic decision and management of aneurysmal subarachnoid haemorrhage based on computed tomographic angiography. Br J Neurosurg. 2003;17:46–53.

Hunt WE, Meagher JN, Hess RM. Intracranial aneurysm. A nine-year study. Ohio State Med J. 1966;62:1168–71.

Hunt WE, Hess RM. Surgical risk as related to time of intervention in the repair of intracranial aneurysms. J Neurosurg. 1968;28:14–20.

Fisher CM, Kistler JP, Davis JM. Relation of cerebral vasospasm to subarachnoid hemorrhage visualized by computerized tomographic scanning. Neurosurgery 1980;6:1–9.

Zouaoui A, Sahel M, Marro B, et al. Three-dimensional computed tomographic angiography in detection of cerebral aneurysms in acute subarachnoid hemorrhage. Neurosurgery 1997;41:125–30.

Tipper G, U-King-Im JM, Price SJ, et al. Detection and evaluation of intracranial aneurysms with 16-row multislice CT angiography. Clin Radiol. 2005;60:565–72.

Pechlivanis I, Schmieder K, Scholz M, Konig M, Heuser L, Harders A. 3-Dimensional computed tomographic angiography for use of surgery planning in patients with intracranial aneurysms. Acta Neurochir (Wien). 2005;147:1045–53, discussion 53.

Hoh BL, Cheung AC, Rabinov JD, Pryor JC, Carter BS, Ogilvy CS. Results of a prospective protocol of computed tomographic angiography in place of catheter angiography as the only diagnostic and pretreatment planning study for cerebral aneurysms by a combined neurovascular team. Neurosurgery 2004;54:1329–40, discussion 40–2.

Anderson GB, Steinke DE, Petruk KC, Ashforth R, Findlay JM. Computed tomographic angiography versus digital subtraction angiography for the diagnosis and early treatment of ruptured intracranial aneurysms. Neurosurgery 1999;45:1315–20, discussion 20–2.

Amagasaki K, Sato T, Kakizawa T, Shimizu T. Treatment of ruptured anterior circulation aneurysm based on computerized tomography angiography: surgical results and indications for additional digital subtraction angiography. J Clin Neurosci. 2002;9:22–9.

Agid R, Lee SK, Willinsky RA, Farb RI, terBrugge KG. Acute subarachnoid hemorrhage: using 64-slice multidetector CT angiography to "triage" patients' treatment. Neuroradiology 2006;48:787–94.

Vallee JN, Aymard A, Vicaut E, Reis M, Merland JJ. Endovascular treatment of basilar tip aneurysms with Guglielmi detachable coils: predictors of immediate and long-term results with multivariate analysis 6-year experience. Radiology 2003;226:867–79.

Tateshima S, Murayama Y, Gobin YP, Duckwiler GR, Guglielmi G, Vinuela F. Endovascular treatment of basilar tip aneurysms using Guglielmi detachable coils: anatomic and clinical outcomes in 73 patients from a single institution. Neurosurgery 2000;47:1332–9, discussion 9–42.

Redekop G, Willinsky R, Montanera W, TerBrugge K, Tymianski M, Wallace MC. Endovascular occlusion of basilar bifurcation aneurysms with electrolytically detachable coils. Can J Neurol Sci. 1999;26:172–81.

Pierot L, Boulin A, Castaings L, Rey A, Moret J. Selective occlusion of basilar artery aneurysms using controlled detachable coils: report of 35 cases. Neurosurgery 1996;38:948–53, discussion 53–4.

Mordasini P, Schroth G, Guzman R, Barth A, Seiler RW, Remonda L. Endovascular treatment of posterior circulation cerebral aneurysms by using Guglielmi detachable coils: a 10-year single-center experience with special regard to technical development. AJNR Am J Neuroradiol. 2005;26:1732–8.

Bavinzski G, Killer M, Gruber A, Reinprecht A, Gross CE, Richling B. Treatment of basilar artery bifurcation aneurysms by using Guglielmi detachable coils: a 6-year experience. J Neurosurg. 1999;90:843–52.

Regli L, Dehdashti AR, Uske A, de Tribolet N. Endovascular coiling compared with surgical clipping for the treatment of unruptured middle cerebral artery aneurysms: an update. Acta Neurochir Suppl. 2002;82:41–6.

Horowitz M, Gupta R, Gologorsky Y, et al. Clinical and anatomic outcomes after endovascular coiling of middle cerebral artery aneurysms: report on 30 treated aneurysms and review of the literature. Surg Neurol. 2006;66:167–71, discussion 71.

Doerfler A, Wanke I, Goericke SL, et al. Endovascular treatment of middle cerebral artery aneurysms with electrolytically detachable coils. AJNR Am J Neuroradiol. 2006;27:513–20.
About this article
Cite this article
Miley, J.T., Taylor, R.A., Janardhan, V. et al. The Value of Computed Tomography Angiography in Determining Treatment Allocation for Aneurysmal Subarachnoid Hemorrhage. Neurocrit Care 9, 300–306 (2008). https://doi.org/10.1007/s12028-008-9109-4
Published:

Issue Date:

DOI: https://doi.org/10.1007/s12028-008-9109-4
Keywords
Subarachnoid hemorrhage

Intracranial aneurysm

Computed tomography angiography

Endovascular

Interobserver

Kappa