Abstract
The current approach to human trafficking for purposes of labour exploitation is problematic. To effectively deal with this difficult issue, the cooperation of the private sector will be required, along with a change in imagery: authorities, agencies and businesses alike must abandon the current conception of a trafficked person as a woman or child exploited for prostitution. The image of a trafficked person must thus include men and women whose exploitation, through poor working conditions or inadequate remuneration, has led to abuse of their labour and human rights. This change of imagery would have a positive effect on future legislation and on the "four P's".
Access options
Buy single article
Instant access to the full article PDF.
USD 39.95
Price excludes VAT (USA)
Tax calculation will be finalised during checkout.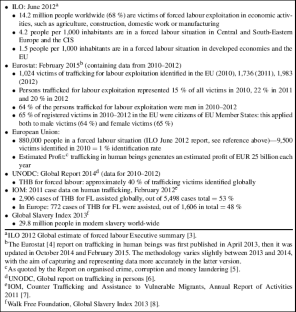 Notes
For example, the Gangmasters Licensing Authority was set up in the United Kingdom as a response to the Morecambe Bay tragedy in 2004, when Chinese migrant workers drowned while collecting cockles. Also, based on the conclusion that labour inspectors can play a role in the initial identification of trafficked persons, training programmes for labour inspectors were organised in many European countries (ICMPD, 2013). In the Netherlands, a Memorandum of Understanding (MoU) was signed by NGOs and the State to provide for the provision of services to larger groups of exploited people, as such groups were being identified more often.

The essay will focus on transnational trafficking in human beings and will not touch specifically upon trafficking in children and internal trafficking, both of which are very serious issues and need further elaboration in a different context.

Priority E, Action 4 of the EU Strategy [1]: Targeting Trafficking for Labour Exploitation outlines the goals of the European Commission with regard to this form of trafficking until 2016.

Commission Staff Working Document: Mid-term report on the implementation of the EU strategy towards the eradication of trafficking in human beings [2].

UNODC 2014, ILO 2012, Eurostat 2014, US State Department TIP report 2014, Report on organised crime, corruption and money laundering: recommendations on action and initiatives to be taken (final report) (2013/2107(INI)); Special committee on organised crime, corruption and money laundering, European Parliament [5].

The Protocol to Prevent, Suppress and Punish Trafficking in Persons, especially Women and Children, adopted in 2000 and entered into force on 25 December 2003. As of May 2015 166 countries are parties to the Protocol.

Forced Labour Convention, 1930 (No. 29).

Forced labour is clearly defined in the ILO Convention, as "all work or service which is exacted from any person under the menace of any penalty and for which the said person has not offered himself voluntarily", while labour exploitation implies a benefit, monetary or otherwise, obtained by the exploiter from another's labour, under specific conditions. Trafficking for labour exploitation, as set out in the Palermo Protocol, is the crime of some form of facilitation of movement, by means of threat, force, deception, etc. (in the case of adults only), with the purpose of exploiting the victim's labour. It is evident therefore that it is inaccurate to use the three terms interchangeably.

P029—Protocol of 2014 to the Forced Labour Convention [9].

In 2011, the European Union adopted Directive 2011/36/EU [10] which is seen as an important step towards a more coherent, comprehensive and effective anti-trafficking policy.

Information obtained from the Facebook website of the Dutch Embassy in Bulgaria on 7 May 2015.

Intervention by the Polish Labour Inspectorate, 28 April 2015, on cooperation with Dutch Embassy in Poland.

Directive 2014/36/EU of the European Parliament and of the Council of 26 February 2014 on the conditions of entry and stay of third-country nationals for the purpose of employment as seasonal workers, OJ L 94, 28.3.2014, pp. 375–390.

"Trafficking in persons" shall mean the recruitment, transportation, transfer, harbouring or receipt of persons, by means of the threat or use of force or other forms of coercion, of abduction, of fraud, of deception, of the abuse of power or of a position of vulnerability".

UNODC Guidance Note [11].

OECD Economic Survey [12], p. 13.

This comes out as one of the main conclusions in the research conducted in Finland, Sweden, Estonia, and Lithuania on the exploitation of migrant workers [13].

In line with the so-called "Return Directive", Directive 2008/115/EC [14].

Directive 96/71/EC of the European Parliament and of the Council of 16 December 1996 concerning the posting of workers in the framework of the provision of services, OJ L 18, 21.1.1997, pp. 1–6.

Presentation by Peter van Hauwermeiren, Director at the Belgian Social Inspectorate, 28 April 2015.

Informal conversations with Member State official involved in the negotiation on a directive revision indicate irreconcilable differences in the stance of mostly sending and mostly receiving member states.

Directive 2014/67/EU of the European Parliament and of the Council of 15 May 2014 on the enforcement of Directive 96/71/EC concerning the posting of workers in the framework of the provision of services and amending Regulation (EU) No. 1024/2012 on administrative cooperation through the Internal Market Information System ('the IMI Regulation'), OJ L 159, 28.5.2014, pp. 11–31.

Council Directive 2004/81/EC of 29 April 2004 on the residence permit issued to third-country nationals who are victims of trafficking in human beings or who have been the subject of an action to facilitate illegal immigration, who cooperate with the competent authorities, OJ L 261, 6.8.2004, pp. 19–23.

Directive 2009/52/EC of the European Parliament and of the Council of 18 June 2009 providing for minimum standards on sanctions and measures against employers of illegally staying third-country nationals, OJ L 168, 30.6.2009, pp. 24–32.

One example is the Austrian Sozialdumpingbekämpfungsgesetz (Law on Combating Social Dumping), which entered into force on 1 May 2011, the day restrictions for citizens from the 10 countries that joined the EU on 1 May 2004 were lifted [15].

Directive 2011/36/EU of the European Parliament and of the Council of 5 April 2011 on preventing and combating trafficking in human beings and protecting its victims, and replacing Council Framework Decision 2002/629/JHA, OJ L 101, 15.4.2011, pp. 1–11.

Recital 7, Directive 2011/36/EU [10].

Recital 33, Directive 2011/36/EU [10].

Article 433, Sect. 5 of the Belgian Criminal Code.

Hungarian Criminal Code, which was in force until 30 June 2013. The new law, which entered into force on 1 July 2013 uses a definition of THB harmonised with the one in the Directive 2011/36/EU.

The Internal Market Information System (IMI) tool has a similar idea, but solely in support of the internal market.

As mentioned by Maria Grazia Giammarinaro, former Special Representative and Co-ordinator for Combating Trafficking in Human Beings, OSCE in her intervention during Session II of the Final Expert Seminar of the project "Capacity Building for Combating Trafficking for Labour Exploitation", Vienna, 3–4 June 2013.
References
Communication from the Commission to the European Parliament, the Council, the European Economic and Social Committee and the Committee of the Regions: The EU Strategy towards the Eradication of Trafficking in Human Beings 2012–2016; COM (2012) 286 final; Brussels, 19.6.2012. Available at: http://ec.europa.eu/home-affairs/doc_centre/crime/docs/trafficking_in_human_beings_eradication-2012_2016_en.pdf

Commission Staff Working Document: Mid-term report on the implementation of the EU strategy towards the eradication of trafficking in human beings; SWD (2014) 318 final, 17.10.2014. Available at: http://ec.europa.eu/anti-trafficking/sites/antitrafficking/files/commission_staff_working_document_-_mid-term_report_on_the_implementation_of_the_eu_strategy_towards_the_eradication_of_trafficking_in_human_beings.pdf

ILO 2012 Global estimate of forced labour Executive summary, 01.06.2012. Available at: http://www.ilo.org/wcmsp5/groups/public/—ed_norm/—declaration/documents/publication/wcms_181953.pdf

Eurostat: Trafficking in human beings, 2015 edition, February 2015. Available at: https://ec.europa.eu/anti-trafficking/publications/trafficking-human-beings-eurostat-2015-edition_en

Report on organised crime, corruption and money laundering: recommendations on action and initiatives to be taken (final report) (2013/2107(INI)), Special committee on organised crime, corruption and money laundering, European Parliament, 26 September 2013. Available at: http://www.europarl.europa.eu/sides/getDoc.do?pubRef=-%2f%2fEP%2f%2fNONSGML%2bREPORT%2bA7-2013-0307%2b0%2bDOC%2bPDF%2bV0%2f%2fEN

UNODC: Global report on trafficking in persons (2014). Available at http://www.unodc.org/unodc/data-and-analysis/glotip.html

IOM: Counter trafficking and assistance to vulnerable migrants, Annual Report of Activities 2011. Available at: http://www.iom.int/files/live/sites/iom/files/What-We-Do/docs/Annual_Report_2011_Counter_Trafficking.pdf

Walk Free Foundation, Global Slavery Index 2013, http://www.globalslaveryindex.org/. Available at: http://www.ungift.org/doc/knowledgehub/resource-centre/2013/GlobalSlaveryIndex_2013_Download_WEB1.pdf

P029—Protocol of 2014 to the Forced Labour Convention, 1930, Adoption: Geneva, 103rd ILC session (11 Jun 2014). Available at: http://www.ilo.org/dyn/normlex/en/f?p=NORMLEXPUB:12100:0::NO::P12100_ILO_CODE:P029

Directive 2011/36/EU of the European Parliament and of the Council of 5 April 2011 on preventing and combating trafficking in human beings and protecting its victims, and replacing Council Framework Decision 2002/629/JHA, OJ L 101, 15.4.2011, pp. 1–11

UNODC: Guidance Note on 'abuse of a position of vulnerability' as a means of trafficking in persons in Article 3 of the Protocol to Prevent, Suppress and Punish Trafficking in Persons, Especially Women and Children, supplementing the United Nations Convention against Transnational Organized Crime, October 2012. Available at: http://www.unodc.org/documents/human-trafficking/2012/UNODC_2012_Guidance_Note_-_Abuse_of_a_Position_of_Vulnerability_E.pdf

OECD: Economic Survey of the European Union examines recent economic developments, policy, and prospects, the single market, and mobility and migration in Europe, March 2012. doi:10.1787/eco_surveys-eur-2012-en

Ollus, N., Jokinen, A., Joutsen, M. (eds.): Report series no. 75. Exploitation of migrant workers in Finland, Sweden, Estonia and Lithuania: Uncovering the links between recruitment, irregular employment practices and labour trafficking, 23.10.2013. Available at: http://www.heuni.fi/en/index/publications/heunireports/reportseriesno.75.exploitationofmigrantworkersinfinlandswedenestoniaandlithuaniauncoveringthelinksbetweenrecruitmentirregularemploymentpracticesandlabourtrafficking.html

Directive 2008/115/EC of the European Parliament and of the Council of 16 December 2008 on common standards and procedures in Member States for returning illegally staying third-country nationals, OJ L 348, 24.12.2008, pp. 98–107

24. Bundesgesetz: Lohn- und Sozialdumping-Bekämpfungsgesetz—LSDB-G, NR: GP XXIV RV 1076 AB 1094 S. 100. BR: 8474 S. 795
About this article
Cite this article
Radeva Berket, M. Labour exploitation and trafficking for labour exploitation—trends and challenges for policy-making. ERA Forum 16, 359–377 (2015). https://doi.org/10.1007/s12027-015-0389-9
Published:

Issue Date:

DOI: https://doi.org/10.1007/s12027-015-0389-9
Keywords
Human trafficking

Labour exploitation

Labour law

Criminal law