Abstract
Recent studies showed that B cells play a major role in the pathogenesis of neurodegeneration in multiple sclerosis (MS). In this study, we aimed to determine the possible link between immunoglobulin free light chains (FLC) and brain atrophy in patients with MS. Ninety-two patients (32 males and 60 females) with MS were included. Kappa and lambda FLC concentrations in serum and cerebrospinal fluid (CSF) samples of MS patients were measured using ELISA assay. FLC quotients (Q-k and Q-λ, respectively) were calculated. In a cross-sectional group (n = 92), the MRI data were acquired within 6 months from the date of the lumbar puncture. Twenty patients from this cohort performed a follow-up MRI after 1 year of observation. Brain volumes were calculated with SIENAX and the brain atrophy (percentage brain volume change (PBVC)) was assessed with SIENA. Spearman's test was performed to assess correlations. We have shown statistically significant correlation of Expanded Disability Status Scale (EDSS) level with normalized brain volume (NBV, r = − 0.2721, p = 0.0062), white matter volume (WMV, r = − 0.2425, p = 0.015), and gray matter volume (GMV, r = − 0.216, p = 0.0309). Multiple Sclerosis Severity Score (MSSS) score correlated with NBV (r = − 0.2521, p = 0.0352) and WMV (r = − 0.315, p = 0.0079). Neither EDSS, nor MSSS scores correlated with the age of patients and relapse rate during the first year and 5 years. In our study, we found statistically significant correlations of k-FLC in the CSF with NBV (r = − 0.311, p = 0.003) and with GMV (r = − 0.213, p = 0.0423). Q-k correlated only with NBV (r = − 0.340, p = 0.006) and Q-λ were negatively correlated with WMV (r = − 0.366, p = 0.003). We did not find correlations of k-FLC in CSF, λ-FLC in CSF, Q-k, and Q-λ with duration of MS course, EDSS, MSSS, number of relapses during the first year, and during the first 5 years of disease. Additionally, we subdivided the study population in accordance with level of k-FLC CSF, Q-k, and Q-λ on the 25th and 75th percentile subgroups (25-k-FLCCSF/75-k-FLCCSF; 25-λ-FLCCSF/75-λ-FLCCSF; 25-Q-k/75-Q-k; 25-Q-λ/75-Q-λ). We found statistically significant difference of NBV and GMV between 25-k-FLCCSF and 75-k-FLCCSF subgroups (p = 0.0047, p = 0.0297 respectively), NBV between 25-Q-k and 75-Q-k subgroups (p = 0.038), and NBV and WMV between 25-Q-λ and 75-Q-λ subgroups (p = 0.0446, p = 0.0026 respectively). PBVC in the prospective group showed negative correlation with kappa FLC in the CSF (r = − 0.4853, p = 0.0301) and Q-k (r = − 0.6132, p = 0.0224), but not with other clinical, epidemiological data. In this study, we showed a strong negative correlation of k-FLC, Q-k, and Q-λ with brain atrophy in MS patients. Additionally, patients with high concentration of FLC had lower brain volumes. We did not find correlations of FLC with the relapse rate, age of patients, and MS time course. In the prospective group, the rate of atrophy was correlated with k-FLC and Q-k. We suggest that level of intrathecal production of FLC can be a good prognostic biomarker for MS.
This is a preview of subscription content, log in to check access.
Access options
Buy single article
Instant access to the full article PDF.
US$ 39.95
Price includes VAT for USA
Subscribe to journal
Immediate online access to all issues from 2019. Subscription will auto renew annually.
US$ 99
This is the net price. Taxes to be calculated in checkout.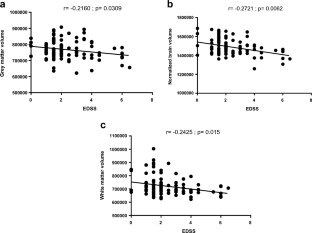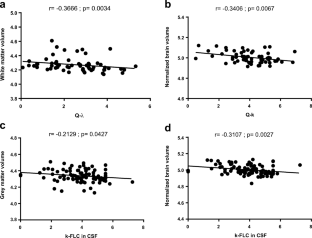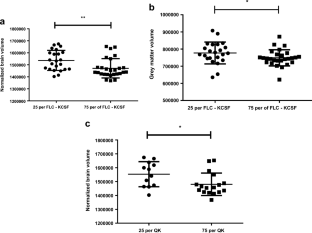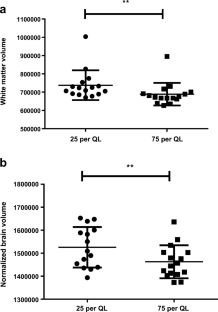 References
1.

Mallucci G, Peruzzotti-Jametti L, Bernstock JD, Pluchinoa S. The role of immune cells, glia and neurons in white and gray matter pathology in multiple sclerosis. Prog Neurobiol. 2015;0:1–22.

2.

Fisher E, Lee JC, Nakamura K, Rudick RA. Gray matter atrophy in multiple sclerosis: a longitudinal study. Ann Neurol. 2008;64(3):255–65.

3.

Barkhof F, Calabresi PA, Miller DH, Reingold SC. Imaging outcomes for neuroprotection and repair in multiple sclerosis trials. Nat Rev Neurol. 2009;5(5):256–66.

4.

Dutta R, Trapp BD. Pathogenesis of axonal and neuronal damage in multiple sclerosis. Neurology. 2007;68(22 Suppl 3):S22–31 discussion S43–54, S31.

5.

Puthenparampil M, Federle L, Miante S, Zito A, Toffanin E, Ruggero S, et al. BAFF Index and CXCL13 levels in the cerebrospinal fluid associate respectively with intrathecal IgG synthesis and cortical atrophy in multiple sclerosis at clinical onset. J Neuroinflammation. 2017;14:11.

6.

Lisak RP, Benjamins JA, Nedelkoska L, Barger JL, Ragheb S, Fan B, et al. Secretory products of multiple sclerosis B cells are cytotoxic to oligodendroglia in vitro. J Neuroimmunol. 2012;246(1–2):85–95.

7.

Magliozzi R, Howell O, Vora A, Serafini B, Nicholas R, Puopolo M, et al. Meningeal B-cell follicles in secondary progressive multiple sclerosis associate with early onset of disease and severe cortical pathology. Brain. 2007;130(Pt 4):1089–104.

8.

Makshakov G, Nazarov V, Kochetova O, Surkova E, Lapin S, Evdoshenko E. Diagnostic and prognostic value of the cerebrospinal fluid concentration of immunoglobulin free light chains in clinically isolated syndrome with conversion to multiple sclerosis. PLoS One. 2015;10(11):e0143375.

9.

Pieri M, Storto M, Pignalosa S, Zenobi R, Buttari F, Bernardini S, et al. KFLC Index utility in multiple sclerosis diagnosis: further confirmation. J Neuroimmunol. 2017;309:31–3.

10.

Voortman MM, Stojakovic T, Pirpamer L, Jehna M, Langkammer C, Scharnagl H, et al. Prognostic value of free light chains lambda and kappa in early multiple sclerosis. Mult Scler. 2017;23(11):1496–505.

11.

Nazarov VD, Makshakov GS, Mazing AV, Surkova EA, Krasnov VS, Shumilina MV, et al. The role of assay of free immunoglobulin light chains in the diagnosis of the onset of multiple sclerosis. Zhurnal Nevrologii i Psikhiatrii imeni S S Korsakova. 2017;117(2, Multiple Sclerosis, pp. 60–65, February).

12.

Polman CH, Reingold SC, Banwell B, Clanet M, Cohen JA, Filippi M, et al. Diagnostic criteria for multiple sclerosis: 2010 revisions to the McDonald criteria. Ann Neurol. 2011;69(2):292–302.

13.

Akaishi T, Narikawa K, Suzuki Y, Mitsuzawa S, Tsukita K, Kuroda H, et al. Importance of the quotient of albumin, quotient of immunoglobulin G and Reibergram in inflammatory neurological disorders with disease-specific patterns of blood–brain barrier permeability. Neurol Clin Neurosci. 2015;3:94–100.

14.

Reiber H. Knowledge-base for interpretation of cerebrospinal fluid data patterns. Essentials in neurology and psychiatry. Arq Neuropsiquiatr. 74(6).

15.

Smith SM, Jenkinson M, Woolrich MW, Beckmann CF, Behrens TEJ, Johansen-Berg H, et al. Advances in functional and structural MR image analysis and implementation as FSL. NeuroImage. 2004;23(S1):208–19.

16.

Yokote H, Kamata T, Toru S, Sanjo N, Yokota T. Brain volume loss is present in Japanese multiple sclerosis patients with no evidence of disease activity. Neurol Sci. 2018;39:1713–6. https://doi.org/10.1007/s10072-018-3487-y.

17.

Miller DH, Lublin FD, Sormani MP, Kappos L, Yaldizli Ö, Freedman MS, et al. Brain atrophy and disability worsening in primary progressive multiple sclerosis: insights from the INFORMS study. Ann Clin Transl Neurol. 2018;5(3):346–56.

18.

Fisniku LK, Chard DT, Jackson JS, Anderson VM, Altmann DR, Miszkiel KA, et al. Gray matter atrophy is related to long-term disability in multiple sclerosis. Ann Neurol. 2008;64(3):247–54.

19.

Ferreira D, Voevodskaya O, Imrell K, Stawiarz L, Spulber G, Wahlund LO, et al. Multiple sclerosis patients lacking oligoclonal bands in the cerebrospinal fluid have less global and regional brain atrophy. J Neuroimmunol. 2014;274(1–2):149–54.

20.

Sáez M.S. Prognostic value of cerebrospinal fluid kappa and lambda free light chains in clinically isolated syndrome in Argentina. ECTRIMS Online Library Sáez M, 2017.
Funding
This study was supported by the research grant from the Russian Science Foundation (project no. 16-15-10203). This work is supported in part by the grant of the Government of the Russian Federation for the state support of scientific research carried out under the supervision of leading scientists, agreement 14.W03.31.0009, on the basis of SPbU projects 15.34.3.2017 and 15.64.785.2017.
Ethics declarations
This study was approved by the local Ethics Committee of the Municipal Clinical Hospital No 31, City Center of Multiple Sclerosis and Autoimmune Diseases. All participants provided written informed consent.
Conflict of interest
E. Evdoshenko has received honoraria for lectures and speaking in the past 2 years from Merck, Biogen, Roche, Johnson & Johnson, Novartis, GlaxoSmithKline, Sanofi, Genzyme, Generium. G. Makshakov has received honoraria for lectures and speaking in the past 2 years from Roche, Janssen and Genzyme.
Other authors have no potential conflict of interests. This does not alter the authors' adherence to journal policies on sharing data and materials.
Additional information
Publisher's note
Springer Nature remains neutral with regard to jurisdictional claims in published maps and institutional affiliations.
About this article
Cite this article
Nazarov, V., Makshakov, G., Kalinin, I. et al. Concentrations of immunoglobulin free light chains in cerebrospinal fluid predict increased level of brain atrophy in multiple sclerosis. Immunol Res 66, 761–767 (2018). https://doi.org/10.1007/s12026-018-9058-8
Keywords
Cerebrospinal fluid

Brain atrophy

Multiple sclerosis

Free light chains