Abstract
The epipharynx is an immunologically active site even under normal conditions, and enhanced immunologic activation is prone to occur in response to an upper respiratory infection, air pollution, and possibly to vaccine adjuvants. Due to the potential link between the central nervous system and immune function, a relationship between epipharyngitis and autonomic nervous disturbance as well as autoimmune disease has been suggested. Various functional somatic symptoms have been described after human papillomavirus (HPV) vaccination, although a causal relationship has not been established. We examined the epipharynx in young women showing functional somatic symptoms following HPV vaccination. Surprisingly, despite having minimal symptoms involving the pharynx, all patients were found to have severe epipharyngitis. In addition, significant improvement in symptoms was seen in most patients who underwent epipharyngeal treatment. Thus, we speculate that the chronic epipharyngitis potentially caused by the vaccine adjuvant may be involved in the pathogenesis of functional somatic syndrome (FSS) post-HPV vaccination. Further, we suggest that epipharyngeal treatment may be effective for various types of FSS regardless of the initial cause, as well as for some autoimmune diseases, and that this may be an important direction in future research.
This is a preview of subscription content,
to check access.
Access this article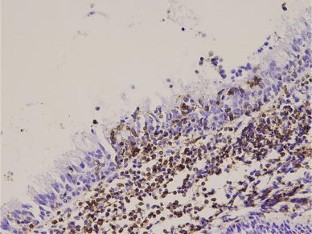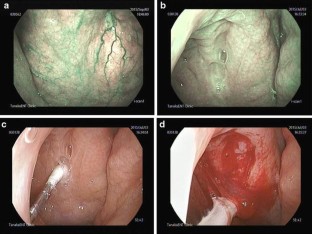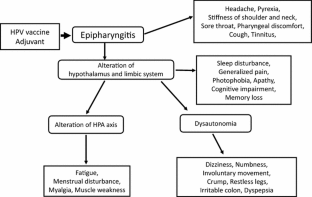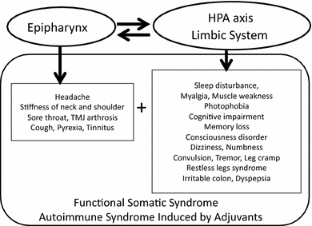 Similar content being viewed by others
Abbreviations
HPV:

Human papillomavirus

FSS:

Functional somatic syndrome

HPA:

Hypothalamic–pituitary–adrenal

ASIA:

Autoimmune/inflammatory syndrome induced by adjuvant
References
Horiguchi S. The discovery of the nasopharyngitis and its influence on general diseases. Acta Otolaryngol Suppl. 1975;329:1–120.

WHO. Human papillomavirus vaccines: WHO position paper. Biologicals. 2009;37:338–44.

Fesefeld M, Hutubessy R, Jit M. Cost-effectiveness of human papillomavirus vaccination in low and middle income countries: a systemic review. Vaccine. 2013;31:3786–804.

Kinoshita T, Abe RT, Hineno A, Tsunekawa K, Nakane S, Ikeda S. Peripheral sympathetic nerve dysfunction in adolescent Japanese girls following immunization with the human papillomavirus vaccine. Intern Med. 2014;53:2185–200.

Larson HJ, Wilson R, Hanley S, Parys A, Paterson P. Tracking the global spread of vaccine sentiments: the global response to Japan's suspension of its HPV vaccine recommendation. Hum Vaccin Immunother. 2014;10:2543–50.

Pellegrino P, Perrone V, Pozzi M, Carnovale C, Perrotta C, Clementi E, et al. The epidemiological profile of ASIA syndrome after HPV vaccination: an evaluation based on the Vaccine Adverse Event Report Systems. Immunol Res. 2015;61:90–6.

Martinez-Lavin M. Fibromyalgia-like illness in 2 girls after human papillomavirus vaccination. J Clin Rheumatol. 2014;20:392–3.

Danish Health and Medicines Authority. Danish Pharmacovigilance Update, 29 Jan 2014 [Internet] [cited 2014 Nov 15]. http://sundhedsstyrelsen.dk/en/news/2014/~/media/0540230CC7344D6589018F88BB171F51.ashx.

Hotta O. Chronic epipharyngitis and its possible focal-infection role. Stomato-pharyngol. 2013;23:37–42.

Neumann H, Fujishiro M, Wilcox CM, Mönkemüllerx K. Present and future perspectives of virtual chromoendoscopy with i-scan and optical enhancement technology. Dig Endosc. 2014;26(Suppl 1):43–51.

Hotta O, Tanaka A, Tani S. Epipharyngeal treatment in systemic disease: anticipated breakthrough. Stomato-pharyngol. 2016;29:99–106.

Kaneko T, Mii A, Fukui M, Nagahama K, Shimizu A, Tsuruoka S. IgA nephropathy and psoriatic arthritis that improved with steroid pulse therapy and mizoribine in combination with treatment for chronic tonsillitis and epipharyngitis. Intern Med. 2015;54:1085–90.

Arnson Y, Shoenfeld Y, Amital H. Effects of tobacco smoke on immunity, inflammation and autoimmunity. J Autoimmun. 2010;34:258–65.

Farhat SC, Silva CA, Orione MA, Campos LM, Sallum AM, Braga AL. Air pollution in autoimmune rheumatic diseases: a review. Autoimmun Rev. 2011;11:14–21.

Perricone C, Versini M, Ben-Ami D, Gertel S, Watad A, Segel MJ, et al. Smoke and autoimmunity: the fire behind the disease. Autoimmun Rev. 2016. doi:10.1016/j.autrev.2016.01.001.

Hotta O, Tanaka A, Torigoe A, Imai K, Ieiri N. Chronic fatigue syndrome following human papilloma virus vaccination: is chronic epipharyngitis to blame? Isr Med Assoc J. (in press).

Agmon-Levin N, Zafrir Y, Kivity S, Balofsky A, Amital H, Shoenfeld Y. Chronic fatigue syndrome and fibromyalgia following immunization with the hepatitis B vaccine: another angle of the 'autoimmune (auto-inflammatory) syndrome induced by adjuvants' (ASIA). Immunol Res. 2014;60:376–83.

Voigt K, Nagel A, Meyer B, Langs G, Braukhaus C, Löwe B. Toward positive diagnosis criteria: a systemic review of somatoform disorder diagnoses and suggestions for future classification. J Psycosom Res. 2010;68:403–14.

Shoenfeld Y, Agmon-Levin N. 'ASIA': autoimmune/inflammatory syndrome induced by adjuvants. J Autoimmun. 2011;36:4–8.

Colafrancesco S, Perricone C, Priori R, Valesini G, Shoenfeld Y. Sjögren's syndrome: another facet of the autoimmune/inflammatory syndrome induced by adjuvants (ASIA). J Autoimmun. 2014;51:10–6.

Poddighe D, Castelli L, Marseglia GL, Bruni P. A sudden onset of pseudo-neurological syndrome after HPV-16/18 AS04-ajuvanted vaccine: might it be an autoimmune/inflammatory syndrome induced by adjuvants (ASIA) presenting as a somatoform disorder? Immunol Res. 2014;60:236–46.

Agmon-Levin N, Arango MT, Kivity S, Katzav A, Gilburd B, Blank M, et al. Immunization with hepatitis B vaccine accelerates SLE-like disease in murine model. J Autoimmun. 2014;54:21–32.

Papadopoulos AS, Cleare AJ. Hypothalamic–pituitary–adrenal axis dysfunction in chronic fatigue syndrome. Nat Rev Endocrinol. 2011;8:22–32.

Tanriverdi F, Karaca Z, Unluhizarci K, Kelestimur F. The hypothalamo-pituitary-adrenal axis in chronic fatigue syndrome and fibromyalgia syndrome. Stress. 2007;10:13–25.
Acknowledgments
We thank Professors Kensuke Joh and Prof. Yehuda Shoenfeld for their encouragement. We also appreciate Dr. Yoshiteru Aida and Mr. Tatsushi Ohsawa for their contribution to this research.
Ethics declarations
Conflict of interest
Osamu Hotta, Ayaki Tanaka, Akira Torigoe, Kazuaki Imai, and Norio Ieiri declare that they have no conflict of interest in this work.
About this article
Cite this article
Hotta, O., Tanaka, A., Torigoe, A. et al. Involvement of chronic epipharyngitis in autoimmune (auto-inflammatory) syndrome induced by adjuvants (ASIA). Immunol Res 65, 66–71 (2017). https://doi.org/10.1007/s12026-016-8859-x
Published:

Issue Date:

DOI: https://doi.org/10.1007/s12026-016-8859-x
Keywords