Abstract
We have examined the neurotoxicity of aluminum in humans and animals under various conditions, following different routes of administration, and provide an overview of the various associated disease states. The literature demonstrates clearly negative impacts of aluminum on the nervous system across the age span. In adults, aluminum exposure can lead to apparently age-related neurological deficits resembling Alzheimer's and has been linked to this disease and to the Guamanian variant, ALS–PDC. Similar outcomes have been found in animal models. In addition, injection of aluminum adjuvants in an attempt to model Gulf War syndrome and associated neurological deficits leads to an ALS phenotype in young male mice. In young children, a highly significant correlation exists between the number of pediatric aluminum-adjuvanted vaccines administered and the rate of autism spectrum disorders. Many of the features of aluminum-induced neurotoxicity may arise, in part, from autoimmune reactions, as part of the ASIA syndrome.
Access options
Buy single article
Instant access to the full article PDF.
USD 39.95
Price excludes VAT (USA)
Tax calculation will be finalised during checkout.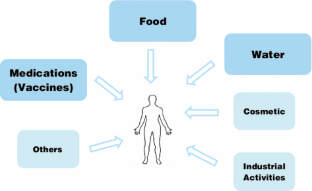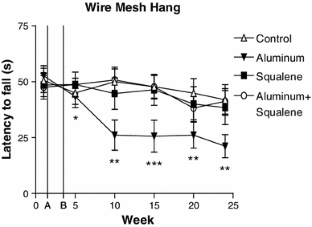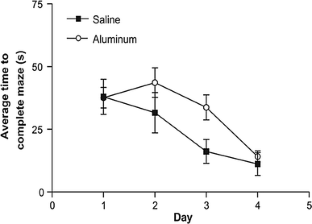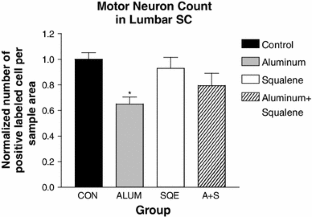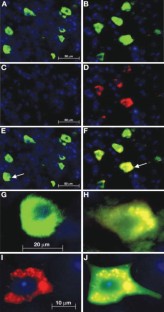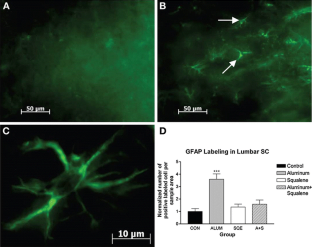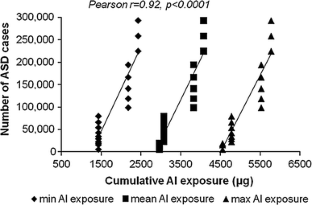 References
Exley C. Aluminium and medicine. In: Merce ALR, Felcman J, Recio MAL, editors. Molecular and supramolecular bioinorganic chemistry: applications in medical sciences. New York: Nova Biomedical Books; 2009. p. 45–68.

Carson BL (2000) Aluminum compounds. Review of toxicological literature, Abridged Final Report: 84 p. Integrated Laboratory Systems, Research Triangle Park, North Carolina. http://ntp.niehs.nih.gov/ntp/htdocs/Chem_Background/ExSumpdf/Aluminum.pdf.

Exley C, Korchazhkina O, Job D, Strekopytov S, Polwart A, Crome P. Non-invasive therapy to reduce the body burden of aluminium in Alzheimer's disease. J Alzheimers Dis. 2006; 10(1): 17–24; discussion 29-31.

Exley C, House E. Aluminium in the human brain. Monatsh Chem. 2011;142:357–63.

Guillard O, Fauconneau B, Olichon D, Dedieu G, Deloncle R. Hyperaluminemia in a woman using an aluminum-containing antiperspirant for 4 years. Am J Med. 2004;117(12):956–9.

Lopes MM, Caldas LQA. Young children with autism spectrum disorders: can aluminium body burden cause metabolism disruption? Toxicol Lett. 2011;205S:S60–179.

Walton JR. Aluminum in hippocampal neurons from humans with Alzheimer's disease. Neurotoxicol. 2006;27(3):385–94.

Gies WJ. Some objections to the use of alum baking-powder. JAMA. 1911;57(10):816–21.

Tomljenovic L. Aluminum and alzheimer's disease: after a century of controversy, is there a plausible link? J Alzheimers Dis. 2011;23(4):567–98.

Exley C. Reflections upon and recent insight into the mechanism of formation of hydroxyaluminosilicates and the therapeutic potential of silicic acid. Coord Chem Rev. 2011;256(1–2):82–8.

ATSDR (2008) Toxicological profile for aluminum. Agency for toxic substances and disease registry, Atlanta, GA, pp. 357, http://www.atsdr.cdc.gov/toxprofiles/tp22.html, Last.

Walton JR, Wang MX. APP expression, distribution and accumulation are altered by aluminum in a rodent model for Alzheimer's disease. J Inorg Biochem. 2009;103(11):1548–54.

Burrell SA, Exley C. There is (still) too much aluminium in infant formulas. BMC Pediatr. 2010;10:63.

Rogers MA, Simon DG. A preliminary study of dietary aluminium intake and risk of Alzheimer's disease. Age Ageing. 1999;28(2):205–9.

Exley C. Aluminum in antiperspirants: more than just skin deep. Am J Med. 2004;117(12):969–70.

Pivnick EK, Kerr NC, Kaufman RA, Jones DP, Chesney RW. Rickets secondary to phosphate depletion. A sequela of antacid use in infancy. Clin Pediatr (Phila). 1995;34(2):73–8.

Dorea JG, Marques RC. Infants' exposure to aluminum from vaccines and breast milk during the first 6 months. J Exp Sci Environ Epidemiol. 2010;20(7):598–601.

Tomljenovic L, Shaw CA. Do aluminum vaccine adjuvants contribute to the rising prevalence of autism? J Inorganic Biochem. 2011;105(11):1489–99.

Tomljenovic L, Shaw CA. Aluminum vaccine adjuvants: are they safe? Curr Medl Chem. 2011;18(17):2630–7.

Israeli E, Agmon-Levin N, Blank M, Shoenfeld Y. Adjuvants and autoimmunity. Lupus. 2009;18(13):1217–25.

Glenney AT, Pope CG, Waddington H, Wallace U. XXIII—the antigenic value of toxoid precipitated by potassium alum. J Pathol Bacteriol. 1926;29:38–9.

Authier FJ, Cherin P, Creange A, Bonnotte B, Ferrer X, Abdelmoumni A, Ranoux D, Pelletier J, Figarella-Branger D, Granel B, Maisonobe T, Coquet M, Degos JD, Gherardi RK. Central nervous system disease in patients with macrophagic myofasciitis. Brain. 2001;124(5):974–83.

Shaw CA, Höglinger GU. Neurodegenerative Diseases: neurotoxins as sufficient etiologic agents? J Neuromolec Med. 2008;10(1):1–9.

Kurland LT. Amyotrophic lateral sclerosis and Parkinson's disease complex on Guam linked to an environmental neurotoxin. Trends Neurosci. 1988;11(2):51–4.

Garruto RM, Swyt C, Fiori CE, Yanagihara R, Gadjusek DC. Intraneuronal deposition of calcium and aluminum in amyotrophic lateral sclerosis of Guam. Lancet. 1985;326:1353.

Shoenfeld Y, Agmon-Levin N. 'ASIA'-Autoimmune/inflammatory syndrome induced by adjuvants. J Autoimmun. 2011;36(1):4–8.

Agmon-Levin N, Hughes G, Shoenfeld Y. The spectrum of ASIA: 'Autoimmune (Auto-inflammatory) Syndrome induced by adjuvants'. Lupus. 2012;21(2):118–20.

Fukuda K, Nisenbaum R, Stewart G. Chronic multisymptom illness affecting Air Force veterans of the Gulf War. JAMA. 1998;280:981–8.

Haley RW, Kurt TL, Hom J. Is there a Gulf War Syndrome? Searching for syndromes by factor analysis of symptoms. JAMA. 1997;277:215–22.

Fulco CE, Liverman CT, Sox HC. Gulf War and health: volume 1. Depleted uranium, pyridostigmine, bromide, sarin, and vaccines. Institute of Medicine. National Academy Press, 2000, p. 89–168.

Shawky S. Depleted uranium: an overview of its properties and health effects. East Mediterr Health J. 2002;8:432–9.

Kalra R, Singh SP, Razani-Boroujerdi S. Subclinical doses of the nerve gas sarin impair T cell responses through the autonomic nervous system. Toxicol Appl Pharmacol. 2002;184:82–7.

Sartin JS. Gulf War illnesses: causes and controversies. Mayo Clin Proc. 2000;75:811–9.

Abou-Donia MB, Wilmarth KR, Jensen KF, Oehme FW, Kurt TL. Neurotoxicity resulting from co-exposure to pyridostigmine bromide, deet, and permethrin: implications of Gulf War chemical exposures. J Toxicol Environ Health. 1996;48:35–56.

Kurt TL. Epidemiological association in US veterans between Gulf War illness and exposures to anticholinesterases. Toxicol Lett. 1998;102–103:523–6.

Hotopf M, David A, Hull L, Ismail K, Unwin C, Wessely S. Role of vaccinations as risk factors for ill health in veterans of the Gulf war: cross sectional study. BMJ. 2000;320:1363–7.

Ferguson E, Cassaday HJ. Theoretical accounts of Gulf War Syndrome: from environmental toxins to psychoneuroimmunology and neurodegeneration. Behav Neurol Behav Neurol. 2001;13:133–47.

Nicolson GL, Nasralla MY, Haier J, Pomfret J. High frequency of systemic mycoplasmal infections in Gulf War veterans and civilians with Amyotrophic Lateral Sclerosis (ALS). J Clin Neurosci. 2002;9(525–529):131.

Taylor DN, Sanchez JL, Smoak BL, DeFraites R. Helicobacter pylori infection in Desert Storm troops. Clin Infect Dis. 1997;25:979–82.

Nass M. Anthrax vaccine. Model of a response to the biologic warfare threat. Infect Dis Clin North Am. 1999;13:VIII187–208.

Unwin C, Blatchley N, Coker W. Health of UK servicemen who served in the Persian Gulf War. Lancet. 1999;353:169–78.

Salamon R, Verret C, Jutand MA. Health consequences of the first Persian Gulf War on French troops. Int J Epidemiol. 2006;35:479–87.

Petrik MS, Wong MC, Tabata RC, Garry RF, Shaw CA. Aluminum adjuvant linked to Gulf War illness induces motor neuron death in mice. J Neuromolec Med. 2007;9(1):83–100.

Shaw CA, Petrik MS. Aluminum hydroxide injections lead to motor deficits and motor neuron degeneration. J Inorg Biochem. 2009;103(11):1555–62.

Luján L, Pérez M, Salazar E, Gimeno M, Pinczowski P, Irusta S, Santamaria J, Fantova E, Vila M, Gracia Chapulle, JL (2012) An ovine neurodegenerative syndrome associated to repetitive vaccine administration. 8th international autoimmunity congress. Granada, Spain.

Gherardi R, Authier FJ. Macrophagic myofasciitis: characterization and pathophysiology. Lupus. 2012;21(2):184–9.

Gherardi RK, Coquet M, Cherin P, Belec L, Moretto P, Dreyfus PA, Pellissier JF, Chariot P, Authier FJ. Macrophagic myofasciitis lesions assess long-term persistence of vaccine-derived aluminium hydroxide in muscle. Brain. 2001;124(Pt 9):1821–31.

Perl DP, Brody AR. Alzheimer's disease: x-ray spectrometric evidence of aluminum accumulation in neurofibrillary tangle-bearing neurons. Science. 1980;208(4441):297–9.

Altmann P. Aluminium induced disease in subjects with and without renal failure-does it help us understand the role of aluminium in Alzheimer's Disease? In: Exley C, editor. Aluminium and Alzheimer's Disease: The science that describes the link. Amsterdam: Elsevier Science; 2001. p. 1–37.

Alfrey AC. Dialysis encephalopathy. Kidney Int Suppl. 1986;18:S53–7.

Flendrig JA, Kruis H, Das HA. Aluminium intoxication: the cause of dialysis dementia? Proc Eur Dial Transplant Assoc. 1976;13:355–68.

Wills MR, Savory J. Water content of aluminum, dialysis dementia, and osteomalacia. Environ Health Perspect. 1985;63:141–7.

Edwardson JA, Candy JM, Ince PG, McArthur FK, Morris CM, Oakley AE, Taylor GA, Bjertness E. (1992) Aluminium accumulation, beta-amyloid deposition and neurofibrillary changes in the central nervous system. Ciba Found Symp 169: 165–179; Discussion 179-185.

Harrington CR, Wischik CM, McArthur FK, Taylor GA, Edwardson JA, Candy JM. Alzheimer's-disease-like changes in tau protein processing: association with aluminium accumulation in brains of renal dialysis patients. Lancet. 1994;343(8904):993–7.

Flaten TP. Aluminium as a risk factor in Alzheimer's disease, with emphasis on drinking water. Brain Res Bull. 2001;55(2):187–96.

McLachlan DRC, Bergeron C, Smith JE, Boomer D, Rifat SL. Risk for neuropathologically confirmed Alzheimer's disease and residual aluminum in municipal drinking water employing weighted residential histories. Neurology. 1996;46(2):401–5.

Rondeau V, Commenges D, Jacqmin-Gadda H, Dartigues JF. Relation between aluminum concentrations in drinking water and Alzheimer's disease: an 8-year follow-up study. Am J Epidemiol. 2000;152(1):59–66.

Martyn CN, Barker DJ, Osmond C, Harris EC, Edwardson JA, Lacey RF. Geographical relation between Alzheimer's disease and aluminum in drinking water. Lancet. 1989;1(8629):59–62.

Rondeau V, Jacqmin-Gadda H, Commenges D, Helmer C, Dartigues JF. Aluminum and silica in drinking water and the risk of Alzheimer's disease or cognitive decline: findings from 15-year follow-up of the PAQUID cohort. Am J Epidemiol. 2009;169(4):489–96.

Jacqmin-Gadda H, Commenges D, Letenneur L, Dartigues JF. Silica and aluminum in drinking water and cognitive impairment in the elderly. Epidemiol. 1996;7(3):281–5.

Campbell A, Becaria A, Lahiri DK, Sharman K, Bondy SC. Chronic exposure to aluminum in drinking water increases inflammatory parameters selectively in the brain. J Neurosci Res. 2004;75(4):565–72.

Walton JR. Functional impairment in aged rats chronically exposed to human range dietary aluminum equivalents. Neurotoxicol. 2009;30(2):182–93.

Platt B, Fiddler G, Riedel G, Henderson Z. Aluminium toxicity in the rat brain: histochemical and immunocytochemical evidence. Brain Res Bull. 2001;55(2):257–67.

Newschaffer CJ, Croen LA, Daniels J, Giarelli E, Grether JK, Levy SE, Mandell DS, Miller LA, Pinto-Martin J, Reaven J, Reynolds AM, Rice CE, Schendel D, Windham GC. The epidemiology of autism spectrum disorders. Annu Rev Public Health. 2007;28:235–58.

King M, Bearman P. Diagnostic change and the increased prevalence of autism. Int J Epidemiol. 2009;38(5):1224–34.

Newschaffer CJ, Falb MD, Gurney JG. National autism prevalence trends from United States special education data. Pediatrics. 2005;115(3):e277–82.

Tomljenovic L, Shaw CA. Mechanisms of aluminum adjuvant toxicity in pediatric populations. Lupus. 2012;21(2):223–30.

Dorea JG. Integrating experimental (in vitro and in vivo) neurotoxicity studies of low-dose thimerosal relevant to vaccines. Neurochem Res. 2011;36(6):927–38.

Dorea JG, Marques RC, Brandao KG. Neonate exposure to thimerosal mercury from hepatitis B vaccines. Am J Perinatol. 2009;26(7):523–7.

Bernard S, Enayati A, Redwood L, Roger H, Binstock T. Autism: a novel form of mercury poisoning. Med Hypotheses. 2001;56(4):462–71.

Geier DA, Geier MR. A meta-analysis epidemiological assessment of neurodevelopmental disorders following vaccines administered from 1994 through 2000 in the United States. Neuro Endocrinol Lett. 2006;27(4):401–13.

Young HA, Geier DA, Geier MR. Thimerosal exposure in infants and neurodevelopmental disorders: an assessment of computerized medical records in the Vaccine Safety Datalink. J Neurol Sci. 2008;271(1–2):110–8.

Hewitson L, Houser LA, Stott C, Sackett G, Tomko JL, Atwood D, Blue L, White ER. Delayed acquisition of neonatal reflexes in newborn primates receiving a thimerosal-containing hepatitis B vaccine: influence of gestational age and birth weight. J Toxicol Environ Health A. 2010;73(19):1298–313.

Gallagher CM, Goodman MS. Hepatitis B vaccination of male neonates and autism diagnosis, NHIS 1997–2002. J Toxicol Environ Health A. 2010;73(24):1665–77.

Baylor NW, Egan W, Richman P. Aluminum salts in vaccines-US perspective. Vaccine. 2002;20(Suppl 3):S18–23.

Rhawn J (1996) Normal and abnormal amygdala development, neuropsychiatry, neuropsychology, and clinical neuroscience. Lippincott Williams & Wilkins.

Gunnar MR, Brodersen L, Krueger K, Rigatuso J. Dampening of adrenocortical responses during infancy: normative changes and individual differences. Child Dev. 1996;67(3):877–89.

Balaban-Gil K, Tuchman R. Epilepsy and epileptiform EEG: association with autism and language disorders. Ment Retard Dev Disabil Res Rev. 2000;6(4):300–8.

Polimeni MA, Richdale AL, Francis AJ. A survey of sleep problems in autism, Asperger's disorder and typically developing children. J Intellect Disabil Res. 2005;49(Pt 4):260–8.

Porges SW. The vagus: a mediator of behavioral and physiologic features associated with autism. In: Bauman ML, Kemper TL, editors. The Neurobiology of Autism Baltimore. Maryland: The Johns Hopkins University Press; 2005. p. 65–78.

Hill AB. The environment and disease: association or causation? Proc R Soc Med. 1965;58:295–300.

Eickhoff TC, Myers M. Workshop summary. Aluminum in vaccines. Vaccine. 2002;20(Suppl 3):S1–4.

Couette M, Boisse MF, Maison P, Brugieres P, Cesaro P, Chevalier X, Gherardi RK, Bachoud-Levi AC, Authier FJ. Long-term persistence of vaccine-derived aluminum hydroxide is associated with chronic cognitive dysfunction. J Inorg Biochem. 2009;103(11):1571–8.

Exley C, Swarbrick L, Gherardi RK, Authier FJ. A role for the body burden of aluminium in vaccine-associated macrophagic myofasciitis and chronic fatigue syndrome. Med Hypotheses. 2009;72(2):135–9.

Zafrir Y, Agmon-Levin N, Paz Z, Shilton T, Shoenfeld Y. Autoimmunity following Hepatitis B vaccine as part of the spectrum of 'Autoimmune (Auto-inflammatory) Syndrome induced by Adjuvants' (ASIA): analysis of 93 cases. Lupus. 2012;21(2):146–52.

Redhead K, Quinlan GJ, Das RG, Gutteridge JM. Aluminium-adjuvanted vaccines transiently increase aluminium levels in murine brain tissue. Pharmacol Toxicol. 1992;70(4):278–80.

Offit PA, Jew RK. Addressing parents' concerns: do vaccines contain harmful preservatives, adjuvants, additives, or residuals? Pediatrics. 2003;112(6 Pt 1):1394–7.

Yokel RA, Hicks CL, Florence RL. Aluminum bioavailability from basic sodium aluminum phosphate, an approved food additive emulsifying agent, incorporated in cheese. Food Chem Toxicol. 2008;46(6):2261–6.

Yokel RA, McNamara PJ. Aluminium toxicokinetics: an updated minireview. Pharmacol Toxicol. 2001;88(4):159–67.

Dillon SB, Demuth SG, Schneider MA, Weston CB, Jones CS, Young JF, Scott M, Bhatnaghar PK, LoCastro S, Hanna N. Induction of protective class I MHC-restricted CTL in mice by a recombinant influenza vaccine in aluminium hydroxide adjuvant. Vaccine. 1992;10(5):309–18.

Seubert A, Monaci E, Pizza M, O'Hagan DT, Wack A. The adjuvants aluminum hydroxide and MF59 induce monocyte and granulocyte chemoattractants and enhance monocyte differentiation toward dendritic cells. J Immunol. 2008;180(8):5402–12.

Quiroz-Rothe EP, Ginel PJ, Pérez J, Lucena R, Rivero JLL. Vaccine-associated acute polyneuropathy resembling Guillain-Barré syndrome in a dog. EJCAP. 2005;15(2):155–9.

Batista-Duharte A, Lindblad EB, Oviedo-Orta E. Progress in understanding adjuvant immunotoxicity mechanisms. Toxicol Lett. 2011;203(2):97–105.

Rose NR. Autoimmunity, infection and adjuvants. Lupus. 2010;19(4):354–8.

Vojdani A, Campbell AW, Anyanwu E, Kashanian A, Bock K, Vojdani E. Antibodies to neuron-specific antigens in children with autism: possible cross-reaction with encephalitogenic proteins from milk, Chlamydia pneumoniae and Streptococcus group A. J Neuroimmunol. 2002;129(1–2):168–77.

Banks WA, Kastin AJ. Aluminum-induced neurotoxicity: alterations in membrane function at the blood-brain barrier. Neurosci Biobehav Rev. 1989;13(1):47–53.

Zheng W. Neurotoxicology of the brain barrier system: new implications. J Toxicol Clin Toxicol. 2001;39(7):711–9.

Yokel RA. Blood-brain barrier flux of aluminum, manganese, iron and other metals suspected to contribute to metal-induced neurodegeneration. J Alzheimers Dis. 2006;10(2–3):223–53.

Prat AK, Biernacki K, Wosik K, Antel JP. Glial cell influence on the human blood–brain barrier. Glia. 2001;36:145–55.

Aydin H, Ozgul E, Agildere AM. Acute necrotizing encephalopathy secondary to diphtheria, tetanus toxoid and whole-cell pertussis vaccination:diffusion-weighted imaging and proton MR spectroscopy findings. Pediatr Radiol. 2010;40:1281–4.

Hogenesch H, Azcona-Olivera J, Scott-Moncrieff C, Snyder PW, Glickman LT. Vaccine-induced autoimmunity in the dog. Adv Vet Med. 1999;41:733–47.

Shoenfeld Y, Aron-Maor A. Vaccination and autoimmunity-'vaccinosis': a dangerous liaison?". J Autoimmun. 2000;14(1):1–10.

Passeri E, Villa C, Maryline C, Itti E, Brugieres P, Cesaro P, Gherardi RK, Bachoud-Levi A-C. Authier F-J (2011) Long-term follow-up of cognitive dysfunction in patients with aluminum hydroxide-induced macrophagic myofasciitis (MMF). J Inorg Biochem. 2011;105(11):1457–63.
Acknowledgments
The authors thank the Dwoskin Family Foundation and the Katlyn Fox Foundation for support. The authors also thank Yongling Li for technical assistance.
About this article
Cite this article
Shaw, C.A., Tomljenovic, L. Aluminum in the central nervous system (CNS): toxicity in humans and animals, vaccine adjuvants, and autoimmunity. Immunol Res 56, 304–316 (2013). https://doi.org/10.1007/s12026-013-8403-1
Published:

Issue Date:

DOI: https://doi.org/10.1007/s12026-013-8403-1
Keywords
Autism

ALS

Alzheimer's

Neurodegeneration

Immune response