Abstract
Greenish-blue discoloration of the brain and heart was observed during the autopsy of a 63-year-old woman who had been treated with methylene blue for septic shock following a traffic accident. This "pistachio" or "avatar" discoloration occurs when the colorless metabolite leucomethylene blue is oxidized to methylene blue upon exposure to atmospheric oxygen. Other clinically documented adverse effects of methylene blue include greenish-blue urine and bluish discoloration of the skin and mucosa. In medicine, methylene blue is an inhibitor of nitric oxide synthase and guanylate cyclase with different clinical applications, namely, rapid reversal of circulatory shock that is refractory to fluid administration, inotropic agents, and vasoconstrictors. Postmortem differential diagnosis with putrefaction and hydrogen sulfide poisoning should be made, and forensic pathologists should be aware of methylene blue-related greenish-blue discoloration to avoid unnecessary workup and investigations.
This is a preview of subscription content, log in to check access.
Access options
Buy single article
Instant access to the full article PDF.
US$ 39.95
Price includes VAT for USA
Subscribe to journal
Immediate online access to all issues from 2019. Subscription will auto renew annually.
US$ 99
This is the net price. Taxes to be calculated in checkout.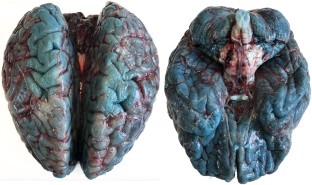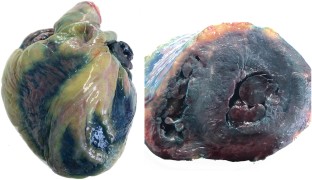 References
1.

Ginimuge PR, Jyothi SD. Methylene blue: revisited. J Anaesthesiol Clin Pharmacol. 2010;26:517–20.

2.

Mayer B, Brunner F, Schmidt K. Inhibition of nitric oxide synthesis by methylene blue. Biochem Pharmacol. 1993;45:367–74.

3.

Snuderl M, Wirth D, Sheth SA, Bourne SK, Kwon CS, Ancukiewicz M, et al. Dye-enhanced multimodal confocal imaging as a novel approach to intraoperative diagnosis of brain tumors. Brain Pathol. 2013;23:73–81.

4.

Miclescu A, Sharma HS, Martijn C, Wiklund L. Methylene blue protects the cortical blood-brain barrier against ischemia/reperfusion-induced disruptions. Crit Care Med. 2010;38:2199–206.

5.

Gura T. Hope in Alzheimer's fight emerges from unexpected places. Nat Med. 2008;14:894.

6.

Sontag EM, Lotz GP, Agrawal N, Tran A, Aron R, Yang G, et al. Methylene blue modulates huntingtin aggregation intermediates and is protective in Huntington's disease models. J Neurosci. 2012;32:11109–19.

7.

Osterwald A, Scholz J, Gehl A, Püschel K. Differential diagnosis: blue gastric mucosa. Post-mortem staining of the gastric mucosa with methylene blue. Arch Kriminol. 2012;230:35–41.

8.

Lummus S, Kleinschmidt-Demasters BK. Methylene blue "avatar" brain. J Neuropathol Exp Neurol. 2013;72:263–5.

9.

Prayson RA, Douglas EA. Pistachio green brain discolouration associated with methylene blue use: an autopsy series. Pathology. 2010;42:681–3.

10.

DiSanto AR, Wagner JG. Pharmacokinetics of highly ionized drugs. II. Methylene blue—absorption, metabolism, and excretion in man and dog after oral administration. J Pharm Sci. 1972;61:1086–90.

11.

Tan CD, Rodriguez ER. Blue dye, green heart. Cardiovasc Pathol. 2010;19:125–6.

12.

Szymanski LJ, Hurth K. "pistachio" and "avatar" green-blue discoloration of the brain. Ac Forensic Pathol. 2016;6:150–2.

13.

Warth A, Goeppert B, Bopp C, Schirmacher P, Flechtenmacher C, Burhenne J. Turquoise to dark green organs at autopsy. Virchows Arch. 2009;454:341–4.

14.

Dumbarton TC, Gorman SK, Minor S, Loubani O, White F, Green R. Local cutaneous necrosis secondary to a prolonged peripheral infusion of methylene blue in vasodilatory shock. Ann Pharmacother. 2012;46:e6.

15.

Gillman PK. Methylene blue implicated in potentially fatal serotonin toxicity. Anaesthesia. 2006;61:1013–4.

16.

Dinis-Oliveira RJ, Carvalho F, Magalhães T, Santos A. Postmortem changes in carbon monoxide poisoning. Clin Toxicol (Phila). 2010;48:762–3.

17.

Valente-Aguiar MS, Magalhães T, Dinis-Oliveira RJ. Suicide by inhalation of carbon monoxide of car exhausts fumes. Curr Drug Res Rev. 2019;11:145–7.

18.

Lansdown AB. Critical observations on the neurotoxicity of silver. Crit Rev Toxicol. 2007;37:237–50.

19.

Merchant F, Carpenter T. Blue-gray discoloration of the skin. Am Fam Physician. 2011;84:821–2.

20.

Murphy RP, Canavan M. Skin discoloration from amiodarone. N Engl J Med. 2020;382:e5.

21.

Hugar SB, Shulman J, Yanta J, Nine J. Ochronosis presenting as methemoglobinemia. J Forensic Sci. 2019;64:913–6.

22.

Durão C, Pedrosa F, Dinis-Oliveira RJ. A fatal case by a suicide kit containing sodium nitrite ordered on the internet. J Forensic Legal Med. 2020;73:101989.

23.

Piraccini BM, Alessandrini A. Drug-related nail disease. Clin Dermatol. 2013;31:618–26.

24.

Dinis-Oliveira RJ, Carvalho F, Moreira R, Proença JB, Santos A, Duarte JA, et al. Clinical and forensic signs related to chemical burns: a mechanistic approach. Burns. 2015;41:658–79.

25.

Christia-Lotter A, Bartoli C, Piercecchi-Marti MD, Demory D, Pelissier-Alicot AL, Sanvoisin A, et al. Fatal occupational inhalation of hydrogen sulfide. Forensic Sci Int. 2007;169:206–9.

26.

Sams RN, Carver HW 2nd, Catanese C, Gilson T. Suicide with hydrogen sulfide. Am J Forensic Med Pathol. 2013;34:81–2.

27.

Knight LD, Presnell SE. Death by sewer gas: case report of a double fatality and review of the literature. Am J Forensic Med Pathol. 2005;26:181–5.
Funding
The authors have no relevant affiliations or financial involvement with any organization or entity with a financial interest in or financial conflict with the subject matter or materials discussed in the manuscript. This includes employment, consultancies, honoraria, stock ownership or options, expert testimony, grants or patents received or pending, and royalties.
Ethics declarations
Conflict of interests
The authors declare that they have no conflict of interest. No writing assistance was used in the production of this manuscript.
Ethical approval
All procedures were performed according to the ethical and legal standards of the institution.
Informed consent
Not applicable.
Additional information
Publisher's note
Springer Nature remains neutral with regard to jurisdictional claims in published maps and institutional affiliations.
About this article
Cite this article
Durão, C., Pedrosa, F. & Dinis-Oliveira, R.J. Greenish-blue discoloration of the brain and heart after treatment with methylene blue. Forensic Sci Med Pathol (2020). https://doi.org/10.1007/s12024-020-00316-2
Keywords
Methylene blue

Greenish-blue discoloration

Heart

Brain

Forensic autopsy