Abstract
The morphological findings of a sheep deliberately killed with a powder fire extinguisher in an act of cruelty are described. The animal was orally insufflated with the powder of a 6 kg fire extinguisher having the working pressure of 15 bar. This led to rupture of the esophagus and rumen, followed by rupturing of the abdominal wall. Furthermore, powder was applied rectally into the large intestine and vaginally into the genital tract. For a better understanding of the lesion patterns and of the course of events, fire extinguishers were used in an experimental case reconstruction study on sheep carcasses. Rupture of the rumen and abdominal wall could only be reproduced after intraesophageal insufflation but not after oral insufflation. Therefore, an esophageal application has to be considered in the killed sheep. Esophageal rupture in sheep carcasses could not be reproduced by oral or by esophageal application of the fire extinguisher. Nevertheless, in isolated fresh ovine esophagi, compressed air of less than 1 bar was sufficient to induce tissue separation in the esophageal wall. The described case reveals parallels with findings in rarely reported accidents with or in suicides committed with chemical fire extinguishers.
This is a preview of subscription content, log in to check access.
Access options
Buy single article
Instant access to the full article PDF.
US$ 39.95
Tax calculation will be finalised during checkout.
Subscribe to journal
Immediate online access to all issues from 2019. Subscription will auto renew annually.
US$ 99
Tax calculation will be finalised during checkout.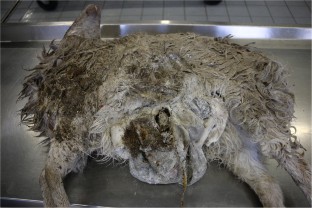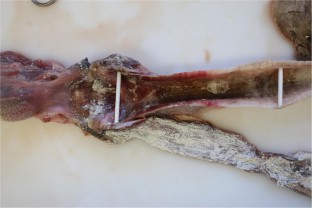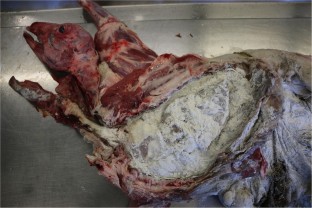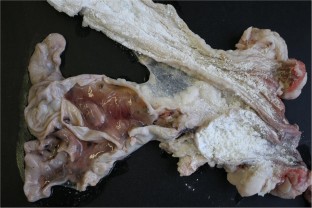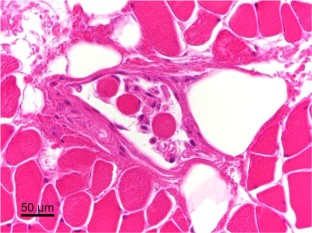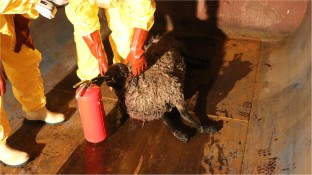 References
1.

Blumenthal R, Hänert-van der Zee B. A fire extinguisher death The Macklin effect. Am J Forensic Med Pathol. 2018;39:103–5.

2.

Tumram NK, Ambade VN, Dixit PG. Fatality during servicing on fire extinguisher. J Forensic Sci. 2018;63:318–20.

3.

Dirnhofer R, Sigrist T. Außergewöhnlicher Suicid eines Arztes. Z Rechtsmed. 1978;1:227–35.

4.

Morita S, Iizuka S, Shibata M, Isotoshi Y, Sadaki I. Respiratory failure by inhalation of a fire extinguisher. J Trauma. 2005;59:502.

5.

Kojidi HM, Taramsari MR, Badsar A, Attarchi M. Suicide by fire extinguisher powder ingestion: a case report. Acta Med Iran. 2017;55:348–51.

6.

Doyon S, McGrath JM. Hyperphosphatemia and cardiac arrest following inhalation of a dry chemical extinguisher. J Toxicol Clin Toxicol. 2003;41:609–40.

7.

Lin CJ, Chen HH, Chang KS, Hsu CY, Chen YC, Wu CJ. The case: metabolic disarray after fire extinguisher powder ingestion. Kidney Int. 2009;75:993–4.

8.

Senthilkumaran S, Meenakshisundaram R, Balamurgan N, SathyaPrabhu K, Karthikeyan V. Thirumalaikolundusubramanian P. Fire extinguisher: an imminent threat or an eminent danger? Am J Emerg Med. 2012:30–515.

9.

Suzuki T, Takahashi H, Umetsu K. Unusual aspirations in fire death. Forensic Sci Int. 1995;72:71–6.

10.

Cole DS, Burcher SK. Accidental pneumatic rupture of oesophagus and stomach. Lancet. 1961;1:24–5.

11.

Remmele W. Verdauungstrakt. In: Remmele W, editor. Pathologie Vol 2. 2nd ed. Berlin: Springer; 1996. pp. 105.

12.

Chan KW. Pulmonary skeletal muscle embolism. Pathol. 1985;17:537–9.

13.

McHenry MM, Lee J. Skeletal muscle coronary embolism: A complication of coronary angiography. Circulation. 1979;59:189–91.
Acknowledgements
The authors thank Dr. T. Kirschner for supporting the reconstruction studies with sheep carcasses at the rendering plant. We thank SARIA A/S GmbH & Co. KG, SecAnim for providing us with the carcasses and J. Peters for taking the photos at the rendering plant. Thanks to Frances Sherwood-Brock (English Editorial Office of the University of Veterinary Medicine Hannover) and Dr. Tim Baltes for editorial help.
Special thanks to Dr. R. Zweihoff (Institut für Rechtmedizin, Dortmund, Germany) for critical reading of the manuscript.
Ethics declarations
Conflict of interest
The authors declare no potential conflicts of interest with respect to the research, authorship and/or publication of this article.
Both authors contributed to the study concept and design. The reconstruction studies were performed without exception on carcasses of dead sheep.
Statement on the welfare of animals
Reconstruction studies were exclusively performed on animal carcasses. There were no animal welfare conflicts according to the Local Animal Welfare Officer.
Both authors approved the final manuscript before submission.
Additional information
Publisher's note
Springer Nature remains neutral with regard to jurisdictional claims in published maps and institutional affiliations.
About this article
Cite this article
Peters, M., Wohlsein, P. The deliberate killing of a sheep with a fire extinguisher: a case report and experimental reconstruction study. Forensic Sci Med Pathol 16, 259–264 (2020). https://doi.org/10.1007/s12024-020-00245-0
Accepted:

Published:

Issue Date:
Keywords
Fire extinguisher

Sheep

Deliberate killing - animal welfare