Abstract
Blunt renal artery injury (BRAI) is a rare finding with incidence ranging from 0.05% to 0.08% among blunt abdominal trauma patients. BRAI occurs in 1% to 4% of patients with renal injury, and the most common cause is motor vehicle accidents. An unusual case of BRAI in a 47-year-old man at work is reported. The victim accidentally fell from a scaffold (approximately 3 m in height). He was transported to the hospital where he was intubated, but he died after 30 min despite the cardio-pulmonary resuscitation. Surveillance cameras showed the man falling from the scaffold, but his impact with the ground was not captured. At autopsy, except for an oval bruise on the left hypochondrium, no external injury was found. The same mark was noticed on the shirt worn by the victim. Bilateral ribs fractures were found. The abdominal cavity was filled with 2 l of fresh blood and clots as a consequence of a complete transection of the left renal artery. Investigation of the workplace revealed a partial footprint on the external side of the scaffold, matching shoes worn by the victim. On the ground, a metallic pedestrian gate with a 1 m high post was found placed just below the scaffold. It was concluded that the man hit the gate's post as intermediate impact after the fall, which caused the oval bruise, ribs fractures, and the rupture of the left renal artery without injury of the internal organs.
Access options
Buy single article
Instant access to the full article PDF.
US$ 39.95
Tax calculation will be finalised during checkout.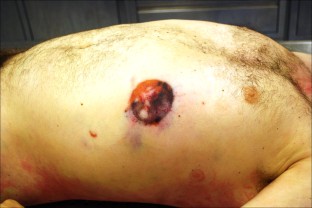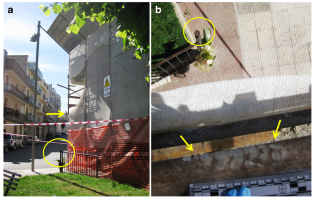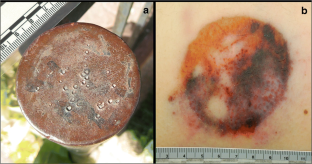 References
1.

Chow SJ, Thompson KJ, Hartman JF, Wright ML. A 10-year review of blunt renal artery injuries at an urban level I trauma Centre. Injury. 2009;40:844–50.

2.

Loffroy R, Chevallier O, Gehin S, Midulla M, Berthod PE, Galland C, et al. Endovascular management of arterial injuries after blunt or iatrogenic renal trauma. Quant Imaging Med Surg. 2017;7:434–42.

3.

Lynch TH, Martínez-Piñeiro L, Plas E, Serafetinides E, Türkeri L, Santucci RA, et al. EAU guidelines on urological trauma. Eur Urol. 2005;47:1–15.

4.

Bala M, Bloom AI, Appelbaum L, Levensart P, Rivkind AI. Early diagnosis of blunt renal artery injury and endovascular treatment. Isr Med Assoc J. 2009;11:571–2.

5.

Lim KH, Ryeom HK, Park J. Endovascular treatment of renal arterial perforation after blunt trauma: case report. Int J Surg Case Rep. 2018;42:208–11.

6.

Elliott SP, Olweny EO, McAninch JW. Renal arterial injuries: a single center analysis of management strategies and outcomes. J Urol. 2007;178:2451–5.

7.

Clements W, Moriarty HK. Blunt renal vascular trauma resulting in arterial avulsion injury with a nephron-sparing outcome. J Med Imaging Radiat Oncol. 2019. https://doi.org/10.1111/1754-9485.12907.

8.

Alonso RC, Nacenta SB, Martinez PD, Guerrero AS, Fuentes CG. Kidney in danger: CT findings of blunt and penetrating renal trauma. Radiographics. 2009;29:2033–53.

9.

Ahmed Z, Nabir S, Ahmed MN, Al Hilli S, Ravikumar V, Momin UZ. Renal artery injury secondary to blunt abdominal trauma – two case reports. Pol J Radiol. 2016;81:572–7.

10.

Tattoli L, Maselli E, Romanelli MC, Di Vella G, Solarino B. Complete cardiac rupture associated with closed chest cardiac massage: case report and review of the literature. J Forensic Sci. 2014;59:564–7.

11.

Fersini F, Govi A, Tsokos M, Etzold S, Tattoli L. Examples of tramline bruises in clinical forensic medicine. Forensic Sci Med Pathol. 2017;13:508–10.

12.

Tattoli L, Cena G, Di Vella G. An unusual work-related fatality: the importance of scene investigation combined with autopsy findings. Forensic Sci Med Pathol. 2019;15:513–5.
Ethics declarations
Conflict of interest
The authors declare that they have no conflict of interest.
Ethical approval
This article does not contain any studies with human participants or animals performed by any of the authors.
Additional information
Publisher's note
Springer Nature remains neutral with regard to jurisdictional claims in published maps and institutional affiliations.
About this article
Cite this article
Tattoli, L., Solarino, B. Patterned bruising indicating a complete renal artery transection in a fatal occupational accident. Forensic Sci Med Pathol 16, 355–358 (2020). https://doi.org/10.1007/s12024-019-00185-4
Accepted:

Published:

Issue Date:
Keywords
Patterned bruise

Blunt injury

Kidney injury

Fall

Occupational death