Abstract
The skeletal blunt force trauma resulting from fatal falls involving stairs is complex. There are countless ways an individual may fall when stairs are involved, and thus a variety of ways the skeleton may fracture. Therefore anecdotally, it may be said that there is no specific skeletal trauma characteristic of this fall type. In order to scientifically investigate this anecdotal understanding, this study provides a detailed investigation of the skeletal fracture patterns and morphologies resulting from fatal falls involving stairs. Skeletal trauma was analyzed using the full-body postmortem computed tomography scans of 57 individuals who died from a fall involving stairs. Trauma was examined in the context of the variables that potentially influence how an individual falls (i.e. sex, age, body mass index, number of stairs involved, psychoactive drugs, pre-existing conditions, landing surface and manner of the fall) using logistic regression. Skeletal trauma primarily occurred in the axial skeleton. An analysis of fracture patterns showed the cranial base was less likely to fracture in younger individuals and the cervical vertebrae were more likely to fracture in falls that involved more than half a flight of stairs. A total of 56 fracture morphologies were identified. Of these, diastatic fractures were less likely to occur in older individuals. Findings indicate that there are skeletal fracture patterns and morphologies characteristic of a fatal fall involving stairs.
Access options
Buy single article
Instant access to the full article PDF.
US$ 39.95
Tax calculation will be finalised during checkout.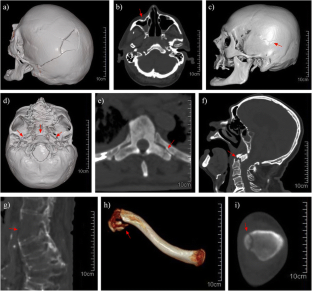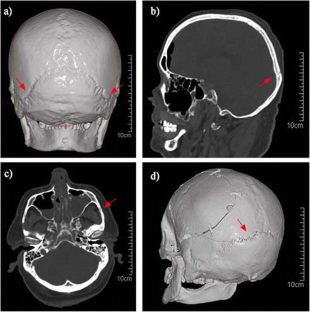 Notes
1.

cranial vault; cranial base; facial skeleton; cervical vertebrae (including hyoid bone); right clavicle, scapula, humerus, radius, ulna, carpals, metacarpals and phalanges; left clavicle, scapula, humerus, radius, ulna, carpals, metacarpals and phalanges; left ribs; right ribs; sternum; thoracic vertebrae; lumbar vertebrae; sacrum; left os coxa, femur, patella, tibia, fibula, tarsals, metatarsals and phalanges; right os coxa, femur, patella, tibia, fibula, tarsals, metatarsals and phalanges.
References
1.

Scott A. Falls on stairways - literature review. Report No. HSL/2005/10. 2005. http://www.hse.gov.uk/research/hsl_pdf/2005/hsl0510.pdf. Accessed 15 May 2017.

2.

Roys MS. Serious stair injuries can be prevented by improved stair design. Appl Ergon. 2001;32:135–9.

3.

Jackson PL, Cohen HH. An in-depth investigation of 40 stairway accidents and the stair safety literature. J Saf Res. 1995;26:151–9.

4.

Jacobs JV. A review of stairway falls and stair negotiation: lessons learned and future needs to reduce injury. Gait Posture. 2016;49:159–67.

5.

Madea B, Dettmeyer R, Musshoff F. Fall downstairs: accident, homicide or natural death? Forensic Sci Med Pathol. 2008;4:122–8.

6.

Rowbotham SK, Blau S. Skeletal fractures resulting from fatal falls: a review of the literature. Forensic Sci Int. 2016;266:582.e1–e15.

7.

Wyatt JP, Beard D, Busuttil A. Fatal falls down stairs. Injury. 1999;30:31–4.

8.

Preuß J, Padosch SA, Dettmeyer R, Driever F, Lignitz E, Madea B. Injuries in fatal cases of falls downstairs. Forensic Sci Int. 2004;141:121–6.

9.

Behera C, Rautji R, Dogra TD. Patterns of injury seen in deaths from accidental falls down a staircase: a study from South Delhi. Med Sci Law. 2009;49:127–31.

10.

Pierce MC, Bertocci GE, Janosky JE, Aguel F, Deemer E, Moreland M, et al. Femur fractures resulting from stair falls among children: an injury plausibility model. Pediatrics. 2005;115:1712–22.

11.

Pennock AT, Gantsoudes GD, Forbes JL, Asaro AM, Mubarak SJ. Stair falls: caregiver's "missed step" as a source of childhood fractures. J Child Orthop. 2014;8:77–81.

12.

Docherty E, Hassan A, Burke D. Things that go bump... bump... bump: an analysis of injuries from falling down stairs in children based at Sheffield Children's Hospital. Emerg Med J. 2010;27:207–8.

13.

Mitchell SE, Aitken SA, Court-Brown CM. The epidemiology of fractures caused by falls down stairs. ISRN Epidemiology. 2013; https://doi.org/10.5402/2013/370340.

14.

Boele van Hensbroek P, Mulder S, Luitse JSK, van Ooijen MR, Goslings JC. Staircase falls: high-risk groups and injury characteristics in 464 patients. Injury. 2009;40:884–9.

15.

O'Donnell C, Rotman A, Collett S, Woodford N. Current status of routine post-mortem CT in Melbourne, Australia. Forensic Sci Med Pathol. 2007;3:226–32.

16.

Rowbotham SK, Blau S. The circumstances and characteristics of fatal falls in Victoria, Australia: a descriptive study. Aus J Forensic Sci. 2017;49:403–20.

17.

Ozanne-Smith J, Guy J, Kelly M, Clapperton A. The relationship between slips, trips and falls and the design and construction of buildings. Monash University Accident Research Centre; 2008.

18.

Australian Building Codes Board. Building code of Australia class 1 and class 10 buildings. In: National construction code -volume 2. 2016. http://www.abcb.gov.au/Resources/Publications/NCC/NCC-2016-Volume-Two. Accessed 20 June 2017.

19.

Bux R, Parzeller M, Bratzke H. Causes and circumstances of fatal falls downstairs. Forensic Sci Int. 2007;171:122–6.

20.

Ragg M, Hwang S, Steinhart B. Analysis of serious injuries caused by stairway falls. Emerg Med. 2000;12:45–9.

21.

Wedel VL, Galloway A. Broken bones: anthropological analysis of blunt force trauma. 2nd ed. Charles C. Thomas: Springfield; 2014.

22.

Scientific Working Group of Forensic Anthropologists. Trauma analysis. 2011. http://swganth.startlogic.com. Accessed 15 Sept 2014.

23.

Buikstra J, Ubelaker D. Standards for data collection from human skeletal remains: proceedings of a seminar at the Field Museum of Natural History. Arkansas Archaeological Survey: Arkansas; 1994.

24.

Celenk C, Celenk P. Bone density measurement using computed tomography. In: Saba L, editor. Computed tomography - clinical applications. Croatia: InTech; 2012. p. 123–36.

25.

Mickey RM, Greenland S. The impact of confounder selection criteria on effect estimation. Am J Epidemiol. 1989;129:125–37.

26.

Court-Brown CM, Heckman JD, McQueen MM, Ricci WM, Tornetta P, McKee MD. Rockwood and Green's fractures in adults. 8th ed. Philadelphia: Wolters Kluwer Health; 2015.

27.

Startzell JK, Alfred Owens D, Mulfinger LM, Cavanagh PR. Stair negotiation in older people: a review. J Am Geriatr Soc. 2000;48:567–80.

28.

Kieser J. Biomechanics of bone and bony trauma. In: Kieser J, Taylor M, Carr D, editors. Forensic biomechanics. Chichester: Wiley-Blackwell; 2012. p. 36–69.

29.

Schuit SCE, van der Klift M, Weel AEAM, de Laet CEDH, Burger H, Seeman E, et al. Fracture incidence and association with bone mineral density in elderly men and women: the Rotterdam study. Bone. 2004;34:195–202.

30.

Switzer JA, Gammon SR. High-energy skeletal trauma in the elderly. J Bone Joint Surg Am. 2012;94A:2195–204.

31.

Woolcott JC, Richardson KJ, Wiens MO, Patel B, Marin J, Khan KM, et al. Meta-analysis of the impact of 9 medication classes on falls in elderly persons. Arch Intern Med. 2009;169:1952–60.

32.

Kool B, Ameratunga S, Jackson R. The role of alcohol in unintentional falls among young and middle-aged adults: a systematic review of epidemiological studies. Inj Prev. 2009;15:341–7.

33.

Friedman LS. Dose-response relationship between in-hospital mortality and alcohol following acute injury. Alcohol. 2012;46:769–75.

34.

Bartoletti A, Fabiani P, Bagnoli L, Cappelletti C, Cappellini M, Nappini G, et al. Physical injuries caused by a transient loss of consciousness: main clinical characteristics of patients and diagnostic contribution of carotid sinus massage. Eur Heart J. 2008;29:618–24.

35.

Templar J. The staircase: studies of hazards, falls and safer design. Massachusetts: MIT Press Ltd; 1992.

36.

Rowbotham SK, Blau S, Hislop-Jambrich J, Francis V. Skeletal trauma resulting from fatal low (≤ 3 m) free falls: an analysis of fracture patterns and morphologies. J Forensic Sci. 2017; https://doi.org/10.1111/1556-4029.13701.

37.

Yamamoto T, Takasu K, Emoto Y, Shikata N, Matoba R. Case report of death from falling: did heart tumor cause syncope? Int J Legal Med. 2012;126:633–6.

38.

Robinovitch SN, Normandin SC, Stotz P, Maurer JD. Time requirement for young and elderly women to move into a position for breaking a fall with outstretched hands. J Gerontol A Biol Sci Med Sci. 2005;60A:1553–7.

39.

Luetters CM, Keegan THM, Sidney S, Quesenberry CP, Prill M, Sternfeld B, et al. Risk factors for foot fracture among individuals aged 45 years and older. Osteoporos Int. 2004;15:957–63.

40.

Kremer C, Racette S, Dionne CA, Sauvageau A. Discrimination of falls and blows in blunt head trauma: systematic study of the hat brim line rule in relation to skull fractures. J Forensic Sci. 2008;53:716–9.

41.

Kremer C, Sauvageau A. Discrimination of falls and blows in blunt head trauma: assessment of predictability through combined criteria. J Forensic Sci. 2009;54:923–6.

42.

Roccia F, Boffano P, Bianchi FA, Zavattero E. Maxillofacial fractures due to falls: does fall modality determine the pattern of injury? J Oral Maxillofac Res. 2014;5:e5.

43.

Freeman MD, Eriksson A, Leith W. Head and neck injury patterns in fatal falls: epidemiologic and biomechanical considerations. J Forensic Legal Med. 2014;21:64–70.

44.

McElhaney JH, Hopper RH, Nightingale RW, Myers BS. Mechanisms of basilar skull fracture. J Neurotrauma. 1995;12:669–78.

45.

Lillie EM, Urban JE, Lynch SK, Weaver AA, Stitzel JD. Evaluation of skull cortical thickness changes with age and sex from computed tomography scans. J Bone Miner Res. 2016;31:299–307.

46.

Nightingale RW, McElhaney JH, Richardson WJ, Best TM, Myers BS. Experimental impact injury to the cervical spine: relating motion of the head and the mechanism of injury. J Bone Joint Surg Am. 1996;78A:412–21.

47.

Voight GE, Sköld G. Ring fractures of the base of the skull. J Trauma. 1974;14:494–505.

48.

DiMaio VJ, DiMaio D. Forensic pathology. 2nd ed. Boca Raton: CRC Press; 2001.

49.

Bakke HK, Dehli T, Wisborg T. Fatal injury caused by low-energy trauma – a 10-year rural cohort. Acta Anaesthesiol Scand. 2014;58:726–32.

50.

White TD, Black M, Folkens PA. Human osteology. 3rd ed. Amsterdam: Academic Press, Elsevier; 2012.

51.

Sharkey EJ, Cassidy M, Brady J, Gilchrist MD, NicDaeid N. Investigation of the force associated with the formation of lacerations and skull fractures. Int J Legal Med. 2012;126:835–44.

52.

Grossart KWM, Samuel E. Traumatic diastasis of cranial sutures. Clin Radiol. 1961;12:164–70.

53.

Hershkovitz I, Latimer B, Dutour O, Jellema LM, Wish-Baratz S, Rothschild C, et al. Why do we fail in aging the skull from the sagittal suture? Am J Phys Anthropol. 1997;103:393–9.

54.

Donato L, Cipolloni L, Ozonoff A, di Luca A. A preliminary study of the relationship between obliteration of cranial sutures and age at time of death. Biol Syst. 2016; https://doi.org/10.4172/2329-6577.1000163.

55.

Meindl RS, Lovejoy OC. Ectocranial suture closure: a revised method for the determination of skeletal age at death based on the lateral-anterior sutures. Am J Phys Anthropol. 1985;68:57–66.
Acknowledgements
The authors wish to thank the Victorian Institute of Forensic Medicine for providing access to the PMCT data; the National Coronial Information System for their assistance in attaining the relevant cases, and the manuscript reviewers for their constructive comments. Author SKR would like to acknowledge the Australian Government Research Training Program Scholarship who funded her doctoral research, for which this paper was a component.
Funding
Australian Government Research Training Program Scholarship.
Ethics declarations
Conflict of Interest
The authors declare that they have no conflict of interest.
Electronic supplementary material
About this article
Cite this article
Rowbotham, S.K., Blau, S., Hislop-Jambrich, J. et al. Fatal falls involving stairs: an anthropological analysis of skeletal trauma. Forensic Sci Med Pathol 14, 152–162 (2018). https://doi.org/10.1007/s12024-018-9964-z
Accepted:

Published:

Issue Date:
Keywords
Forensic anthropology

Forensic pathology

Fatal fall

Fall involving stairs

Skeletal trauma

Blunt force trauma

Postmortem computed tomography

Fracture pattern

Fracture morphology

Autopsy

Bone