Abstract
In this paper we present the study of a skull belonging to a young male from the Italian Bronze Age showing three perimortem injuries on the frontal and parietal bones; the peculiarity of the frontal injury is represented by its singular shape, which may be indicative of the weapon that caused the lesion. The aim of the present study is to examine the traumatic evidence in relation to possible etiological factors, in order to attempt to establish if the lesion occurred peri or post-mortem, and to evaluate if these traumatic injuries could be interpreted as an evidence of interpersonal violence, by combining anthropological, taphonomic and ESEM investigations. The combination of multidisciplinary methods of study can provide important new insights into inter-personal violence.
This is a preview of subscription content, log in to check access.
Access options
Buy single article
Instant access to the full article PDF.
US$ 39.95
Price includes VAT for USA
Subscribe to journal
Immediate online access to all issues from 2019. Subscription will auto renew annually.
US$ 99
This is the net price. Taxes to be calculated in checkout.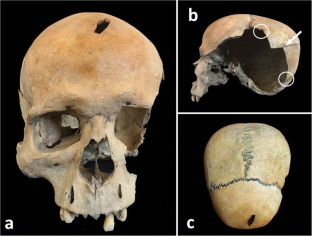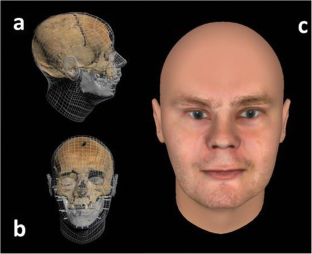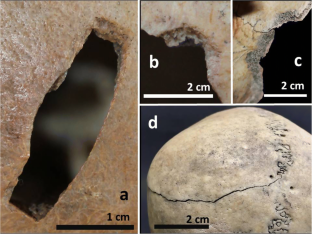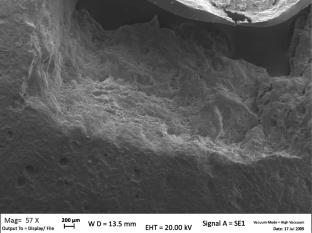 References
1.

Masotti S, Varalli A, Goude G, Moggi-Cecchi J, Gualdi-Russo E. A combined analysis of dietary habits in the Bronze Age site of Ballabio (northern Italy). Archaeol Anthropol Sci. 2017:1–19.

2.

Manzon VS, Thun Hohenstein U, Gualdi-Russo E. Injuries on a skull from the Ancient Bronze Age (Ballabio, Lecco, Italy): a natural or an anthropic origin? J Archaeol Sci. 2012;39:3428–35.

3.

Ferembach D, Schwydeski I, Stloukal M. Recommendations for age and sex diagnoses of skeletons. J Hum Evol. 1980.

4.

Buikstra JE, Ubelaker DH. Standards for data collection from human skeletal remains. Fayetteville: Arkansas Archaeological Survey Research Sereries No. 44. 1994.

5.

Krogman WM, Iscan MY. The human skeleton in forensic medicine. Springfiled: Charles C Thomas Publisher; 1986.

6.

Lovejoy CO. Dental wear in the Libben population: its functional pattern and role in the determination of adult skeletal age at death. Am J Phys Anthropol. 1985;68:47–56.

7.

Ubelaker DH. Human skeletal remains: excavation, analysis, interpretation. 2nd ed. Washington DC: Taraxacum; 1989.

8.

Brooks S, Suchey JM. Skeletal age determination based on the os pubis: a comparison of the Acsádi-Nemeskéri and Suchey-brooks methods. Hum Evol. 1990;5:227–38.

9.

Acsádi G, Nemeskéri J. History of human life span and mortality. Budapest: Akadémiai Kiadó; 1970.

10.

Sauer NJ. Manner of death: skeletal evidence of blunt and sharp instrument wounds. In: Rathbun TA, Buikstra JE, editors. Human identification: case studies in forensic anthropology. Springfield: Charles C Thomas Publisher; 1984. p. 177–84.

11.

Lovell NC. Trauma analysis in paleopathology. Yrbk Phys Anthr. 1997;40:139–70.

12.

Sauer NJ. The timing of injuries and manner of death: distinguishing among antemortem, perimortem and postmortem trauma. In: Reichs KJ, editor. Forensic osteology: advances in the identification of human remains. Springfield: Charles C Thomas Publisher; 1998. p. 321–32.

13.

Cattaneo C, Grandi M. Antropologia e odontologia forense. Guida allo studio dei resti ossei. Milano: Monduzzi; 2004.

14.

Moraitis K, Spiliopuolou C. Identification and differential diagnosis of perimortem blunt force trauma in tubular long bones. Forensic Sci Med Pathol. 2006;2:221–9.

15.

Kimmerle EH, Baraybar JP. Skeletal trauma: identification of injuries resulting from human rights abuse and armed conflict. Boca Raton: CRC Press; 2008.

16.

Pickering RB, Bachmann D. The use of forensic anthropology. 2nd ed. Boca Raton: CRC Press; 2009.

17.

Orschiedt J, Häuber A, Haidle MN, Alt KW, Buitrago-Téllez CH. Survival of a multiple skull trauma: the case of an early Neolithic individual from the LBK enclosure at Herxheim (Southwest Germany). Int J Osteoarchaeol. 2003;13:375–83.

18.

Rose JJ. A replication technique for scanning electron microscopy: applications for anthropologists. Am J Phys Anthropol. 1983;62:255–61.

19.

Shipman P. Lifehistory of a fossil: an introduction to taphonomy and palaeoecology. Cambridge: Harvard University Press; 1981.

20.

D'Errico F. Lecture technologique de l'art mobilier gravé. Nouvelles méthodes et premiers résultats sur les galets gravés de Rochedane. Anthropologie. 1988;92:101–22.

21.

Iscan MY, Helmer RP. Forensic analysis of the skull: craniofacial analysis, reconstruction, and identification. New York: Wiley; 1993.

22.

Kähler K, Haber J, Seidel HP. Reanimating the dead: reconstruction of expressive faces from skull data. ACM TOG (SIGGRAPH Conf proceedings). 2003;22:554–61.

23.

Wilkinson C. Forensic facial reconstruction. Cambridge: Cambridge University Press; 2004.

24.

Gualdi-Russo E, Zaccagni L, Russo V. Giovanni Battista Morgagni: facial reconstruction by virtual anthropology. Forensic Sci Med Pathol. 2015;11:222–7.

25.

Miranda GE, Wilkinson C, Roughley M, Beaini TL, Melani RFH. Assessment of accuracy and recognition of three-dimensional computerized forensic craniofacial reconstruction. PLoS One. 2018;13:e0196770.

26.

Barbian LT, Sledzik PS. Healing following cranial trauma. J Forensic Sci. 2008;53:263–8.

27.

Iscan MY, Steyn M. The human skeleton in forensic medicine. 3rd ed. Springfield: Charles C Thomas Publisher; 2013.

28.

Walker PL. Cranial injuries as evidence of violence in prehistoric southern California. Am J Phys Anthropol. 1989;80:313–23.

29.

Jiménez-Brobeil SA, Du Souich P, Al Oumaoui I. Possible relationship of cranial traumatic injuries with violence in the South-East Iberian Peninsula from the Neolithic to the Bronze Age. Am J Phys Anthropol. 2009;140:465–75.

30.

Lieverse AR, Pratt IV, Schulting RJ, Cooper DML, Bazaliiskii VI, Weber AW. Point taken: an unusual case of incisor agenesis and mandibular trauma in Early Bronze Age Siberia. Int J Paleopathol. 2014;6:53–9.

31.

Lefèvre T, Alvarez JC, Lorin de la Grandmaison G. Discriminating factors in fatal blunt trauma from low level falls and homicide. Forensic Sci Med Pathol. 2015;11:152–61.

32.

Schmitt A. Forensic anthropology and medicine: complementary sciences from recovery to cause of death. 1st ed. Totowa: Humana Press; 2006.

33.

Brickley M, Ferllini R. Forensic anthropology: case studies from Europe. Springfield: Charles C Thomas; 2007.

34.

Downing M, Fibiger L. An experimental investigation of sharp force skeletal trauma with replica Bronze Age weapons. J Archaeol Sci Rep. 2017;11:546–54.

35.

Lewis JE. Identifying sword marks on bone: criteria for distinguishing between cut marks made by different classes of bladed weapons. J Archaeol Sci. 2008;35:2001–8.

36.

Greenfield HJ. The origins of metallurgy: distinguishing stone from metal cut-marks on bones from archaeological sites. J Archaeol Sci. 1999;26:797–808.

37.

Smith MJ, Brickley MB, Leach SL. Experimental evidence for lithic projectile injuries: improving identification of an under-recognised phenomenon. J Archaeol Sci. 2007;34:540–53.

38.

Bertolini M, Thun Hohenstein U. Bevel-ended tools on large ungulate ribs during the Bronze Age in northern Italy: preliminary result of functional and experimental analyses. Quat Int. 2017;427:253–67.

39.

Smith MJ, James S, Pover T, Ball N, Barnetson V, Foster B, et al. Fantastic plastic? Experimental evaluation of polyurethane bone substitutes as proxies for human bone in trauma simulations. Legal Med. 2015;17:427–35.

40.

Flieger A, Kölzer SC, Plenzig S, Heinbuch S, Kettner M, Ramsthaler F, et al. Bony injuries in homicide cases (1994–2014). A retrospective study. Int J Legal Med. 2016;130:1401–8.
Acknowledgments
The authors acknowledge Rita Bovolenta, Valentina Russo and Simonetta Zonari for technical support. Thanks also to Vanessa Manzon and Letizia Fazzari for collaboration in preliminary studies.
Ethics declarations
Ethical approval
Not required.
Conflict of interest
The authors declare that they have no conflicts of interest.
About this article
Cite this article
Pasini, A., Gualdi-Russo, E., Scianò, F. et al. Violence in the Early Bronze Age. Diagnosis of skull lesions using anthropological, taphonomic and scanning electron microscopy techniques. Forensic Sci Med Pathol 15, 324–328 (2019). https://doi.org/10.1007/s12024-018-0054-z
Accepted:

Published:

Issue Date:
Keywords
Skeletal remains

Cranial injury

Interpersonal violence

Taphonomic analysis

Forensic anthropology