Ligature induced blister formation in hanging—the "pinch" effect
Case reports
Case 1
A 67-year-old man with a history of previous suicide attempts was found hanging by a natural fiber cord (5 mm in diameter) in his garage. This had been doubled and looped around his neck twice with no knot.
At autopsy the most significant findings were limited to the neck where there was a double ligature circumferentially around the neck with underlying parchmented marks rising posteriorly to a suspension point over the occiput. An usual feature was blistering between the ligature marks on the left side of the neck (Fig.
1
). Lividity was noted in the lower limbs and feet with no facial or conjunctival petechiae. There were no other injuries noted and coincidental findings included severe stenosing coronary artery atherosclerosis, myocardial fibrosis and an old depressed fracture of the skull. Toxicology revealed no alcohol or common prescription or illicit drugs. Death was due to neck compression from hanging.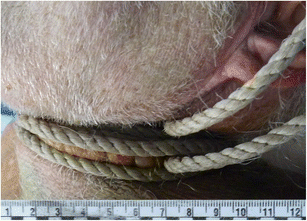 Notes
Compliance with ethical standards
Ethical approval
This article does not contain any studies with human participants performed by any of the authors. Approval to report the case was given by Forensic Science SA, Adelaide Australia.
Funding
This study was not funded.
Conflict of interest
The authors declare that they have no conflict of interest.
Copyright information
© Springer Science+Business Media New York 2017