Abstract
There is a paucity of research examining the utility of forensic toxicology in the investigation of premature external cause deaths of residents in nursing homes. The aim of this study is to describe the frequency and characteristics of toxicological analysis conducted in external cause (injury-related) deaths amongst nursing home residents in Victoria, Australia. This study was a retrospective cohort study examining external cause deaths among nursing home residents during the period July 1, 2000 to December 31, 2012 in Victoria, Australia, using the National Coronial Information System (NCIS). The variables examined comprised: sex, age group, year-of-death, cause and manner of death. One-third of deaths among nursing home residents in Victoria resulted from external causes (n = 1296, 33.3%) of which just over one-quarter (361, 27.9%) underwent toxicological analysis as part of the medical death investigation. The use of toxicological analysis varied by cause of death with a relatively low proportion conducted in deaths from unintentional falls (n = 286, 24.9%) and choking (n = 36, 40.4%). The use of toxicological analysis decreased as the decedents age increased. Forensic toxicology has the potential to contribute to improving our understanding of premature deaths in nursing home residents however it remains under used and is possibly undervalued.
Access options
Buy single article
Instant access to the full article PDF.
US$ 39.95
Tax calculation will be finalised during checkout.
Subscribe to journal
Immediate online access to all issues from 2019. Subscription will auto renew annually.
US$ 79
Tax calculation will be finalised during checkout.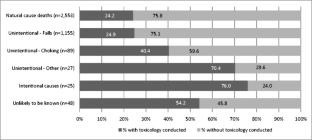 References
1.

Haddon Jr W. Energy damage and the ten countermeasure strategies. J Trauma. 1973;13(4):321–31.

2.

World Health Organization. International Statistical Classification of Diseases and Related Health Problems 10th Revision. Geneva: World Health Organization. 2010. http://apps.who.int/classifications/icd10/browse/2016/en. Accessed 1 Sep 2016.

3.

Drummer OH, Kennedy B, Bugeja L, Ibrahim JE, Ozanne-Smith J. Interpretation of postmortem forensic toxicology results for injury prevention research. Inj Prev. 2013;19:284–9.

4.

Sattin RW, Lambert Huber DA, DeVito CA, Rodriguez JG, Ros A, Bacchelli S, et al. The incidence of fall injury events among the elderly in a defined population. Am J Epidemiol. 1990;131(6):1028–37.

5.

Field TS, Gurwitz JH, Avorn J, McCormick D, Jain S, Eckler M, et al. Risk factors for adverse drug events among nursing home residents. Arch Intern Med. 2001;161(13):1629–34.

6.

Gurwitz JH, Field TS, Harrold LR, Rothschild J, Debellis K, Seger AC, et al. Incidence and preventability of adverse drug events among older persons in the ambulatory setting. JAMA. 2003;289(9):1107–16.

7.

Catlin A, Cowan C, Hartman M, Heffler S. National Health Expenditure Accounts Team. National health spending in 2006: a year of change for prescription drugs. Health Aff (Millwood). 2008;27:14–29.

8.

Hill KD, Wee R. Psychotropic drug-induced falls in older people: a review of interventions aimed at reducing the problem. Drugs Aging. 2012;29:15–30.

9.

Landi F, Onder G, Cesari M, Barillaro C, Russo A, Bernabei R, et al. Psychotropic medications and risk for falls among community-dwelling frail older people: an observational study. J Gerontol A Biol Sci Med Sci. 2005;60(5):622–6.

10.

Jyrkka J, Enlund H, Korhonen MJ, Sulkava R, Hartikainen S. Patterns of drug use and factors associated with polypharmacy and excessive polypharmacy in elderly persons: results of the Kuopio 75+ study: a cross-sectional analysis. Drugs Aging. 2009;26:493–503.

11.

Lee PG, Cigolle C, Blaum C. The co-occurrence of chronic diseases and geriatric syndromes: the health and retirement study. J Am Geriatr Soc. 2009;57:511–6.

12.

Jamsen KM, Bell JS, Hilmer SN, Kirkpatrick CM, Ilomaki J, Le Couteur D, et al. Effects of changes in number of medications and drug burden index exposure on transitions between frailty states and death: the concord health and ageing in men project cohort study. J Am Geriatr Soc. 2016;64:89–95.

13.

Kennedy B, Ibrahim JE, Bugeja L, Ranson D. Causes of death determined in medicolegal investigations in residents of nursing homes: a systematic review. J Am Geriatr Soc. 2014;62:1513–26.

14.

Ibrahim JE, Murphy BJ, Bugeja L, Ranson D. Nature and extent of external-cause deaths of nursing home residents in Victoria. Australia J Am Geriatr Soc. 2015;63:954–62.

15.

Driscoll T, Henley G, Harrison J. The National Coroners Information System as an information tool for injury surveillance. Canberra: Australian Institute of Health and Welfare. 2003. http://www.aihw.gov.au/WorkArea/DownloadAsset.aspx?id=60129553341. Accessed 28 Sep 2016.

16.

Victorian Institute of Forensic Medicine. 2014/2015 Annual Report. Melbourne, Victoria. 2015. http://www.vifm.org/wp-content/uploads/2015/10/VIFM-Annual-Report-2014-15.pdf. Accessed 28 Sep 2016.

17.

Ayoung-Chee P, McIntyre L, Ebel BE, Mack CD, McCormick W, Maier RV. Long-term outcomes of ground-level falls in the elderly. J Trauma Acute Care Surg. 2014;76:498–503.

18.

Drummer OH. Forensic toxicology. EXS. 2010;100:579–603.

19.

Curto M, Girardi N, Lionetto L, Ciavarella GM, Ferracuti S. Baldessarini RJ. Systematic review of clozapine cardiotoxicity. Curr Psychiatry Rep. 2016;18:68.

20.

Neate SL, Bugeja LC, Jelinek GA, Ding L, Ranson DL. Non-reporting of reportable deaths to the coroner: when in doubt, report. MJA. 2013;199(6):402–5.

21.

Huybrechts KF, Rothman KJ, Silliman RA, Brookhart MA, Schneeweiss S. Risk of death and hospital admission for major medical events after initiation of psychotropic medications in older adults admitted to nursing homes. CMAJ. 2011;183:E411–9.

22.

Huybrechts KF, Gerhard T, Crystal S, Olfson M, Avorn J, Levin R, et al. Differential risk of death in older residents in nursing homes prescribed specific antipsychotic drugs: population based cohort study. BMJ. 2012;344:e977.

23.

Hollis J, Forrester L, Brodaty H, Touyz S, Cumming R, Grayson D. Risk of death associated with antipsychotic drug dispensing in residential aged care facilities. Aust N Z J Psychiatry. 2007;41:751–8.

24.

Kales HC, Valenstein M, Kim HM, McCarthy JF, Ganoczy D, Cunningham F, et al. Mortality risk in patients with dementia treated with antipsychotics versus other psychiatric medications. Am J Psychiatry. 2007;164:1568–76.

25.

Lau DT, Kasper JD, Potter DE, Lyles A, Bennett RG. Hospitalization and death associated with potentially inappropriate medication prescriptions among elderly nursing home residents. Arch Intern Med. 2005;165:68–74.

26.

Bugeja L, Ibrahim JE, Ferrah N, Murphy B, Willoughby M, Ranson D. The utility of medico-legal databases for public health research: a systematic review of peer-reviewed publications using the National Coronial Information System. Health Res Policy and Syst. 2016;14:28.

27.

Byard RW. Post mortem toxicology in the elderly. Forensic Sci Med Pathol. 2013;9:254–5.
Ethics declarations
Funding
This work was supported by: Department of Health and Human Services, Aged Care Branch, Victoria, Australia; and the Department of Forensic Medicine, Monash University. None of the funders influenced the design, methods, subject recruitment, data collections, analysis and preparation of paper.
Disclosure of potential conflicts of interest
The authors declare that they have no conflict of interest. The authors are affiliated and employed by the Department of Forensic Medicine, Monash University, which is also a funding source. The views and opinions expressed in this article are those of the authors and do not necessarily reflect the official policy or position of any agency or departments of the Australian Federal Government, the State Government of Victoria, Monash University, the Victorian Institute of Forensic Medicine or the Coroners Court of Victoria. The authors have no other potential financial or personal interests that may constitute a source of bias.
Ethical approval
All procedures performed in studies involving human participants were in accordance with the ethical standards of the institutional and/or national research committee and with the 1964 Helsinki declaration and its later amendments or comparable ethical standards. The broader cohort study received ethics approval from the Victorian Institute of Forensic Medicine Research Advisory Committee (RAC 011/13). The Department of Justice Human Research Ethics Committee granted approval for access to the NCIS (CF/13/8187).
Informed consent
This study utilizes existing medico-legal data of deceased subjects for the purpose of public health research, as such the requirement for informed consent has been waived by the approving Human Research Ethics Committee on the balance of harms and benefits to society.
About this article
Cite this article
Aitken, G., Murphy, B., Pilgrim, J. et al. Frequency of forensic toxicological analysis in external cause deaths among nursing home residents: an analysis of trends. Forensic Sci Med Pathol 13, 52–57 (2017). https://doi.org/10.1007/s12024-016-9830-9
Accepted:

Published:

Issue Date:
Keywords
Older adults

Nursing home

Forensic toxicology

Medico-legal investigations

Injury-related deaths