Abstract
Yersinia pestis is a biological agent of high risk to national security due to its ability to be easily disseminated and transmitted among humans. If Y. pestis was to be utilized in a deliberate disease outbreak it would be essential to rapidly and accurately identify the agent. Current identification methods for Yersinia species are limited by their reliance on cultivation, the time taken to achieve results and/or the use of protocols that are not amenable for field use. Faster identification methods are urgently required. Microfluidic capillary electrophoresis was used to identify seven Yersinia species based on their protein profiles. Further objectives included determining if Yersinia species could be detected in mixtures of milk products and Escherichia coli, determining if Yersinia could be detected in a blinded identification and reproducibility across two platforms. Two characteristic protein bands were detected at 50 kilodaltons (kDa) and between 50 and 75 kDa for the Yersinia species. Individual Yersinia species could be differentiated from one another and distinguished from E. coli, Bacillus anthracis Sterne strain and Dipel (containing Bacillus thuringiensis). Due to the high protein content of milk products Yersinia could not be detected when mixed with these but was detected when mixed with E. coli. Species were correctly identified with 96% success in blinded procedures using 12 individuals. Whilst protein profile patterns were reproducible across platforms there was some discrepancy in protein sizing. This study demonstrates that protein profiling using microfluidic capillary electrophoresis is able to rapidly and reproducibly identify and characterize Yersinia species. Results show this technique is a powerful front-line, rapid and broad range screening method capable of identifying and differentiating biological agents, hoax agents and environmental bacterial species.
This is a preview of subscription content,
to check access.
Access this article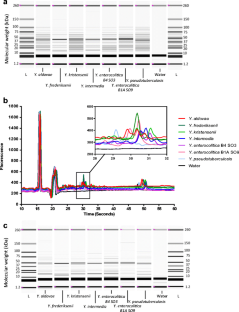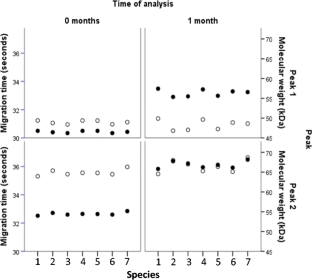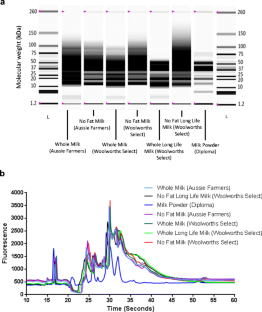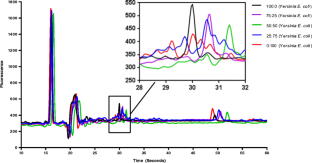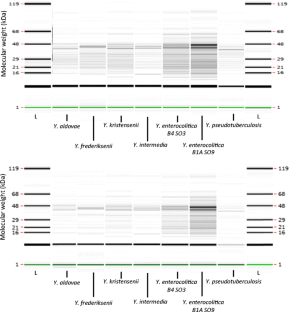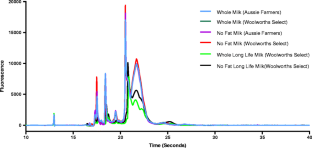 References
Nelson M, Roffey P, McNevin D, Lennard C, Gahan ME. An overview of biosecurity in Australia. Aust J Forensic Sci. 2014;46:383–96.

Skurnik M, Bengoechea JA. The biosynthesis and biological role of lipopolysaccharide O-antigens of pathogenic Yersiniae. Carbohydr Res. 2003;338:2521–9.

Kotetishvili M, Kreger A, Wauters G, Morris Jr JG, Sulakvelidze A, Stine OC. Multilocus sequence typing for studying genetic relationships among Yersinia species. J Clin Microbiol. 2005;43:2674–84.

Sha J, Agar SL, Baze WB, Olano JP, Fadl AA, Erova TE, et al. Braun lipoprotein (Lpp) contributes to virulence of yersiniae: potential role of Lpp in inducing bubonic and pneumonic plague. Infect Immun. 2008;76:1390–409.

Duncan A. Biological weapons and bioterrorism. Chem Aust. 2005;72:5–6.

Ligon BL. Plague: a review of its history and potential as a biological weapon. Semin Pediatr Infect Dis. 2006;17:61–70.

Vogler AJ, Keim P, Wagner DM. A review of methods for subtyping Yersinia pestis: from phenotypes to whole genome sequencing. Infect Genet Evol. 2016;37:21–36.

McLaughlin J, Nelson M, McNevin D, Roffey P, Gahan ME. Characterization of Bacillus strains and hoax agents by protein profiling using automated microfluidic capillary electrophoresis. Forensic Sci Med Pathol. 2014;10:380–9.

Hancock RE, Carey AM. Outer membrane of Pseudomanas aeruginosa: heat-2-mercaptoethanol-modifiable proteins. J Bacteriol. 1979;140:902–10.

Crestfield AM, Moore S, Stein WH. The preparation and enzymatic hydrolysis of reduced and S-carboxymethylated proteins. J Biol Chem. 1963;238:622–7.

McAlpin CR, Cox CR, Matyi SA, Voorhees KJ. Enhanced matrix-assisted laser desorption/ionization time-of-flight mass spectrometric analysis of bacteriophage major capsid proteins with beta-mercaptoethanol pretreatment. Rapid Commun Mass Spectrom. 2010;24:11–4.

Carniel E, Mazigh D, Mollaret HH. Expression of iron-regulated proteins in Yersinia species and their relation to virulence. Infect Immun. 1987;55:277–80.

Bottone EJ. Yersinia enterocolitica: the charisma continues. Clin Microbiol Rev. 1997;10:257–76.

Martin L, Leclercq A, Savin C, Carniel E. Characterization of atypical isolates of Yersinia intermedia and definition of two new biotypes. J Clin Microbiol. 2009;47:2377–80.

Centers for Disease Control and Prevention (CDC). E. coli (Escherichia coli) General information. 2015. http://www.cdc.gov/ecoli/general/index.html. Accessed 22 Apr 2015.

Wahl KL, Wunschel SC, Jarman KH, Valentine NB, Petersen CE, Kingsley MT, et al. Analysis of microbial mixtures by matrix-assisted laser desorption/ionization time-of-flight mass spectrometry. Anal Chem. 2002;74:6191–9.
About this article
Cite this article
Bennett, V.M., McNevin, D., Roffey, P. et al. Characterization of Yersinia species by protein profiling using automated microfluidic capillary electrophoresis. Forensic Sci Med Pathol 13, 10–19 (2017). https://doi.org/10.1007/s12024-016-9824-7
Accepted:

Published:

Issue Date:

DOI: https://doi.org/10.1007/s12024-016-9824-7
Keywords