Abstract
Physical abuse of children has many manifestations. Depending on the type of force involved, specific injury patterns are produced on the body of the child, the morphology and localization of which are forensically relevant in terms of diagnostic classification as child abuse. Typical patterned bruising includes, for example, tramline bruises resulting from blows with oblong, stick-like objects. In addition to rounded or one-sided horseshoe-shaped bite injuries, injuries of different ages, clustered injuries (e.g., three or more individual injuries in the same body region), and thermal injuries are typical results of abuse. Abusive scalds are usually characterized by a symmetrical impression and localization with sharp delineation of the scald wound edges, in contrast to accidental scalding injuries with radiating splash patterns ending in tapered points. The coloration of a hematoma can help indicate the time when the injury occurred. Lack of a coherent and comprehensible explanation for accidental injury constitutes grounds for suspecting abuse. Suspicions should be raised in cases of a delayed visit to a doctor, waiting for an unusually long period before summoning emergency medical help for serious injuries to a child, and when differing versions of a purported accident are provided. Documentation of the findings is highly relevant in later reviews of the diagnosis, for instance, when new relevant facts and investigative results come to light in subsequent criminal proceedings.
Access options
Buy single article
Instant access to the full article PDF.
USD 39.95
Price excludes VAT (USA)
Tax calculation will be finalised during checkout.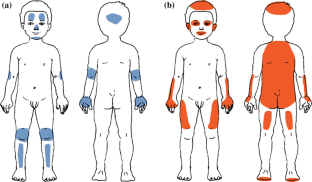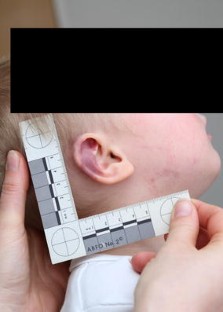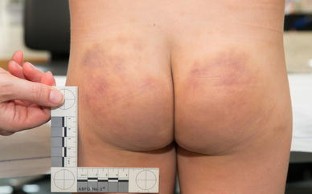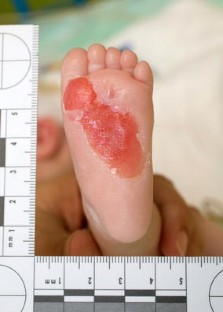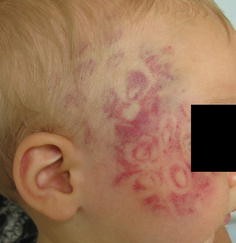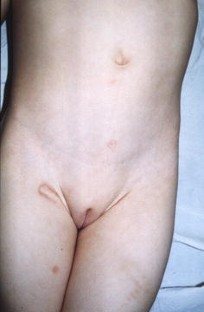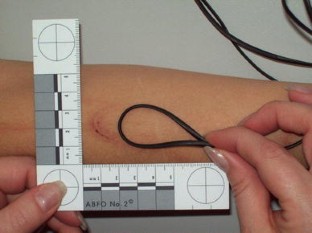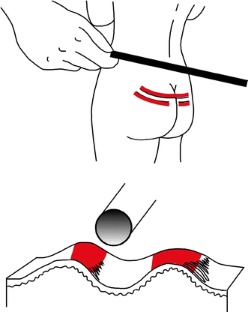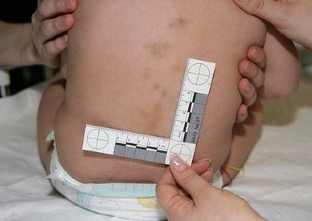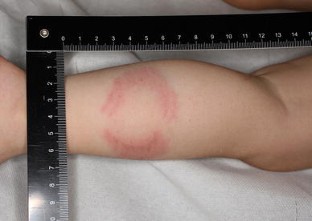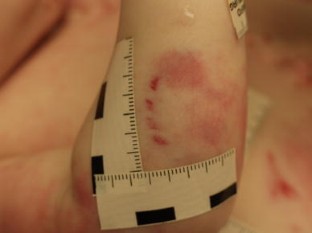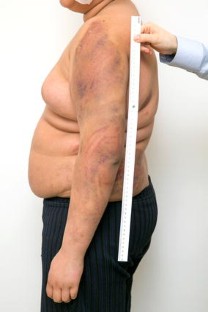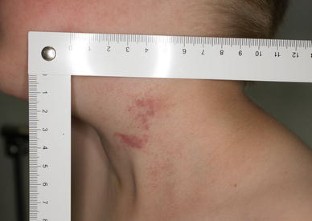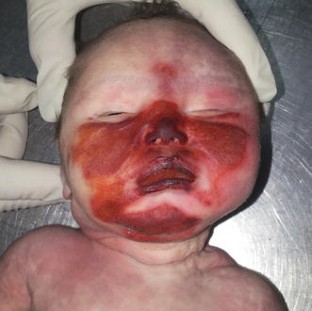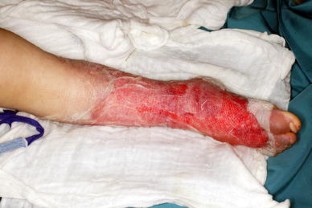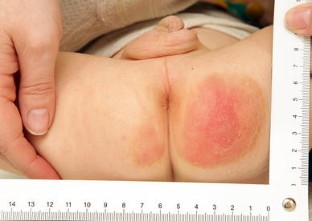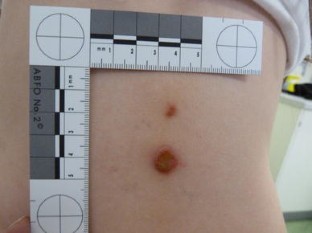 References
Swerdlin A, Berkowitz C, Craft N. Cutaneous signs of child abuse. J Am Acad Dermatol. 2007;57:371–92.

Chen W, Balaban R, Stanger V, Haruvi R, Zur S, Augarten A. Suspected child abuse and neglect: assessment in a hospital setting. Isr Med Assoc J. 2002;4:617–23.

Pierce MC, Kaczor K, Aldridge S, O'Flynn J, Lorenz DJ. Bruising characteristics discriminating physical child abuse from accidental trauma. Pediatrics. 2010;125:67–74.

Sugar NF, Taylor JA, Feldman KW. Bruises in infants and toddlers: those who don't cruise rarely bruise. Puget Sound Pediatric Research Network. Arch Pediatr Adolesc Med. 1999;153:399–403.

Vale GL. Dentistry, bite marks and the investigation of crime. J Calif Dent Assoc. 1996;24:29–34.

Freeman AJ, Senn DR, Arendt DM. Seven hundred seventy eight bite marks: analysis by anatomic location, victim and biter demographics, type of crime, and legal disposition. J Forensic Sci. 2005;50:1436–43.

Page M, Taylor J, Blenkin M. Reality bites—A ten-year retrospective analysis of bitemark casework in Australia. Forensic Sci Int. 2012;216:82–7.

Nuzzolese E, Di Vella G. The development of a colorimetric scale as a visual aid for the bruise age determination of bite marks and blunt trauma. J Forensic Odontostomatol. 2012;30:1–6.

Kocher MS, Kasser JR. Orthopaedic aspects of child abuse. J Am Acad Orthop Surg. 2000;8:10–20.

Maguire S, Mann MK, Sibert J, Kemp A. Are there patterns of bruising in childhood which are diagnostic or suggestive of abuse? A systematic review. Arch Dis Child. 2005;90:182–6.

Oehmichen M, Gerling I, Meissner C. Petechiae of the baby's skin as differentiation symptom of infanticide versus SIDS. J Forensic Sci. 2000;45:602–7.

Bohnert M, Grosse Perdekamp M, Pollak S. Three subsequent infanticides covered up as SIDS. Int J Legal Med. 2005;119:31–4.

Baker AM. Pediatric asphyxial deaths. In: Collins KA, Byard RW, editors. Forensic pathology of infancy and childhood. New York: Springer; 2014. p. 207–28.

Ellis P. Cutaneous findings in children. In: Collins KA, Byard RW, editors. Forensic pathology of infancy and childhood. New York: Springer; 2014. p. 243–65.

Faller-Marquardt M, Pollak S, Schmidt U. Cigarette burns in forensic medicine. Forensic Sci Int. 2008;176:200–8.

Oranje A, Bilo RA. Skin signs in child abuse and differential diagnosis. Minerva Pediatr. 2011;63:319–25.

Carpenter RF. The prevalence and distribution of bruising in babies. Arch Dis Child. 1999;80:363–6.

Jayakumar P, Barry M, Ramachandran M. Orthopaedic aspects of paediatric non-accidental injury. J Bone Joint Surg Br. 2010;92:189–95.

Li YMM, Wells D. Skin conditions mimicking pediatric inflicted injury. In: Collins KA, Byard RW, editors. Forensic pathology of infancy and childhood. New York: Springer; 2014. p. 267–89.

Melville JD, Lukefahr JL, Cornell J, Kellogg ND, Lancaster JL. The effect of image quality on the assessment of child abuse photographs. Pediatr Emerg Care. 2013;29:607–11.
About this article
Cite this article
Tsokos, M. Diagnostic criteria for cutaneous injuries in child abuse: classification, findings, and interpretation. Forensic Sci Med Pathol 11, 235–242 (2015). https://doi.org/10.1007/s12024-015-9671-y
Accepted:

Published:

Issue Date:

DOI: https://doi.org/10.1007/s12024-015-9671-y
Keywords
Child abuse

Cutaneous injury

Localization

Patterned bruising

Tramline bruise

Clustered injuries

Bite injury

Scald