Abstract
Purpose
After sexual assault there is a limited amount of time before the DNA evidence on the surface of the victim's body is not recoverable. During an assault, the offender may leave saliva on the victim's skin. Traditional examination methods use a swabbing technique to collect saliva for DNA testing. Victim activity, especially hygiene activity such as showering, may negatively affect DNA recovery.
Methods
In this experiment, we compared two techniques for recovery of salivary DNA from the skin's surface after a victim showers. We compared the traditional swabbing method to a "wet-vacuum" method using the M-Vac© to collect saliva from four body regions (neck, arm, stomach, and leg). In our research, we tested whether either collection technique obtained enough salivary DNA for autosomal and Y-STR analysis. In addition, we tested whether the M-Vac© is more effective at collecting DNA from large surface areas than traditional methods, by determining the amount of DNA collected.
Results
With both collection techniques, we were able to obtain male salivary DNA from at least one body region of the female after she had showered. There was no statistical difference in the amount of DNA collected between the swabbing technique and the M-Vac©. Autosomal STR analysis failed to detect the male contributor's DNA; therefore, we used Y-STRs. With Y-STR analysis, 47 samples returned a full male profile, and 26 samples returned a partial male profile after sample concentration.
Conclusions
This research shows that salivary DNA can be collected from skin after showering and successfully analyzed using Y-STRs.
Access options
Buy single article
Instant access to the full article PDF.
USD 39.95
Price excludes VAT (USA)
Tax calculation will be finalised during checkout.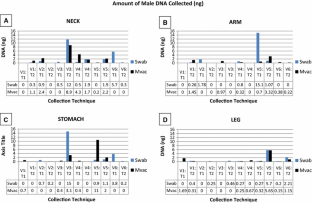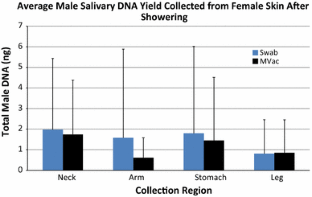 References
Kenna J, Smyth M, McKenna L, Dockery C, McDermott SD. The recovery and persistence of salivary DNA on human skin. J Forensic Sci. 2011;56(1):170–5.

Gabriel S. Sexual assault handbook. London: Taylor & Francis Group; 2010. p. 1–15.

Sweet D, Lorente M, Lorente JA, Valenzuela A, Villanueva E. an improved method to recover saliva from human skin: the double swab technique. J Forensic Sci. 1995;42(2):320–2.

Brown K. Forensic examination of sexual assault victims. Practical aspects of rape investigations. Boca Raton: CRC Press; 2001. p. 1–34.

Garrett A, Patlak D, Brodeur A, Grgicak C. Improving DNA evidence collection via quantitative analysis: a systems approach. Boston: Boston University School of Medicine; 2012.

Caswell K. A comparison of M-Vac and surface swabs for collecting saliva and touch DNA from skin. Masters of Science. University of California-Davis; 2014.

M-Vac Systems. Filter apparatus verification, 0.45 μm PES filter material including comparison of double swab method and M-Vac with saliva stained cotton; 2013. http://www.m-vac.com/images/validations/2013filterapparatusverification0.45micrometerpesfiltermaterial.pdf

Spalding RP, Bigbee D. Evidence recovery considerations in sexual assault investigations. Practical aspects of rape investigation. Boca Raton: CRC Press; 2001. p. 1–47.

Qiagen. QIAamp DNA investigator handbook. Hilden: Qiagen; 2007.

Applied Biosystems. Quantifiler® duo DNA quantification kit user guide. Foster City: Applied Biosystems; 2012.

Applied Biosystems. AmpFISTER® identifier® PCR amplification kit user guide. Foster City: Applied Biosystems; 2012.

Applied Biosystems. AmpFISTER® Y-Filer® PCR amplification kit user guide. Foster City: Applied Biosystems; 2012.

Shapiro SS, Wilk MB. An analysis of variance test for normality (complete samples). Biometrika. 1965;52:591–611.

Salkind NJ. Encyclopedia of research design. Thousand Oaks: Sage; 2010.
Acknowledgments
The authors would like to thank Christopher Hopkins, Marc Wander, Katie Caswell, and Wayne Carlson for scientific and technical support.
About this article
Cite this article
Williams, S., Panacek, E., Green, W. et al. Recovery of salivary DNA from the skin after showering. Forensic Sci Med Pathol 11, 29–34 (2015). https://doi.org/10.1007/s12024-014-9635-7
Accepted:

Published:

Issue Date:

DOI: https://doi.org/10.1007/s12024-014-9635-7
Keywords